It's 6:11 am, the soothing lull of your sleep app is calling you to wake. It has detected a change in your breathing and has determined this very moment is the perfect time to wake you so that you feel rested and ready to start the day out right.
Before you even step out of the house to take on your role as an executive, manager or HR Professional, you will have already navigated several negotiations without conscious awareness. But, with Workplace in your corner, they're as quick and easy as checking your emails.
Closed Groups
After your short commute ride into the city with Nancy Mackay's Podcast you are ready to embrace today. A quick review of the calendar as you decided on your outfit for the day showed there were two challenging conversations and one coaching meeting already in the pipeline for the day, along with conducting upcoming reviews, a health and safety inspection and, later this afternoon, you have your Annual Managers' Development Committee meeting to discuss your upcoming offsite Annual Managers' Conference.
With 45 minutes before your first meeting, you launch your email and flip open Workplace notifications for anything pressing. Knowing that Workplace can help drive team collaboration, you take advantage of the closed group feature so that you can start a group for the Annual Managers' Conference (which the committee has decided to call "Better Together"). Then, with just a few simple steps, you add the relevant people of the AMD Committee to it; Susan Delaney from Finance, Tim Cord from Marketing, Jamie Darwin from Operations, Roy Halliday from Sales, their support staff, and a few key others who need to be included - like Joy Ericson, the HR Coordinator, who will be working on conference logistics up to and including the big day.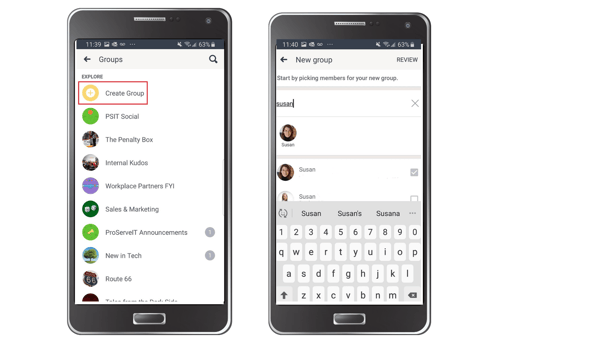 Polls for instant feedback
Back at your desk, and with one of the challenging conversations wrapped up, it's time to finish briefing the AMD committee about your newly created closed group. You want to get their opinion on the potential keynote speaker for the day. You upload two potential speaker bio's and creates a new post with a poll that asks for feedback. As you do so, you marvel that, what used to be done by email, can now be done in the Workplace app – nested comments allow for clear communication between team members, with none of the information lost in translation.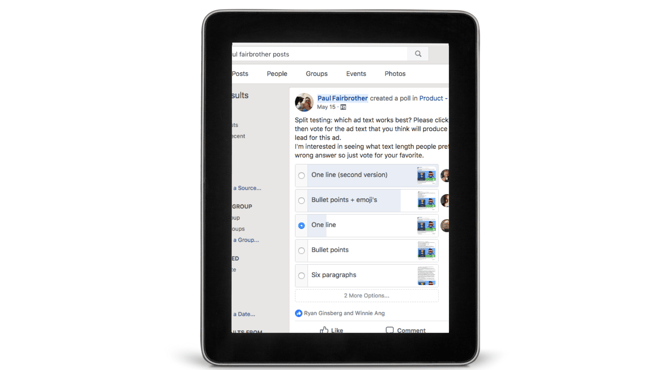 O365 Integration
Your next appointment is a touchpoint with Skye MacDonald, a new HR Manager in your Atlanta office. Distance isn't a problem – even though you're ~1500 km (950 miles) apart, the one-on-one conversation will take place using Workplace's video chat feature, so it'll be almost as if you're in the same room together.
But before their call, you flip into Workplace Chat to review any pressing agenda items or questions from Skye.
Sure enough, Skye's raised two questions about booking vacation time. You add those questions to the meeting's agenda, and share that Word document with Skye via the same Group. Workplace offers a variety of plugin and integrations, such as Office 365, and with this integration in place, both you and Skye will be able to access this Word document during the video call. Plus, when the inevitable action items come up, you and Skye will be able to collaborate in real-time to make those notes or follow-up actions that need to take place.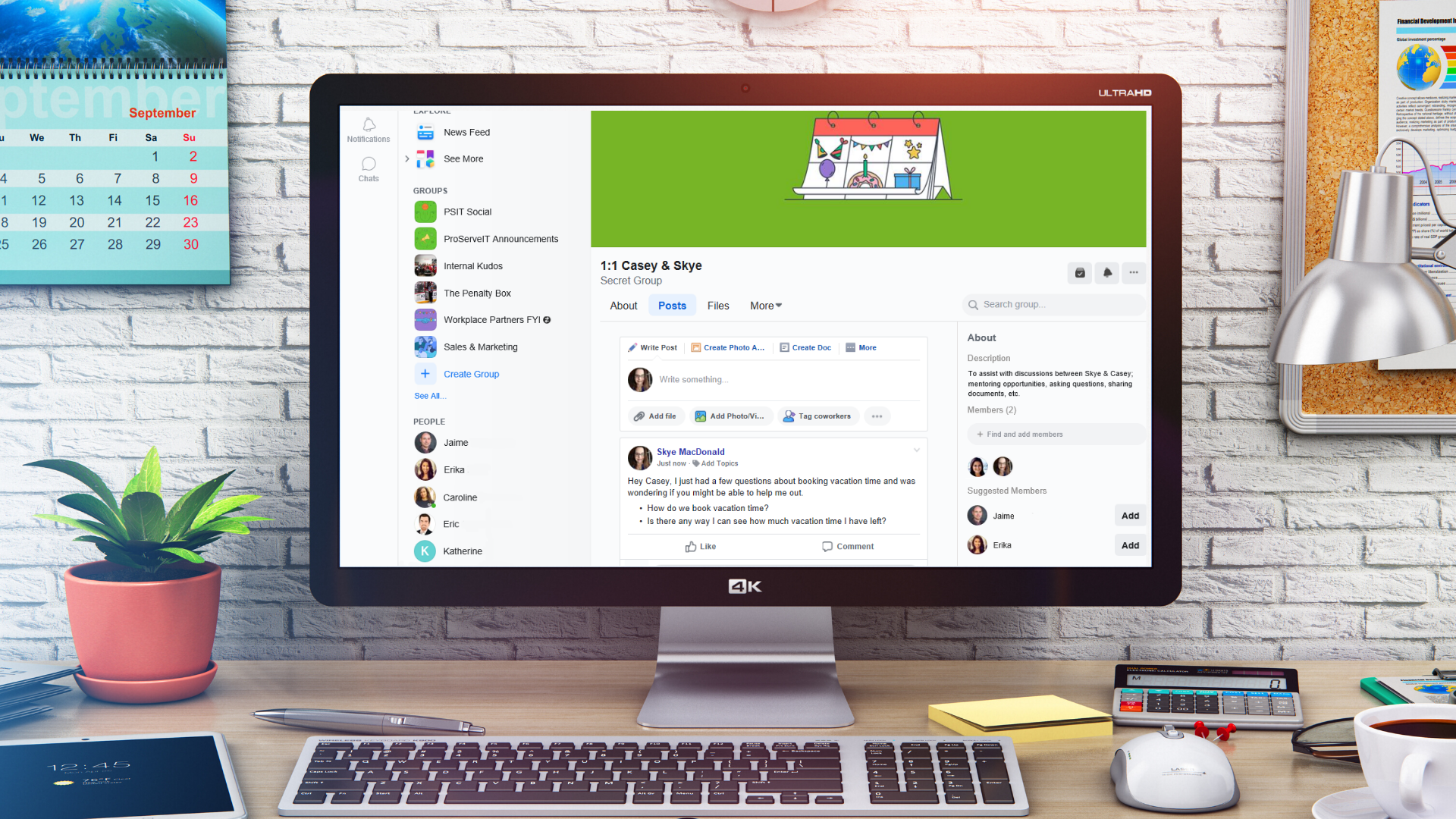 Instant Employee Recognition
With Workplace's Chat functionality, initiating video chat between you and Skye makes it easy to feel as though she's in the same room with you. The image is crystal clear and you can see by Skye's body language that she's happily adjusting to her new role.
Skye mentions that one of her colleagues in the Vancouver office has been particularly helpful in welcoming Skye to the company and getting her settled. Pleased, you walk Skye through how to recognize that employee in the company's Internal Kudos group – an open, company-wide group that lets anyone post about the ways that their colleagues have gone above and beyond.
Automate Vacation Request and Approvals
Then you address Skye's questions about vacation time. Knowing that the company recently took advantage of the automation capabilities of Workplace from Facebook, you feel that this is a great opportunity to show her how to use VacationBot, the company's automated vacation logger, accessible via Workplace Chat. By typing in "how many vacation days do I have?", VacationBot will see how many days Skye has already taken off and provide her with the balance remaining. By typing in "I want to book a vacation", Skye will be able to select the dates she wants to take off, and VacationBot will send an automated approval email to her manager - in this case, you.
Showing her takes less than ten minutes, and just like that, Skye's booked her first vacation.
Give Everyone, Including Frontline, a Voice!
After a morning of back-to-back meetings, you are famished – time for lunch! While in line at the company Bistro, you take advantage of the few minutes you have to scroll through Workplace notifications. You notice that several people from some of your warehouses have asked questions on your latest post about the changes happening to the employee benefits program, and other frontline employees are weighing in on a poll you posted about an employee appreciation event you want to hold.
Auto-Translation and Auto-Transcription
With half an hour before your next meeting, you have time to address those questions about the new benefits program. Rather than writing a lengthy post, which will take more time than you have, you use Workplace's instant record and archive capabilities with auto-translation and auto transcription.
This feature has increased the delivery of critical information, allowing your entire global team to hear and read the messaging almost instantaneously - no need to work with bilingual employees (or an external translation company) to translate the message before distribution.
After a quick check for food in your teeth, you open Workplace, navigate to the Group where you posted the original benefits update, then launch the video recorder. Ten-minutes later, you've answered seven of the most pressing questions, shared a quick-guide link, and the auto-translation and auto-transcription is hard at work on your behalf. What would have taken weeks in the past, now happens in minutes.

Team Sentiment Awareness
Your next meeting is with your manager, Glenn Williams, the Head of Global HR. Similar to your meeting with Skye, you navigate through Workplace to your closed group with Glenn to see the agenda he's put together. A few of the agenda items requires you to upload some documents into Workplace. Promptly at 4:00 pm, Glenn video calls you.
You update Glenn on the latest development that are happening in the various branches: Atlanta, Taiwan, Prince Edward Island, and the Solomon Islands. He mentions that he caught the replay of your video Q&A session and thought that way of addressing the questions was quite effective. You two review your plans for hiring two new Operations leads in Georgia, then Glenn challenges you to come up with a way to gauge how happy people are at work. You immediately recommend a poll, which you've used in the past, but Glenn is not sure that people will answer the poll honestly - if they're not happy, they may be hesitant to share negative feedback in such a public way.
After a moment of thinking, you recall an article on using Aware, an integration software with Workplace that allows companies to measure the pulse and sentiments of a team, trending topics and hot spots while still maintaining the privacy of the employees. You suggest doing a little more research on whether this will help solve the issue of anonymity, and that you'll add your research to your one-on-one, closed group for discussion. He agrees, and you decide together that you'll talk about it next week.
Multi-Company Groups
Once the meeting has concluded with Glenn, you once again launch Workplace, and drop into the Multi-Company Group that you share with the LineZero, your Workplace Partner. You want more information on use cases and quotes about Aware, or whether a custom bot solution might be a better option. Then, because it's 5pm, you decide to head home for the night.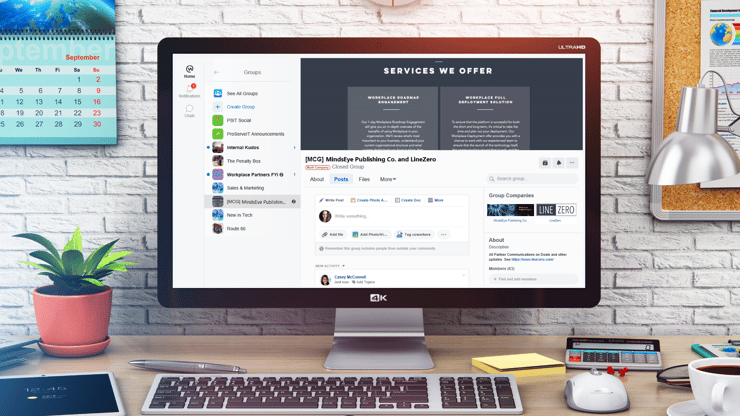 Custom Newsfeed
After tucking your kids into bed, you pull out your phone to scan the Newsfeed, an artificial intelligence feed customized to your groups, likes, engagement and role. While doing so, you also see the response from LineZero. Erika Moll-Richardson from the LineZero team has responded and set up a video call for tomorrow afternoon. You open your calendar and slot it in. One less thing to worry about!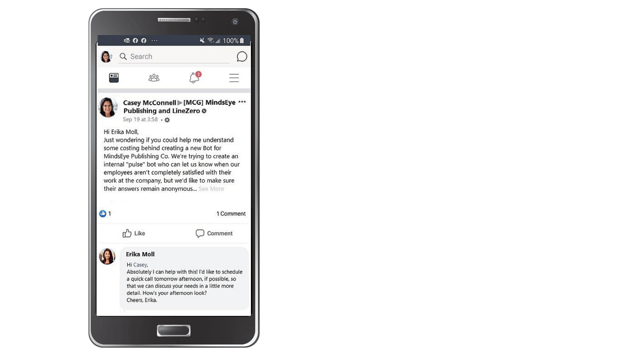 It really is that easy.
Even though the previous is a fictitious account, using Workplace really is this simple! Workplace provides a platform to not only communicate with your colleagues but collaborate with others in your organization, breaking down barriers of location and language.
As a team of security-obsessed communication and technology experts, Workplace from Facebook has partnered with us in bringing exception service to clients using Workplace. We understand with any new tools, you want to ensure it's right for your team.
Would you like to try Workplace free for 30-day?
We will set you up in a private group so you can test and experience Workplace first hand. Simply share your information and we will be in touch within one-business day.