Remote work is quickly becoming one of the most desirable benefits an employer can offer—the freedom to work whenever and wherever is a great attractor and motivator. More than 50% of the workforce consists of millennials and centennials, who often shudder at the monotony and sterility of office life. Many workers are willing to exchange certain benefits, pay raises, and even retirement plans for the option to work remotely.
As this phenomenon has become more popular, employers are being forced into a new territory of thinking critically around accountability and engagement. In collaboration with Workplace from Facebook, we've put together a list of 4 best practices around deepening the connection and engagement with remote workers in your organization.
Best Practise #1: Video Chat.
One of the single biggest hurdles when individuals move to remote working is the social disconnection with teammates they may have seen daily, and the ease of only getting up and walking over to ask a question or get feedback.
Providing an environment where this is still the norm is vital to keeping the social connection healthy with your remote workers. Video conferencing is the most critical tool for providing this gateway. Making it seamless and painless for your remote workers and customers is the secret sauce to remote success.
Workplace focused on making it easy and effortless. How easy? Here's the guide:
Open Workplace Chat
Find your colleague
Tap the video icon and start chatting!
It is that simple. Even if you want to join multiple people, you simply press "compose" and add another person. No plug-ins, no codes or links, no confusion. And you can have up to 50 people in a single video chat!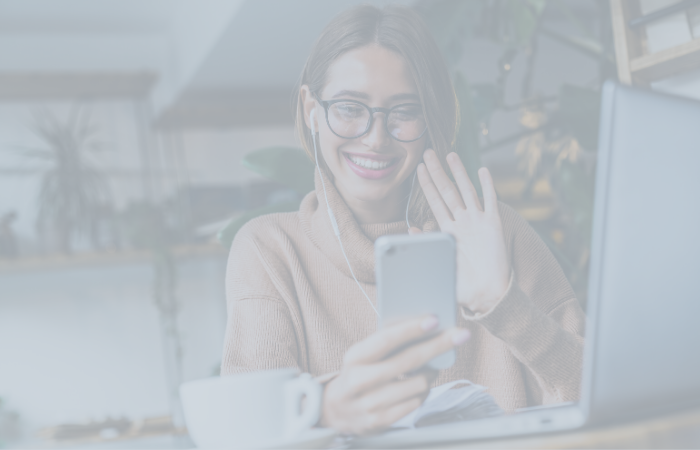 Best Practice #2: Host Regular Live Video Sessions.
From large to small organizations, when you think about hosting an all-hands Live video session, it can be daunting. Many companies don't have the infrastructure or skill to do it, nor are they able to scale or mass live stream.
Workplace from Facebook has the advantage: Facebook. Because of Facebook, Workplace has access to the kind of deep computational power required to do low latency, high definition live video broadcasts. Using Workplace, you can live stream video from any mobile device, laptop or desktop, or even from a professional studio.
Are you concerned about saturating network ingress points? As a large organization with multiple ties in this nature, this could be a concern. However, with Workplace Enterprise Live, large organizations don't need to worry, as this is a peer-to-peer solution ensures high-quality live video streaming. How? When multiple users are watching the same live stream, the video is distributed across viewers – with some segments being pulled from our CDN, while other segments are pulled from the peer network. For companies, this means a completely seamless event experience that gives people the feeling of being live even if they are miles away from each other.

Best Practice #3: Ensure Updates are Seen.
Keeping your team safe and informed is of utmost importance, especial in critical situations like that Covid-19. Relying on email or intranet bulletin can be difficult and uncertain, especially if you have no way of gauging if the message was even seen.
Workplace solves that concern in a number of ways; in creating Groups, pinning a post, marking as important and gauging sentiments. Groups allow you to pinpoint information into department and specific people. They are designed specifically for sharing knowledge and documents with targetted audiences. Workplace's Pin Post feature keeps essential messages at the top of a group. Or you can use the Mark as Important feature, which posts at the top of a group members' news feed for up to seven days. Through the admin portal, you can access sentiments and engagement data.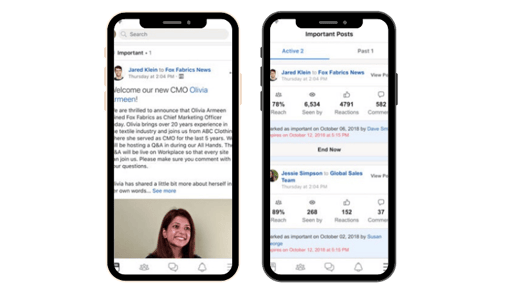 Best Practice #4: Use Insights to Gauge Your Team's Sentiments.
With Covid-19, our teams are going to be affected by a great amount of uncertainty, whether they are already remote working or moving to remote working. Thus it's crucial in these high tension times for companies to understand that the messages they are putting out have the desired effects.
In January 2020, Workplace upgraded the analytics tools and launched a new Insights panel to give admins and executives richer, more meaningful data, with new ways to track and visualize your Workplace data. Insights include data to understand company sentiment and employee engagement, top-performing posts, contributors, and trends. This higher level of understanding will help Workplace admins, comms, and HR leaders adjust messaging to reach deeper your organization.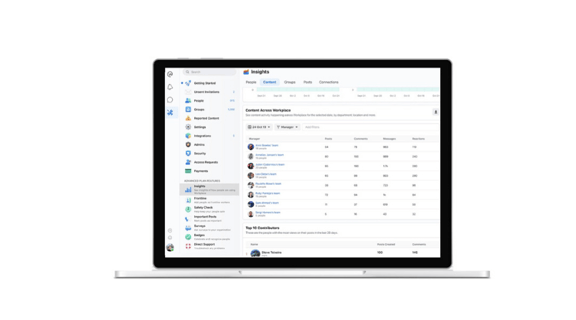 These few simple steps are only a sample of what Workplace can do to help your organization stay connected and informed while working remotely.
LineZero is a team of security-obsessed communication and technology experts. Workplace from Facebook has partnered with us to bring exceptional strategy and service to clients who are looking to build irresistible companies through collaboration and communication, all while having a positive effect on the bottom line.
Want to learn more about Workplace? Or do you already have Workplace and would like to maximize this incredible tool? Let's connect.