By Mihae Ahn, Head of Marketing at LineZero and ProServeIT
I have a long commute. It takes a minimum of an hour to get to my office. I often work from home thanks to the culture here at LineZero and ProServeIT, which values work-life balance, but on those days when I do go to the office, I listen to audio books while driving. A few months ago, I was listening to Lean In by Sheryl Sandberg, COO of Facebook.
Just as any great books do to you, this inspiring book got me thinking. I mean, really thinking. I thought about what I have done so far for my career. What I have done to help and empower fellow women in tech and women in business in general. What I have done to become a person who can be an inspiring role model for my daughter. And what I can and should do going forward to become that. One of many action items I jotted down was connecting with more women in tech and supporting (and being support by) them. When I think about my career so far, I've spent relatively less time and energy in building relationships with women in tech.
So, I wanted to find a way to be more connected with women in tech to share experience, information, and knowledge and learn from each other. I knew of The Women in Technology Network (The WiT Network) that connects women in the tech industry. I looked it up to learn more about it. As I was learning about The WiT Network, it appeared to me that joining this as a group with everyone in my team (three of my team members are women) would be an even better idea. Joining The WIT Network would provide my team with a great opportunity to grow, connect, and be empowered. And I knew my team would welcome such opportunity.
Then I thought, if my team will benefit from it, why wouldn't everyone else at LineZero and ProServeIT as well? I was pretty sure they would! So, I chatted with some of my colleagues in other teams to get their thoughts and my assumption proved to be right. I pitched to our executive team the idea of the company sponsoring a membership for every woman at LineZero and ProServeIT, and I got their approval. I reached out to my female colleagues one by one to ask if they want to join The WiT Network (as joining it was optional) and everyone was eager to join it!
I believe organizations supporting initiatives like this to empower women is very important because after all, women are still only making up between 17 and 30% of the workforce of major tech companies, and women held only 22% of tech jobs in the U.S. in 2018. And what about the disturbing gender gap in pay? Canada is top 8th country (among the 43 countries included in the study by the OECD) in terms of the gender pay gap. Here are some more sobering stats:
Women make 75 cents for every dollar that men make, on average. The gap is wider for women of colours. Source: Statistics Canada.
It takes 15.5 months for women versus 12 months for men to earn the same wage, on average. Source: Ontario Equal Pay Coalition.
With the same experience and socio-economic and demographic background, women make approximately $7,200 less annually than men, on average. Source: Final Report: Ontario Gender Wage Gap Strategy Steering Committee.
It is upsetting that this is the reality now. It is even more upsetting to think that this still will be the reality for our daughters when they enter the workforce, if we don't do anything about this. So, I've been looking for ways to get the word out, and to promote more diversity and equality in the workplace.
Women in Tech Event for High School Students at Facebook Canada
One such initiative I was recently and proudly part of was the Women in Tech event that LineZero hosted with Facebook Canada. For the last several years, LineZero and ProServeIT have supported local schools (from elementary schools to colleges) to help them understand about coding, existing technologies, and the tech industry from a job opportunity perspective. A few weeks ago, we invited forty-six young women from a local high school to the Facebook office in Toronto for them to have a chance to hear from women in tech about their career journey.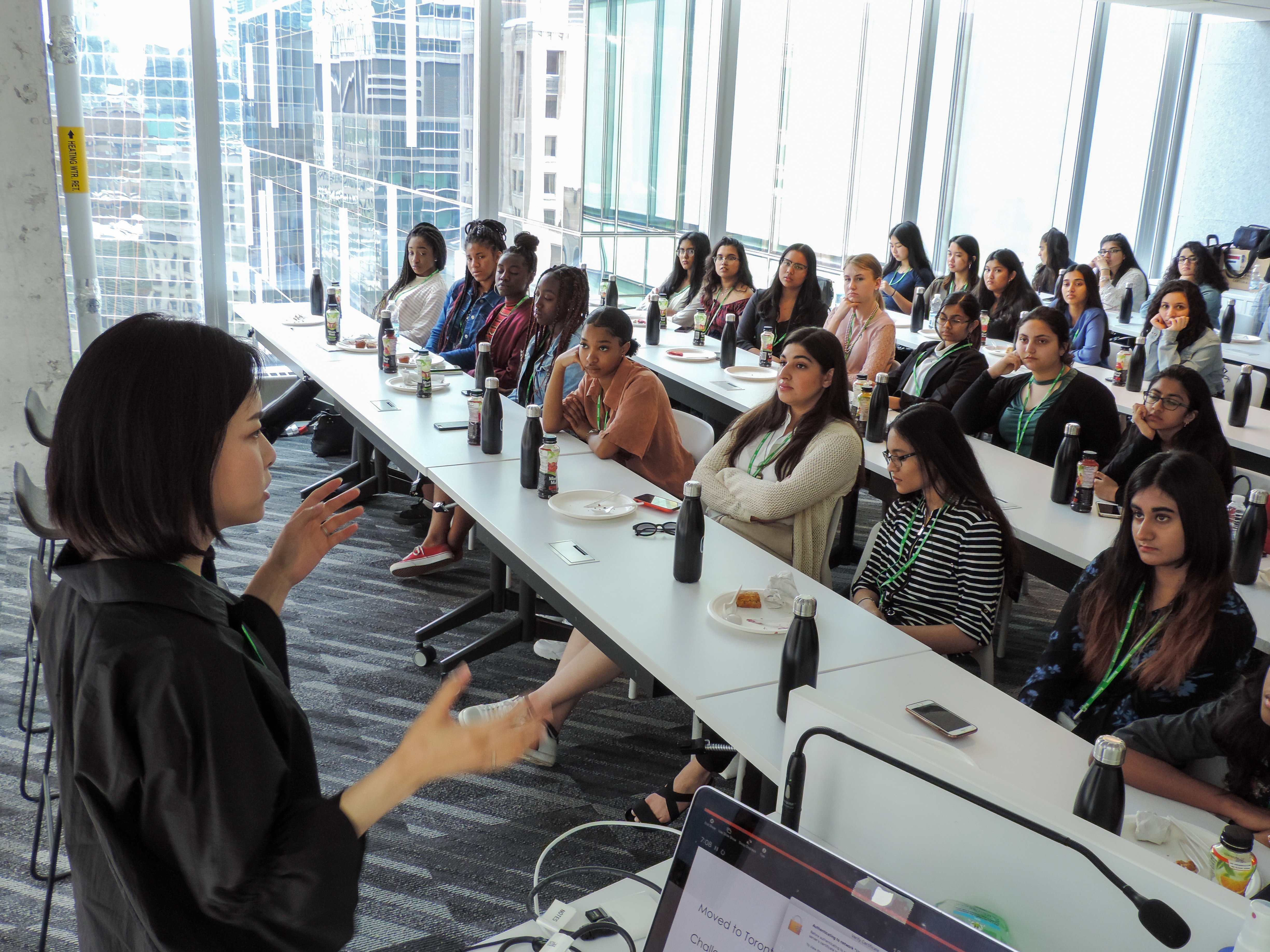 I had an opportunity to speak as one of the panelists at the event. To prepare for the talk, I spent a lot of time thinking, writing, and re-writing a story that I hope would inspire the girls and help them imagine what their future holds for them. I shared my own story about moving alone to New York City from my home, Seoul, Korea when I was nineteen to study at Parsons The New School for Design and to work in fashion. Then, moving to Toronto to settle down as an immigrant. And some of other risks I took along the way to achieve my goals and dreams.
What I wanted to emphasize was not the challenges I experienced or that these girls might experience similar challenges going forward, but rather, the fact that I've been achieving my goals despite those challenges, because I took risks and because I was committed to achieving my dreams. I wanted these girls to be hopeful and excited about their future.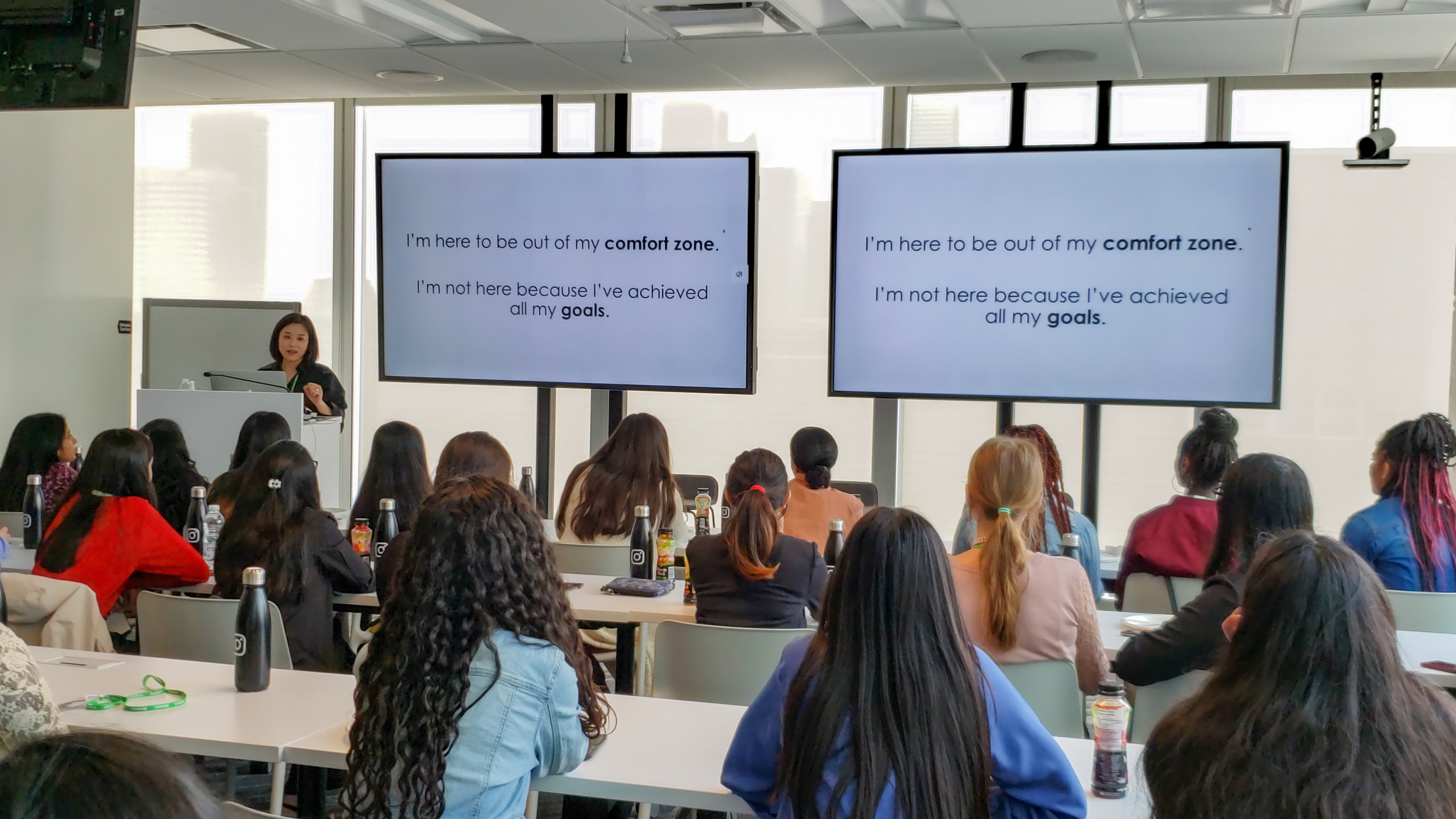 The girls' eyes were so bright with hopes and dreams. It was such an amazing experience, talking to them while looking into their eyes. I do hope, while listening to my talk and throughout the day at Facebook Canada, that they were excited about their own paths as they graduate from high school.