Updated: Oct 3, 2018
So, you've purchased Workplace… what are your next steps?
In this blog, we're going to show you how to use Workplace by Facebook. You can consider this a quick guide on how you can get started with Workplace, and how you can make the most of your Workplace investment.
So, you've purchased Workplace… what are your next steps?
How to Use Workplace: News Feed Navigation
When you first log on to Workplace, you'll see something that looks like this: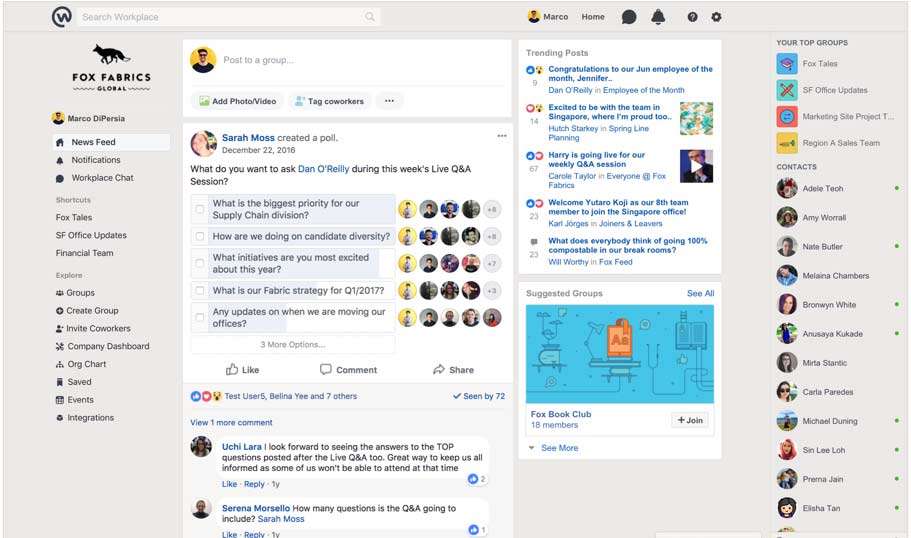 This is your news feed. Here, you can access your profile, access your notifications, see your top groups and contacts, see what posts are trending in your organization, post updates or news, search for colleagues or content, and quickly access important links, like groups.
Your news feed will be tailored to you. The longer you use Workplace, the more your news feed will customize the content you're seeing. Stories that are shown depend on a few factors, like the groups you follow, the people you're following, or the number of interactions that post has received.
How to Use Workplace: Set Up Your Profile
When you first start using Workplace, you'll want to set up your profile. This profile contains pertinent information about you and your role within the organization, and should include a picture of you so that people in your organization can put a face to the name.
From your news feed, click on your name at the top right-hand corner. This will take you to your profile page, which looks like this: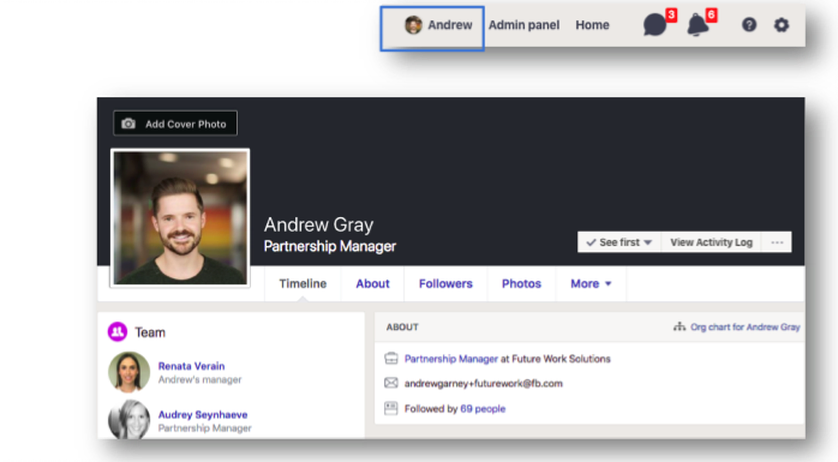 There are three things you should do right off the bat:
Fill out your "About" section. Be sure to include your job title, your phone number, your location, and the department you're in. Also feel free to include your "about me" section (up to 200 characters), and your work nickname, if you have one!

Add your manager, so people can see who you report to.

Add your profile photo. Hover your mouse over the profile picture area, and you'll see a pop-up message that says, "update profile picture". The same exercise can be done for updating your cover photo, if you so desire.
How to Use Workplace: Start Exploring Groups
Next, it's time to take a look at your Groups; the core of your Workplace experience.
Check the left-hand navigation pane on your news feed. Under "Explore", click on "groups", and you'll be taken to a list of groups within your organization that you already belong to. If you're new to Workplace, you may still see some groups there – this is because you might have been automatically assigned to that group based on your organization's settings.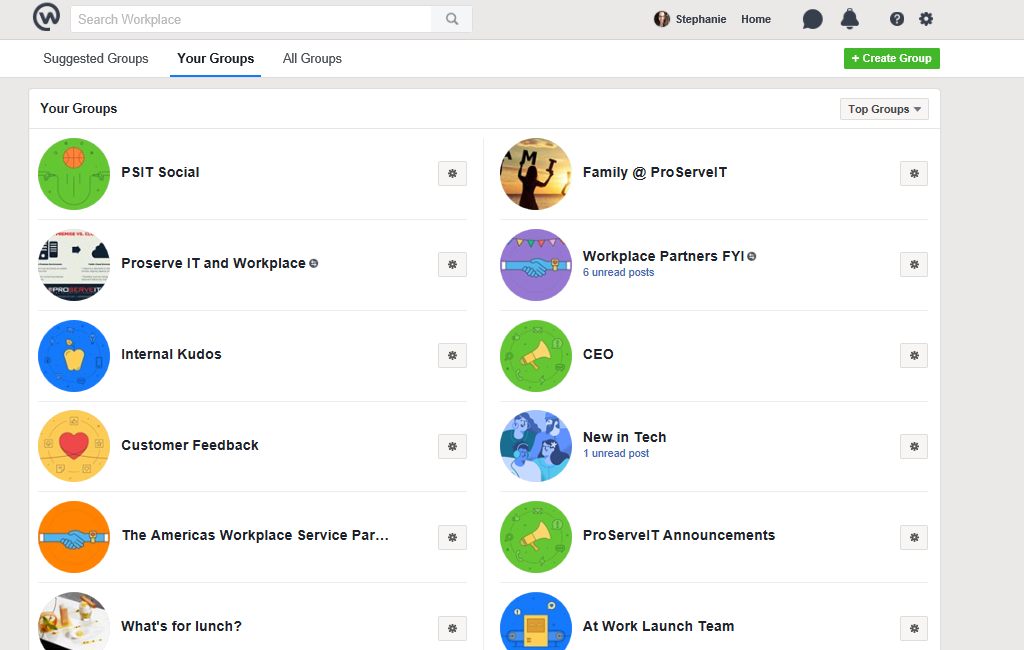 It's important to take the time to ensure that you've joined all relevant groups that might pertain to your role and your team. Use the search field to search for the groups that you want to join. If a group hasn't been created yet, creating a new one can be done in a few easy steps – talk to your administrator first, though, to make sure that your organization's open to their employees creating new groups.
How to Use Workplace: Notifications
When something happens in a group that you're part of, you'll receive notifications, which are either delivered to your mobile app, or your browser, or, if you've set it up this way, you'll receive an email. These notifications can be accessed via the quick link toolbar – you'll see the little bell and chat icons at the top right-hand side of the screen, like this:

If you have a notification, a red square with the number of notifications will appear overtop the bell or the chat icon, indicating there is activity happening.
If you want to change the way you receive notifications, or how often you receive them, follow these instructions:
Click the gear icon at the top right side of the screen.

Select Settings.

On the menu on the left, click Notification Settings.

Choose the type of notifications you'd like to edit, then click "edit" beside it.

How to Use Workplace: Download the Mobile App
If you haven't already done so, now's a good time to take your Workplace with you by downloading the mobile app! The Workplace by Facebook app can be downloaded from the iPhone App Store, or through Google Play.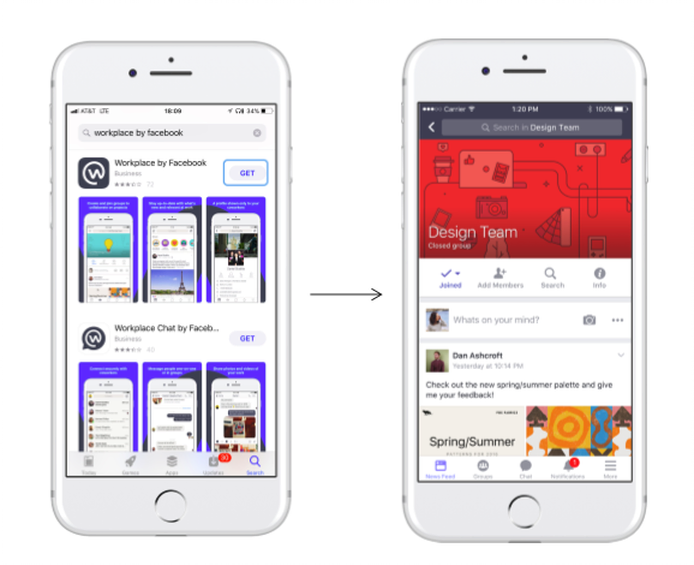 There are two apps to download: Workplace, and Workplace Chat. If you search "Workplace by Facebook", both these apps will come up and you can download them both.
How to Use Workplace: How to Find Help
Need some more help with Workplace? Don't worry – help's just a click away! You can access the Workplace Help centre by clicking on the '?' icon in the top right-hand corner of your screen.

This will bring up several options that you can use to learn how to get the best out of using Workplace by Facebook, answering any questions you may have about using the platform, asking other community members for support, and much more.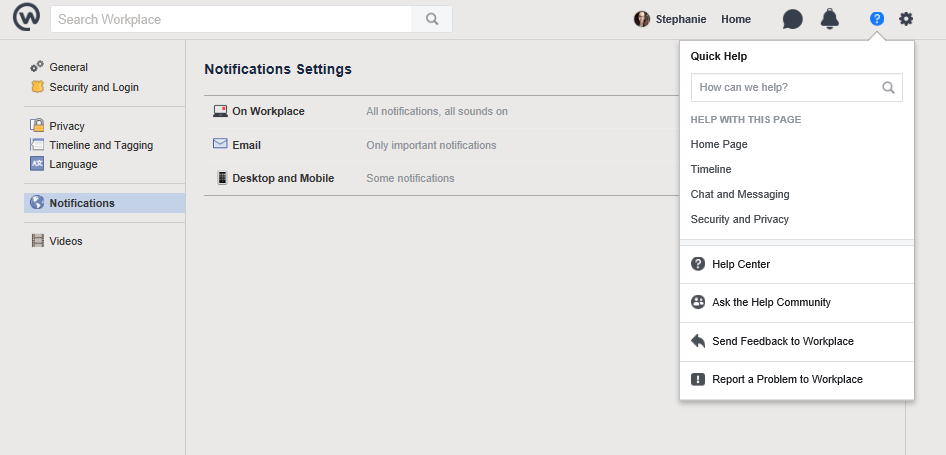 Make the Most of Your Workplace Investment
This guide shows you the basics of how to use Workplace, from setting up your profile, to downloading the mobile app, to exploring groups that you're a part of. Have more questions that you need answered? Talk to our Workplace experts today to learn more of how to use Workplace, and how to make the most of your Workplace investment.