Are you keeping up with this year's internal communications trends? Are you on track for 2019?
As we officially enter the back half of the calendar year, we thought it was important to take a moment and take stock of your organization's internal communications – are you communicating effectively to your employees? Are your employees happy with the level of internal communications that they're receiving?
In this blog, we're going to look at three of the year's predicted internal communications trends and really dig deeper on how you can improve your internal communications for the remainder of the year.

Internal Communications Trend #1: Focus On Employees
There is a lot of emphasis these days with a focus on keeping your employees informed. You know, really opening up that internal communication channel and providing your employees with updates on how your company's doing, what's new and improved, things they should be aware of, etc.
But this internal communication also goes two ways. Consider the following questions:
Do your employees feel like they have an opportunity to express their needs and wants?

Are they able to collaborate and communicate with their peers in an easy manner?

Do you have a tool in place to make internal communication (whether management-to-peer or peer-to-peer) possible?
These are important questions to keep in mind when it comes to internal communication. So, let's check in – are you able to answer yes to all of these questions?
If you can't say for certain that you have that two-way open communication with a focus on employees, there's still time to look into how an internal communications platform, like Workplace by Facebook (Workplace), can help open the lines of communication within your organization. Workplace propels your organization into the modern era – it allows you to focus on real-time, instant communication. With Workplace, you can create posts, polls, and live videos in minutes, allowing you to post important company updates that your employees will be able to get, on whatever device they're most comfortable with.

Internal Communications Trend #2: Ditch the Text and Focus on Visuals!
There are three types of learning styles: visual, auditory, and kinesthetic. Visual learners (those who need to see pictures and graphs, and other visual stimulants to be able to learn), make up approximately 65% of the population, according to a paper done by the Social Science Research Network. It should be no surprise, therefore, that visual aids have been found to improve learning by up to 400%. With the ability to create stunning visuals at your fingertips, and a proper platform to display them on (like Workplace), it's time to ditch the text and focus more on visuals!
Trends are showing that people are far more likely to engage when you post a visual, and with Workplace, you'll have a great platform to share it! With Workplace groups, for example, you can upload graphics, pictures, and videos to the Workplace platform and give your employees an easy way to engage with visual materials.
Got some new employees who are starting with you? Ditch the training manuals for training videos, and put them on Workplace for all to see!

Need to send your usual quarterly newsletter to your staff? Try a quarterly infographic instead!
If you're not already providing visuals to your employees, why not take the second half of 2019 and give it a try? Use the two suggestions above, or let your imagination run, and start catering to those visual learners today.

Internal Communications Trend #3: Create Content For Your Employees
Another trend that we're seeing, which goes along with the first two trends, is the shift to creating more internal content – providing your employees with relevant monthly, quarterly, bi-annual, or annual communications so that they can stay up to date on what's happening, any new services or products that you'll be offering, and more. By regularly providing interesting and valuable content to your employees, you make them feel more valued, and thus, they're more likely to be engaged with what's going on at work – which, in turn, leads to greater productivity.
Workplace's easy-to-use platform is perfect for engaging your employees and can give you a place to get that content you're creating into your employees' hands – no matter what device they're using (and this last point is especially important for frontline employees, or workers who don't have regular access to a computer). With Workplace acting as your distribution system, you can keep your employees updated on staff changes, new policies or procedures, important messages from your executive team, new product or service specifications, or whatever internal content you're creating.
Don't have something like this in place yet? It's not too late to make content creation a priority! Why not try creating a quarterly newsletter to start and roll it out for your employees? And, like we discussed in the trend above, make sure that newsletter includes lots of visuals!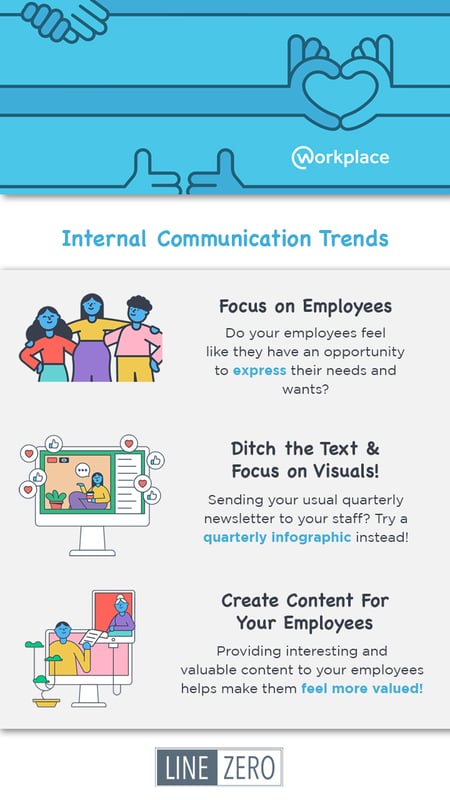 Spruce Up Those Internal Communications with Workplace!
So, how'd you do? Are you on track with the internal communication trends that we've outlined in this blog? If you think you might need a little work, not to worry! You still have six months before the end of the calendar year – plenty of time to improve your internal communications and get yourself set up for a stellar 2020!
Interested in learning more about what Workplace can do for your organization, or want to know how you can implement Workplace to help boost your internal communications? Give us a shout! At LineZero, we're not just knowledgeable about Workplace – we use it ourselves! From design, to pilot, to implementation (and everything in between), our experienced staff has the know-how to build the innovative and collaborative internal communications platform that works for you.