If you're like me, I have a hard time keeping up on all the new features and updates to features in Workplace. Don't get me wrong; this is not a complaint. I don't know of another SaaS that has as many features released and enhancements to features as Workplace! However, I do find it much easier to see them in one place, hence I've put together this list of new feature or changes from the last 90-days.
This post features releases from the last 90-days: October, 2019 - January 30, 2020
(Hint: Bookmark this site! We'll be sharing regular release feature compilations.)
Do Not Disturb (released October 23, 2019)
We all live busy lives and sometime we just need a little 'me' time. Take control of your time and schedule Do Not Disturb time, your colleague will be signaled when you are not available and incoming calls, videos, and chats will be muted. This feature can be a one-off or you can set regular DND time for increase think time during the day or after hours and holidays.
HOW DOES IT WORK?
To set a do not disturb schedule, click on your profile image in the lower left hand corner of Workplace and click Do Not Disturb then Do Not Disturb Schedule. If you are using the old Workplace design, go to Workplace Chat and click the gear icon then Do Not Disturb. You can choose the full days that you want Do Not Disturb enabled and the schedule you want enabled for every other day of the week. In addition to your schedule, you can always enable do not disturb when you want some time to focus.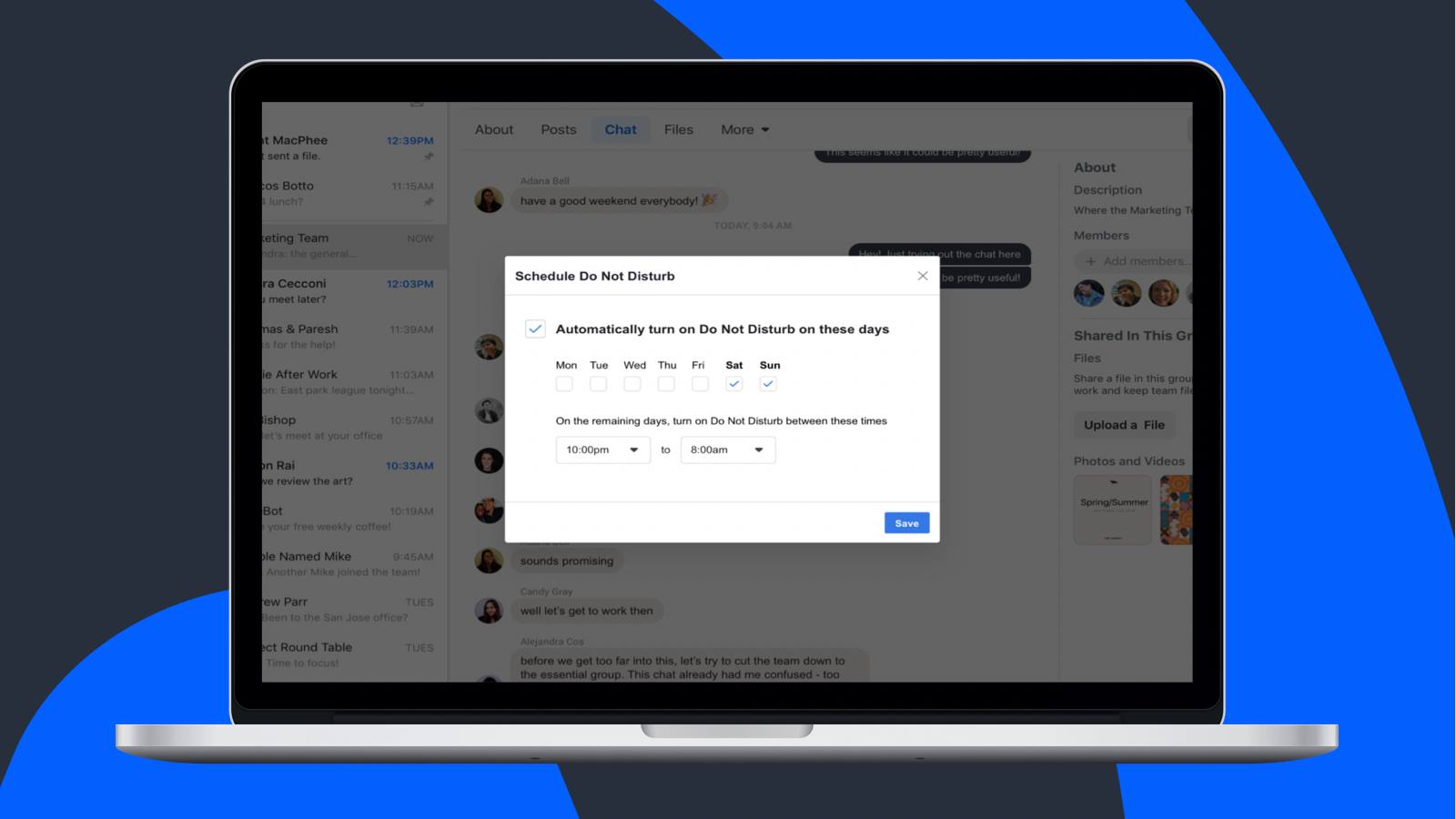 Thanks (released Oct 30, 2019)
I love this feature! Now we can recognize our collegues in a whole new way with 'Thanks' it enables 360 degree recognition for a job well done, directly on a person's timeline. So we can highlight the meaningful contributions of their colleagues!
HOW DOES IT WORK?
Want to shout out to a colleague for closing that latest deal? Or their leadership on your latest project?
You can Send Thanks to anyone in your organization and notify their manager in the process. Start by visiting the profile page of a colleague you'd like to thank and clicking the Send Thanks button below their cover photo.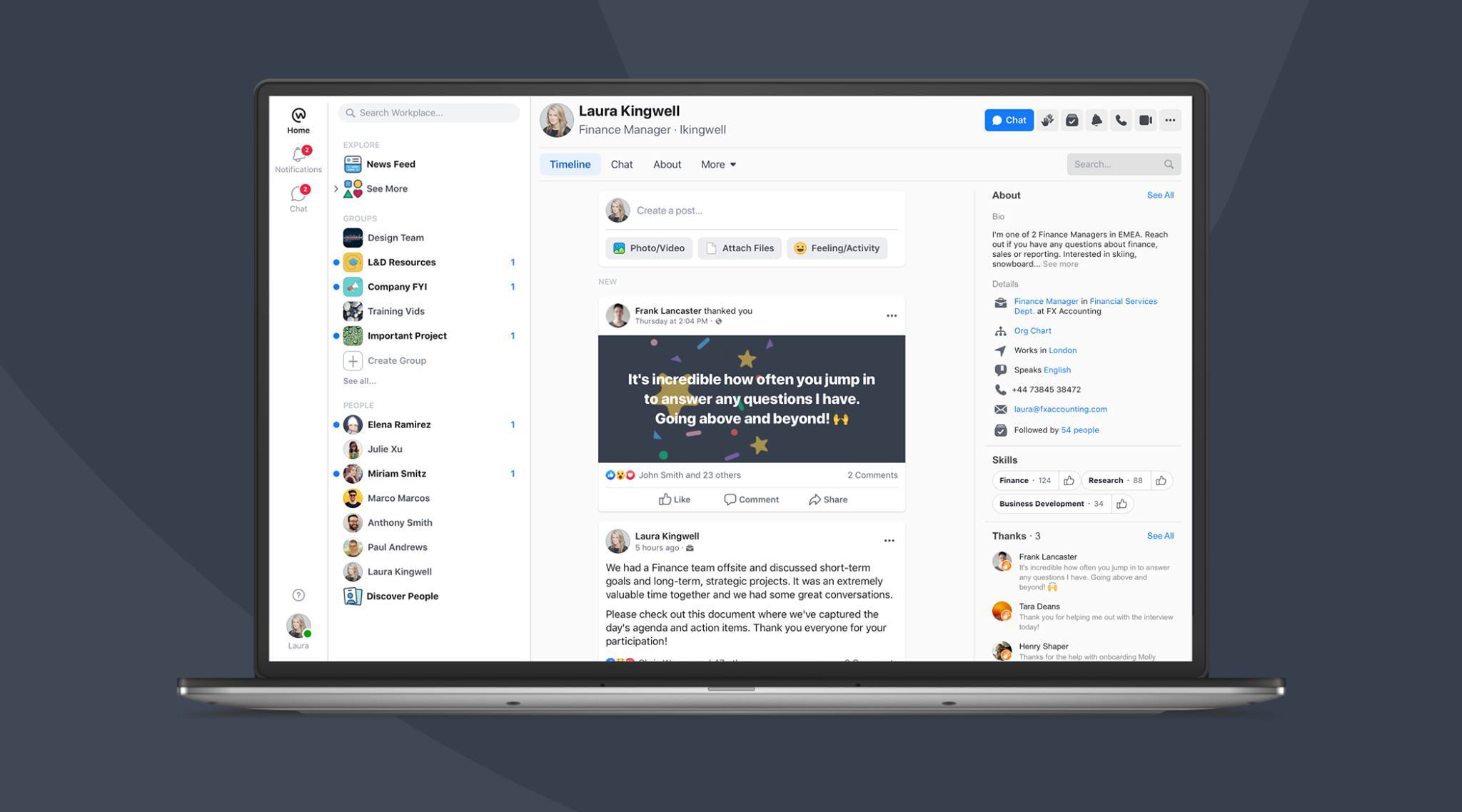 Automatic Video-Captioning (released Nov 5, 2019)
Video is a powerful medium of communication that many Workplace users are increasingly taking advantage of, but watching videos can be inconvenient at times, and especially not ideal for coworkers with impaired hearing, or working on the frontline. Automatic Video Captioning enables anyone to generate captions for videos on Workplace, making videos more accessible and easier to consume anywhere, anytime.
HOW DOES IT WORK?
Utilizing the latest artificial intelligence technology, Automatic Video Captioning generates captions for videos in a few clicks.
Select the video you want to upload > click [

cc >

]

Click

Video Auto Captioning

. Workplace will automatically recognize the language being spoken and create captions for you. This can take a few minutes depending on the length of the video.

Click

Preview Caption

> click [

>

] to play the preview video. When you're read click

Done

.
You can also download and edit your captions before publishing, or upload your own captions.
Custom Badges (released Nov 25, 2019)
Custom badges provide a way to recognize employees for their company-specific achievements and thereby reinforce unique company values. To streamline the process of awarding badges, we've added the ability to bulk award via file upload—and it's already possible to create custom admin roles with the 'Manage badges' permission, so others can be empowered to award badges.
Alongside custom badges and bulk awarding, we're adding an on/off toggle for admins to manage each badge as well as a user view of all the badges that are being used by their organization.
HOW DO CUSTOM BADGES WORK?
Like Badges, custom badges can be managed by system admins, content moderators, account managers and any admin with a custom role containing the 'Manage badges' permission.
HOW DO I CREATE CUSTOM BADGES?
From the Admin Panel, click Badges. You'll see the list of badges that are available within your organization. To create a custom badge, click Create Custom Badge in the top right hand corner. Upload a photo, name and description for the badge and press Save. Once a new custom badge is created, it will appear at the top of your company's list of badges.
Note: custom badges can be deleted or disabled, but not edited.
HOW DO I AWARD BADGES?
To award a custom badge, click Award and then type in the names of the individuals to whom you want to award the badge in the dialogue box and then click Close. Or, if you want to do bulk upload to award the custom badge to a large number of employees at once, press Upload File and then insert an .xls or .csv file. Once the names of the employees have been uploaded and are in the Ready category, press Award.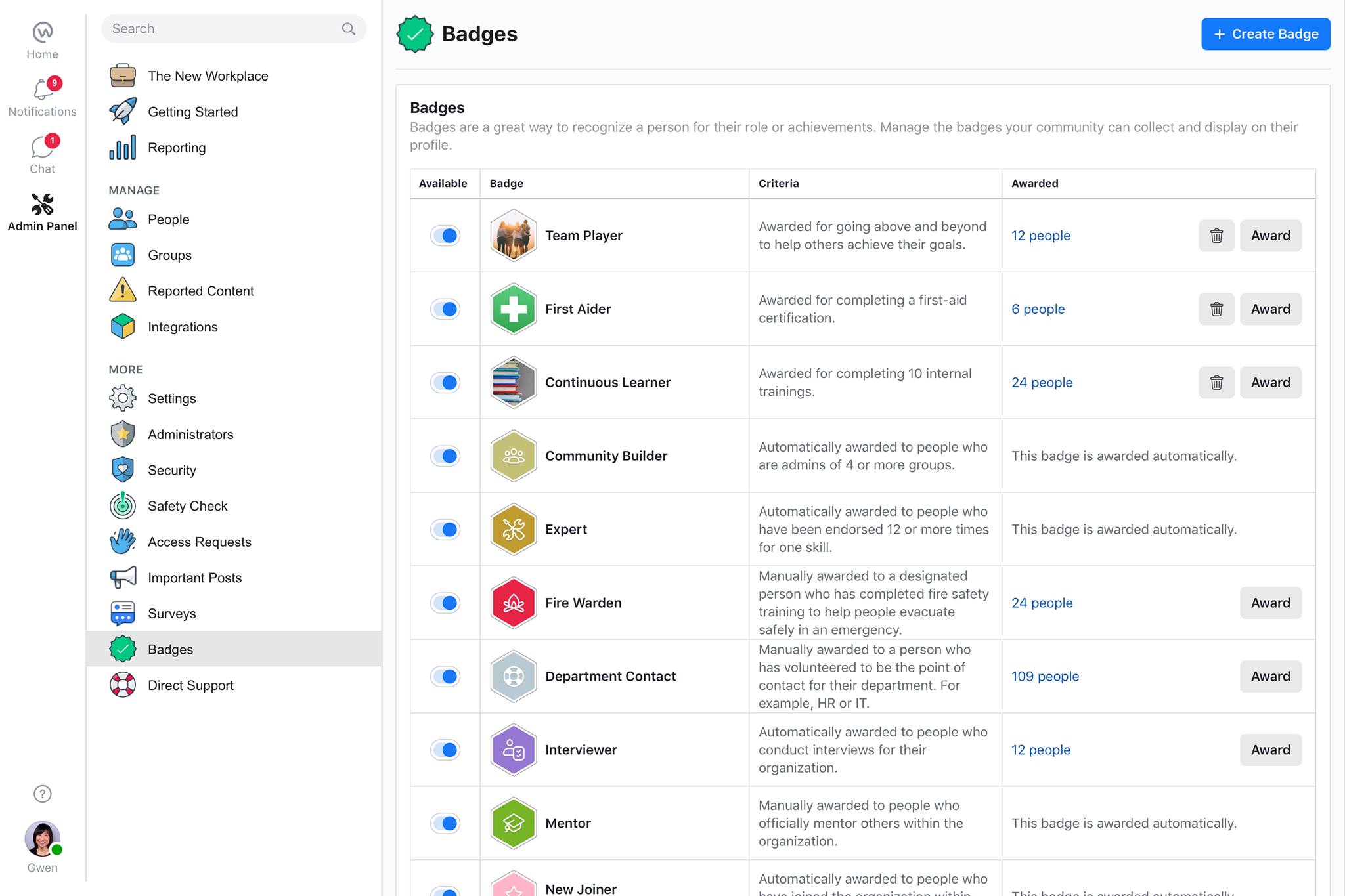 Video Copyright Protection (released Dec 6, 2019)
We understand videos are important assets to you, so we've built a feature to help you protect them. With Video Rights Management, you will be able to prevent copyrighted and confidential videos from unauthorised download & distributionoutside of Workplace.
HOW DOEST IT WORK?
Video Rights Management (VRM) is a feature that encrypts videos published on Workplace and only allows people in your Workplace community who have logged into Workplace on a supported browser to watch them. Today, VRM is supported on Firefox, Chrome and the Workplace mobile app.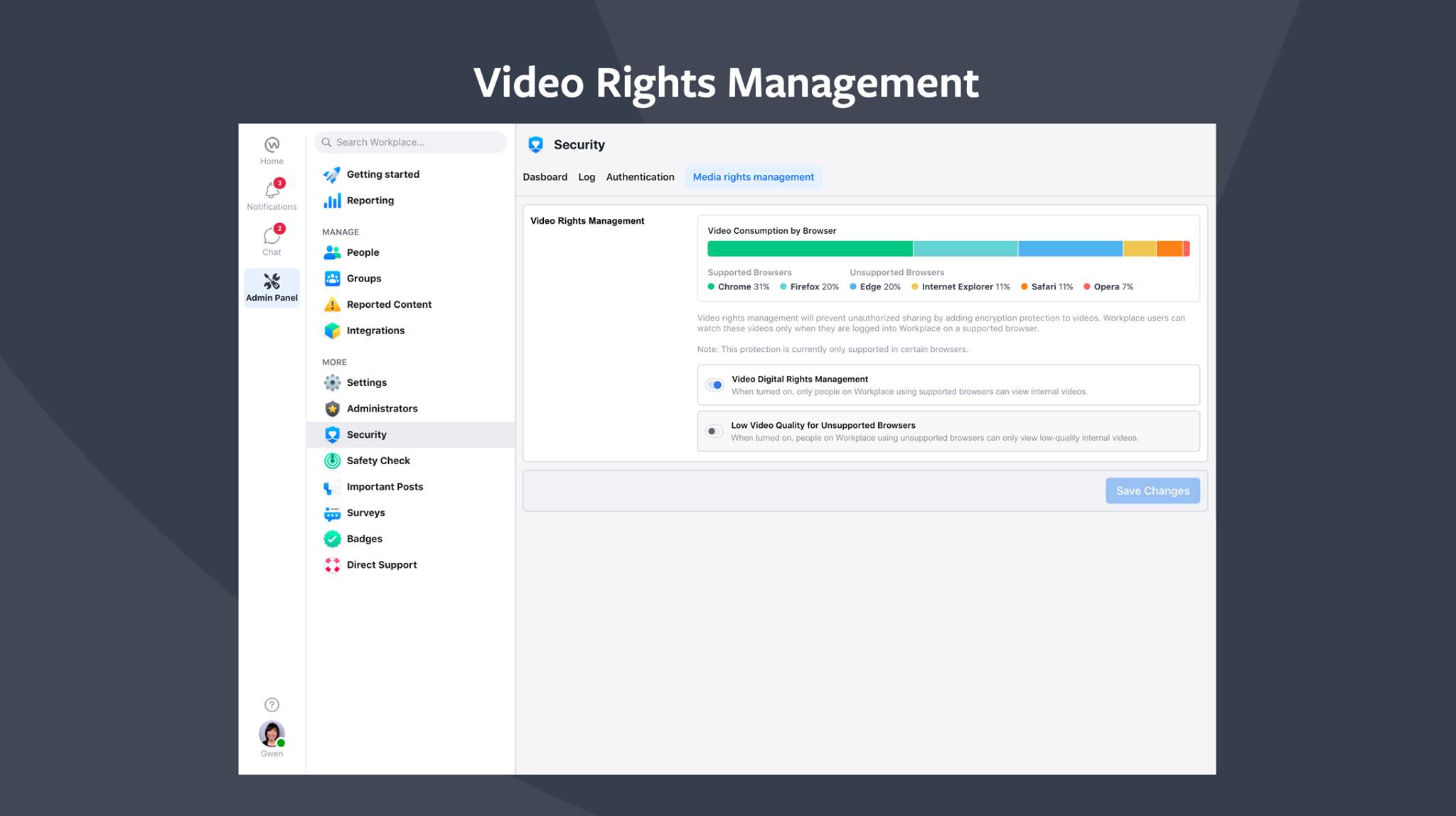 Learning (released Dec 9, 2019)
Imagine capturing all the tips and trick you learned as you were onboarding into your company? Learning does this for you capturing all your teams knowledge and filtering it back so that you can create modules for enhanced learning and faster easier onboarding, not just onboarding of employees but new members into a department, shift change, project inclusion and more.
HOW DOES IT WORK?
Group admins will start to see a "Learning" tab (only visible to them), where they'll be able to enable and add Learning content. As soon as they create or add content to a module, the Learning tab and modules will become visible to group members. The content will be available through the Learning tab, the group itself and in News Feed.
Surveys 2.0 (released Dec 16, 2019

)

Survey are important tool in getting feedback and the pulse of your organization, Workplace survey's have the ability to set reminder for member to fill out and even custom-invite message. This release included increased reporting, deeper pulse functionality and more distribution to allow the admin to import a list of recipients.
HOW DOES IT WORK?
The Surveys section of the Admin Panel is accessible to system admins, content moderators and custom admin roles with the 'Manage surveys' permission.
To upload a custom list of recipients, click on Manual List in the Recipientssection of the survey-creation flow. Download the CSV template, input the recipients' details and then upload.
To setup a recurring survey, click on Recurring to Random Samples in the Durationsection of the survey-creation flow. Choose the period of time during which you'd like the recurring surveys to run, then define the frequency and response window. Based on your inputs, a summary will be presented with the average sample size, frequency, number of runs and total count of recipients.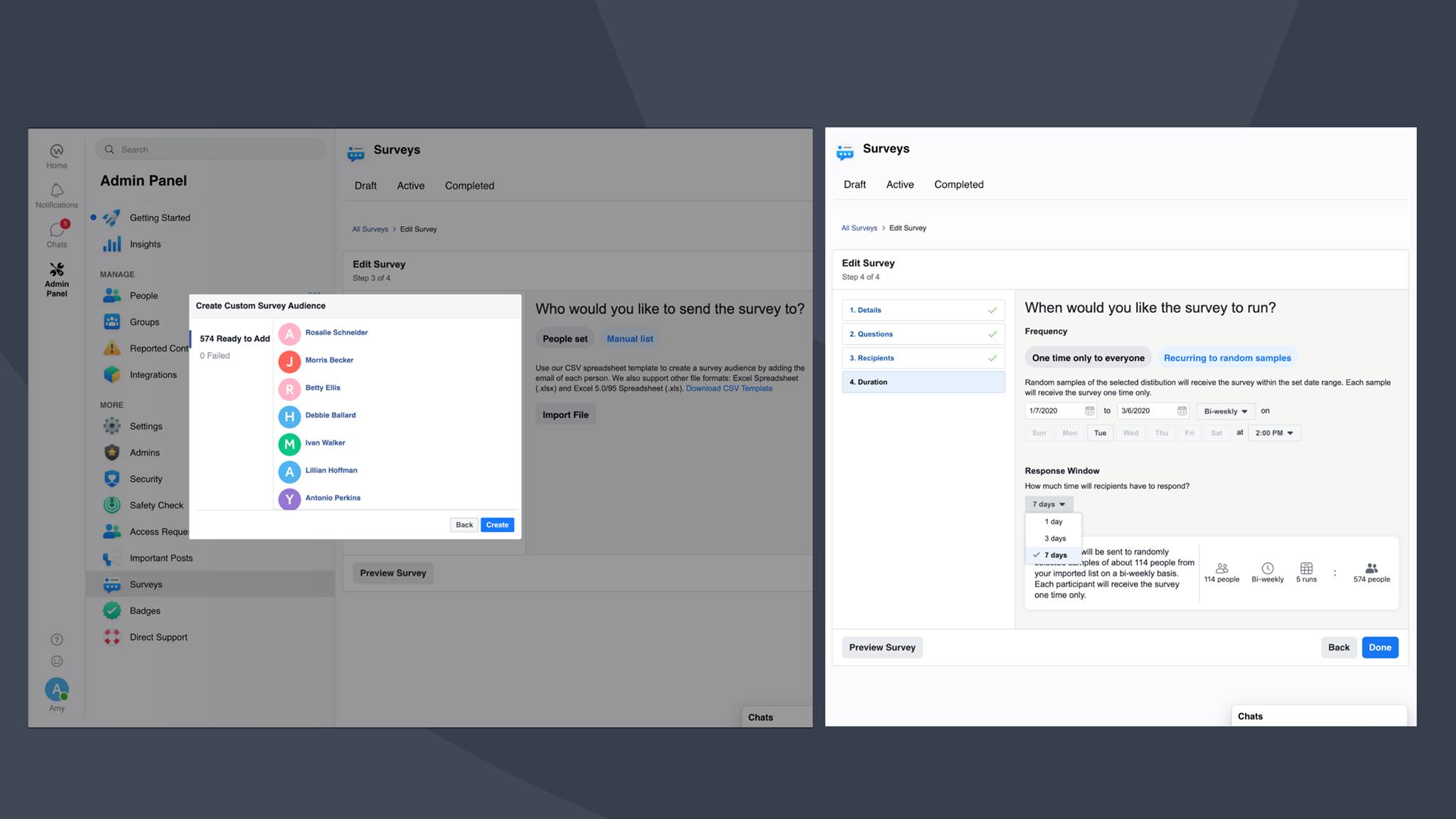 Login into Workplace with Security Key (released Dec 23, 2019
)
HOW DOES IT WORK?
To set up a security key, make sure you already have 2FAC enabled for your account. Visit the "Settings" section of your profile, then click on "Security and login". Then, click the "Edit" button in the "Use two-factor authentication" section, and click on the "Set up"button next to the Security key under the "Add a back up method" section of the page.
Multi-Pin to Post (release Jan 21, 2020)
Can't decide which post is most important, now you can multi-pin to post. Happy pinning!
HOW DOES IT WORK?
As a group admin, you can go to any post in a group, select the post menu and select "Pin Post". Follow the same steps to unpin a post. If you want to select one pinned post that always shows first, go to the post menu of the pinned post and select "Pin to top". This feature will be available on the web as well as iOS and Android Workplace apps.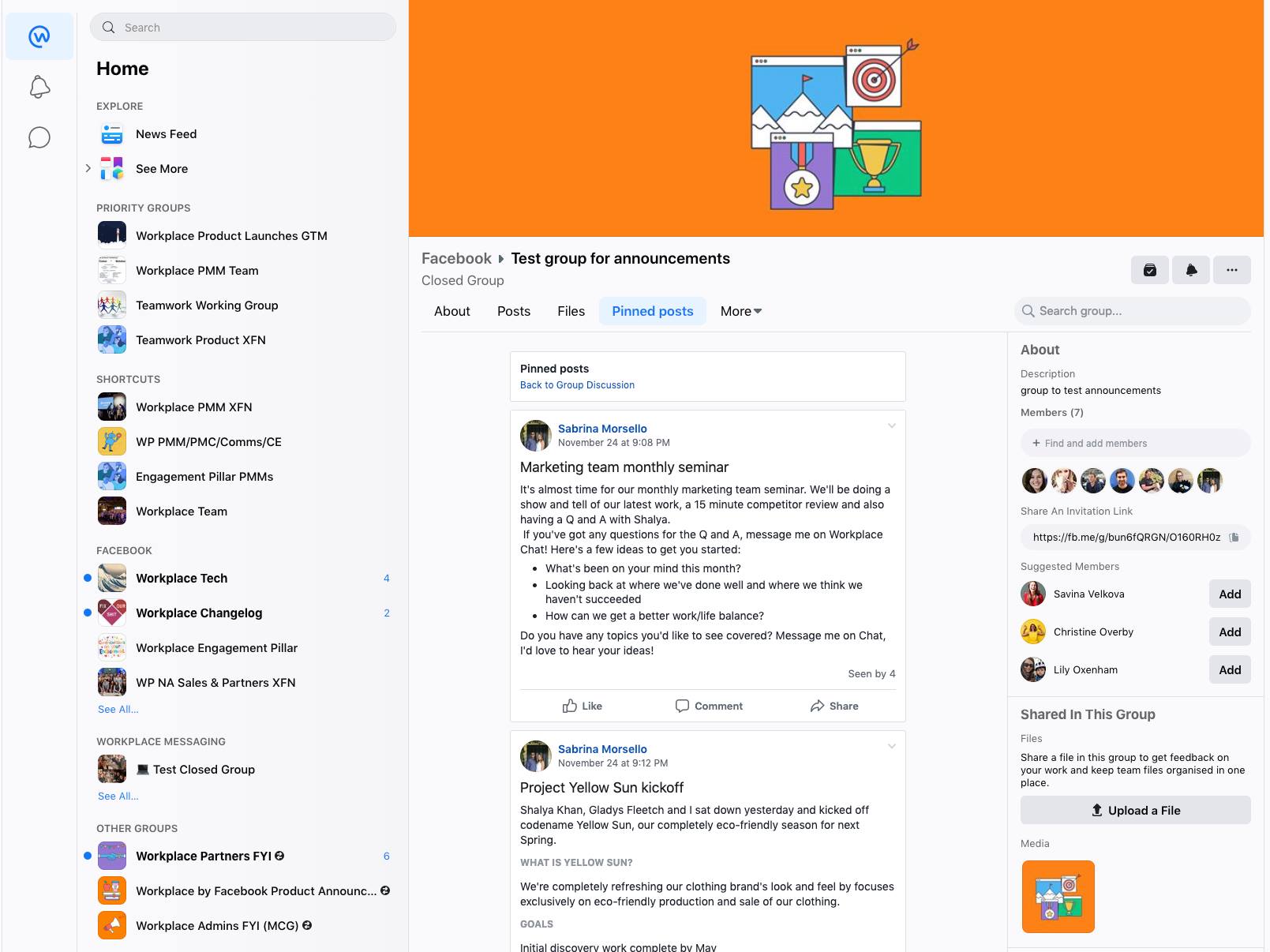 Work Teams (released Feb 3, 2020)
This is a great little feature when you are a project and don't want to create and manage a group. It's a static page with a resource section, ability to promote a point person and is in your search function for quick reference.
HOW DOES IT WORK?
A work team is a static page that includes a description, along with a list of resources, members and associated groups.
Find and join work teams by searching people's profiles or the Directory. Note: Any work team that you're a member of will be visible on your Profile page.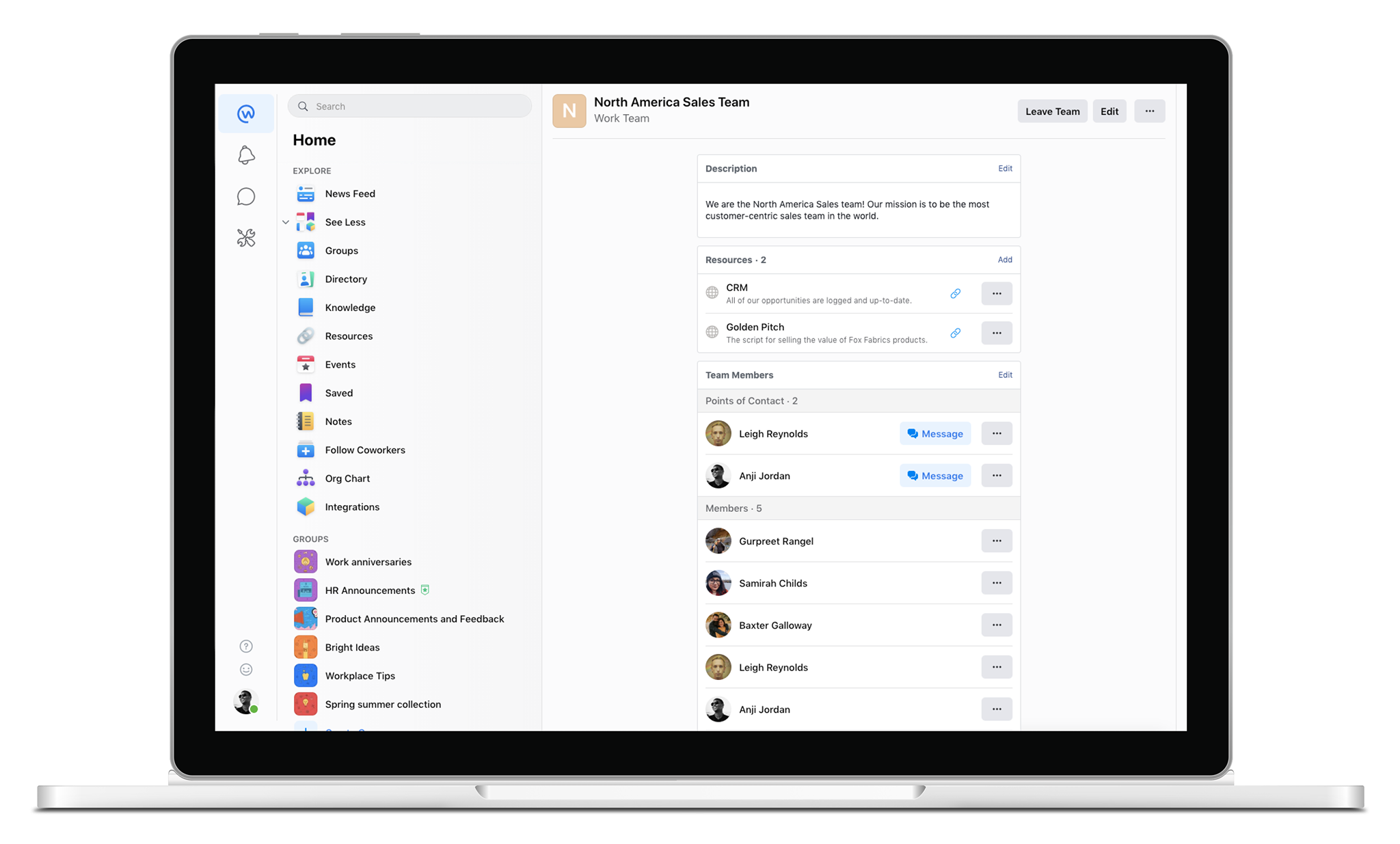 Reminders (released Feb 5, 2020)
When I'm busy between meetings or travelling, I like to save, and set a reminder for posts so I don't miss anything important. Doing so means that I can stay current and don't need to 'remember' to come back to post that are important.
HOW DOES IT WORK?
To set a reminder, click on the Reminder button on the post you would like to be reminded of. Then, choose a time you would like the reminder to be triggered - the default options we give you are 9 am the next day, and in an hour, but you can set it for any custom time that is convenient for you.

If you would like more info on any of these features, please drop us a line, call or email. We would be delighted to help.
Thanks!
Quick Reference Guide: