Interested in learning more about Workplace's new plans and pricing changes? You've come to the right place! Let's dive right in and explore more about the new changes happening to Workplace plans and pricing.
Workplace Plans and Pricing: Why the Change?
Launched in 2016 as a communication and collaboration platform to bring everyone closer, make teamwork faster, and help you build a strong company culture, the Workplace by Facebook team has spent the last three years innovating and coming up with new features that you, as a Workplace customer, can take advantage of.
Today, Workplace is proud to serve more than 2 million paid users across many organizations of all different sizes. And, to help even more organizations choose the product features that best suit their needs and wants, Workplace is introducing three new plans, plus an add-on plan for the frontline workforce. Let's check them out!
The New Workplace Plans and Pricing
Here are the three new Workplace plans, which will come into effect on September 2, 2019:
Workplace Essential (Free):

Replacing Workplace Standard, Workplace Essential will contain essential communication and collaboration features that will help your team to stay in touch and work together. Take advantage of Workplace Chat, Video Chat, and groups to help you and your team work better together.

Workplace Advanced ($4/User/Month):

The new version of Workplace Premium, Workplace Advanced is designed to connect your company with all the Workplace features you're familiar with, plus additional advanced administration controls. Use such features as Workplace Chat, News Feed, live video, and Groups, and take charge of your administrative needs.

Workplace Enterprise ($8/User/Month):

Built for organizations that operate with greater levels of complexity, and need more support than other organizations, Workplace Enterprise is for companies who need to improve communication and collaboration within a complex work environment. Including all the features of the Advanced plan, like Workplace Chat, News Feed, live video, and Groups, Workplace Enterprise also includes 4-hour initial support response time SLA, priority support resolution, and early access to new features.
Each of these new Workplace plans come with a fixed, per person, per month cost that helps to give you more control over your spending, which provides greater cost predictability than their previous monthly active user model did.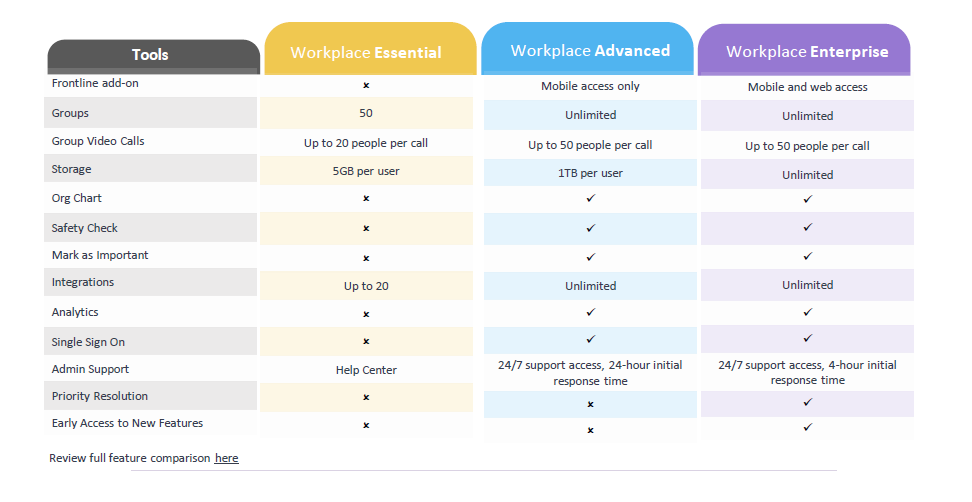 Source
*Note* Workplace for Good still remains free to use for all NGOs and EDUs, with Advanced plan.
Workplace Plans and Pricing: New Frontline Employee Add-On
When employees are more connected with each other and feel like they're "in the know", it helps to increase revenue per customer by 10%, provide a 20% increase in time-to-decision, and employee retention can increase by 10%.
In addition to these three new Workplace plans and pricing, Workplace by Facebook is also introducing the Workplace Frontline add-on for $1.50 per user, per month. This is available as an add-on to their Workplace Advanced and Workplace Enterprise plans. Depending on the plan you choose, Frontline workers will have access to Workplace via their mobile phone, or via the web, with conditional access controls, so that administrators can manage employee access outside working hours.
For Workplace Advanced customers, the Frontline add-on will be mobile only, and will include conditional access management abilities, and the option of disabling Groups creation.
For Workplace Enterprise customers, the frontline add-on will be mobile and web, and will include conditional access management abilities, the option of disabling Groups creation, and the option of disabling web access if needed.
Frontline workers are those employees who meet the following criteria:
The employee is desk-less 50% of the time or more.

The employee is an hourly paid employee.

The employee doesn't have a corporate email address.
AND, the employee matches one of the following role descriptions:
Customer-facing worker (i.e. hospitality worker, airline worker, retail worker on the floor, sales associate, etc.) at any level, including management.

Backstage worker (i.e. courier, warehouse, etc.) at any level, including management.

Utilities or Public Service worker (i.e. police officer, ambulance attendant, public works, waste management, utilities worker, etc.) at any level, including management.

Medical care staff (i.e. nurse, doctor, etc.) at any level, including management.
What You Need to Know About the New Workplace Plans & Pricing
Workplace by Facebook publicly announced the new plans and pricing on July 16, 2019. The global launch of Workplace Enterprise and Workplace Advanced plans will go into effect on September 2nd of this year (meaning that these new plans will be available for new customers in Canada and the United States to purchase). The Workplace Frontline add-on will also be available at this time.
For existing customers using Workplace Premium, your plans will be migrated to Workplace Advanced on September 2nd, 2019, with price grandfathering coming into effect at this time. You'll also be able to migrate any frontline workers to the new Frontline Worker add-on, too, which will help you to save money. Need to understand how to add frontline workers to your Workplace environment, or want to learn more about what price grandfathering will mean for you? Contact us!
Existing customers using Workplace Standard will be migrated over to Workplace Essential in late 2019 or early 2020 – please stay tuned for further details on this migration, or contact us for more information.
Let LineZero Help You With New Workplace Plans & Pricing
Which plan is right for you? How will grandfathered pricing work? Should you add the Frontline Worker add-on to your environment? What steps do you need to take to get started?
If you've got questions about the new Workplace plans and pricing, we've got answers! Give us a shout! Remember, at LineZero, we're not just knowledgeable about Workplace – we use it ourselves! From design, to pilot, to implementation (and everything in between), our experienced staff has the know-how to build that innovative and collaborative platform that works for your unique needs.
Related: