In the last 15 years, work from home has increased by 140%, touching 4.3 million North Americans working at least 50% of the time from home. Even with this data, 44% of companies do not allow work from home. Before the onset of COVID-19, this had been a topic at many leadership round tables, as the benefits are clear:

• An employer with remote work options see 24% less employee turnover.
• 86% of individuals who work remotely have expressed feeling less stress and are happier.
• Telecommuting saves a company on average $1900 per person, and the individuals regain about 11 days from not travelling.

The real question is how to get started: Teleconferencing, remote collaboration, virtual meetings. It may sound costly and cumbersome, but it doesn't need to be.

In collaboration with Workplace from Facebook, we've put together six easy steps to get started. Workplace is a communication tool that connects everyone in your company. It's easy to use and has everything you need for remote working, including instant messaging, video calls and groups for updates and announcements.
Step 1: Get Everybody Connected.
Select a communication tool that is easy and intuitive. Workplace's advantage is the similarity to Facebook, a tool many are already familiar with. Once you have downloaded the app or created an account from the website, the steps to setting up your team is simple.

You can choose between a Standard version (perfect for teams), Advanced (great for
entire companies), and Enterprise (suitable for, well, enterprises). For larger companies, anyone using Advanced or Enterprise might want to take a look at integrations with identity providers like Azure. We can support you through this process as well with our expertise through our sister company, ProServeIT, a Microsoft Gold Partner with whom we share resources.

If you have a large number of workers without PCs or email addresses, that's okay, too. You can use Access Codes instead – and everything on Workplace is built with mobile devices in mind.

Once everybody is connected, you'll be ready to dive into Workplace's remote working features - don't worry about training, as Workplace is so similar in function to Facebook, it's easy for virtually anybody to pick up and use.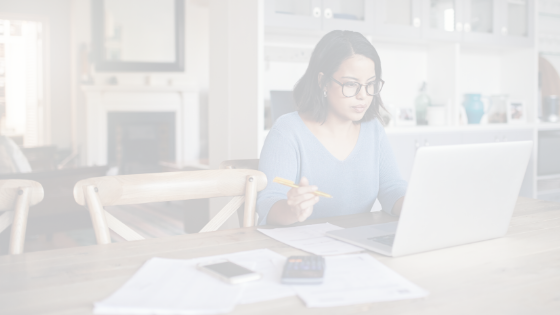 Step 2: Create an official Group for Company Updates.
One of the hardest things when it comes to remote workers is keeping everybody updated, especially in a fast-moving situation, like Covid-19. That's where Groups come into play. Groups help keep the right people up-to-date and connected with the right tools. Groups also allow for the sharing of documents and resource materials. These resources might be for the whole company or segmented by region or department, depending on the purpose and information being shared.

You can create as many Groups as you like inside Workplace, automatically add the right people, and decide whether you want each Group to be open, closed or secret.
We recommend creating a specific Group to share updates about Covid-19, then adding your entire company. Once you've posted an update, people can leave comments, share feedback and ask questions. And the beautiful thing about Workplace, unlike email, is you don't have to wonder if people read the email, as Workplace tells you who's seen your post!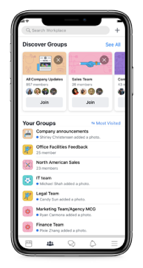 Step 3: Make the Most with Video Posts.
Video is becoming increasingly popular for internal communications - because it works. Statistically, on social media, people spend five times longer looking at video content compared to static content when they're scrolling through their phones - which is precisely what they'll be doing with Workplace.

Uploading a video to Workplace is as easy as any other kind of post. Once you've got your video, create a new post, select the Photo/Video tab, attach your file and wait for Workplace to do the rest (just like Facebook). Adding a video to a post not only makes it stand out in the Group you add it to, but it also adds the video to your Files tab, which makes it easy to find later. Workplace also has built-in auto-captioning in over 20 different languages, thus making it even more accessible for large, dispersed organizations with global presence.
Step 4: Go Live! To Bring People Together.
Every Friday, our President hosts "Open Office Hours," a 30-minute live stream discussion around hot business topics, internal concerns, and provides a chance for anyone to ask questions. If you are unable to join, that okay, too, as the live recording is immediately posted into Workplace afterwards. However, more often than not, people make the effort to attend.

Live video for many companies is an entirely new way to communicate with your team or entire organization. In fact, it has been found to be exceptional in boosting executives visibility. Video has all the immediacy of being together without the logistical, cost, or (in these times) health implications of a large, in-person gathering. With Workplace Live, you can broadcast announcements or even stream virtual events from your phone or laptop; no professional cameras or studios required!
The beauty of live is that everybody can participate in real-time by leaving comments and asking questions. And just like our 'Open Office Hours' every Friday, if you miss it, it's no big deal; the videos are automatically posted to a group so that people can catch up later.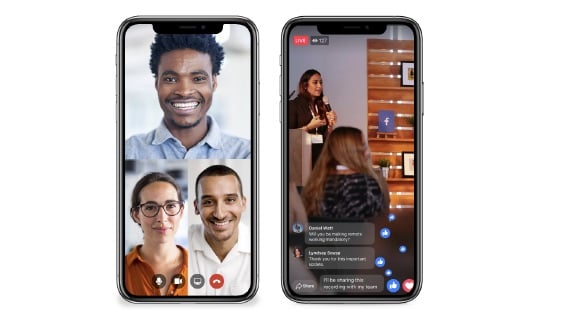 Step 5: Video Conferencing Made Easy.
We've all likely had the situation of trying to access a virtual video room; you can't hear the other person, the request to download, and more. These experiences have left many with a bad taste around video conferencing. But video conferencing is an incredible way to manage remote employees and keep teams in sync!

Workplace understood those previous challenges, and focused on making video conferencing super simple. All you need to do is open up Workplace Chat on desktop or mobile, find the Group or individual you want to connect with, then hit the video camera icon. No codes. No confusion. Just crystal clear HD video calls.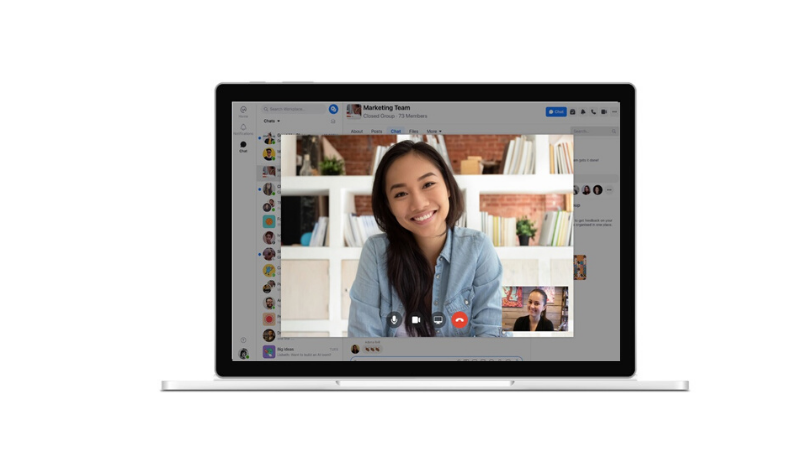 Step 6: Collaborate with External Companies through MCGs (Multi-Company Groups)
When teams are working remotely, it's not just their connection with colleagues that can suffer—maintaining relationships with suppliers, partners and customers who are equally as important.

Fortunately, Workplace considered this too, and, similar to in-company Groups, they decided to offer Groups that can extend to those outside your organization. Called Multi-Company Groups (or MCGs), these Groups allow people in different companies to come together in a shared space.
To set up an MCG, it is no different than creating a regular group. On the Group creation page, you'll see a button at the bottom under Additional Settings marked 'Multi-Company Group.' Select that, and you'll be able to send an email invite to contacts in a different company.

Once they've accepted, they'll have access to the Group (but only that Group) where they'll be able to make posts, share documents and leave comments, as well as start multi-company chats and video calls, too! So, you'll have all the versatility of Workplace at your disposal, yet in a strictly controlled sandbox environment for you and your most important partners.

These few simple steps are only a sample of what Workplace can do to help your organization stay connected and informed while working remotely.
---
Linezero is a team of security-obsessed communication and technology experts. Workplace from Facebook has partnered with us to bring exceptional strategy and service to clients who are looking to build irresistible companies through collaboration and communication, all while having a positive effect on the bottom line.
Want to learn more about Workplace? Or do you already have Workplace and would like to maximize it with other Microsoft tools? Let's connect.