Email-less solutions are in high demand, especially in specific sectors that employ frontline workers, or
those organizations that require board members to stay informed.
If you are a business manager or decision-maker (i.e. you manage an HR team or make decisions for your communications team), please read along, because this post is for you! If you're a tech guru, please click here – we've got a blog that's filled with step-by-step instructions on how to enable email-less solutions in your organization!
According to PricewaterhouseCoopers, companies with great employee experiences have 2.5x higher customer satisfaction rates and are over 30% more productive than those without. Retailers know this. In fact, in a recent survey of over 300 retail business decision-makers in seven countries, Workplace and Ipsos found that 67% of people wanted to provide simple and effective ways for employees to work together, 66% wanted to drive greater organizational connectivity, and 60% wanted to enhance productivity and collaboration for their frontline workers. 
Organizations nowadays, especially those who have frontline workers, need an easy outreach channel to reach out to all their team members. However, how can you connect frontline staff – those without a corporate email address – without paying for email licenses? Furthermore, frontline workers aren't often in front of a computer, meaning that you need a solution that will work on their mobile devices.
A mobile-first platform, like Workplace by Facebook, has made it a lot easier to connect people who wouldn't traditionally have a corporate email address. In this blog, we'll talk about how Workplace by Facebook can provide you with an email-less solution that your organization can use to connect everyone, no matter where or how they work.
Email-Less Solutions

Empower

Your External Users

with

M

obile

Capabilities
Think about your organization's external users: board members, students and faculty, and frontline workers. In addition to those employees who already have a corporate email address, Workplace by Facebook can provide you with an email-less solution can help to connect those who need to be connected to your core workforce.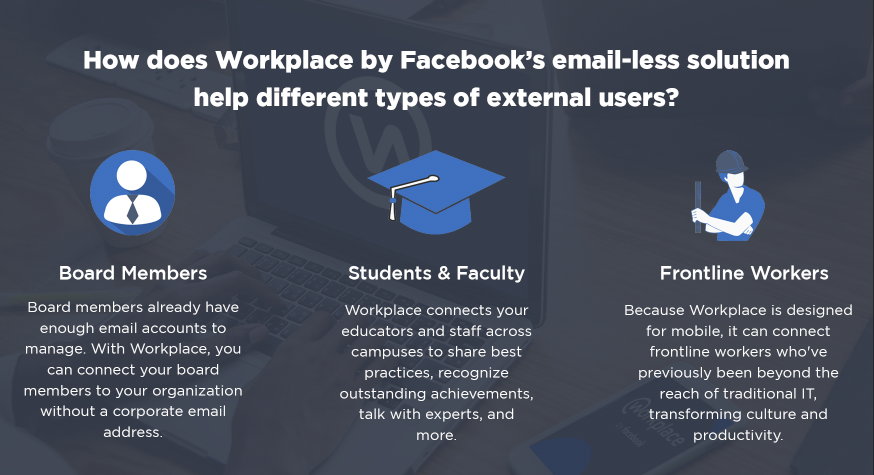 Let's take a look at how Workplace can help different types of users in more detail:
Board Members:

Board members

already have enough email accounts to manage. So, how can you

keep your board members up to speed on

what's happening in your organization without assigning them another one that they

have to

monitor? With Workplace by Facebook's email-less solution,

you can connect your board members to your organization without

a

corporate email

address

.

Students and Faculty:

School is a space to share ideas, build relationships

,

and work together. And so is Workplace. Using Workplace by Facebook, you can connect your educators and staff across campuses to share best practices, recognize outstanding achievements, talk with experts,

and discover new and better ways of working, and, by creating email-less accounts for your students, you can

help

build community across campuses, too.

Frontline Workers:

Because Workplace is designed for mobile, it can connect frontline workers who've previously been beyond the reach of traditional IT, transforming culture and productivity. When the shop front is connected to the back office on Workplace

by

Facebook, restocking the shelves can be as easy as posting a photo of a product running low to instantly kickstart the process. You can use Workplace by Facebook to share corporate policies, health & safety updates, store schedules, and more, without giving your frontline workers.
How Does Workplace Act as an

Email-

L

ess

S

olution

?
Workplace is built to give everyone in your organization a voice, whether you work in the head office or on the factory floor. But not every employee is given a corporate email address, which has been the traditional way of sending activation links for many products. With Workplace by Facebook's access codes, employees can activate their account without the need to have a corporate email address.
Using a login access code allows admins to invite users to Workplace. Admins can add a user to a Workplace community by generating a unique code that will allow the user to claim his or her account - no corporate email address required!
Check out this short video below to show how easy it is for the end-user to create a user account:
Are You Ready for an

Email-Less Solution

in Your Organization

?
Workplace by Facebook propels your organization into the modern era, letting you focus on real-time, instant communication with your team, regardless of their position in your organization. Whether you have frontline workers, students, board members, or other requirements for an email-less solution, those workers who don't have a traditional corporate email can still stay connected and informed through Workplace by Facebook. And LineZero can help!
As the first Canadian Workplace by Facebook service partner, LineZero is your go-to resource for all things Workplace by Facebook! From design, to pilot, to implementation, our team of experts can get you started by setting up these email-less solutions in your organization. Got questions? Give us a shout today!