Mississauga, ON, Canada — May 1, 2019 —Workplace by Facebook recently announced that they will be giving the Workplace web experience a makeover, and LineZero is here to assist our customers in understanding what this Workplace redesign will mean for them!
Workplace by Facebook announced that their new Workplace redesign is meant to retain the familiar user experience, but make it easier for people in the organization to connect and collaborate with each other. Starting on June 5, 2019, users will be able to access the new Workplace experience and be prompted to review the changes.
"One of the benefits of Workplace by Facebook is the ease of adoption for end users," says Caroline Mikhail, Workplace by Facebook Officer & Strategist at LineZero. "Workplace by Facebook, was, in fact, built from the commercial Facebook social media platform that billions of people know and use. But Workplace is also aware that this great collaboration tool is being used in the workplace. So, this new Workplace redesign experience will be taking the collective feedback of their users into consideration and helping people to get their work done with fewer distractions."
Workplace Redesign - What's Changing?
Erika Moll-Richardson, Account Executive, Workplace by Facebook for LineZero is happy to point out the positive changes that are going to be taking place.
"The new Workplace by Facebook experience will make it even easier for people to connect, collaborate, and get their work done on the Workplace platform," she says. "New navigation will make it easier for users to switch between Workplace Groups, Notifications, and Chat. Workplace will also be making Groups more prominent, which will help users to keep track of the groups they're a part of and help them navigate to the groups that they find most relevant and important to them. They'll also be reducing the clutter in the navigation bar on the left side of the screen, making it easier for users to focus on content that matters most to them."
Workplace Redesign - The New Interface: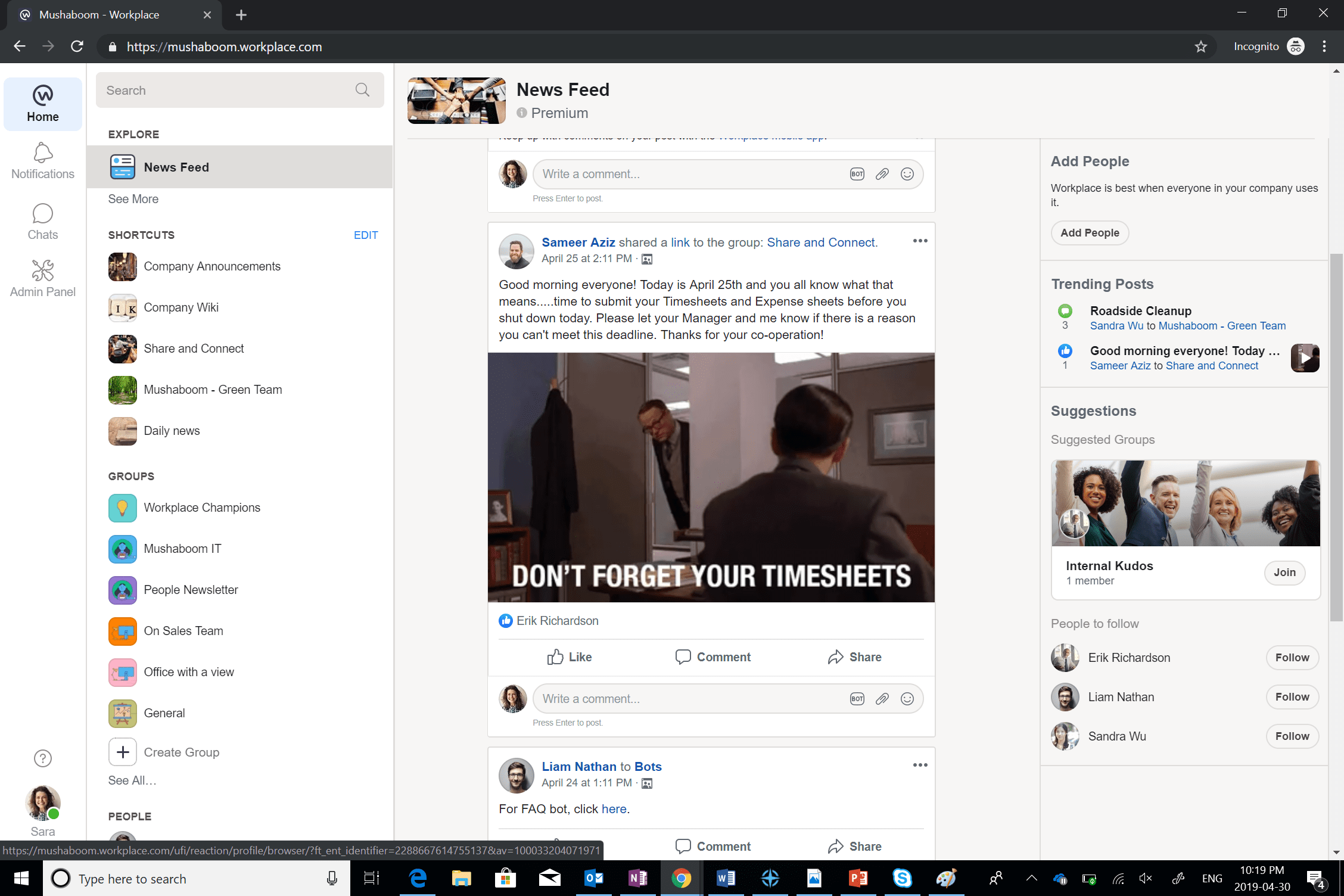 The best part of Workplace's new makeover is the collapsible column on the right-hand side of the screen. We all love Workplace's powerful algorithm, and their suggestions are always helpful, but sometimes you just want to say, "thank you, but I need to focus on the group feed now."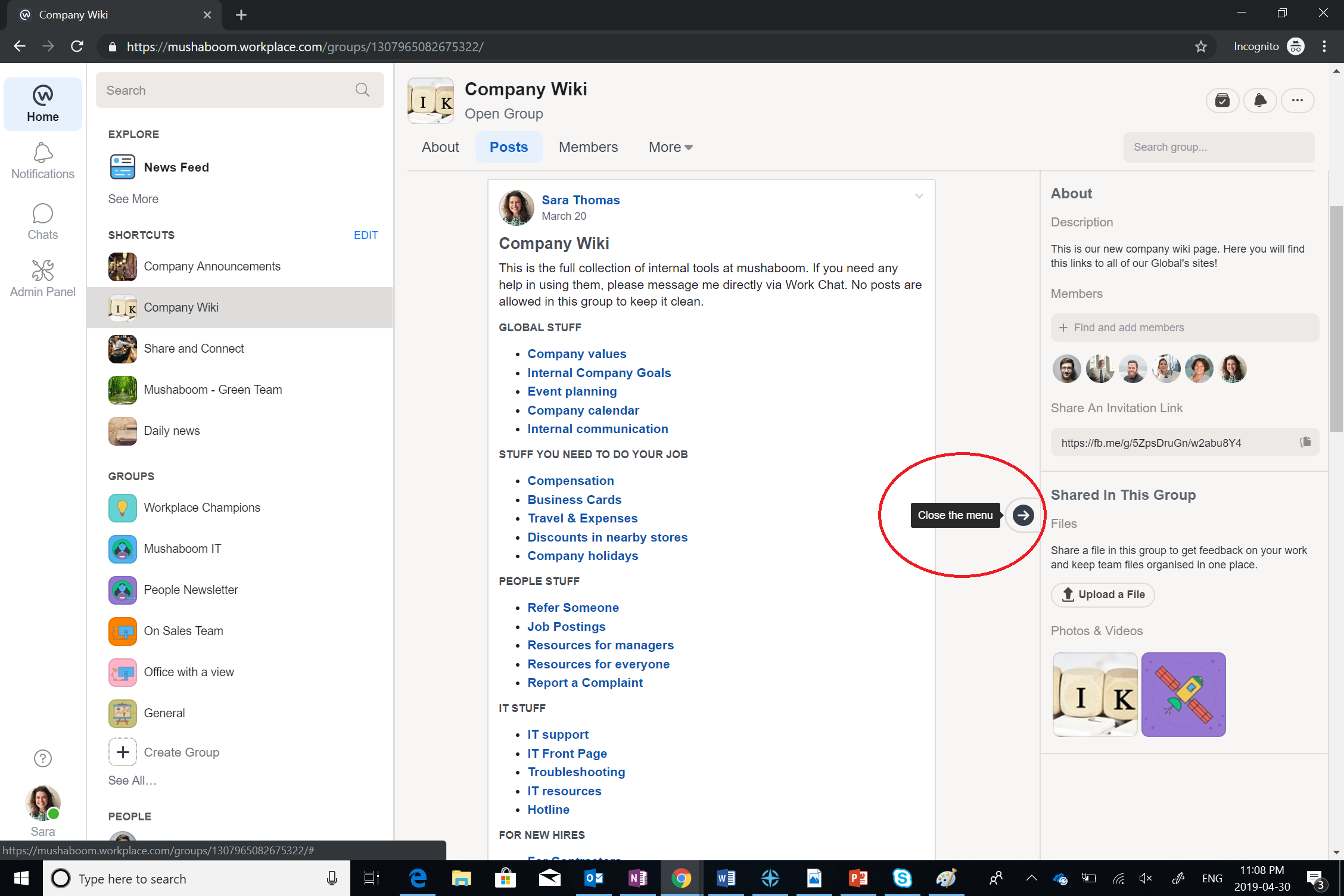 Not a problem – as the example above shows, with the new interface, you'll be able to simply click the small arrow on the right-hand side to collapse the whole column or close a group suggestion.
Workplace Redesign - Notifications: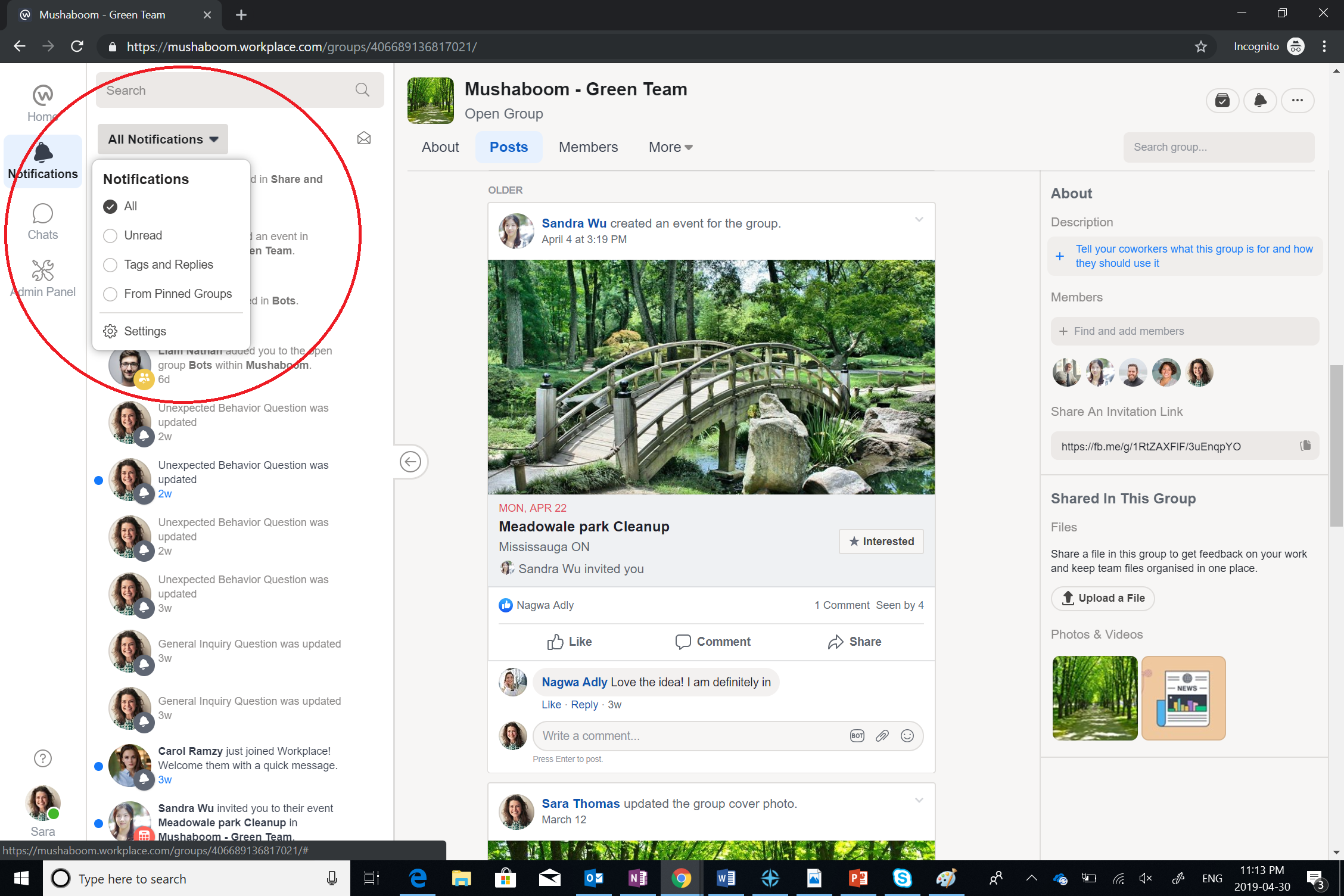 Notifications are being re-imagined as more of an inbox, so users can quickly review them all in one go and can also have more granular control over their notifications. This makes it easier for users to scan through all their new items and manage them with new features such as advanced filtering.
Workplace Redesign: Improved performance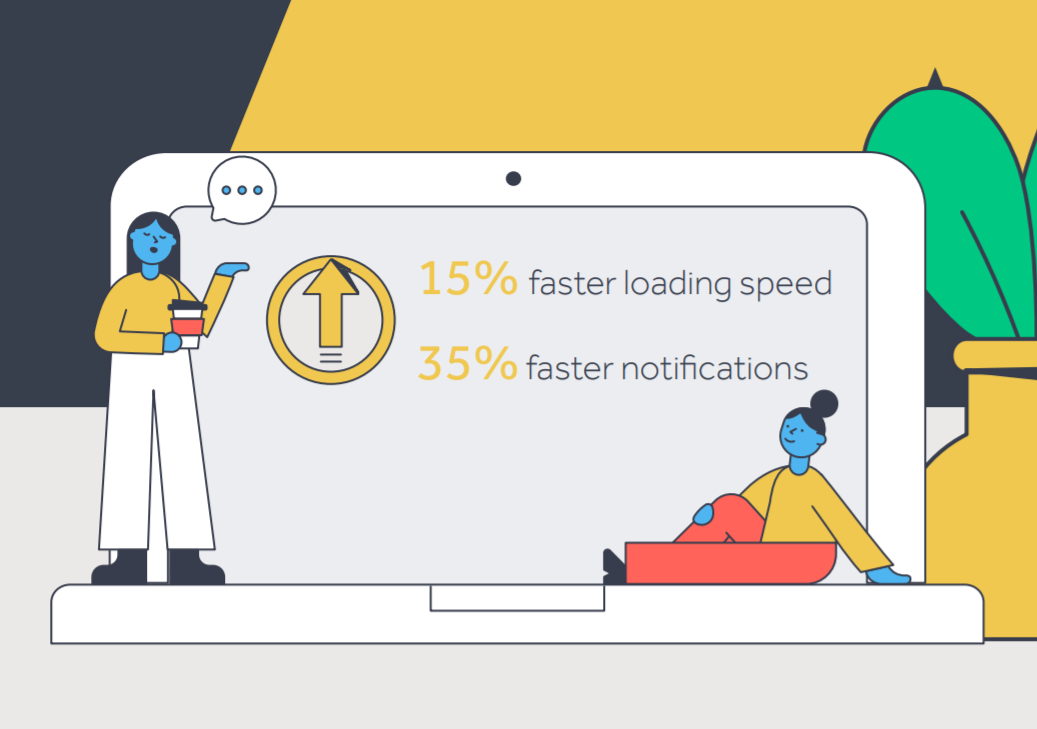 Workplace will be leveraging the latest technologies and infrastructure built by Facebook to significantly improve performance. The new experience is 15% faster overall, with big gains in areas such as triaging notifications, which is now 35% faster.
When Will this Workplace Redesign Be Available?
Although Administrators will have the ability to switch their organization to the new design at any point after June 5th, the new Workplace design will automatically go into effect for all Workplace by Facebook users on August 9th.
"At LineZero, we believe in helping our customers improve the way their people communicate at work," says Mikhail. "We're excited to help our customers manage the change to this new Workplace experience by providing live webinars for end users, customized short videos, or direct support Q&A channels. We're looking forward to seeing how the changes will make it even easier for our customers to focus on collaboration and communication within the organization."
For more information on the changes that are occurring, to see a detailed guide of the new Workplace experience, or for assistance with your organization's Workplace platform, please contact us at engage@linezero.com.
About LineZero
LineZero is proud to be recognized as the first Canadian Workplace by Facebook service partner, helping you to propel your organization into the modern era. And, at LineZero, we aren't just your go-to Canadian Workplace by Facebook partner – we use it ourselves! From design, to implementation, to adoption, LineZero has the change management expertise and experience to help make your Workplace project a full success – exactly the way you want it.
For additional information:
Caroline Mikhail
Workplace by Facebook Officer & Strategist
engage@linezero.com
https://www.linezero.com