Microsoft Teams and Workplace from Facebook – there's no doubt they're powerful alone, but are they better together? This is a common question we get asked among internal communications leaders when they're looking at which collaboration tool is the best fit for their business. Leaders love the familiarity and high adoption of Workplace from Facebook, but their organization runs on Microsoft technologies.
The good news is that a "one-size-fits-all" software solution is a thing of the past, and Microsoft Teams and Workplace from Facebook is no longer an "either-or" decision. When used together, you can achieve even greater business outcomes by creating best-in-class employee experiences. In this blog, we'll explore how Microsoft Teams and Workplace from Facebook can be utilized in your organization from the lens of a communications leader.
Creating an outcome framework for Microsoft Teams and Workplace from Meta
Before diving into what a typical scenario looks like for an internal comms leader utilizing Microsoft Teams and Workplace from Meta, it's important to consider how Workplace can complement your current Office 365 technology stack. Ask yourself the following questions:
What outcome(s) is your organization looking to drive?
What are the goals that you are trying to achieve by integrating Workplace from Meta and Microsoft Teams?
What are the business problems your organization is trying to solve?
Once you've completed the framework and determined that an integration of Workplace from Meta and Microsoft Teams is the right step, it's time to get started!
For the sake of this blog, let's talk about one of the more common use cases that many comms leaders have faced: Town Hall meetings. Read on to see how using Microsoft Teams and Workplace from Meta together can make your next Town Hall event more effective and more engaging.

Microsoft Teams and Workplace from Meta – The potential of running an engaging town hall
In the case of Town Halls, problems arise when these meeting become a series of dense, one-way communications, with little or no opportunity for engagement and feedback from your employees. The employee experience (EX) can be made worse when the next session is the same as every town hall that has come before it. So, how can you tap into the potential of town halls to make the session as effective as possible?
With Microsoft Teams as your productivity tool (where you can collaborate with your team across projects in real-time) and Workplace as your collaboration tool (where the entire company can come together), your Town Hall can be highly attention-grabbing and engaging. When Town Halls are successfully run, organizations can build employee confidence and trust through close interaction with senior leadership. This helps to build a strong sense of community.
A Day in the Life of an Internal Communications Leader – 6 Easy Steps to Run A Successful Town Hall with Microsoft Teams and Workplace from Meta
1. Create the communications in Teams with the CEO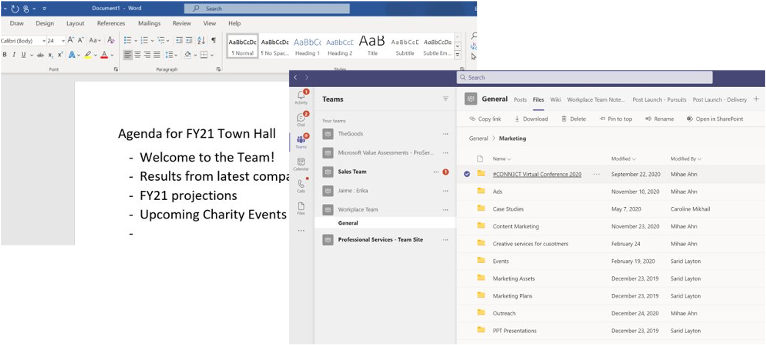 The first step to developing a successful Town Hall is to create content that highlights the important news and updates you want to share with the entire organization. To work collaboratively on content in real-time, work with your team to create the Town Hall communications by utilizing Microsoft O365 tools, such as Word or PowerPoint. By uploading the content to a dedicated folder in Teams, your content will live in the Cloud and you can share a living copy with your colleagues to work together, or even co-author the document during your planning meetings.


2. Create an all-company meeting in Workplace from Meta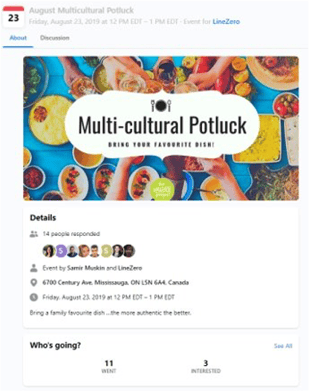 Now that you have used the productivity power of Microsoft Teams to create the content for your upcoming Town Hall, it's time to set up and launch the event in Workplace from Meta! By creating the Town Hall event in Workplace, you can help your people stay up-to-date and informed by letting them know where they can join the event, how to join the event, and how to receive information and updates surrounding the event.


3. Prepare for the CEO Town Hall meeting with Microsoft Teams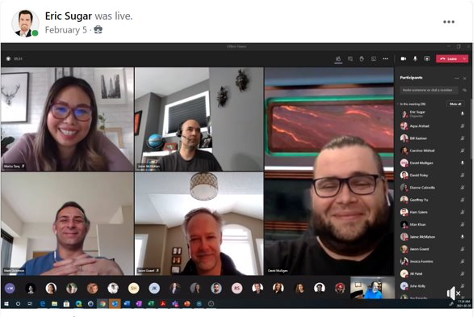 With the main content developed and the Town Hall event launched in Workplace from Meta, it's time to re-visit the communications you plan to share with your organization. With Microsoft Teams, you can collaborate with your teammates to determine the event agenda, collaborate on the PowerPoint, and more.


4. Create a post in the all-company meeting in Workplace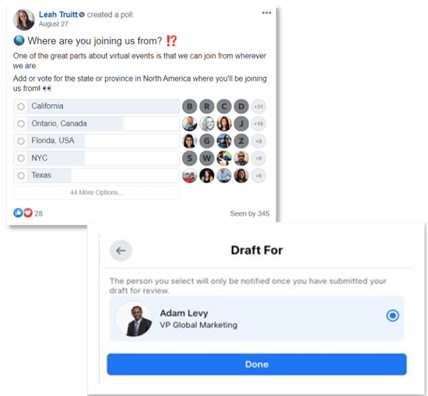 Leading up to the event or the day of the event, your organization will want to make sure you have the right communications in place. By tapping into Workplace, you can create polls to gauge excitement around the Town Hall or gather questions from the employees that will be addressed. Creating polls can help your team curate and refine the content of the Town Hall so that it is most relevant and helpful to your team. Plus, utilizing Workplace can help you measure impact through insights and analytics, and foster two-way dialogue so that your comms provokes thought and question.


5. Use Workplace Live to Launch the Event



After content development, your organization can now shift your focus to the live event! Your organization can stream the Town Hall event live in Workplace, or through the virtual manager in Teams. The information gleaned from step #4 can now be used to cater the content for a truly engaging event.
6. Analytics to measure impact and engagement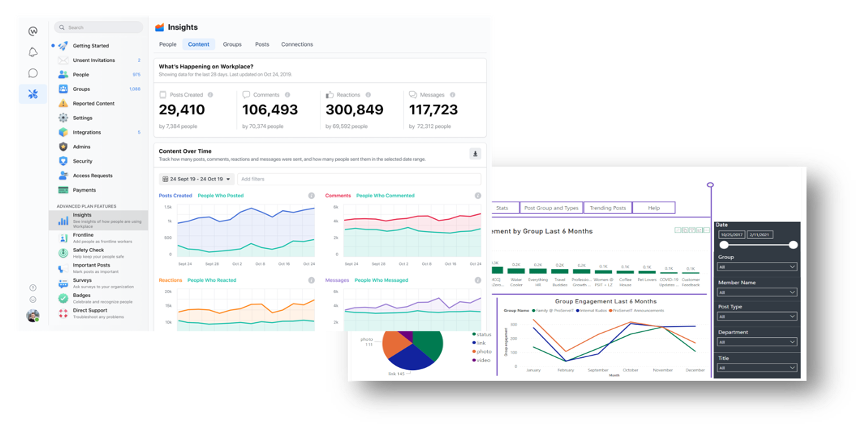 Workplace analytics shows sentiment and measurement metrics directly on the platform. If you're an Office 365 customer who uses the whole Microsoft technology stack, and your leaders consume reporting via Power BI analytics, you can review campaign performance to make data-driven decisions to make your next Town Hall even better. Rather than pulling the analytics from Workplace into excel to show leaders the impact of your Town Hall, they can see it live with Power BI in a way that is familiar to them.
Ready to harness the power of Microsoft Teams and Workplace from Meta? This on-demand webinar is for you!


If you had a magic wand that could help make your internal communications so much more fluid, create meaningful connections, and increase the sense of belonging, would you use it?
Workplace from Meta and Microsoft Teams together are that magic wand! Watch our on-demand webinar curated for internal communications leaders to explore how that magic wand can be utilized within your organization.