Workplace by Meta can help organizations by creating communication across the organization, regardless of where employees are situated. Workplace from Meta increases an organization's drive to work, engage and communicate through the use of familiar features like; Groups, Chats, News Feeds and more. This all-in-one platform from Meta is a game changer within the workplace. In this blog you we will dive into Workplace from Meta's features and how you can get the most out of it!
In this blog you will find:
Workplace Groups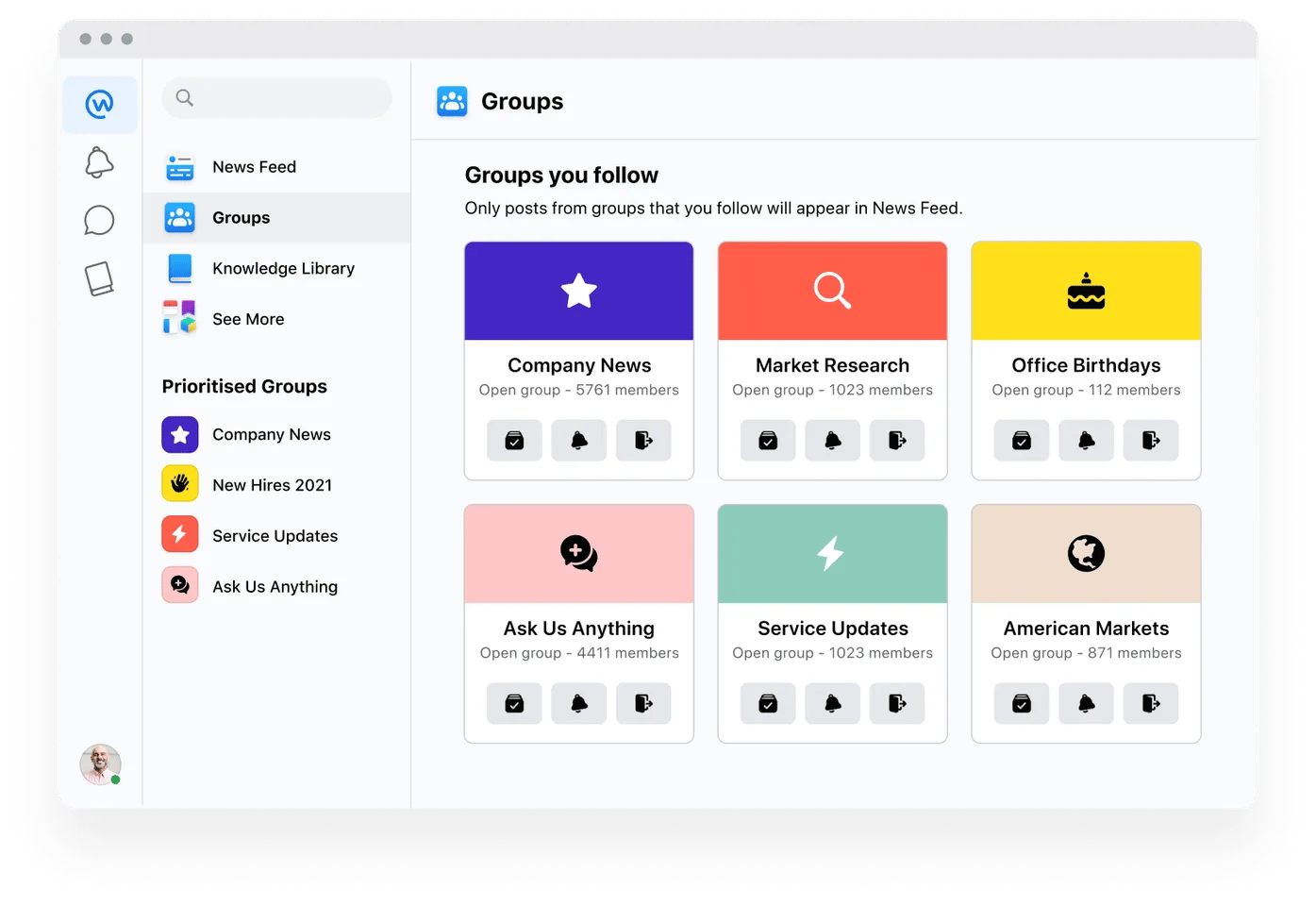 Source
Interact, connect, collaborate, and exchange information with everyone in your office with Workplace Groups. Groups are a great way to increase team involvement and visibility across your organization. This feature is a valuable tool for opening lines of communication with on-site, remote, and mobile workers in order to guarantee that essential updates and announcements are communicated.
This tool allows you to establish many groups, separate them for each project, and have a much smoother flow for each activity. There is no limit to the number of groups that can be formed and no limit to the number of people who can join each group.
Groups can also have a variety of uses, such as:
Discussions
Announcements
Teams and projects
Multi-Company Groups
Socials
Workplace Chats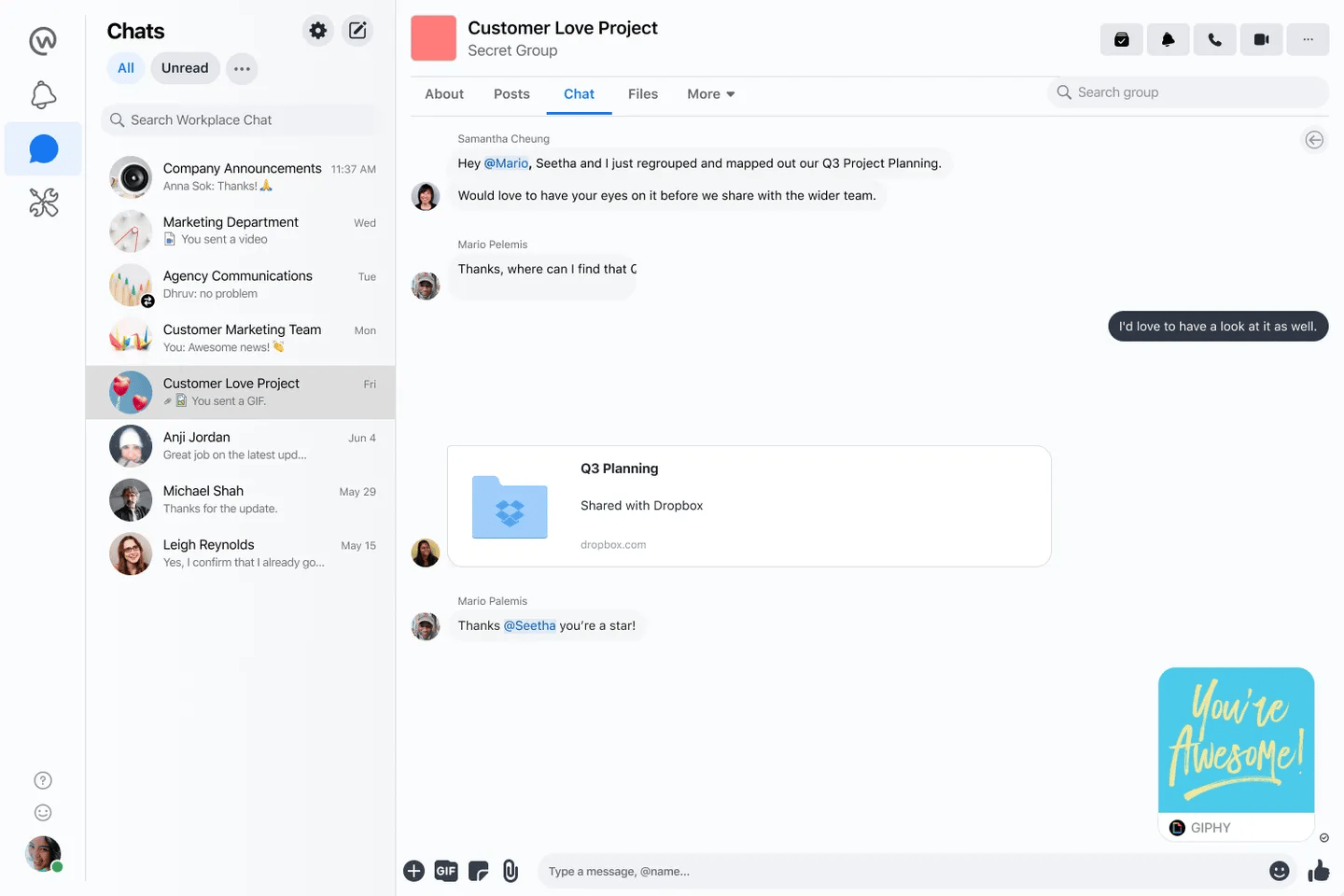 Workplace chat enables you to communicate with anybody at any time in order to exchange information, make choices, or simply say hi. Chat allows you to communicate with individuals one-on-one or in groups of up to 50.
Employees may use the chat feature to exchange files, messages, photos, video messages, and voice notes with anybody in your organization's Workplace account. You may enhance your conversations by generating polls and surveys, sending files and doing activities.
News Feed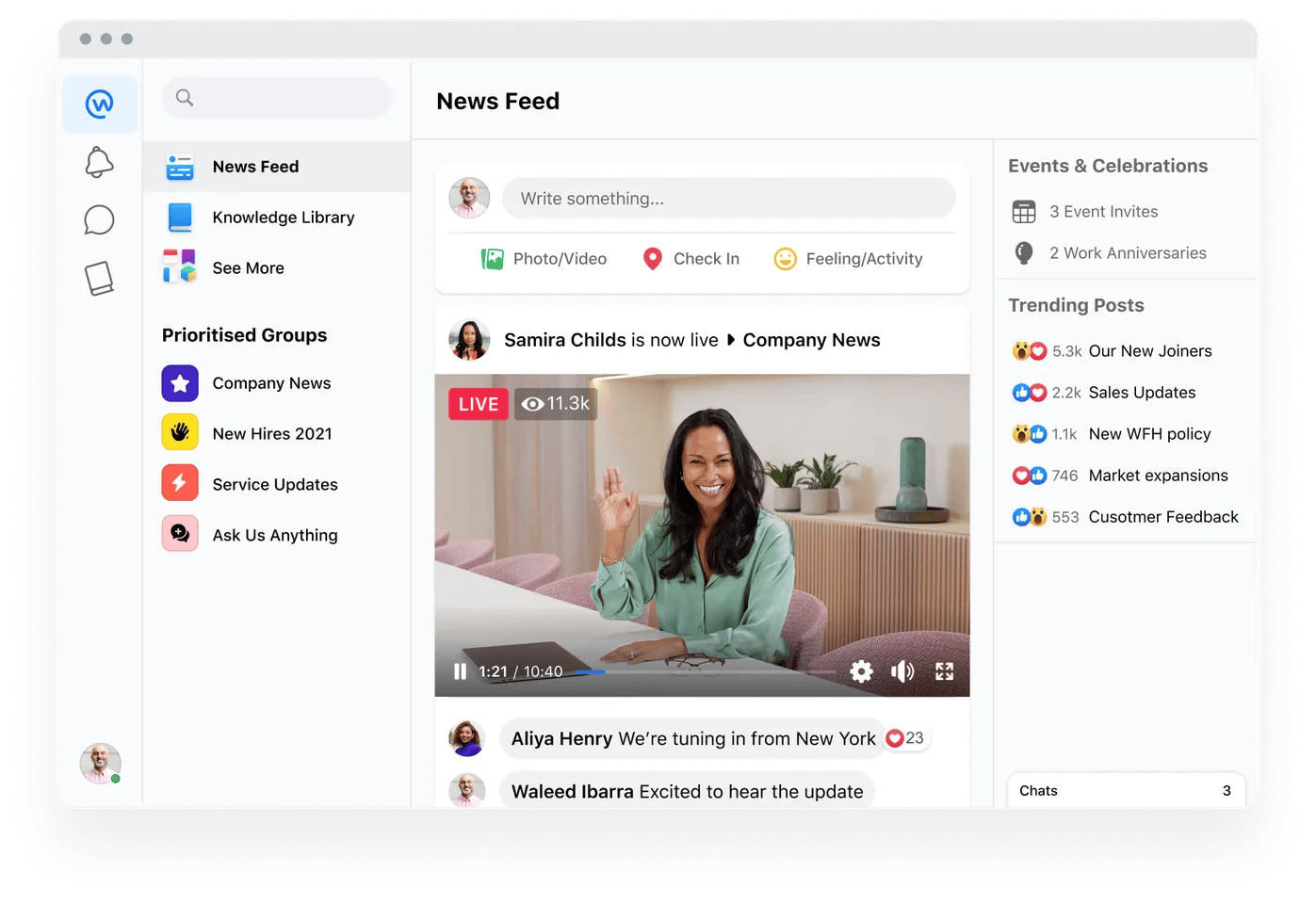 Source
Much like Facebook's news feed interface, Workplace's News Feed was designed to look and feel the same. Each employee's Workplace feed is tailored to them depending on their interactions, the individuals they follow, and the groups they belong to.
News feed provides the simplest way for employees to remain up to date on key communications, projects, teams, and corporate events. Anyone can share important information in the news feed through the use of videos and posts. This makes company-wide news more visible, keeps everyone informed, and pushes team members to communicate in real-time.
Live Video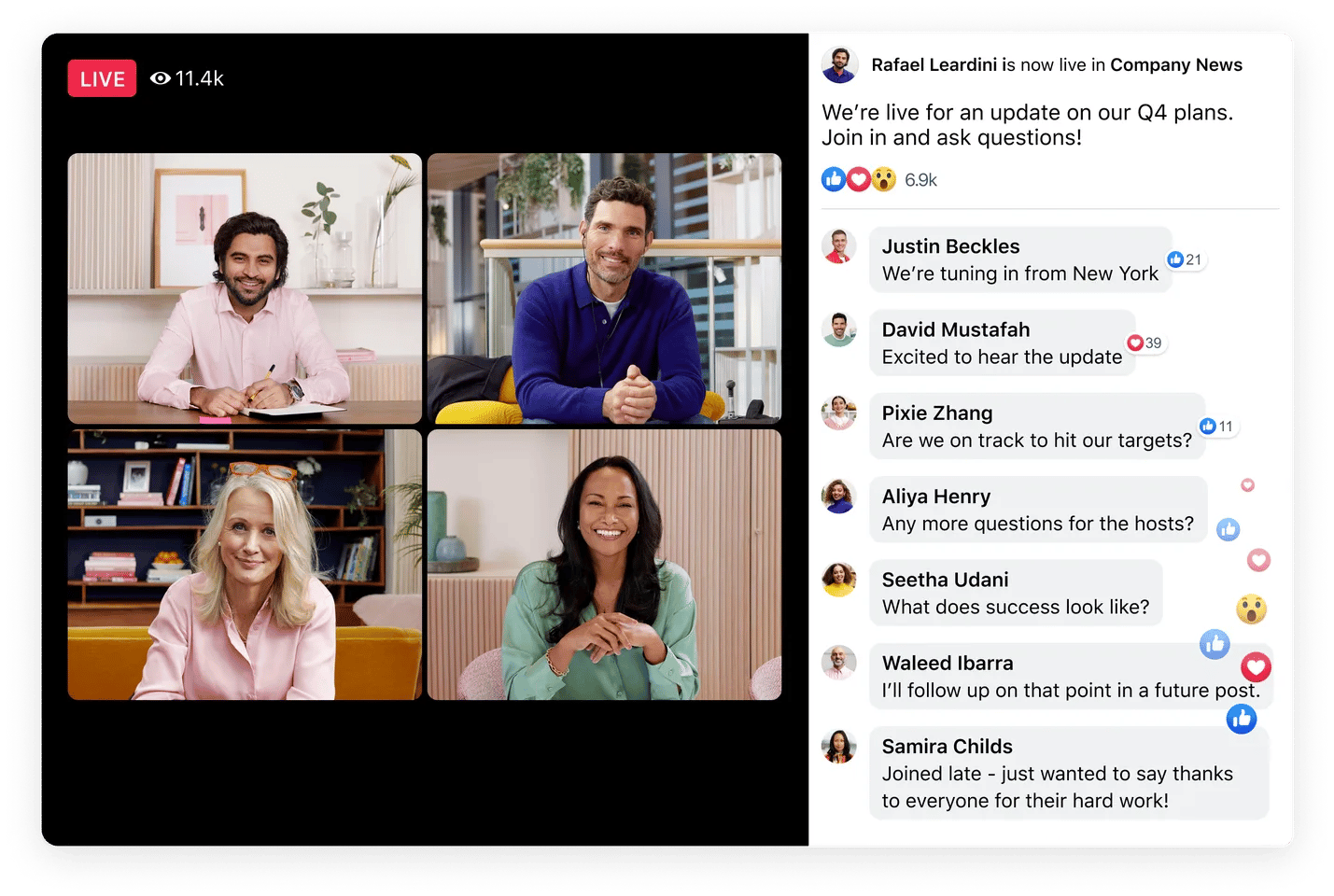 Source
Engage colleagues wherever they are by going live from your phone or broadcasting all-company events from a laptop. Going live creates a stronger more engaged workforce, where connecting virtually can create the same level of engagement as in-person events. The live video feature comes equipped with screen sharing, Q&A functions, and polls where useful information can be gathered.
Being unable to attend a meeting is very common, but there's no need to worry. For those who are unable to make it to live events, Workplace has a "chapter" feature where the recorded live video is automatically cut into sections through advanced machine learning technology. This allows employees to go to sections of live video that are of importance to them, saving time for both the employee and content creators.
Events
Source
The Workplace events feature in Workplace may be used to manage everything from social events to project meetings and work in progress. Team members may mark whether or not they will attend the event, add it to their calendar app, write comments on the event page, and keep track of when crucial events will occur.
Knowledge Library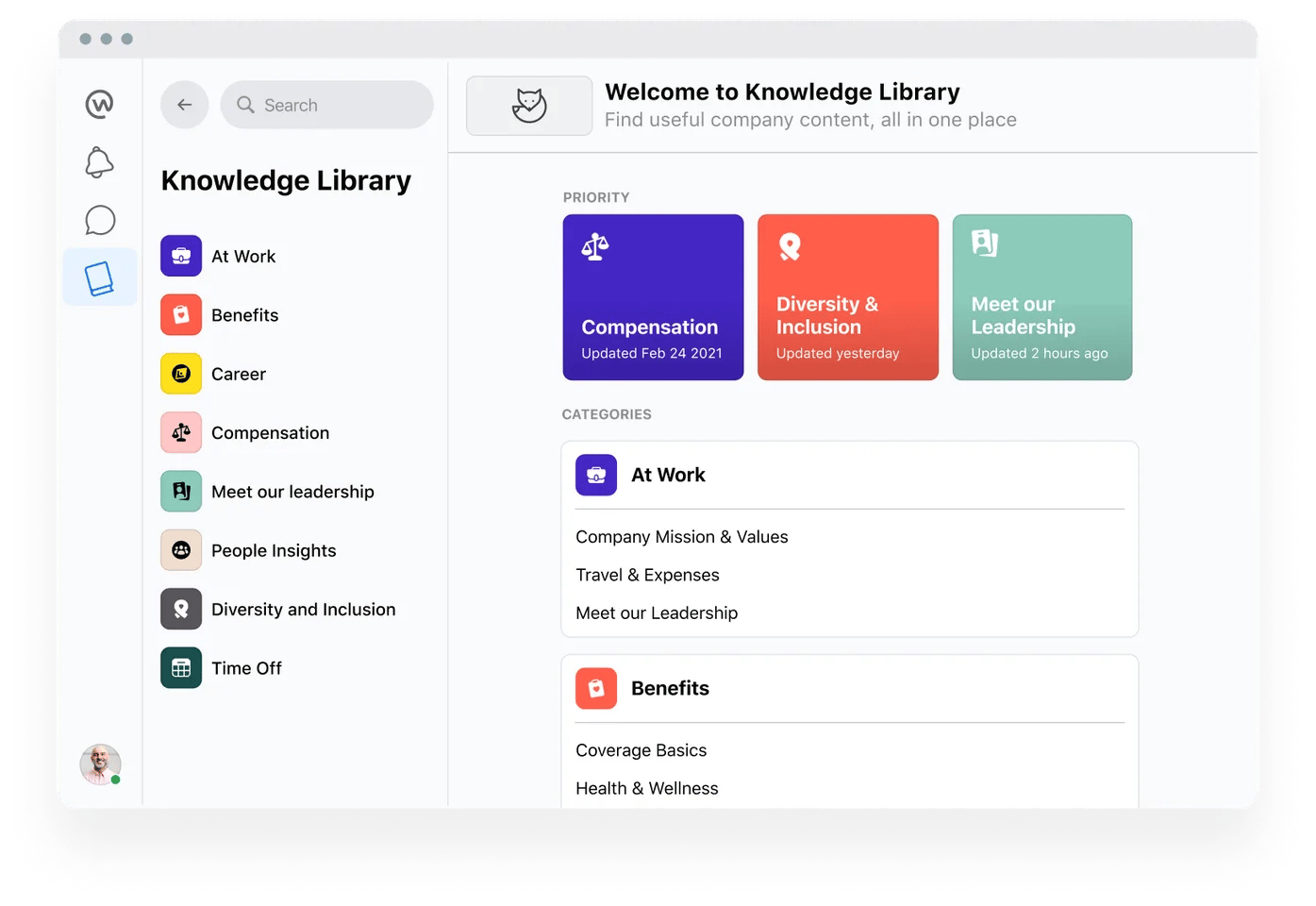 Source
The Knowledge Library in Workplace provides a handy location for your organization to save, develop, and share material with the whole company. Knowledge Library, unlike other intranets, is a straightforward, out-of-the-box solution that does not require technical assistance. It's just as simple to create and distribute documents as it is to keep them up to date.
The Knowledge Library API takes material from other intranets like SharePoint, making it easy to move content and access important information without leaving Workplace. Create new pages, add photos, links, files, and more using easy, user-friendly tools and templates.
The Knowledge Library consolidates your most important corporate knowledge in one location for improved team alignment and employee engagement.
Integrations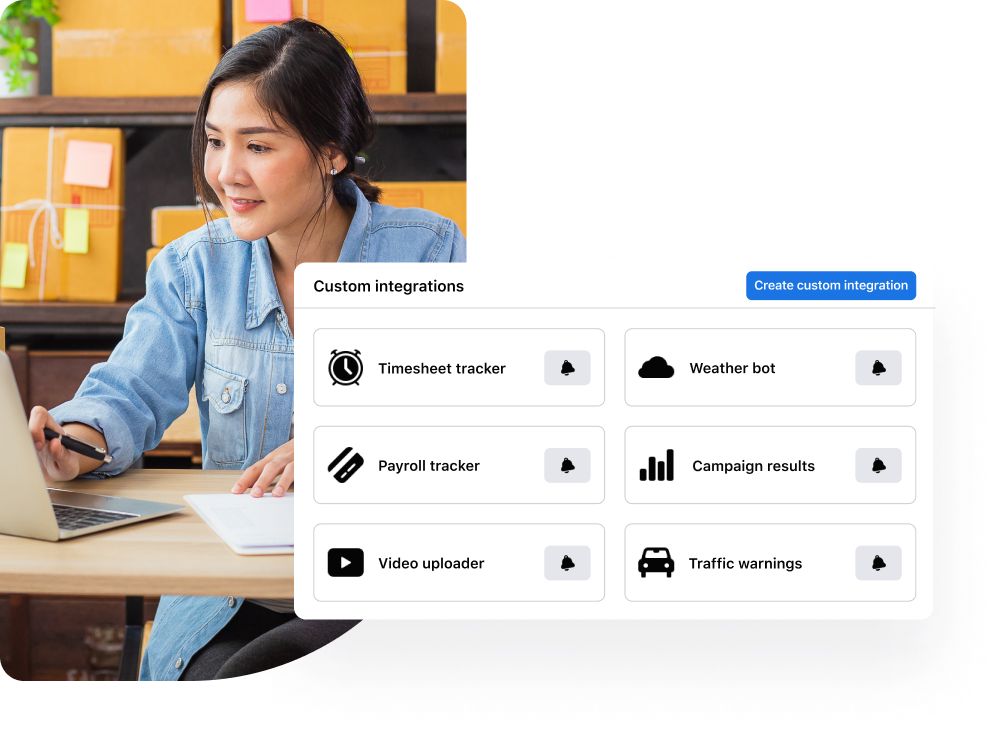 Source
While Workplace offers a wide range of features, it can also be integrated with a number of third-party systems like Google Drive, Dropbox, OneDrive, Tanda, Jira, Salesforce, HubSpot, Zoom, and others.
Although there are many integrations available to use, custom integrations can also be built for specific use cases. Workplace integrations leverage the Graph API and the Account Management API to augment Workplace's capabilities.
You may use a custom integration app to sync employee information with an identity service, automate group membership, backup group messages, or automate publishing to certain groups depending on the activity in another service.
Insights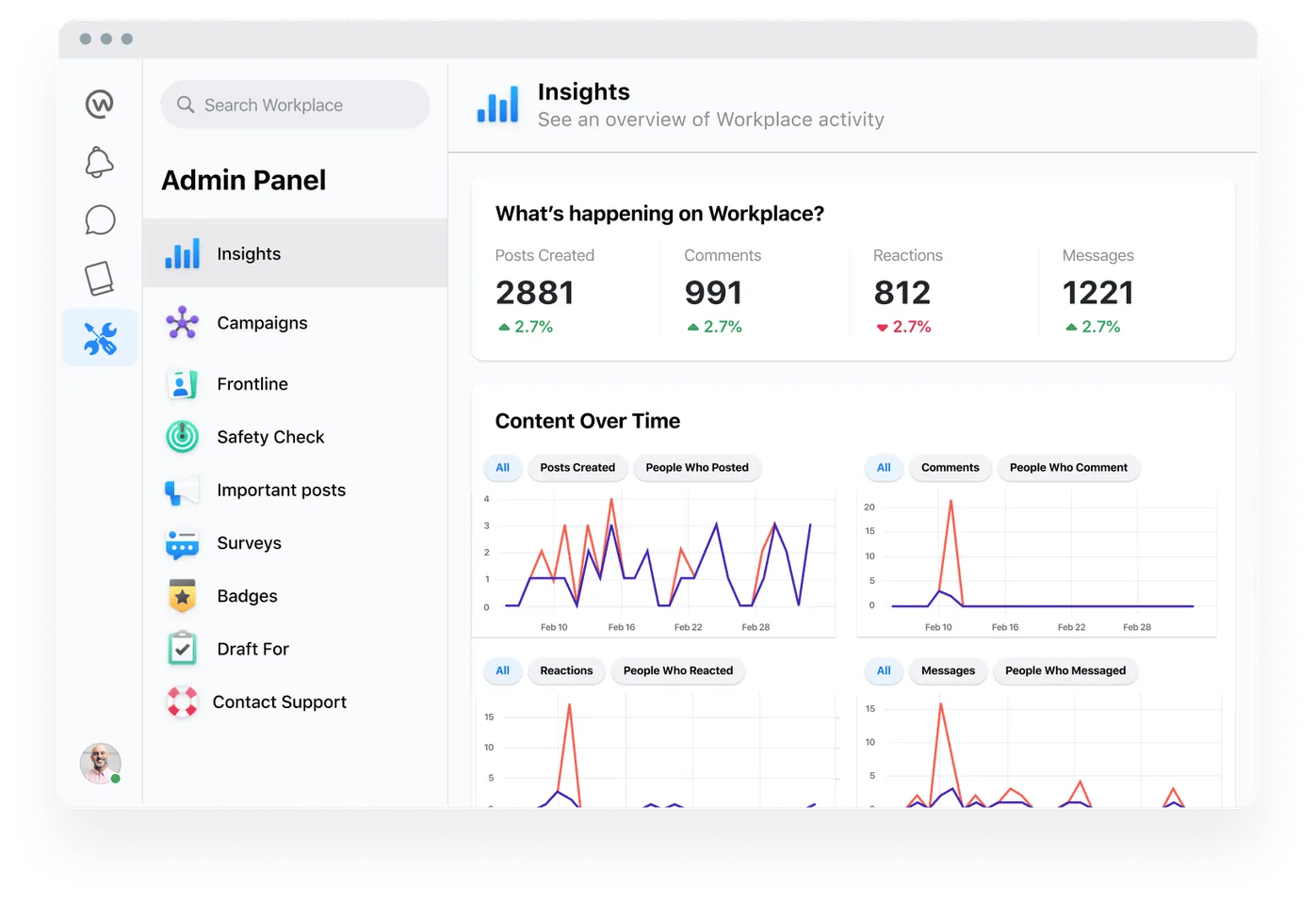 Source
Build a stronger community through data. You may leverage a variety of data at your disposal to uncover new methods of bringing your teams together, from analyzing trends in groups to enhancing employee experience. Insights give you the ability to track, monitor and understand the impact of various posts and user activity.
The insights feature comes equipped with tools that monitor activity, engagement, post impressions and through the use of insights, you will be able to understand how your team thinks and move forward with this knowledge to create a more productive, motivated and engaged workforce.
Auto-Translate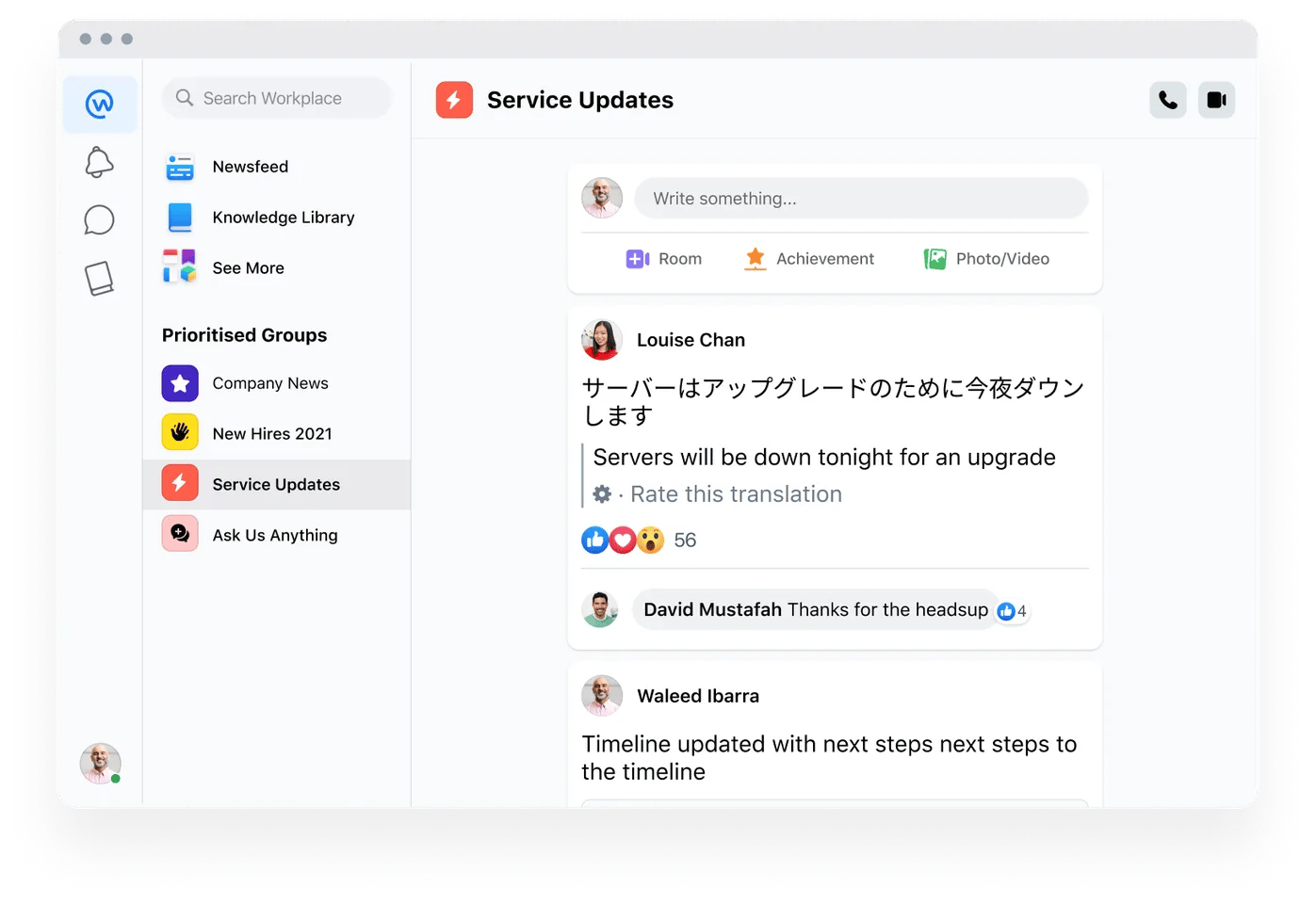 Source
Multi-national companies are often multilingual, this can create a communication barrier with different branches of the organization. With Workplaces auto-translate feature this is no longer an issue.
When creating a post or announcement the auto-translate feature is able to translate the selected text into 91 different languages, allowing for optimal communication regardless of the language or location.
How LineZero can Lend a Helping Hand
For many people, work is no longer a place, it is an experience. At LineZero, we operate in an ever-changing work environment. Through digitizing work, we are able to share the best-distributed work experiences while stimulating connection, communication, and collaboration. We want your team to operate together, whether they are servicing clients, on the road, collaborating in an office, or dealing with children while working from home.
We use Meta's Workplace, as it strengthens collaboration and supports a productive and connected organization. Its easy-to-use interface makes learning a breeze and allows organizations to stay connected, regardless of the distance between their employees.
The future of work is with LineZero! We are a trusted partner with Meta, and we can help you be prepared for the future of work while boosting internal communications and enhancing the employee experience. Workplace from Meta is the perfect solution for businesses that want to be ahead of the curve and prepared for the future of work. Contact us today to learn more!