Ever felt that there's a major lack of two-way communication in your organization? It may help you to know that you're not alone - everyone, even the best companies with a solid, engaged workforce, will struggle with communication at some point. But, to help get your team on the right track for effective two-way communication, it's important to provide everyone with a tool that opens up those lines of communication in such a way that everyone in the organization has a chance to see what's happening and provide feedback.
And before you say, "Well, we have email for that!", consider that there were roughly 281 billion emails sent each day in 2018, and that number is expected to increase to over 347 billion emails per day by 2022. Can you really be sure that your message is getting out there? Are you tracking who's opening those emails? Further, are you enabling an easy way for everyone to respond? After all, the "reply all" button isn't always an option…
With Workplace by Facebook, anybody can start a conversation by posting to their News Feed, using various Workplace Groups to begin a discussion, or even leaving a comment on other people's messages. It's just that simple. And in this blog, we're going to help you explore how Workplace by Facebook provides seamless two-way communication for your organization!
3 Ways Workplace Supports Seamless Two-Way Communication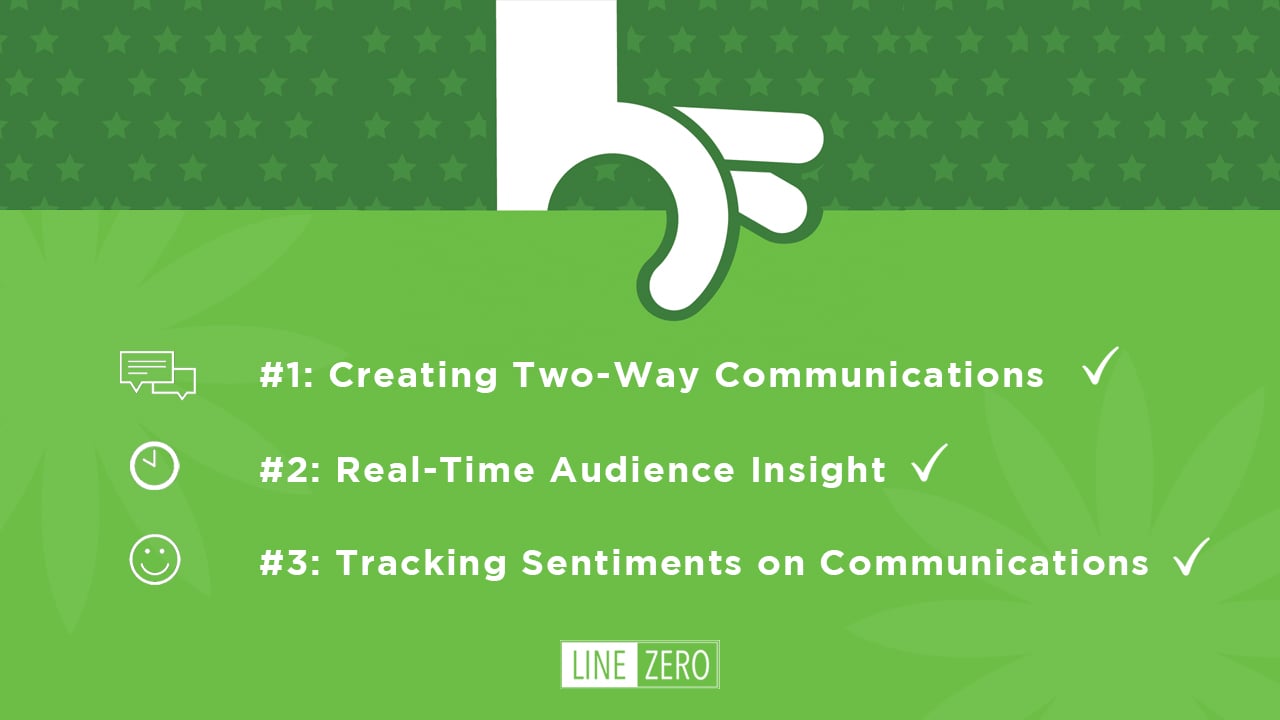 Here are 3 ways that Workplace can support Communications collaboration:
#1: Creating Two-Way Communications
As discussed above, Workplace can help you create leadership dialogue with just a few clicks of a button. Anyone can start a conversation and invite collaboration by simply posting to their News Feed or a Group they belong to. And discussions can take place by responding to things that others have posted – even if the person who posted it is the CEO!
#2: Real-Time Audience Insight
It's pretty easy to get real-time feedback on company announcements or updates. Like Facebook, every post has the ability to like, react, or comment, which offers immediate insight into how your message has gone over. Plus, with indicators on every post, people can immediately see who in the organization has seen and read the post.
#3: Tracking Sentiments on Communications
Want to know how the latest corporate harassment policy was received? Want to find out how everyone feels about the company's internal newsletter? Want to get feedback on what Q&As the executive team should be focusing on? Start a poll! Polls are quick and easy to run, and help you to easily measure how your employees feel about topics of interest.
Seamless Two-Way Communication: Eimskip's Story
"People get information faster and the way they work is more interactive. [Frontline] workers are more involved in what happens at other levels of the business. Management is more involved in what happens in the business at every level. It's helping us move forward."
Olafur Hand, Communications Manager, Eimskip.
Eimskip, an Icelandic logistics solutions company with over 60 offices and a global workforce that worked mostly remote, had a challenge with two-way communication. Olafur Hand, the Communications Manager, required a way to enable the company's remote employees to communicate with one another, regardless of borders, time zones, or teams. Their internal web was one-way - his team would post content that employees could read, but there was no way for the employees to provide feedback or begin a discussion. With such a diverse workforce spanning such a vast distance, this was not an ideal set up.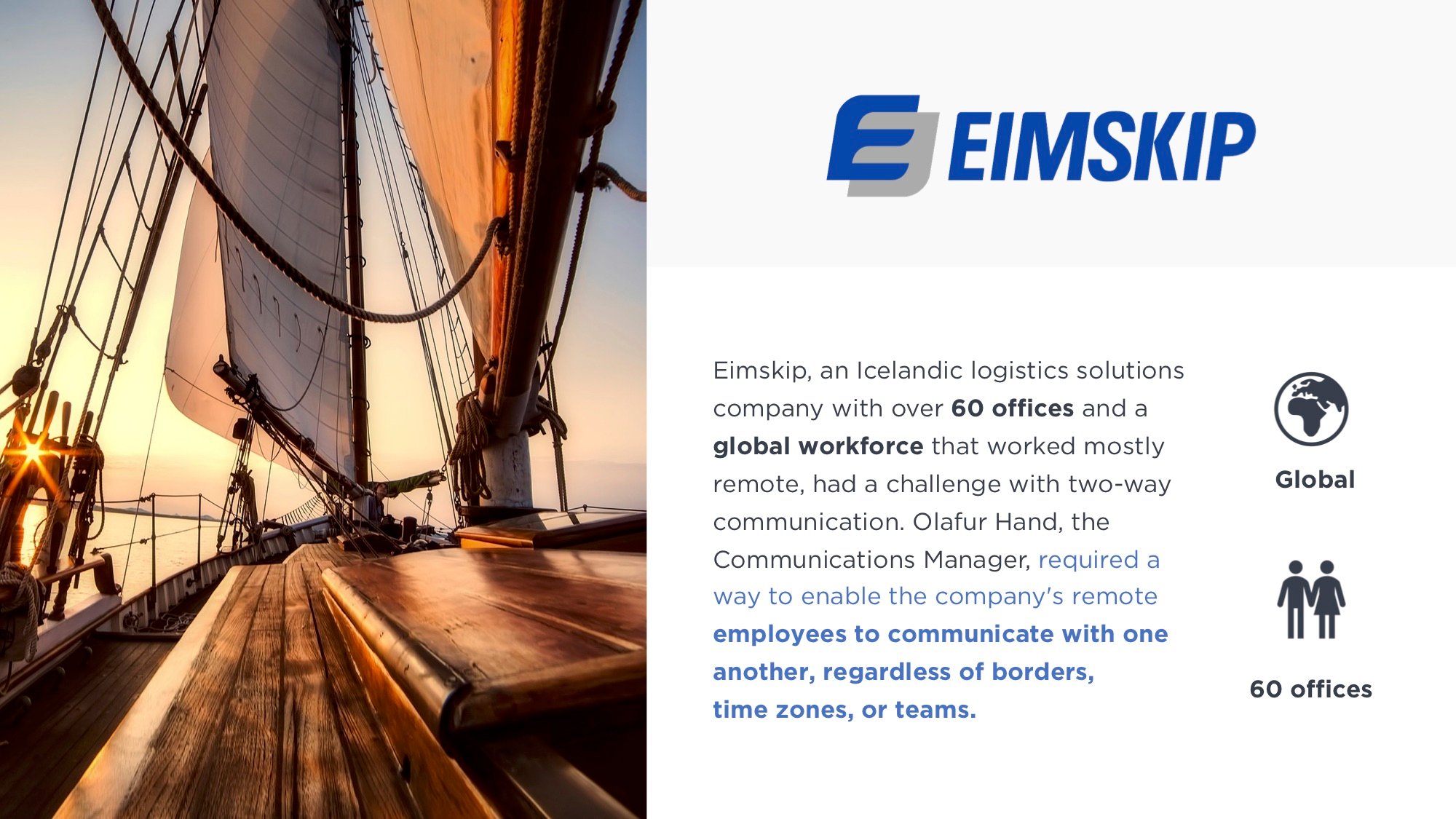 Having used Workplace by Facebook in closed Groups already, Hand knew the capabilities that Workplace would provide in enabling two-way communication. It was a short step from closed Groups to full launch, and Hand decided to jump right in. The day they launched Workplace by Facebook to the entire organization, they could see immediate buy-in from many of their employees. People all over the world were able to join together in powerful new Groups and communities, to be able to connect with one another in a way that simply wasn't possible before the implementation.
As Hand says, "People are getting information even faster than I would expect for a large company like ours. The way people work is more interactive. People have opinions on things and are more open to discussing their opinions. They're also more open to criticism on those opinions."
Use Workplace for Seamless Two-Way Communication
Employees who feel that their voice is being heard are almost 5 times more likely to feel empowered to perform their best work, and highly engaged teams are showing 21% greater profitability. Further, teams who score in the top 20% in engagement show a 41% reduction in absenteeism, and 59% less turnover. Given these statistics, it's pretty clear what seamless two-way communication can do for your organization. And this is where Workplace comes in!
Ready to move your organization to a platform that will enable seamless two-way communication? Give us a shout! At LineZero, we're not just knowledgeable about Workplace – we use it ourselves! From design, to pilot, to implementation (and everything in between), our experienced staff has the know-how to build that innovative and collaborative platform that works for your unique needs.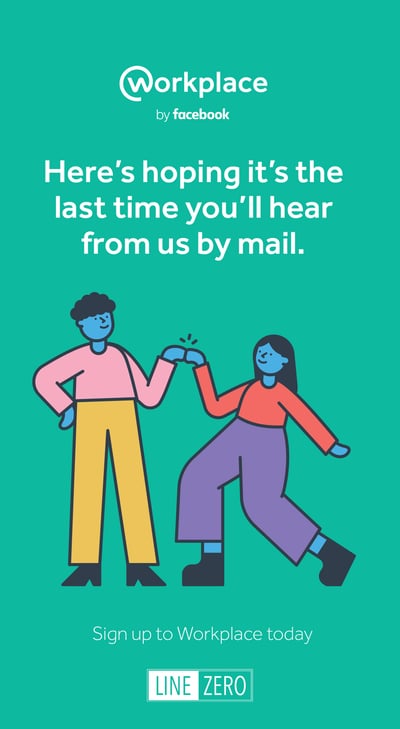 Related Posts: