What we do
Workplace

for
Internal Communications Teams

Effective internal communications is the key to active employee engagement, transparency, a sense of belonging, and strong culture, isn't it? It is a big job that you have. We get it. Workplace from Meta has helped comms leaders at numerous enterprises do that important job, more effectively and efficiently. It can help you too.
HOW WORKPLACE FROM META HELPS INTERNAL COMMS
reduction in leadership communication costs
reduction in time taken for frontline employees to get updates
more efficient feedback provided to management
Take Your

Internal Communications

to the

Next Level



Engage your entire frontline
Your frontline employees need and want an easy-to-use communications tool that they can access anytime, anywhere on their mobile device. Workplace from Meta, designed with a mobile-first mindset, connects your frontline employees with each other and the rest of the organization. The outcomes? A greater sense of community. Improved employee experience. Increased employee retention. Just to name of few!


Add dimension
to your organization's culture

Work doesn't have to feel like work. Sharing knowledge and experience, celebrating holidays and different cultures, spotlighting achievements, and giving kudos to each other are just some of the ways Workplace from Meta can help create an environment where people feel more involved, engaged, and can participate in building a culture that they want to be part of, that they are be proud of.




Real-Time status updates



One of Internal Comms favorite features from Workplace from Meta is "Safety Center": A real-time dashboard that displays employee status and contact options lets you keep track of key updates. From making major organizational changes to ensuring the safety of workers in the wake of a natural disaster...or a global pandemic.

We love sharing our expertise with our community!
Check out our blogs about Workplace from Meta, Employee Experience, DEI (Diversity, Equity & Inclusion), Corporate Metaverse, and more!
The

LineZero Approach

that we are proud of, that

you will love
.
Workplace is a people-first platform, so it only makes sense that we take a people-first approach. We dive deep into learning about your unique organization to find ways that Workplace can help you reach your goals.
Our experience with various enterprises across numerous industries gives us insight into how other HR leaders have successfully utilized Workplace from Meta– and we'll share that with you.
While we tailor each project to your needs, here's what you can expect when working with us.
A dedicated project team – We've got your back!

We aim to be more than just a partner, we want to become an extension of your team.

From kick-off to launch and beyond, a dedicated project team will be assigned to you. We'll work with you every step of the way - guiding you through Workplace, overcoming obstacles, sharing best practices, and celebrating the wins. We strive to make sure each one of our customers utilizes Workplace from Meta to its full potential.

Technical expertise & support – Our Tech Gurus will roll their sleeves up and make your Workplace wishes come true!

Your dedicated project team will include our technical experts who will be there to support the technical aspects of the project.

Our goal is for Workplace from Meta to complement and be integrated with your existing tools. We'll start with a technical discovery to understand your current technology stack and then offer recommendations and guidance for integrating the tools that you already use and love with Workplace from Meta.


Change management support - We make the challenging process of change easier and fun!

Implementing any kind of change in an organization isn't easy, which is why we place a big emphasis on change management.

Backed by Prosci methodology and best practices, we work with you to ensure that your people are prepared and ready to adopt and embrace Workplace from Meta.

Workshops & Training – Work smarter, not harder!

While Workplace from Meta is extremely intuitive and easy-to-use, workshops and trainings are still necessary to fully utilize it.

We offer a variety of trainings and workshops catered to different audiences – whether you're a platform admin, an early adopter, or a C-suite executive - we'll train you to use Workplace to its full capacity and enjoy the ROI you are looking for.

Ongoing Monthly Support Services – You'll never be left in the dark!

Launching Workplace from Meta is really exciting. And it's only the beginning. Our Advisory team can continue to work with you post-launch to keep the momentum going & focus on what's most important to you.

We can help grow adoption & engagement, identify new use cases/processes that can be facilitated by Workplace, provide training for new features or employees, and even build custom bots & integrations – the opportunities are truly endless.
Learn How you can

empower

your

frontline workers.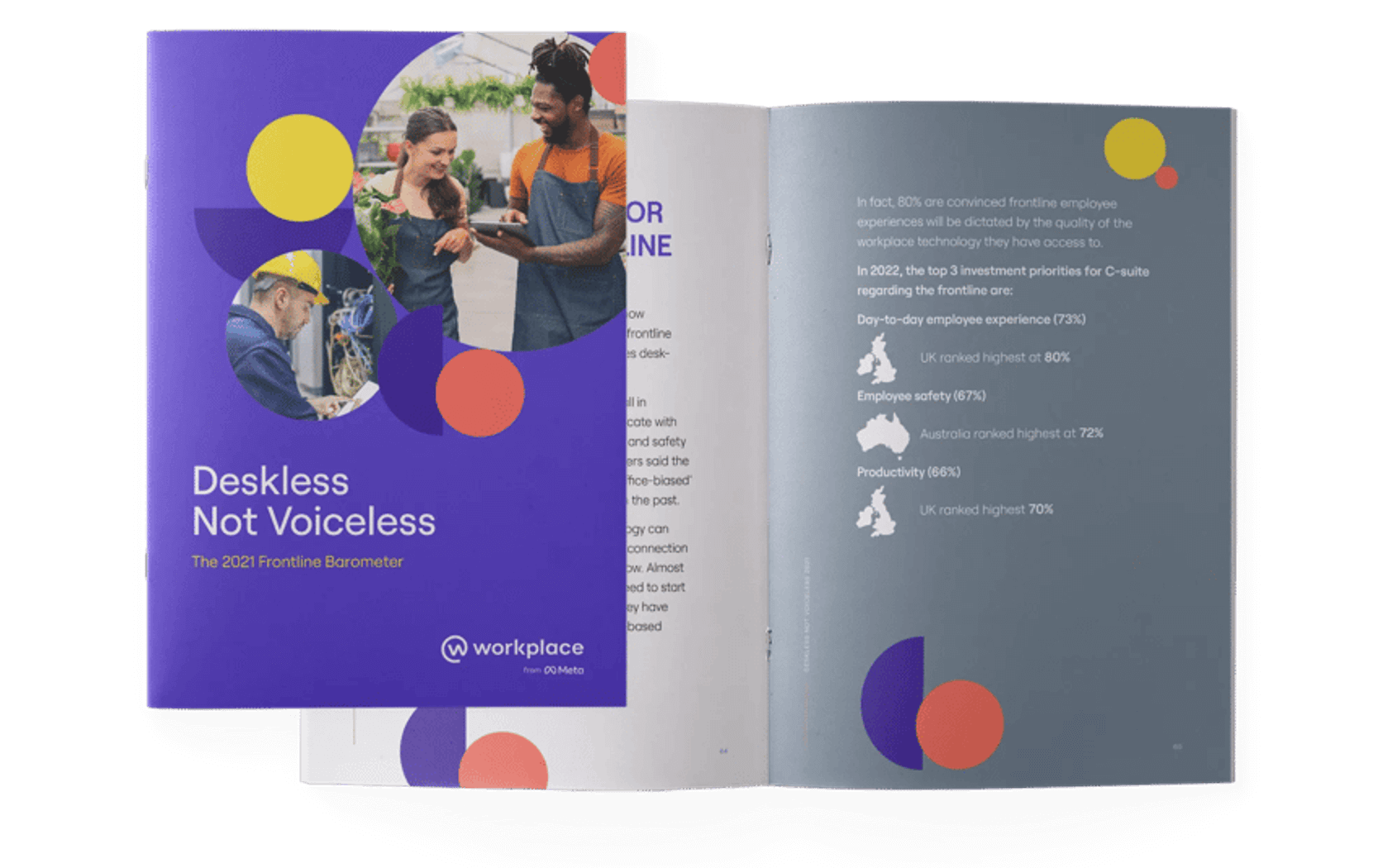 With the Great Frontline Resignation already beginning, it has never been more important for leaders to ensure frontline workers feel valued and prioritized. But to have a genuine impact on attrition rates, this must go beyond surface-level gestures.
Click the button below to read more!
of frontline workers have the autonomy to share ideas and new ways of working
of frontline workers don't completely trust their organization to be transparent
of frontline workers have either suffered from burnout or felt at risk of burning out
ready to take your

internal comms

to the next level with

workplace from meta
? Let's Talk!
With assistance from the experts at LineZero, Workplace from Meta can help improve your current employee experience by:
✔️ Engaging every employee by giving them a digital voice
✔️ Upgrading your leadership communications
✔️ Bringing employees closer together with simple, effective integrations
✔️ Growing a company culture of care and belonging
DISCOVER HOW LINEZERO CAN HELP
ENHANCE

YOUR

EMPLOYEE EXPERIENCE

!