In this technology-enabled world, digital transformation is a big buzzword that is getting a lot of attention. In fact, many enterprises have already embraced digital transformation as an opportunity to create a better experience for their employees.
But having a digital transformation strategy isn't always a walk in the park. According to Wipro Digital, only 50% of companies are successfully executing their digital transformation strategy, despite demonstrated efforts and technology investments. This blog looks at how putting people first can be the key ingredient to guide a successful digital transformation in your organization.

Why

E

mployee

E

xperience

is I

mportant for

D

igital

Tr

ansformation
For a truly successful digital transformation, enterprises need to put their people first! At LineZero, we hear questions from our customers like:
How can my organization

foster an employee-first work culture and drive employee experience

?

How

can

my organization

help

our

people

become more emotionally connected and engaged

with

our

company?
Employee experience directly impacts how employees feel and engage at work. That is, how employees engage with their managers, colleagues and their daily work influences their sense of purpose and value to the organization. So, the first step with your digital transformation is evaluating how everything fits together – your business, people, processes, and technology – to ensure seamless integration with one another.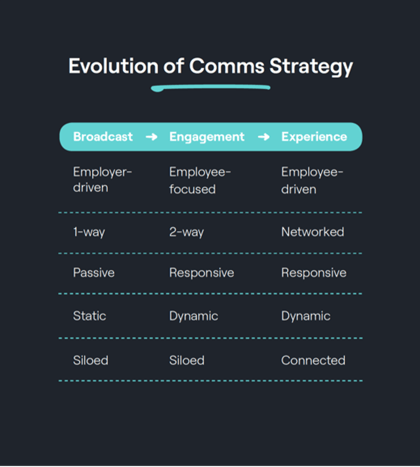 To win the talent war and deliver exceptional business performance, it's no surprise that enterprises are looking for ways to create modern, digital workplaces with employee experience at the core. Here are 3 ways that successful digital transformation leads to a better employee experience:
Employees want to feel valued and empowered with the right tools and technology

to get the job done

.

Employees

want to feel autonomous to reach their full potential through their own wor

k

.

Employees seek flexibility in their work-life balance,

so they need a tool that supports that.

How to Connect, Communicate, and Collaborate with Technology
Setting clear goals for your digital transformation journey will help you get clear on the destination. But where is your organization today? Undertaking an internal audit of your current tools will help you understand and prioritize the key challenges that lie ahead and thus, will help you select the right internal communications tool for your organization. Start with these 4 questions: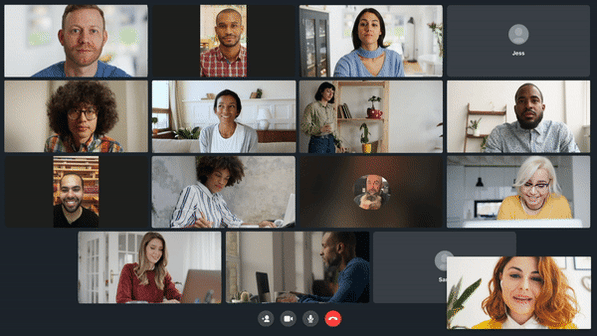 Who is connected?
Unless you can reach everybody in your company, including frontline and remote workers, employee experience is doomed to fail. Connecting everybody (not just everybody with an email address) is important to consider. Look for a tool with an email-less solution before embarking on your digital transformation journey.


Who has a voice?
Employee experience is employee-driven, which means people need to have a voice - to give feedback, ask questions, and share their experiences. Traditional channels like email or meetings don't provide that voice, at least not effectively. Whereas tools like polls, surveys or analytics can. Look for a communications tool where two-way communication is built into the platform.

Are your current tools (really) working?
Companies can say they have a modern communication platform, but it doesn't matter if no one is actually using it to work together. Find out what your current adoption rates are so you can get a true picture of what's working and what isn't to fill the gaps with the right technology.

What other tools are employees using?
People crave communication – they want to have a voice, connect with colleagues and work together. If they're not doing it through official channels, they're almost certainly using shadow IT to get it done. The tools they're using can provide valuable insights about the kind of technology they expect to have access to. Choose a communications tool that is intuitive and familiar. With Workplace, the interface is recognizable and easy to use, so there's little to no training required to get people on and using the platform.


How

Workplace from Facebook helps

Integrate

You

r

People

and Culture

in

to

Your Digital Transformation

Strategy
Digital culture has emerged as a natural successor to employee engagement because it puts people's needs at the heart of the business. With the shift in employee expectations driven by COVID-19, there can be no going back to the old, top-down communications strategies. That's where Workplace from Facebook (Workplace) comes in.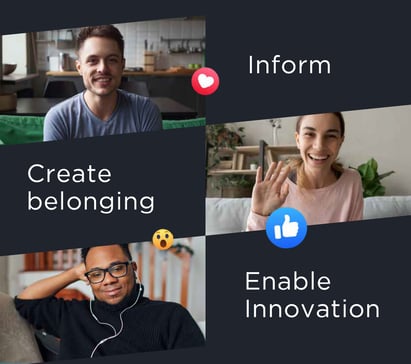 Great communication is much more than simply sharing updates and announcements. Here are 4 ways Workplace helps build strong digital culture that improves employee experience:
Informs:

The more information people have about the company's mission and goals (the why)

,

the more they'll buy into the strategy and their role in executing it (the how).





Shows care:

D

isplaying care is a company-wide effort. For

internal c

omm

unication

s

,

it's about developing the right tone, messaging, topics and

champions

to put a more human face on internal communications.





Creates belonging:

Comm

unication

s teams effectively control which employees get to have a voice and a platform to use it. That puts them on the frontline of diversity and inclusion and makes them a key part of the effort to build community and create a sense of belonging that's integral to employee experience.





Enables innovation:

Innovation can come from anywhere, but only if great ideas can be shared

!

It's up to Comms

(and the right technology!)

to help close that gap.
Customer Story on

Utilizing Workplace from Facebook for Their Digital Transformation Strategy
LineZero recently helped our customer (with 1,500+ employees in the Pharmaceuticals industry) utilize Workplace from Facebook as a platform to manage changes related to their organization-wide digital transformation. In addition to the tools they had used for communications, they realized the need of a tool like Workplace from Facebook to ensure effective organization-wide, cross-departmental communications during their major transformation initiative.
Do you want to improve your employee experience and culture strategy or better manage organizational change? Connect with us for Workplace Roadmap exercise to build the business case for how Workplace can help your organization during your digital transformation journey.