As a communications professional, improving internal communications and employee satisfaction is an important task – your KPIs may, in fact, be based around these important metrics! It's clear to see, however, that improving internal communications and employee satisfaction should be one of the key things on every organization's mind. Especially when you consider that an actively disengaged employee can cost their organization $3,400 for every $10,000 of their salary.
Improving internal communications and employee satisfaction is an especially important topic when you consider that many of your employees are working fully remote or in some sort of hybrid scenario due to the current pandemic. Employees who, prior to the pandemic, were much more collaborative when in-person, have had to adjust to working alone or figuring out ways to communicate via a screen.
So, just how do you improve internal communication and employee satisfaction? How do you increase employee engagement and reduce turnover, so that you can see an increase in productivity and morale? Read on to find answers to these questions, and more!
3 ways to Improve Internal Communication & Employee Satisfaction:
#1. Implementing the Right Communications Platform
When considering internal communications and employee satisfaction, the first key thing to consider is what internal communications platform are you going to implement? How are you going to centralize the conversation, and ensure that everyone, no matter their position or location, can stay in touch with what's happening in the organization.
This is important, because, when employees don't feel like they're part of the conversation or don't feel informed of changes that are happening within the organization, their employee satisfaction drops. Selecting the right internal communications platform and making it a part of your corporate culture, therefore, is one way to boost employee engagement and increase satisfaction.
At LineZero, our chosen internal communications platform is Workplace from Facebook (Workplace). We use Workplace to provide all members of our organization with corporate updates, HR policies and procedures, social groups, employee recognition, and much more.
Using Workplace Groups that anyone in the organization can join allows our employees to get a pulse on what's happening within our organization. Take, for instance, LineZero's "Internal Kudos" group, where we can show our appreciation to a colleague for going above and beyond. When someone posts in this group, all members who are a part of the group get notification of a new post. They can go read it and, using the built-in reactions and commenting available via the Workplace platform, we can share our thoughts and our congratulations to the employee who's been nominated by their peers.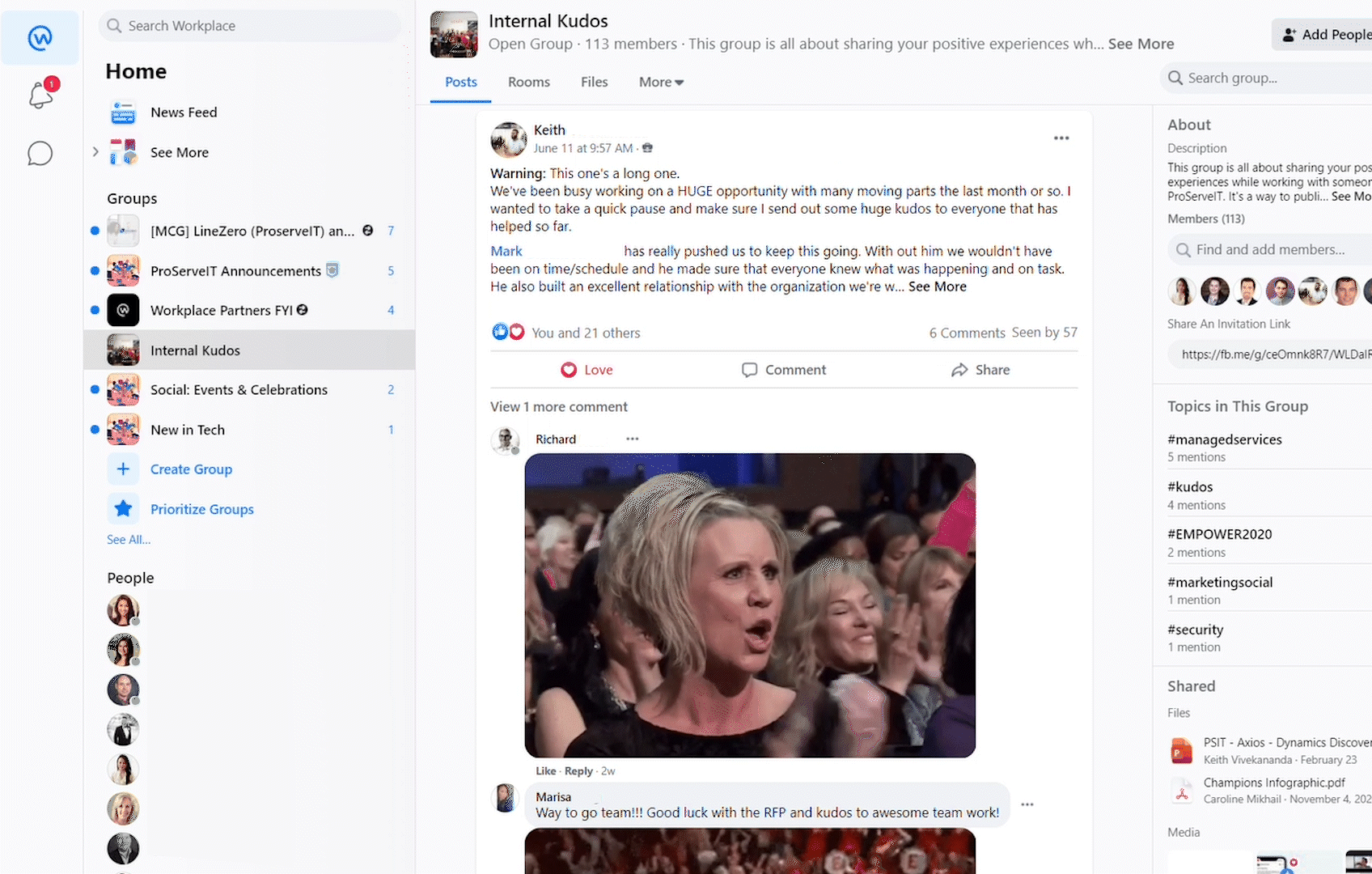 #2.
Include
Public Recognition of Employees Who Go Above and Beyond
The idea of public recognition for a job well done, as mentioned above, is our second way to improve employee satisfaction and internal communication. A recent survey done mentioned that public recognition of a job well done is important, however, only 22% of the surveyed executives stated that recognition happens at weekly, monthly, or yearly events. But employee recognition leads to greater innovation and using public recognition makes employees feel more connected to their work, more engaged, and more productive.
Workplace helps you recognize achievements in many ways. At LineZero, here are just a few ways that we're using Workplace to recognize our employees who go above and beyond:
Workplace Groups:

As mentioned above, we use Workplace Groups as one way to promote employee recognition – managers can post to our "Internal Kudos" group on achievements and recognition and tag the employee. Other employees can then go on and "like" or "comment" on the post.

Live Video:

During our monthly town hall meetings, our President uses the opportunity to recognize our monthly "Values" star (the employee of the month that lives up to our corporate values of People Matter, Be Like Gumby, and Do it Right), and our monthly "Superstar" (the employee of the month who went above and beyond). This is live streamed to Workplace.
#3.
Allow Employees to Be Themselves & Connect With Others
Gallup's article on why we need best friends at work says that they've consistently found that having a best friend at work leads to better performance. If 6 out of 10 employees strongly agree that they have a best friend at work, it leads to 36% fewer safety incidents, 7% more engaged customers, and 12% higher profit (as of 2018) for the organization.
To help employees to find that "best friend" and to achieve numbers like this in your organization, it's very important to provide a space where employees can socialize and find likeminded people who share similar hobbies and life experiences. This has become especially important during the pandemic, where we have all been encouraged to social distance from one another in an effort to mitigate the harmful spread of COVID-19.
LineZero has set up several social groups in our Workplace environment for various hobbies and interests:
Foodies,

Sports & Fitness Fiends,

Pet Lovers,

Family @ PSIT + LZ,

Women @ PSIT + LZ,

Diversity, Equity, Inclusion, & Belonging,

Travel Buddies
These groups are managed by specific employee committees and are open to any employees within our organization to request to join. We use these groups to connect to others in our organization who share the same passions and to learn who in the organization has similar interests as we do.
Another way that LineZero uses Workplace is to live stream Passion Talks from our employees. Each week, during our all company "Office Hours" meeting, an employee is highlighted to share their passions with the organization. This is broadcast via the Live Video feature mentioned above, and allows the other employees in the organization to like and comment as the employee is talking.
By showcasing passions, and joining groups where we can socialize, LineZero's employees feel better connected to one another, and feel a sense of inclusion and belonging, thereby increasing job satisfaction overall.
Increasing Internal Communication & Employee Satisfaction with Workplace from Facebook
Bottom line, Workplace as an internal communications platform provides a great way to increase internal communication & employee satisfaction in your organization.
Already Using Workplace?
If you'd like to explore more opportunities to learn how to use Workplace to increase internal communications and employee satisfaction, we'd love to chat! Give us a shout and we'll help you create an internal communications strategy that will help you to greater adopt Workplace in your organization.
Not using Workplace yet?
Want to see how Workplace could increase internal communications and employee satisfaction? Give us a shout! We'll help you to brainstorm ideas on how to utilize Workplace to achieve your organization's goals and objectives.
From this brainstorming session, we'll help you to see a visual blueprint that will show you how your existing technologies and Workplace from Facebook can integrate to help close the gaps between your business goals and objectives and your technology capabilities.