Whether you're large or small, your organization needs a content management strategy. You're producing a sizeable amount of content each and every day – from emails, to documents, to graphics, to communications – the list goes on.
All of this data needs to reside somewhere - it's essential to make sure that you have a content management strategy in place to store and manage these massive volumes of data.
But, one thing we've heard from our customers, is that they don't always know where to start. If this sounds familiar to you, read on – because we're going to give you the five key steps to getting started with your content management strategy.
First, Let's Talk About What Is Content Management Strategy
A content management strategy is a structured plan that is used when you are creating, publishing, and governing your organization's content and data.
Your content management strategy is critical to your organizational survival because it's the backbone of your effective information management. Having solid information management is vital to ensuring that you can thrive in today's digital age. A content management strategy is also one of the necessary elements to support your organization's growth.
Content Management
Strategy
: What's In It for You?
Imagine all the time you'll save by not having to search for a document. Imagine being able to point your new hires to one single source of truth to get all the information they could possibly need to get started. When you put a content management strategy in place, you can improve your processes and manage your resources much more efficiently, making these daydreams a reality.
However, content management isn't something that's done overnight – in fact, a content management strategy is something that takes careful planning before implementation. Then, once you've implemented a content management strategy, your task isn't quite over – the strategy evolves with your organization, and should be revisited and evaluated to make sure that it's achieving the goals and objectives you intended for it.
5 Steps to Implementing a Content Management Strategy
To help illustrate these four steps, let's dive into the life of Dianne Reynolds, a fictitious Communications Manager that we created for this blog. In her role, Dianne is responsible for ensuring that all the company's messaging – coming from C-level to Sales to Support - aligns with the key business strategies and the brand of the organization as a whole.
Dianne's organization, ABC Incorporated, had some trouble in the past – old documents were accidentally sent out, there was some disconnect between the sales team and the communications team, and other issues that needed to be addressed. To avoid any future mishaps (and embarrassment!), Dianne decided that something needed to be done.
Step 1: Understand the major motivations and the most desirable benefits of implementing a content management strategy
Given the pain points expressed above, Dianne has decided that a content management strategy may be the right step for her organization to take.
Before making a move to implement a content management strategy, Dianne first evaluates the exact reasons why she feels her company needs one. In this case, she doesn't want the issues listed above to continue – the last time the sales team sent out an older document, it had incorrect pricing on it, and it got them into trouble with the customer. In fact, they almost lost the sale.
Dianne puts together a business case outlining her organization's pain points, what she hoped the content management strategy would help to solve for her organization and what the desired outcomes will be. She also describes what success will look like if the content management strategy is implemented properly.
Step 2: Set the scope for the content management strategy
Dianne knows from her research that a content management strategy can't be built overnight – she needs to really dive into the time and resources that it will take for the organization to be able to implement this project.
Dianne starts by setting out the scope of the project – from the previous step, she knows what her major motivations are and the most desirable benefits that her company expects. So, she works backwards from her "finished state" to map out all the steps that will be required. When possible, she lumps the steps into smaller, more "bite-sized" phases for the project.
Step 3. Involve stakeholders in developing your content management strategy.
Once she's completed Step 2 above, Dianne now has the full scope of the project in front of her. She can now go ahead and solicit the stakeholders; in her case, that means presenting this to the Director of Communications, the VP of Sales, the Marketing Manager, the Chief Financial Officer, the IT Manager, and, to ensure buy-in of the project, the sales team.
These stakeholders that Dianne has selected oversee different functions and departments in her organization. Dianne knows that they'll have different insights than she does, so having them weigh in on the project will help to consider issues and challenges before the project kicks off, and will provide valuable input once the project is underway.
Dianne sets a meeting and presents her idea to the stakeholders. She receives some push-back from some of the people she's chosen, but overall, the feedback is positive, and the team is on board to proceed with the content management strategy. The team gets to work helping Dianne to refine her scope with more realistic timelines, and they come to a consensus on which stages of the content management strategy should be implemented first.
Step 4. Build an implementation roadmap and execute
Based on the information that Dianne had gathered and the input and feedback from the key stakeholders, Dianne works with the IT department to build an implementation roadmap.
To help reduce the friction when executing their roadmap, Dianne and team designs a coordinated action plan that determines deadlines for the project, whether or not they require outside assistance in building it, possible pitfalls that they'll want to avoid, and key milestones for the project. Dianne sets regular cadence meetings with the key implementers to check in and offer her support of the project, and a separate set of cadence meetings with the key stakeholders to update them on how the project is going.
Step 5. Communicate the changes to the organization
The final piece of the puzzle for Dianne was to ensure that, once the content management strategy was built and implemented, people would follow it. As the Communications Manager, Dianne knew that communication with the entire organization was a key and critical element to getting company buy-in and compliance.
Dianne put together a communications calendar with key messaging that would help the entire organization understand what the new content management strategy meant to them. She focused on highlighting the benefits of the content management strategy for the employees and made sure to include information on what would change in their day-to-day tasks. She also anticipated that there would be questions and put together an FAQ document that she posted to Workplace from Facebook.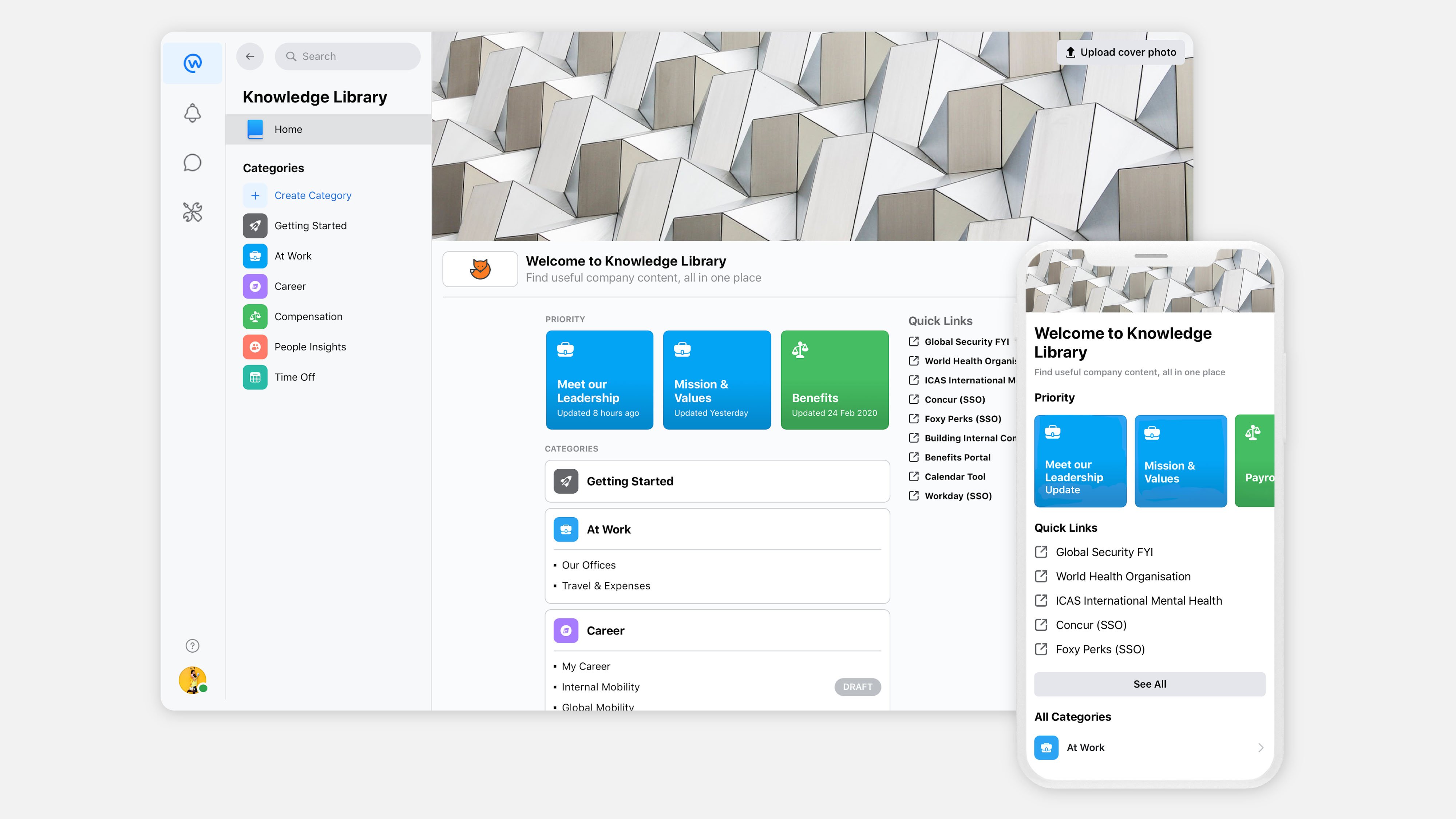 What Technology Should Be Used for Your Content Management Strategy?
Now that we've explored Dianne's story to understand the steps needed to implement a content management strategy, it's time to consider the technology that is capable of content management. Where does this content reside? Is it easy for employees to access, store, save, and (if needed) modify content?
This is where we think the integration between Workplace from Facebook and Microsoft 365 plays a valuable role. Using both platforms together provide opportunities to ensure that content is easily accessible to everyone in the organization. To show the powerful capabilities of both Workplace from Facebook and Microsoft 365, let's return to Dianne's story for a moment.
Dianne's organization wanted to help build their corporate culture, increase communications across their organization, and ensure their employees were more connected to each other, so they implemented Workplace from Facebook. As a Microsoft 365 customer, Dianne's organization felt that the integration capabilities between Workplace from Facebook and Microsoft 365 allowed for greater flexibility, greater productivity, and greater connectivity across all members of the organization.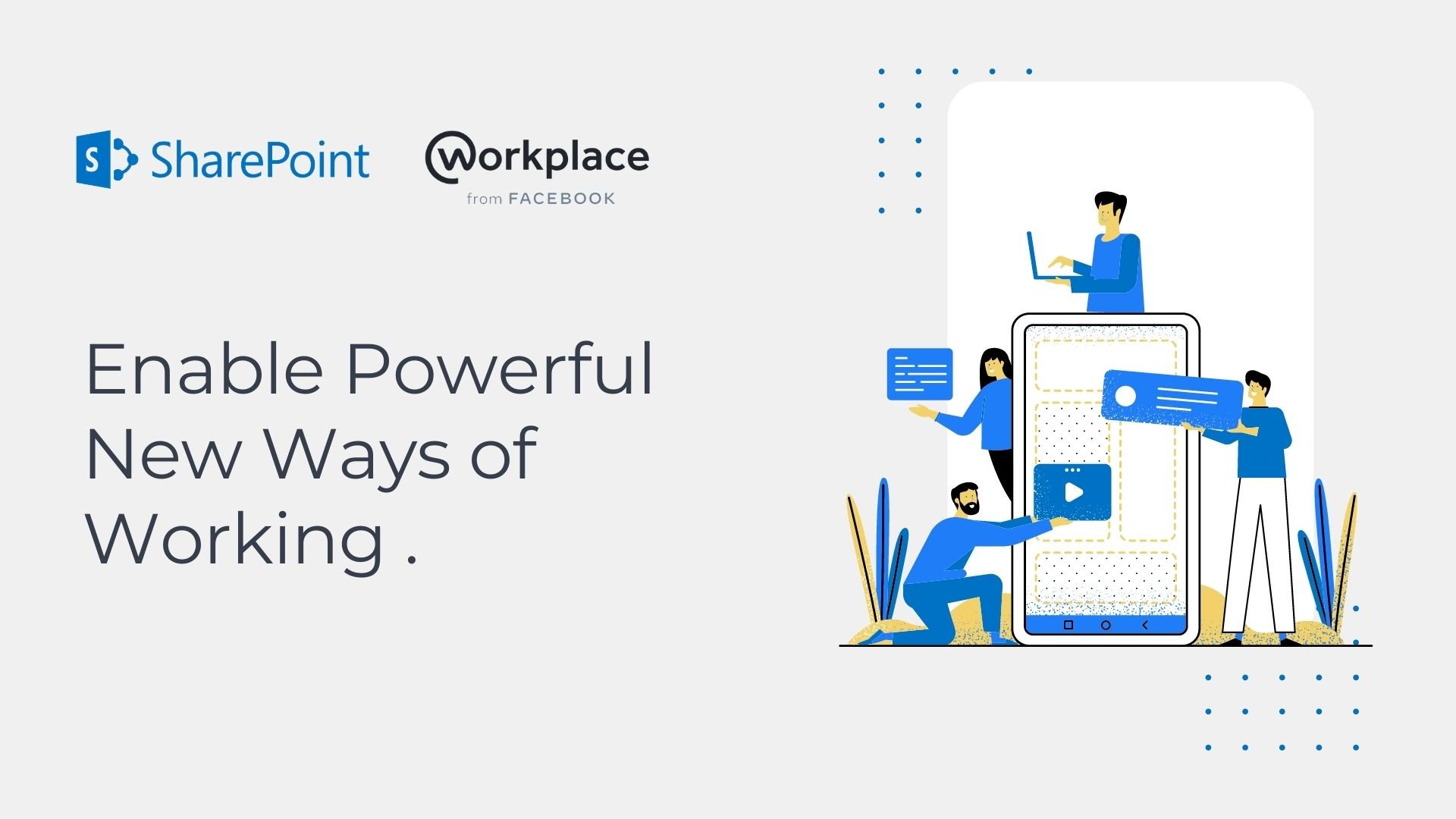 Dianne's organization has many of their corporate policies and procedures residing in the organization's SharePoint intranet site, however, these documents are spread across multiple folders, and not always intuitively available.
Utilizing Workplace from Facebook's Knowledge Library, Dianne's organization set up a single source of truth for the key resources that their employees required to do their jobs. Because of the integrations between Workplace from Facebook and Microsoft 365, Dianne's team was easily able to include links that point to the exact location of the documents in the company's SharePoint intranet site in the Knowledge Library.
Whenever an employee clicks on a link in the Knowledge Library, they're taken directly to the SharePoint site where they can view the document. And, so long as the link doesn't change (i.e. the document name isn't changed, or the file isn't moved), the employee will always be viewing the most up-to-date content, because SharePoint's co-authoring capabilities means that there is always just one real-time version of the document in question.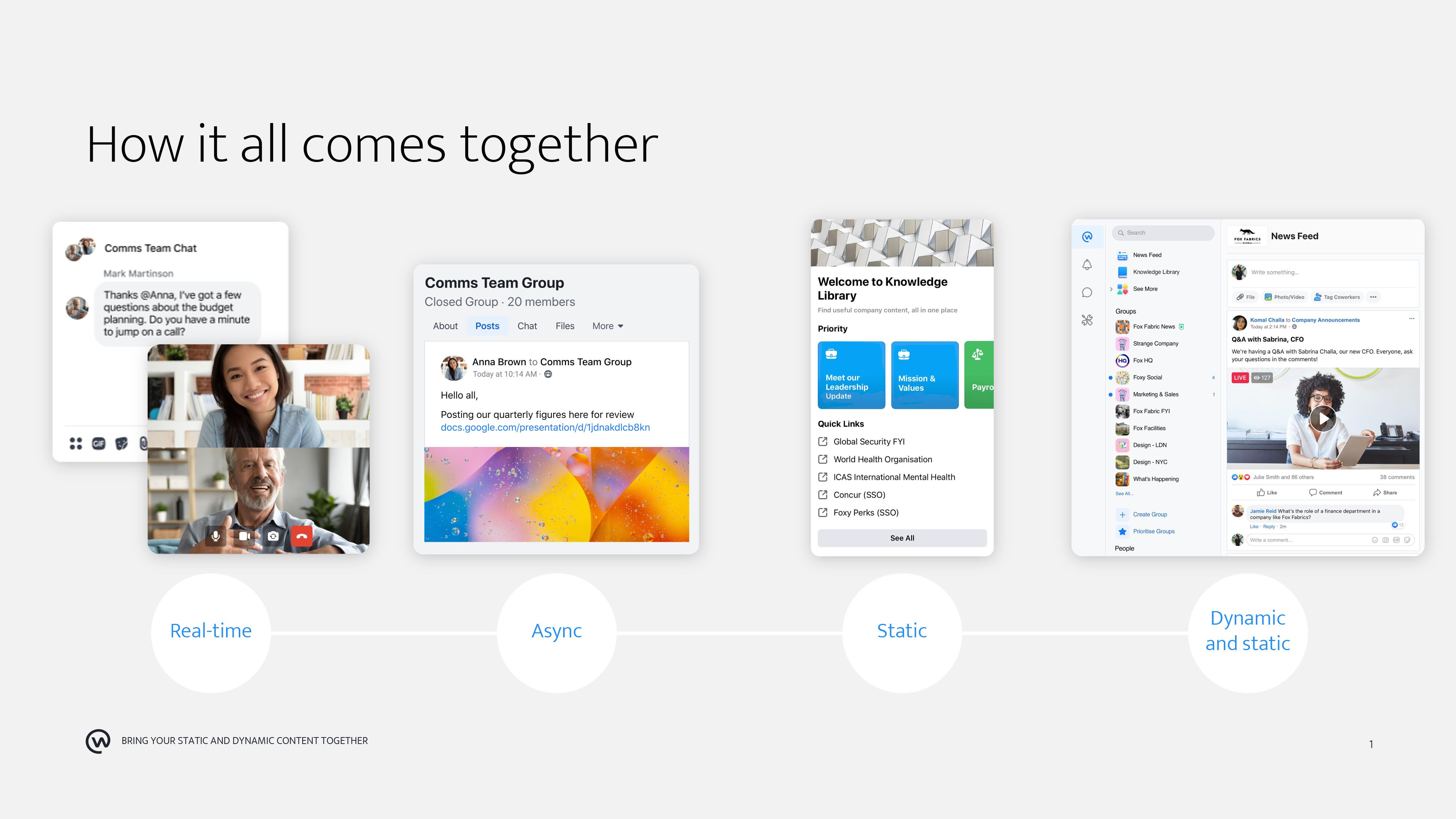 Learn more about how Workplace from Meta's Knowledge Library can help your organization today! Click the button below to access the Knowledge Library eBook.
Kick Off Your Content Management Strategy Today!
Ready to explore Workplace from Facebook and Microsoft 365's integration capabilities? Want to see how you can use both these powerful platforms as the centrepiece of your content management strategy? LineZero is here to help!

Our Workplace Roadmap Engagement produces a visual blueprint of your organization's technology roadmap so that you know how to gather the right team of champions, define the right goals, and execute a methodical deployment plan that addresses your organization's existing technologies, processes, and people needs. Let's connect today – email us or book a call now!