"I want my team to adopt Workplace by Meta. I've spent time and money implementing it for my organization, and now I want to make sure that I'm getting the maximum ROI."
If this sentiment rings true with you, you need to keep reading this blog! Below, we've put together six great tips for getting your team to adopt Workplace by Meta. Let's dive in!
1: Make Workplace by Meta a PEOPLE Project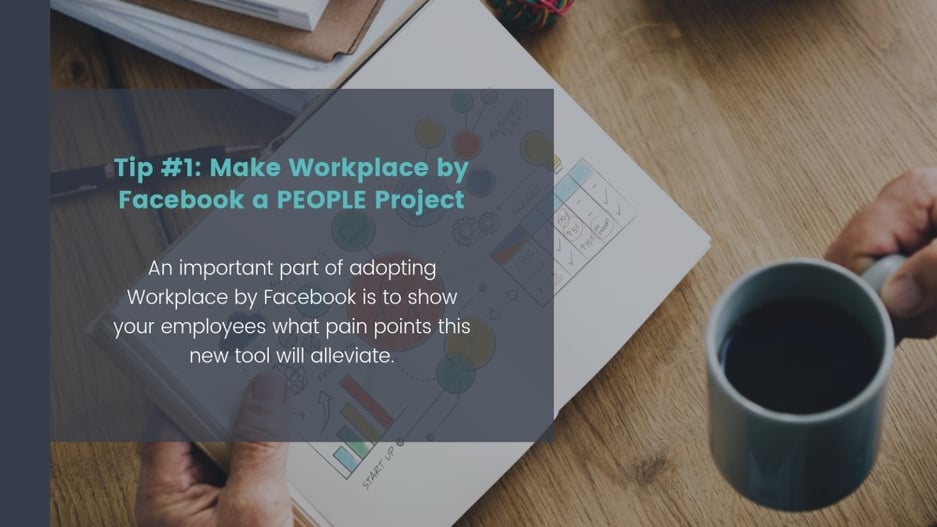 Many implementations fail because decision-makers forgot that they weren't just purchasing a product… they were purchasing a solution. Workplace by Meta, like other solutions out there, was designed to alleviate various pain-points within an organization. So, an important part of adopting Workplace by Meta is to show your employees what pain points this new tool will alleviate. Remember, people react better to having to adopt new things when you explain what's in it for them.
---
A Demo is Worth a Thousand Words
Every organization is unique, so your demo should be uniquely matched to your specific business needs. Contact us to tailor your Workplace demo.
---
To help your employees adopt Workplace by Meta, let them know how this new tool is going to make their jobs easier! And, by having HR and other people-centric departments involved in the process, you can spread the message that you made the change to Workplace by Meta with your employees' best interests in mind.
2: Have Active C-Level or Executive Participation in Adopting Workplace by Meta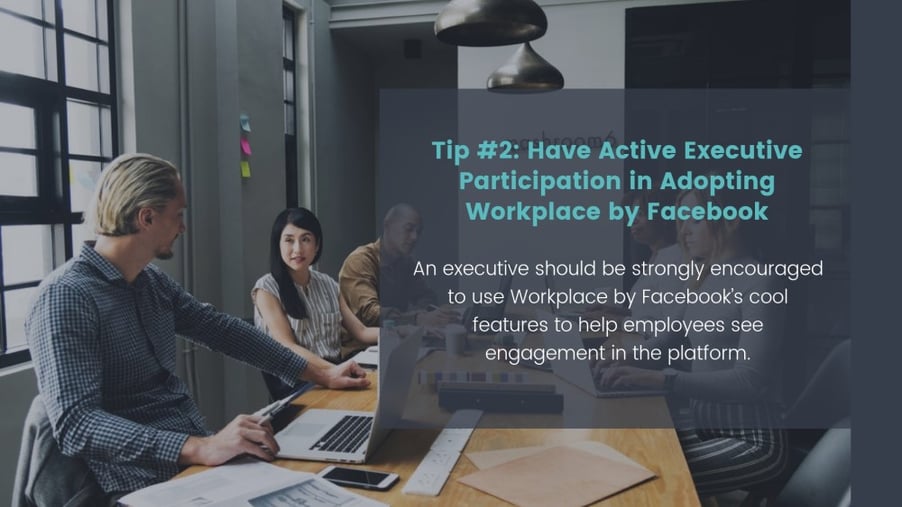 Active C-Level/Executive participation can really boost Workplace by Meta adoption among employees. After all, if the CEO of the company is using the tool on a regular basis, it must be something that the company believed would be of benefit to the organization as a whole.
A C-Level or executive should be strongly encouraged to use Workplace by Meta's cool features to help employees see engagement in the platform. Use the polling features, create live videos for announcements, and open up discussion threads! These activities will help your employees adopt Workplace by Meta because they'll come to see it as an open platform for communication within the organization. Plus, the reaction buttons (like, love, laugh, sad, angry) are an easy way to show your employees that you're listening to their feedback.
But this doesn't just go for C-Level or Executives… to encourage employees to adopt Workplace by Meta, have your managers on there, too! For instance, if you have a finance group, make sure that the finance managers are all posting and using the platform.
3: COMMUNICATION!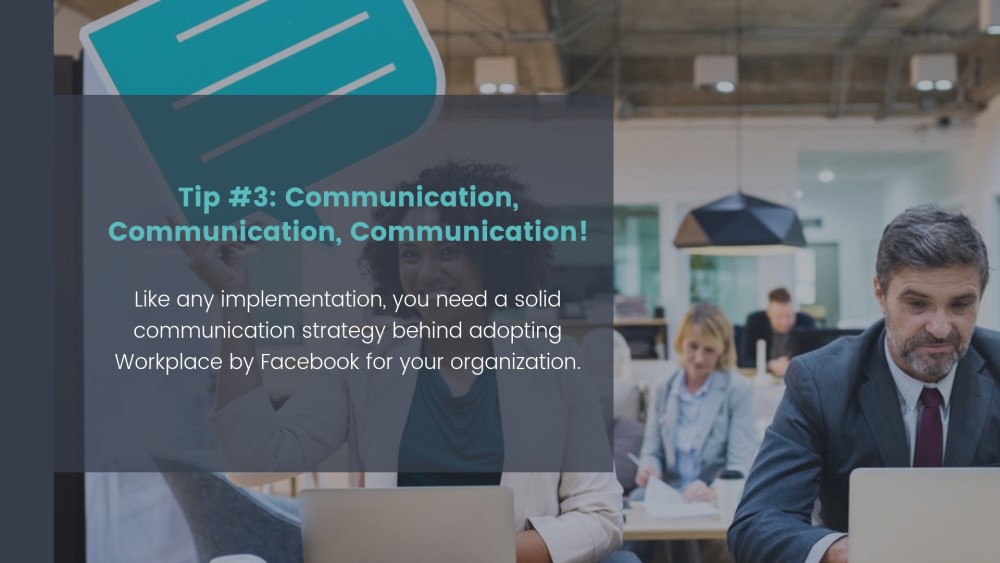 Like any implementation, you need a solid communication strategy behind adopting Workplace by Meta for your organization. Be sure to create verbiage that shows that you're going to be making Workplace by Meta a commonplace tool in your organization.
Here are a few ideas on how you can introduce Workplace by Meta to your team:
Weekly team meetings are a great place to announce the change that will be taking place. Start a few months before you actually launch Workplace by Meta.

Hold activities, like Town Hall Meetings, or Lunch & Learns, so your employees can have their say, ask their questions, and express their concerns.

Create FAQ sheets, 'cheat sheets', or one-pagers on the benefits of Workplace by Meta and all the new features that your employees will be able to take advantage of.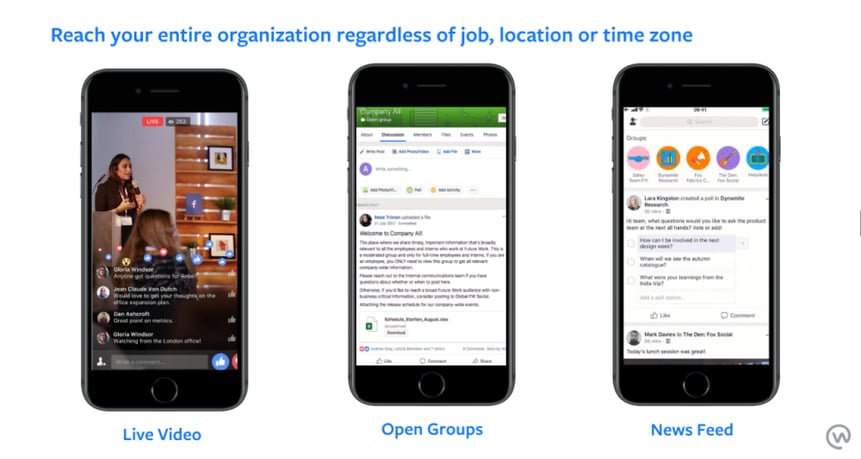 It's important to remember that people don't usually like it when things are sprung on them at the last minute. In order to get employee adoption of Workplace by Meta, you're going to have to start implementing a communication plan with ample time for your employees to adjust to what's going to happen once Workplace by Meta is launched. Last minute changes can lead to anxiety and stress, which is almost guaranteed to make people less receptive to adopting a new technology.
4: Allow Your Employees the Freedom to Make Workplace by Meta Their Own
Another tip for getting employees to adopt Workplace by Meta is to let them make the platform their own. Consider this: how much more likely are you to actively enjoy something when you had a hand in building it?
Research has shown that those who have a positive, happy mindset are 31% more productive than their negative or neutral counterparts, so let your employees have a say in what they want from the platform and they're far more likely to adopt Workplace by Meta! they want – even if it's a group to celebrate their feline friends!
5: Trust Your Employees to Adopt Workplace by Meta On Their Terms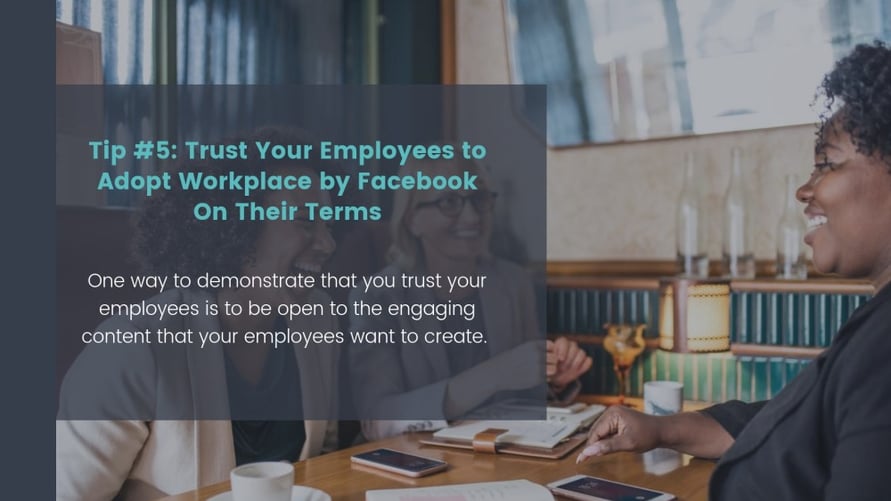 Trust is important in any relationship. For business owners and executives, it certainly helps build a strong corporate culture when you show that you trust your employees. One way to demonstrate this trust is to be open to the engaging content that your employees want to create – even if that includes creating a group dedicated to their four-legged pals!
Technology projects, like implementing Workplace by Meta, can easily crash and burn when people are treated as simply "users". It's so impersonal! But these are actual people using this technology, so if you want a sure-fire way to increase adoption, treat your people as people, not users.
6: Make the Training Fun!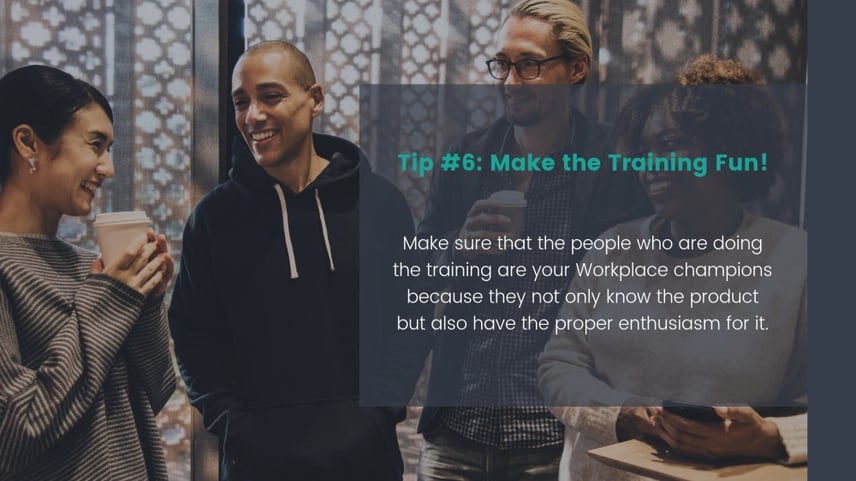 Workplace by Meta is, in many ways, identical to the commercial version, so anyone currently using Facebook should be able to get started using Workplace with relative ease. However, it's important not to assume that employees are using Facebook and create a training program that takes both the inexperienced and veteran user into account.
---
A Demo is Worth a Thousand Words
Every organization is unique, so your demo should be uniquely matched to your specific business needs. Contact us to tailor your Workplace demo.
---
There are many variations of training out there – hands-on, computer-based, online/e-learning, interactive, video, etc. – but whatever you choose, make sure that the people who are doing the training are some of your Workplace champions. Why? Because they not only know the product, they'll also have the proper enthusiasm for it, which makes training more fun.
Here are a few ideas to make training more fun:
Consider Mixing Up Your Training Format. We're not exactly fans of PowerPoint presentations, and (let's be honest), they're not usually well-received. So, mix it up! Bingo-style games, scavenger hunts, lunch & learns… these are all some interesting and engaging ways to learn about a new technology like Workplace by Meta.

Offer Incentives. It doesn't hurt to show your employees how you value their efforts to learn something new. Offer gift cards to local coffee shops, let them take their pick of the office swag (within reason, of course), or order in lunch for them while they go through the training. These small gestures will go a long way.

Create a Contest. The person who responds to the most posts in a week. The first team to reach 10 consecutive daily posts. The first person to answer 5 polls. The post with the most engagements. Whatever you decide, these contests should encourage your employees to not only learn about Workplace by Meta, but also adopt the platform! Be sure to recognize those employees who take part in the contests in some way.
Get Your Employees to Adopt Workplace by Meta Today!
Workplace by Meta is an amazing collaboration tool that has the potential to change how your employees connect and collaborate with each other – but only if it's adopted as the solution it's meant to be. Having trouble getting your employees to adopt Workplace by Meta? Give us a shout! At LineZero, we aren't just your go-to Canadian Workplace by Meta partner – we use it ourselves! From design, to pilot, to implementation, our expert staff is capable of helping you build and adopt the innovative and collaborative Workplace environment you're looking for.