Have you ever felt disconnected in a conversation, longing to reconnect and understand each other better? If so, you're not alone.
As leaders, fostering a culture of connection and authenticity within our organizations is crucial. In this blog, we'll discover the power of vulnerability as a leadership strength, using business as a force for good, welcoming diverse perspectives, adopting empathetic leadership styles, managing burnout, and rapidly connecting with new hires. We'll also explore how Workplace from Meta can be a valuable tool to facilitate these powerful connections and build an inclusive, engaging corporate culture.
Ready to bridge the communication gap and transform your organization?
In this blog, you will find:
1. 💪 View vulnerability as a leadership strength, not a weakness!
2. 💚 Build trust and value in the community by using business as a force for good!
3. 👫 Welcome a diversity of perspectives!
4. 🤗 Adopt an empathetic leadership style!
6. 💬 Build rapid connectivity with a new hire


In today's fast-paced and increasingly remote work environment, effective leadership requires a deeper understanding of connecting with team members and fostering an inclusive, engaged atmosphere.
6 essential TIps to empower you to build strong relationships and bridge communication gaps within your organization.
1. view vulnerability as a leadership strength, not a weakness!
When you ask someone what they see as the core strengths a leader needs to have today, it's common to hear words like vision, integrity, delegation, courage, confidence, or strength. The list of adjectives that describes a great leader can be lengthy! But one word you probably won't hear in their response is 'vulnerable.'
For many, vulnerability can be seen as a huge weakness, not a core strength. However, leaders who proactively and intentionally display vulnerability create opportunities to have meaningful conversations that build authentic relationships. Being vulnerable shows humanity making it easier for others to connect, and shows you are willing to treat others as human beings.
Workplace from Meta provides leaders the opportunity to display openness in many ways. Leaders can Go Live and talk about something that's near and dear to their hearts. They can use their News Feed to post links to articles that strike a chord with them or draw attention to a cause close to the chest. Or simply to express an opinion, share a thought, or share a moment of weakness.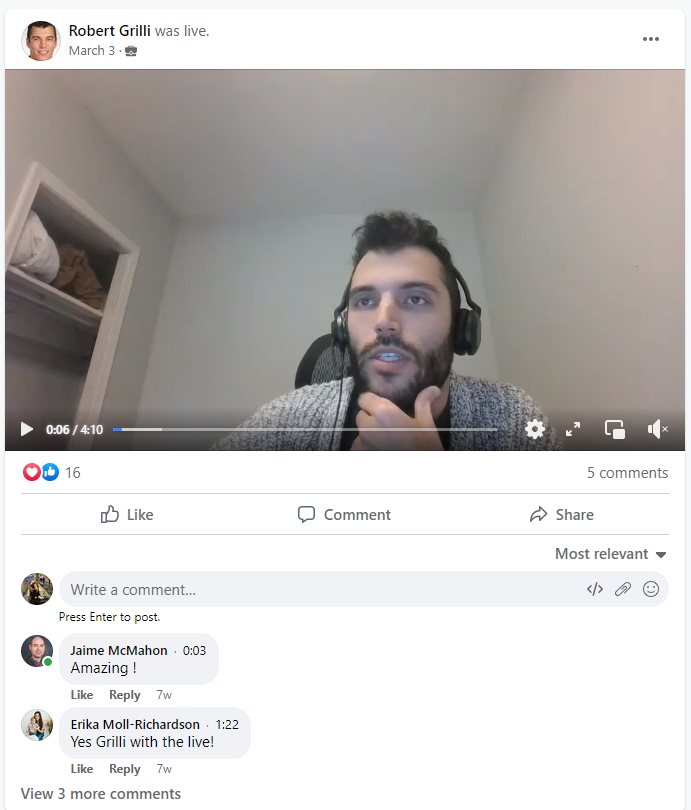 2. Build trust and value in the community by using business as a force for good!
How can you hold your organization accountable for upholding the highest standards of transparency and accountability? Become a certified beneficial company!
Nancy MacKay from MacKay CEO Forums spoke about the importance of organizations being the change they want to see in the world by taking a stand on prevalent issues. As a B Corp organization, MacKay CEO Forums proudly and openly combats discrimination, racism, sexism, and elitism in the workplace.
The B Corp Certification recognizes an organization's overall positive impact on employees, the community, and the environment. Taking this important step means that leaders in your organization can get more comfortable with being uncomfortable, express their willingness to learn, and open the door to having judgment-free conversations.
Workplace from Meta Groups can be used to create safe spaces where employees can share their experiences and ideas and have great conversations that help educate, empower, and challenge each other to be that change for good, that Nancy mentioned. At LineZero, we've set up a Diversity, Equity, Inclusion, and Belonging (DEIB) Group that helps us to discuss and learn about DEIB in the workplace openly – it's a safe space where we can share articles and books of interest, personal stories, and more. It has allowed for us to open the floor to difficult conversations we might not have had in the past.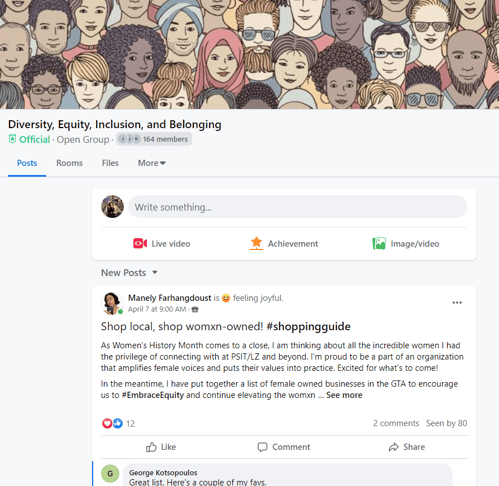 3. Welcome a diversity of perspectives!
Do you consider and encourage different perspectives in your organization? How you approach open and inclusive conversation can significantly impact your organization's collaboration, morale, and productivity. So, it's important to address this question.
Employees need to feel comfortable asking for and accepting feedback to create a positive, safe space. Does your organization provide that for them? By catering the language you use to be more inclusive, no matter how subtle, you can create a culture of belonging.
Where do you start? Empathy and respect go a long way. When we can put ourselves in someone else's shoes and see something from their perspective, we can be closer to understanding their experience.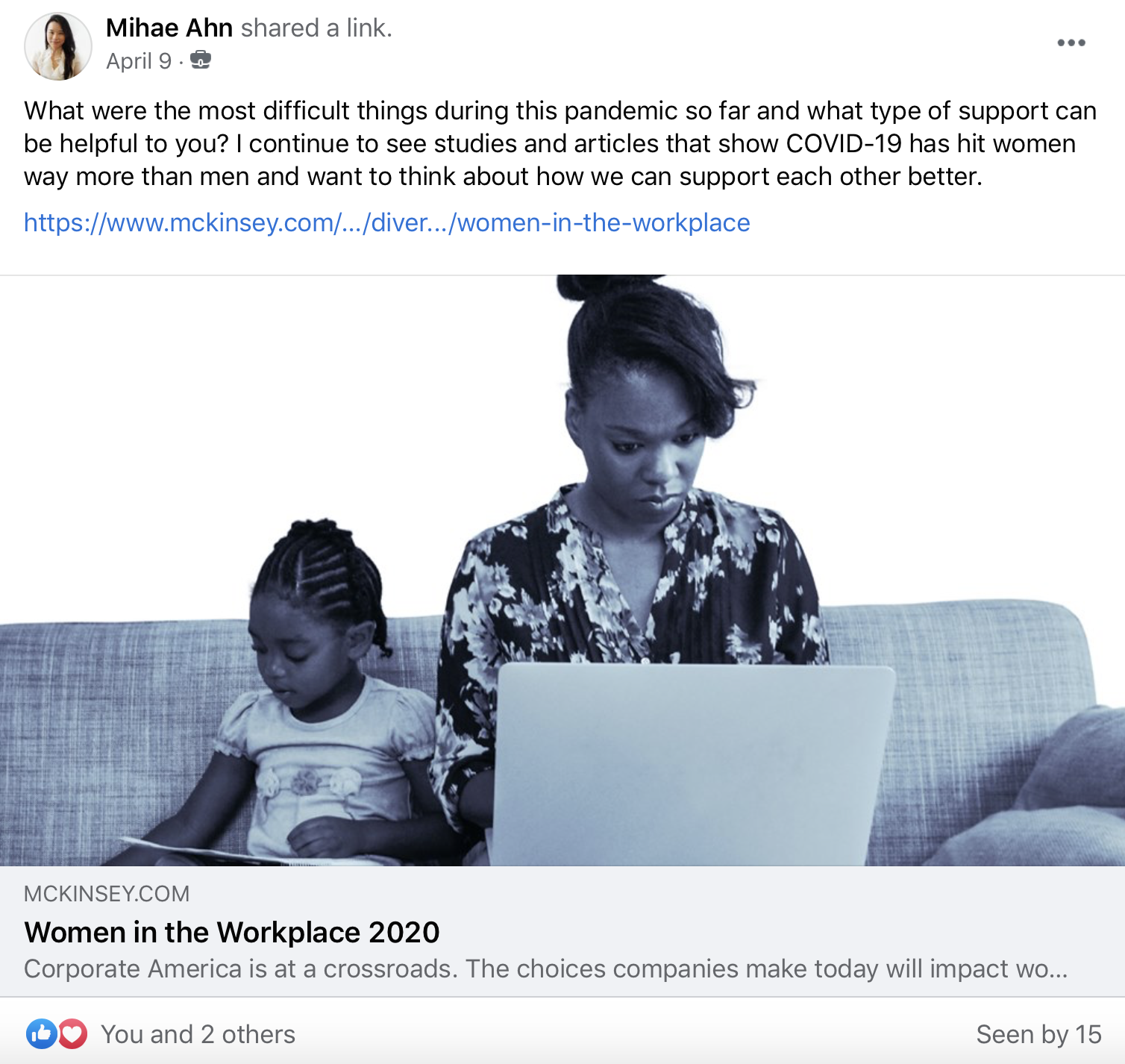 4. Adopt an empathetic leadership style!
Empathy is a powerful tool; the capacity to understand or feel what someone else feels or is experiencing. To be able to put yourself in their position and understand where they're coming from. Empathy can go a long way in clearing up a communication jam, and it can help to quell anger and frustration in a healthy way.
The flip side of the coin, however, is that being too empathetic can lead to other challenges, like making decisions based on feeling rather than fact or finding yourself pulled down into the other person's negativity and suffering. So, being an empathetic leader is about finding a fine balance between being empathetic and pragmatic.
To be an empathetic leader, you need to set healthy boundaries for yourself and ensure that you stay in a positive emotional state while trying to help your employees. Setting up 1:1 Groups within the Workplace can help you do both – when used properly, it can give your employee a safe space to vent their frustrations while also allowing you to set boundaries.
5. Manage burn-out
The World Health Organization included burn-out in their 11th revision of the International Classification of Diseases (ICD-11). It defined it as "chronic workplace stress that has not been successfully managed," characterized by energy depletion or exhaustion, cynicism and detachment (mental distance) from one's job, and reduced professional productivity.
With the challenges of COVID-19 and remote work, burnout is affecting more people than ever. Whether it's the exhausting side effects of constant video calls, the pressures of our work and home life seeping into one another, the rise of anxiety and depression from social isolation, grief, or trauma, or other factors, burnout may affect every single person in your organization.
Seeking a Connected and Authentic Leadership Culture?
We help organizations cultivate connection and authenticity in leadership by harnessing Workplace from Meta. Bridge communication gaps, embrace vulnerability, and foster an inclusive environment for a unified, inspired workforce.
If that resonates with your goals,

Managing burnout is another way to build a strong culture of connection within your organization. You can make questions like:
🤔 Are you providing a safe environment where employees can communicate their concerns and share their challenges?
🤔 Are you encouraging your employees to take their vacation days, and, more importantly, are you leading by example?
🤔 Are you doing your best to encourage you and your employees dial up the self-care practices to take better care of mental health and wellness?
One way that Eric Sugar, LineZero's President, is trying to combat burn-out is to do "walking calls" for some of his meetings. He encourages the person he's meeting with to participate in a walk – wherever they are – taking the call from a cell phone rather than from in front of the computer. "Let's pick up a cell phone, go for a walk, talk, and let's have nature be a part of that conversation - movement and fresh air."
6. build rapid connectivity with a new hire

The last way that organizations can build strong connections and culture is to engage with those who are just starting out their journey with you.
This serves several purposes, most obvious: making your new hire feel welcome and showing them that your corporate culture embraces who they are and what they can bring to your team. By doing this, you cultivate loyalty, job satisfaction, happiness, and engagement in that new hire.
But how do you go about building this rapid connectivity? Nancy and Eric, in their discussion, introduce the concept of "speed dates" – 20 minutes or less to deep-dive into a conversation that focuses on them. As Nancy explains, "It's awkward at first because you're used to just bumping into people and having conversations. But you can go really deep and have great connections in 20 minutes or less."
Workplace from Meta is the perfect way to facilitate these conversations, especially with most people working remotely. This powerful platform enables new hires to quickly integrate into the organization by connecting them with team members, providing easy access to essential information, and fostering open lines of communication.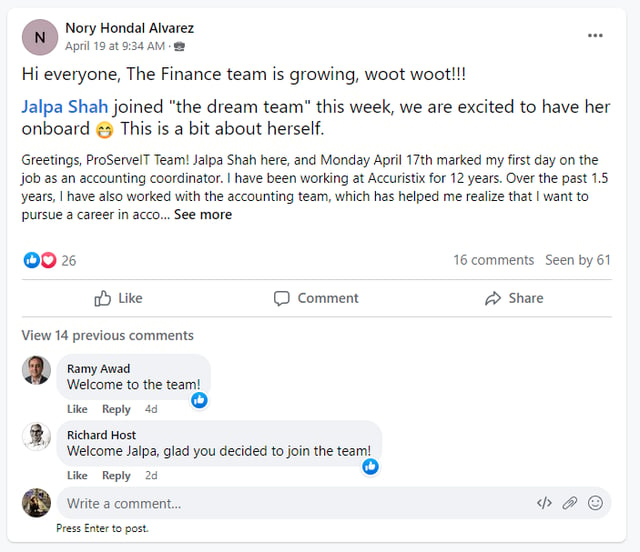 Conclusion
Cultivating a culture of connection and authenticity in leadership is essential for thriving organizations. By harnessing the power of Workplace from Meta, leaders can bridge communication gaps, embrace vulnerability, and foster an inclusive environment for employees at all levels. As we continue to navigate the challenges of remote work, it's more important than ever to leverage technology in fostering meaningful connections and promoting a unified, inspired workforce.
If you're ready to connect with your employees on a whole new level, this blog is for you. At our #CONN3CT Virtual Conference, we were privileged to have Nancy McKay of McKay CEO Forums join us to share some knowledge about reducing the communication gap by leading with transparency and authenticity to create connections and culture within the organization.
What needs to change so that we can all become much more closely connected? Read on to explore the answer to this question and the main learnings from the session. Also, feel free to watch the recording at your convenience and tap into more ideas, tips, and suggestions to inspire you and your team.
Seeking a Connected and Authentic Leadership Culture?
We help organizations cultivate connection and authenticity in leadership by harnessing Workplace from Meta. Bridge communication gaps, embrace vulnerability, and foster an inclusive environment for a unified, inspired workforce.
If that resonates with your goals,