Countries around the world are working toward successfully suppressing COVID-19, and after a year and a half long battle, there's light at the end of the tunnel. Many organizations in parts of the world are starting to bring their staff back into the office and restoring their lively in-person culture. Is your company working on a return to office plan? Are you considering a hybrid return to office strategy for the interim, and working your way back to full return to office over the next several months?
Wherever you are on crafting your return to office strategy, it's important to consider how you're going to communicate all the changes that will be happening over the next several months. That's where Workplace from Meta shines!
In this blog, we'll show you how Workplace can be used to communicate office re-openings, convey vital employee health and safety information for both physical and mental health solutions, and collect employee feedback that will help mitigate employee concerns when returning to work. Read on for step-by-step guidance on how to establish an effective communications plan for in-office or hybrid working in your organization, including free communications toolkits and templates.
In this blog you will find:
🌐 Step 1: Create space for your team
👥 Step 2: Collaborate in Workplace
📢 Step 3: Communicate Information in a Clear and Concise Manner
📌 Step 4: Share key information
💬 Step 5: Understand that effective communication is give and take!
📅 Step 6: Plan and Create a Return-to-Work Schedule
✍️ Conclusion
Are you struggling with managing the complexities of returning to the office?
LineZero, in partnership with Workplace from Meta, transforms the way you engage and value your employees. Workplace from Meta helps organizations streamline communications, foster transparency, and maintain a pulse on employee sentiment during these pivotal transitions.


Step 1: Create space for your team
Planning your return-to-office communications is a major task that requires the support of various functional departments in your organization. The first step is to gather the right team for the job and create a safe, central space where they can collaborate and understand each other.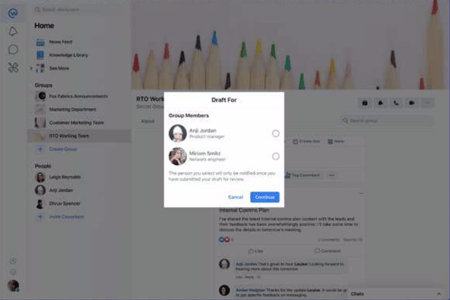 Assemble a core team that is jointly responsible for creating and reviewing communications. Then add any other stakeholders who will participate, such as executives who will use Workplace from Meta to share communications written by the communications team, or anyone who participates in real-time video events such as "Ask the CEO" or a live Q&A session.
Step 2: Collaborate in Workplace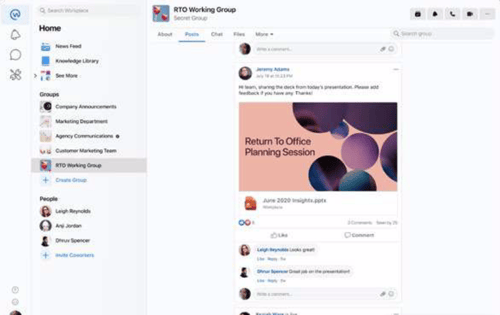 Once you have the right equipment, you can create a secret (closed) Workplace group that the team will use to communicate, share and store files, and collect feedback. Setting the group's privacy level to "confidential" means that only people who have been added to the group can see its existence, view posts, and communicate with other members.
Once the group has been created, create your first post to the group, outlining the timeline needed for your communications plan, project goals, individual roles and responsibilities, and be sure to also add any files or links that your team needs to refer to on a regular basis. Then pin the post to the top of the group so team members can always find it easily. Every shared file in your group will be stored in the "Files" tab, so nothing will be lost. Your team group can also connect to chat, so you can use it to communicate throughout the day.
Step 3: Communicate Information in a Clear and Concise Manner
Your return to office communications plan must be conveyed in a clear and concise manner. To ensure that your most valuable assets – your people! – are safe and fully informed as they return to the office, communicate your plans and policies using Workplace groups, Go Live, and other easy to access features. Ensure your message is really front-and-centre, and, above all, that everyone in your organization knows where and how to find the information they're looking for.
To develop your message, first write the key points in an easy-to-understand way. Your messaging should cover the basics of your return to office plan: content, timeframe, people, and methods. During this step, it's important to anchor your message to why! Outline the importance of getting back to work personally and provide a compelling vision for the future to motivate your employees. Obtaining the correct language can be difficult, especially when multiple people are sharing information on behalf of your organization. The language guide will help you and other members of your team to ensure that you follow the agreed communication guidelines. Here are some useful tips:
Be clear and direct:

Communicate in an easy-to-understand manner and avoid the use of acronyms and difficult-to-understand terms.
Be considerate:

The pandemic has been difficult for all of us, but it has hit harder for some than others. We must recognize the resilience and adaptability that people show in the face of these challenges and ensure that we're considering both the physical and mental health and safety of our employees in our return to office policies and procedures.
Prepare for the unknown:

Make sure that the language you use allows room for unplanned changes.
For more communication tips, check out page 9 of this guide to using Workplace for return to office communications.
Step 4: Share key information
As mentioned above, make sure you set up channels to share useful updates and resources with employees. This type of information sharing takes place within Workplace through functions such as groups, Knowledge Library, and Safety Center. When used together, your team can centralize all return to office content in Workplace, including announcements, policies, health and safety measures, safety alerts, and more.
Streamline static resources in Knowledge Library:

Start creating a centralized repository for return-to-office resources in your Knowledge Library. If your return-to-office policy varies by office location, plan to create unique categories and subcategories for each office to delve into specific topics, such as:

Health and safety measures.

Return to office phases.

Updated services, such as a new kitchen usage policy, cafeteria considerations, or help desk support.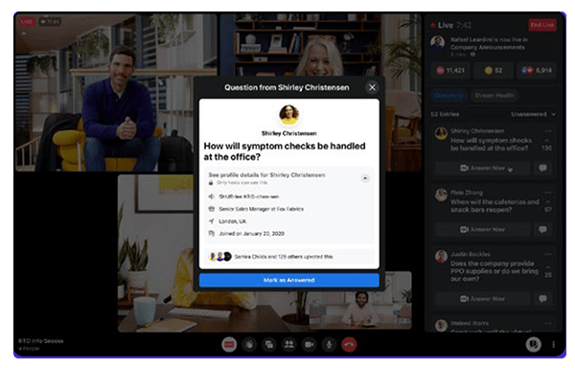 Share health and safety updates with Safety Center

: When you start bringing people back to the office, it is important to have tools to provide everyone with information to ensure that people are safe and informed. With the Workplace Safety Center, you can send a series of safety messages to any of your employees to ensure their safety and share critical information. Use the Safety Center to send self-assessment information to employees who will be entering the office. This information will help them manage their symptoms and assess whether they should stay home.

Step 5: Understand that effective communication is give and take!
It is important that employees understand your plan to return to the office, but it is also important to show them that you are listening and that you take their concerns and opinions seriously.
Employee participation surveys are an easy way to collect simple feedback and encourage employee participation. You can use it to prepare a live video event theme and quickly measure how your employees feel about their plans to return to the office.
Your organization can also host a live video Q&A session with return to office planning team members and leadership to address employee questions in a safe, open and transparent forum. Employees can listen in real-time and get answers to their questions. Plus, anyone who misses the broadcast can catch up at any time when the footage is posted to the group.
Step 6: Plan and Create a Return-to-Work Schedule
Now that you know how to approach return to office communications on Workplace, it's time to enhance communications and summarize your plans.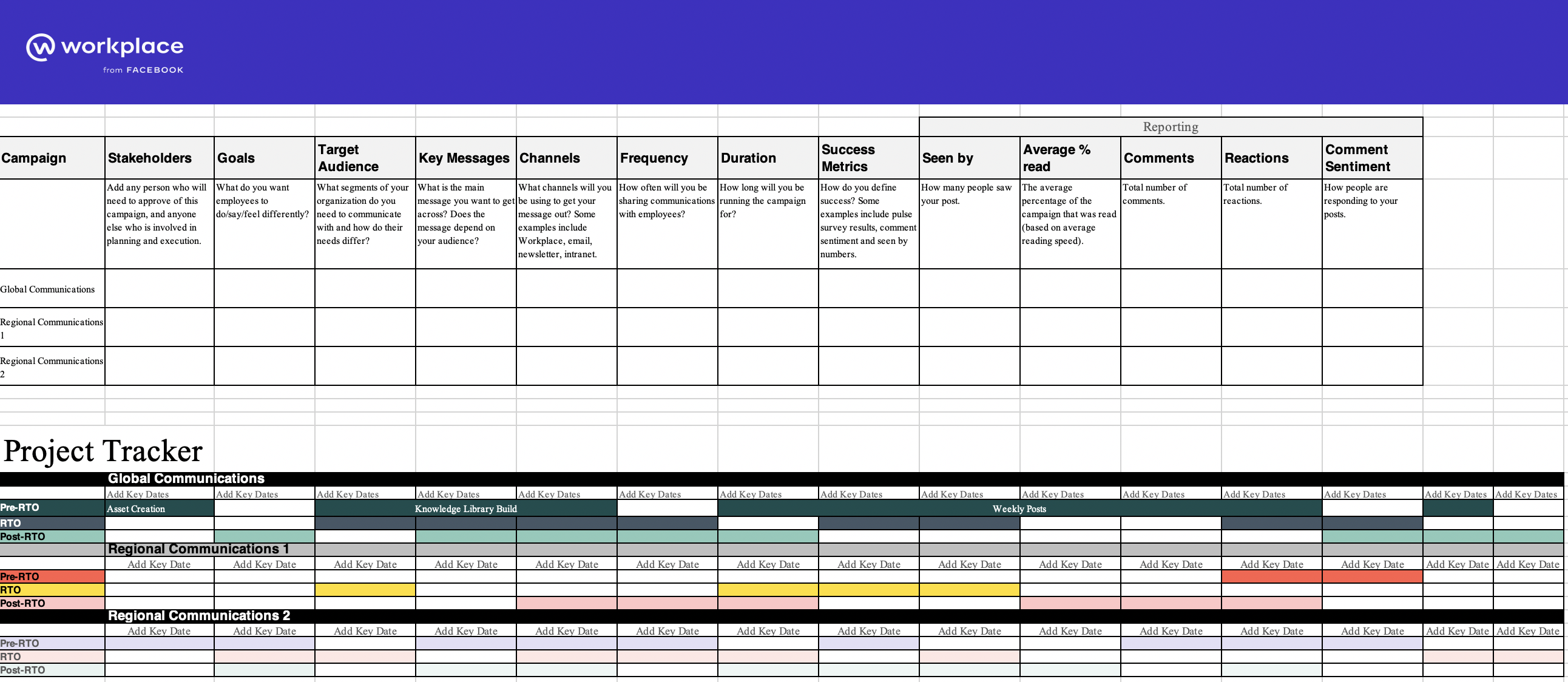 Your Internal communications plan should include:
Return to office summary

Goals and objectives

Communication tactics and tools (i.e., Live Video, Safety Center, Group Posts, etc.)

Metrics to measure engagement and success
Your plan should also include a content calendar and simple tables and spreadsheets summarizing each communication phase, including person, channel, sender/poster, subject and date. To help, we have created a sample communication plan included in this toolkit. You can use it as-is or customize it the way you like to suit your organization's needs.
Conclusion:
Returning to the office post-COVID-19 requires careful planning, communication, and consideration for the well-being of all employees. As companies navigate this transition, leveraging tools like Workplace from Meta can be instrumental in streamlining communication and ensuring a smooth reintegration. It's more than just sharing updates; it's about fostering a culture of transparency, empathy, and adaptability. Whether you're on the brink of unveiling your return-to-office plan or are in the midst of it, we hope this guide equips you with actionable insights for a successful transition.
Templates and tools to reinforce your return to office communications plans & health and safety policies!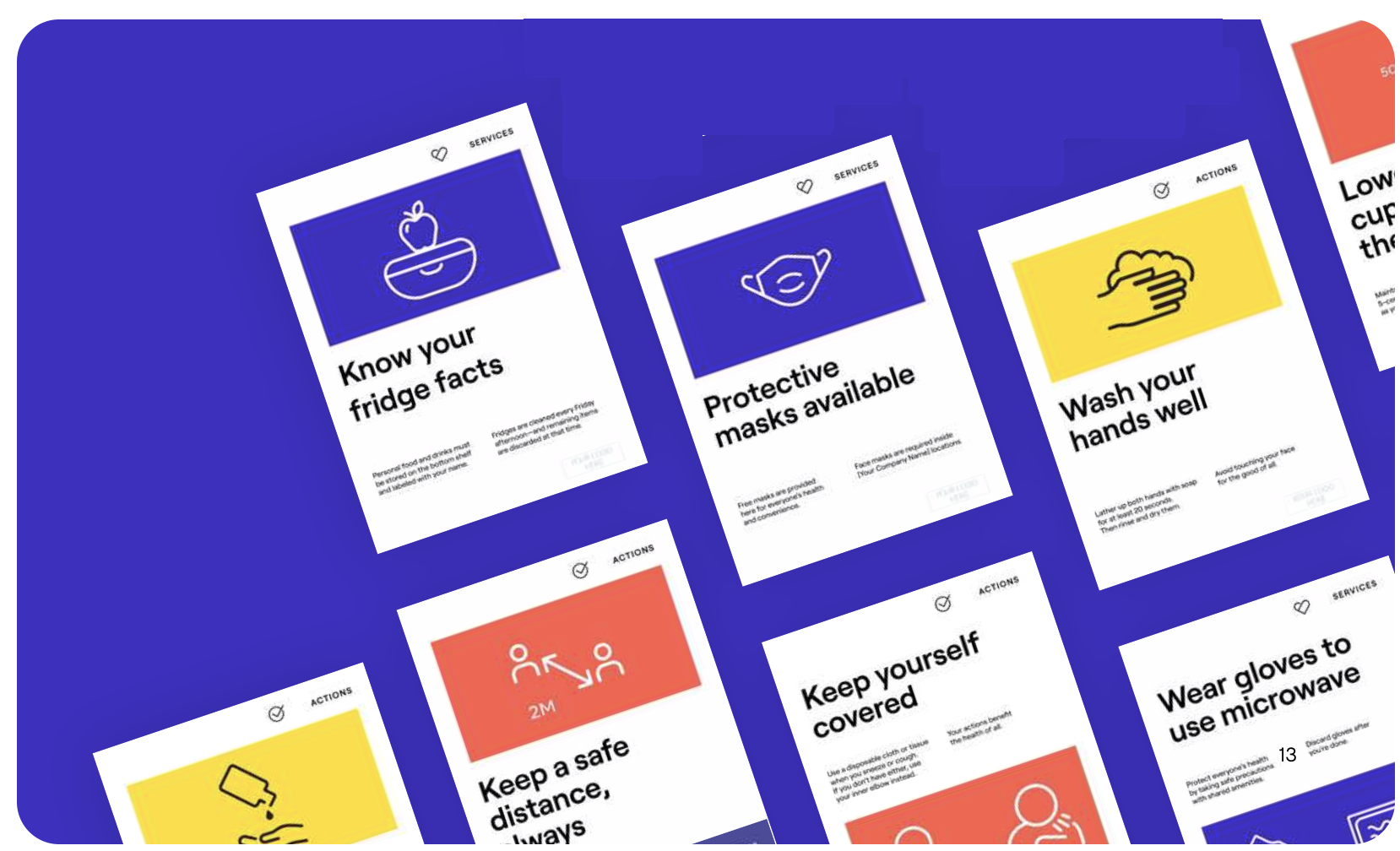 Use printed signs to draw attention to health and safety measures throughout the office. We took the posters from Facebook and modified them so that you can use them as templates. Please note that the guidelines and policies described in these posters are specific to the United States. Modify them to comply with local government guidelines and recommendations. You can also add your own brand and change colors, images, and text to comply with your company's guidelines!