With hybrid work environments becoming increasingly popular, the question for Human Resources leaders isn't how to avoid the challenge of bringing employees together; it's how they can navigate through it and build a positive employee experience.
The answer is by engaging their employees. Employee engagement is how can help companies to align their people and business strategies to become more agile and responsive. But how do you cut through the noise, break down the barriers and get it done? Read more below to find ways as to how you can boost your company's employee experience and boost your employee engagement!
In this blog you will find:
6 Reasons why HR Leaders are using Workplace to boost Employee Experience
1. Connecting Everyone on Workplace
2. Connecting Frontline Workers
3. Work Policies, Training and Benefits
4. Different Countries = Different Cultures
6. Instant Updates for Important News
What is WOrkplace from Meta?
Workplace from Meta is a communication platform for businesses that enhances internal communication and boost employee experience while keeping engaged employees. With a platform similar to Facebook Workplace from Meta, Workplace has features like chat, forums, videoconferencing, and the newsfeed, making Workplace easy to implement. As well, Workplace helps enable business communication, keep employees engaged, strengthen internal culture, and help team members stay connected. With your company connected, you can empower your employees to share their voice and create a diverse community that enhances employee experience.
With many features available at the palm of your hand, as leaders, you can boost employee experience using Workplace from Meta. Learn how to use these features below as we explore how HR leaders are using Workplace from Meta to bring their company together.
6 Reasons why HR Leaders are using Workplace to boost Employee Experience
At LineZero, we know that employee engagement comes naturally when people are connected. By asking human resource leaders and business leaders from world-class companies, we compiled a list of how Workplace from Meta helped their companies connect, communicate, and build a strong community and a positive employee experience. With the new hybrid environment becoming increasingly popular, this list will give you an insight into boosting your employee experience, wherever your employees are around the world.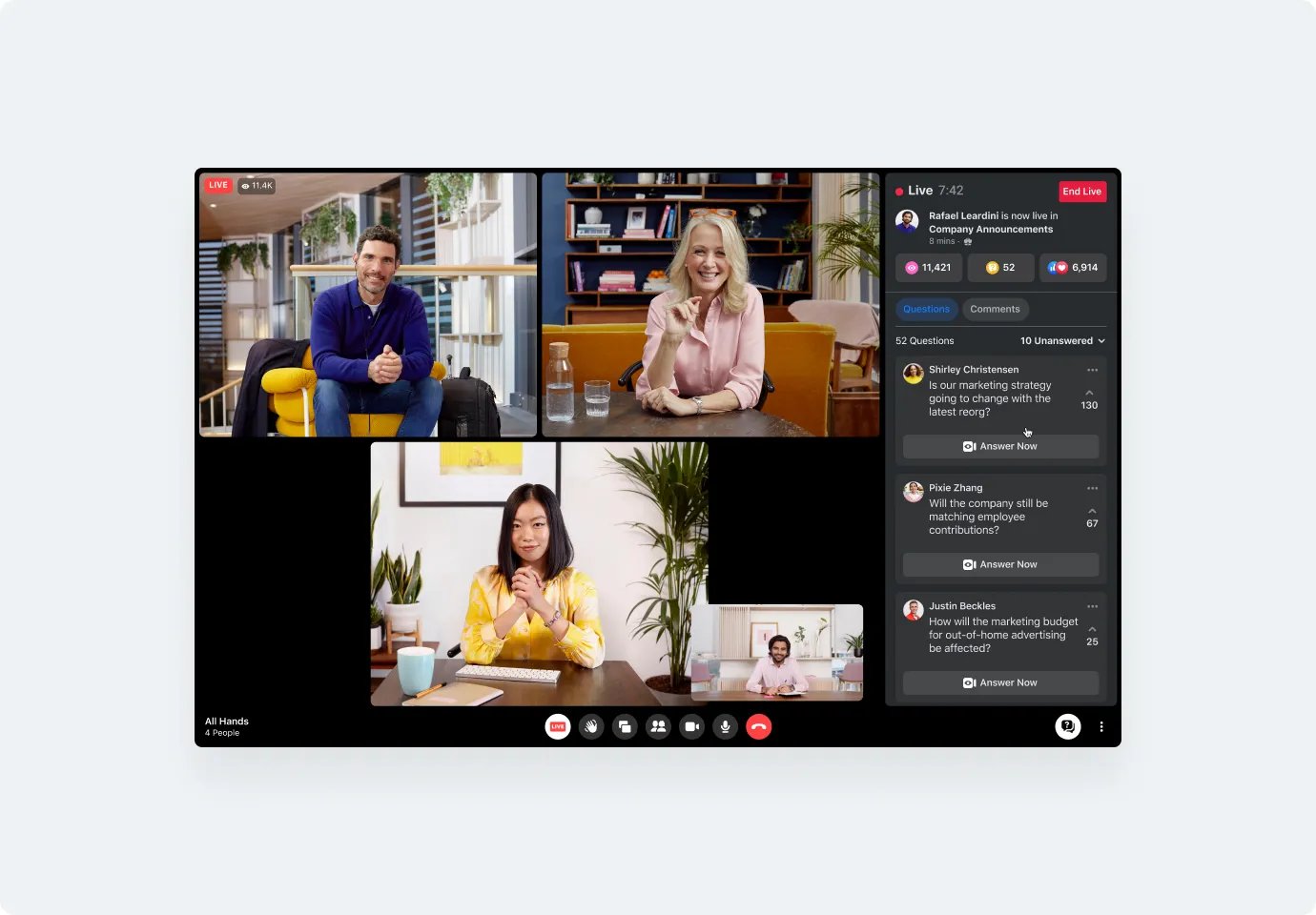 🫶 1. Connecting Everyone on Workplace
from Meta to build company culture
With many employees scattered around the world, it can be difficult to bring everyone together and build company culture. In order to insure all of your employees are connected, Workplace serves as a hub for announcements, breaking news, or posts that engage employees so your employees feel connected. That way, with everyone communicating in one place, your company will be able to build meaningful connections with one another and improve the employee experience.
News Feed - Just like Facebook But for your company!
A great way to connect everyone on Workplace is using News Feed. With a similar layout to Facebook, employees can post announcements, breaking news, or simple fun posts to connect everyone within the company. Additionally, you can pin and highlight important posts in order to measure the impact of your comms and improve how your employees communicate.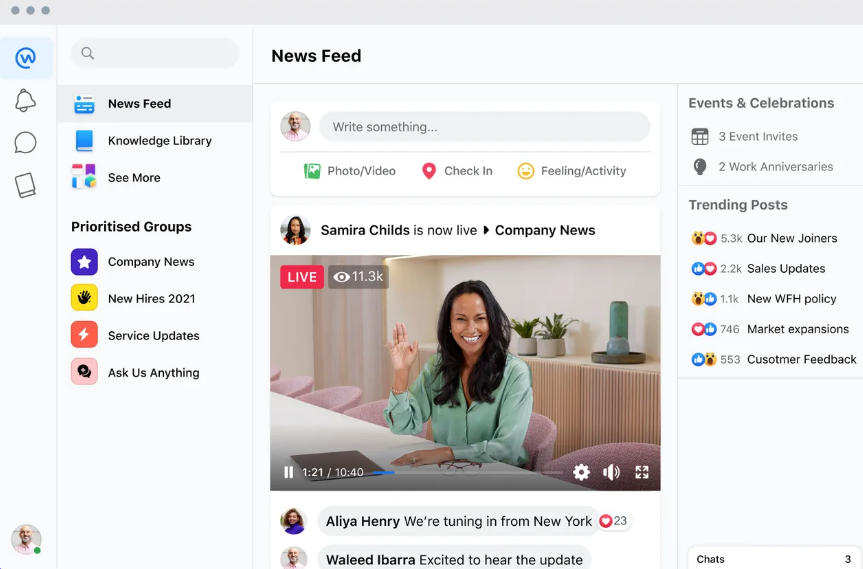 🧑‍🤝‍🧑 2. Connecting Frontline Workers
Frontline workers are the first touch point your customers have with your company. It is important to make your frontline employees feel valued and connected with the rest of the company.
By posting in Workplace Groups, companies can highlight different experiences of rural and metropolitan teams. This allows teams to make better decisions with more efficiency and better business outcomes. As well, by connecting with your frontline workers, your company will flatten out the hierarchy of corporate culture and encourage interaction between leaders and frontline workers.
Learn more about Workplace Groups in this video:
Workplace for Frontline Workers
Why use Workplace for frontline workers? The answer is simple. It is mobile, easy to use, super secure, and doesn't need an email address to get started. Workplace is designed to be mobile so your frontline workers can enjoy the same features as those on a desktop. With similar features to Facebook, Workplace is an easy way to connect frontline workers with little-to-no tech support or training. As a result, anyone can get connected quickly and easily.
👩‍💻 3. Work Policies, Training and Benefits
all in one place
Using Knowledge Library, HR managers and business leaders can pin posts and mark them as important for critical news and updates. This can be useful for training or updating work policies that are important for the company. As well, to ensure that hiring processes and training goes well, live videos allow HR leaders to bring a personal connection to new recruits from around the world! Additionally, Workplace Groups can be used to promote educational programs.
Knowlegde Library on Workplace
The Knowledge Library is your new home for all your resources within your company. The Knowledge Library allows you to save and share static information like HR regulations, workplace processes, and templates. With everything in one place, Knowledge Library can pull content from SharePoint, making it simple to migrate content and find key information without leaving Workplace. Since Workplace from Meta is mobile friendly, this allows your employees to access information from any device from any location. This brings together your company's essential information in one place which allows for a better employee engagement.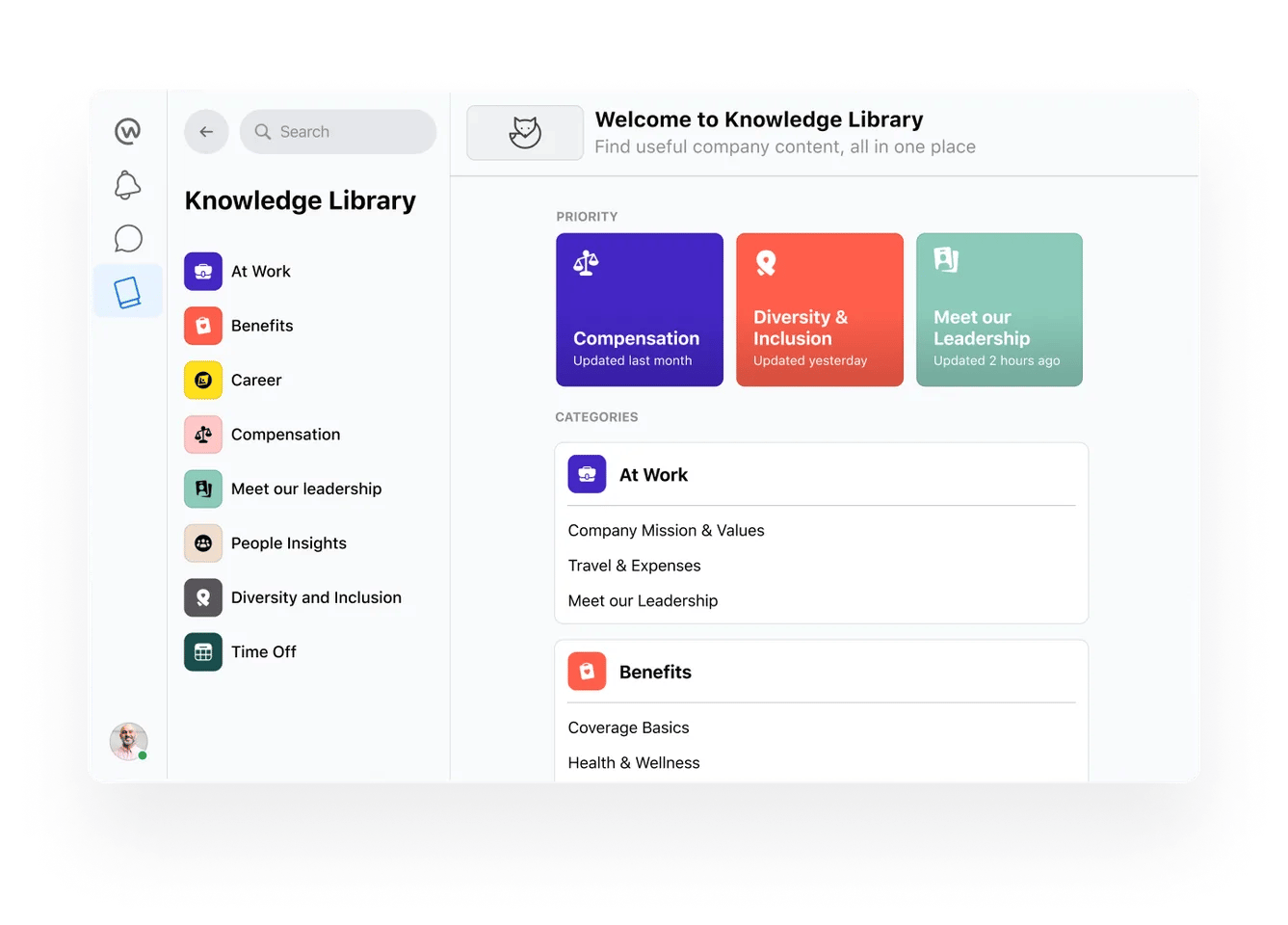 🌎 4. Different Countries = Different Cultures
By connecting everyone on Workplace, you can get a variety of different employee voices from around the world. You can celebrate diversity and inclusion in your company on Workplace from Meta by having a specific Group dedicated to sharing different cultures. That way, many of your employees can learn from one another and celebrate the differences in your company.
Translating using Workplace from meta
To build an inclusive culture within your company, you can use Auto-Translate within Workplace to help your company break the language barrier and transform into a global company. This allows you to give everyone a voice and engage employees from around the world.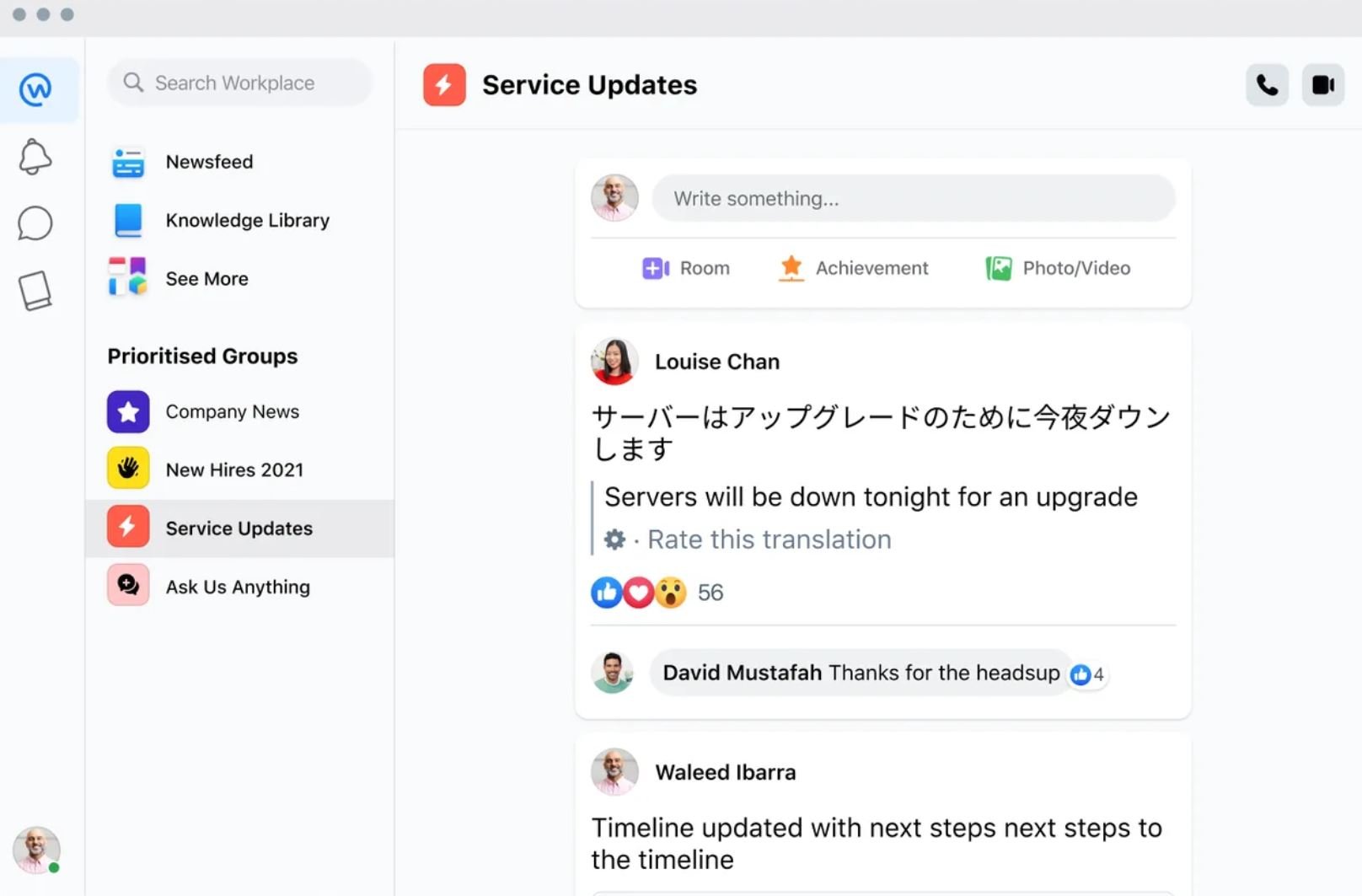 🎤 5. Giving Employees a Voice
to build a positive employee experience
Workplace gives people a voice and empowers them to use it, strengthening culture and transforming companies into communities. It connects people regardless of their position and reduces formality between employees. As well, you can ask your employees to provide feedback to your business leaders which strengthens your company overall.
Get Authentic employee Feedback with Surveys
By sending out a quick survey through Workplace, your company can receive instant feedback from your employees. This helps your company improve their comms and engage employees, giving you an opportunity to build a better work culture and employee experience.
📰 6. Instant Updates for Important News
Workplace from Meta has a feature called Safety Centre to update employees on critical news that help with their jobs instead of sending out mass emails. In case of an incident, Workplace can reassure employees about safety during an emergency.
Safety Centre for Workplace
The Safety Centre keeps track of critical updates with real-time dashboard, notifies employees when an emergency happens, and acts as a help centre where employees can contact and request help. This feature allows your company to keep employees safe, wherever they are working across the world. It is ISO 27018 certified, GDPR compliant and trusted by organizations from AstraZeneca to the Government of Singapore.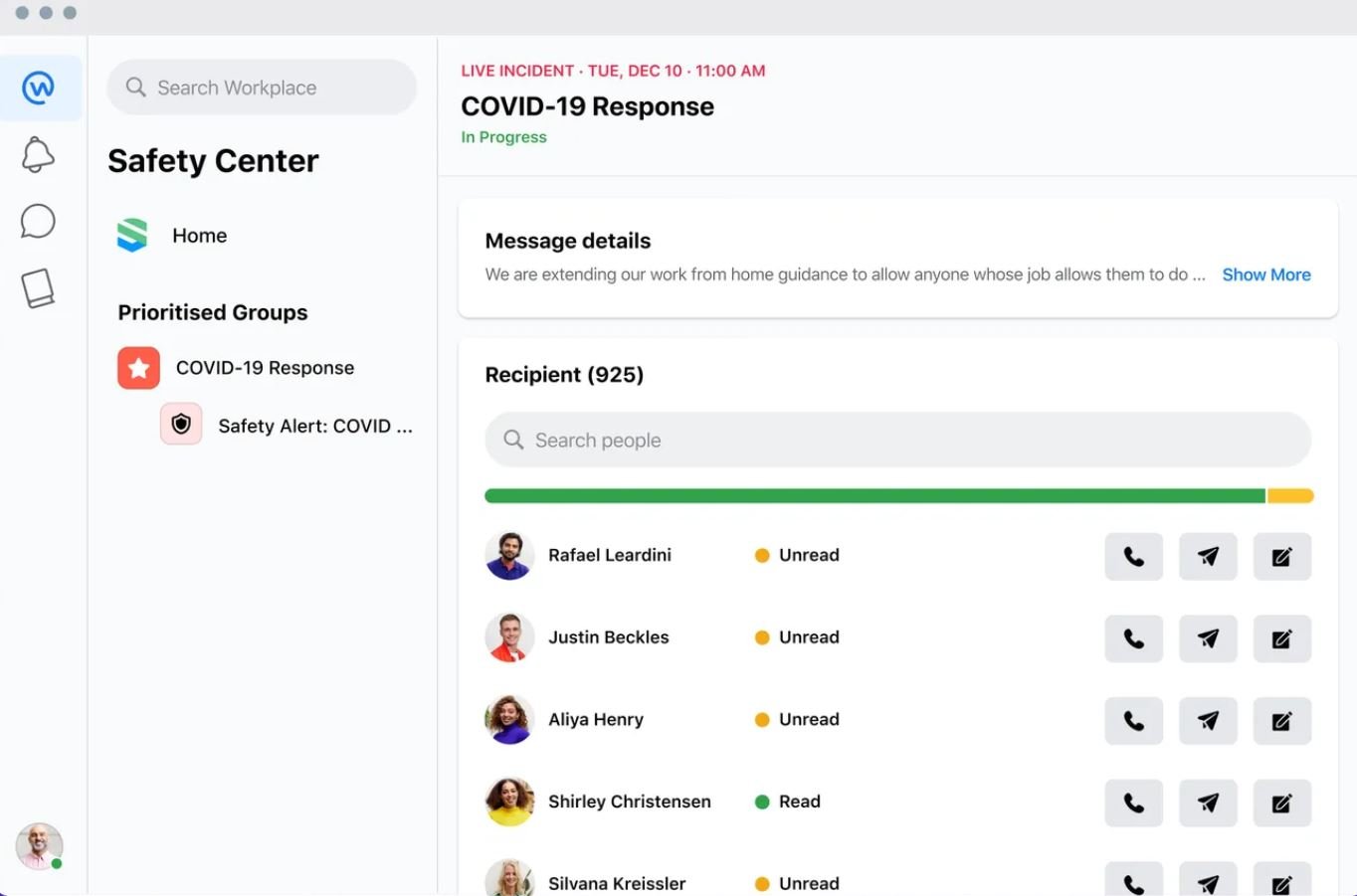 Ready to take the Next Step?
Workplace supports HR teams by connecting everyone in an organization so you can communicate with employees and drive strategic alignments. In addition, Workplace creates a space for two-way and multi-party conversations that strengthens culture and builds community. With LineZero, we can help you take the first step towards building a strong foundation to your company culture. Are you ready to take your company to the next level?
Tell us how you feel about Workplace from Meta and how HR leaders are using key features in the comments below!
Not using Workplace yet?
Want to see how Workplace could take your internal communications strategy to the next digital level and help you to reach everyone across your organization in a more efficient and effective manner? Give us a shout! Through a live demo of the Workplace platform, we'll help you to brainstorm ideas on how to utilize Workplace to achieve your organization's goals and objectives around internal communications.
Already Using Workplace?
If you'd like to explore more opportunities to learn how to use Workplace to improve your internal communications strategy and be part of the corporate Metaverse, we'd love to chat! Give us a call if you want to learn how to use Workplace to enhance employee interaction and engagement.