According to McKinsey's report "Diversity wins: How inclusion matters", although a third of companies are achieving real gains in diversity and inclusion, the "majority are remaining static or declining – even where their leaders have articulated noble aspirations for inclusion and diversity."
Having motivation alone isn't enough. Diversity, Equity, Inclusion and Belonging (DEIB) initiatives in the workplace need to be intentionally and carefully cultivated.
What are some concrete ways organizations can effectively create and foster DEIB initiatives? The first step is to understand what each of the terms – diversity, equity, inclusion, and belonging – mean in the workplace. With a clearer understanding of each term, you can consider what tool and platform you want and need to have in place for any initiatives. Further, with more people working remotely than ever before, and less in-person interactions, it's important to determine what technology can be the best platform for your DEIB initiatives that everybody can access - this can be a big factor in the success of your initiatives.
Defining diversity, equity, inclusion and belonging at work
In Medium's recent article, "Belonging: A Conversation about Equity, Diversity, and Inclusion," the author points out that people have different definitions of and responses to diversity, equity, inclusion, and belonging. For an organization to have successful DEIB initiatives and create an inclusive environment where people feel a sense of belonging, there needs to be shared meaning and mutual understanding of each concept. Setting the foundation for Diversity, Equity, and Inclusion (DE&I) in your organization can result in a more promising outcome, as everyone is on the same page. Here is a brief description of DE&I from the author:
What is Diversity in the workplace?
According to the author of the Medium article above, "the term diversity between people can be understood as the presence of difference", which refers to "people of various races, genders, socioeconomic status, sexual orientation, religions, ethnicity, or national origins, mental or physical abilities." The author notes that when applying diversity to an organization, "the definition of diversity includes cognitive diversity (diversity of ideas) and cultural diversity."
What is Inclusion in the workplace?
The author's definition of the term inclusion "means that people with marginalized identities feel as if they: genuinely belong, are valued and relied upon, empowered, and ultimately matter." At the core of inclusion is diversity. So, "like diversity, inclusion is an outcome and often an actual experience of the workplace, one that holds real potential or implications."
What is equity in the workplace?
The author defines equity as the "norms, fundamentals, and/or policies in place that ensures everyone has access to the same opportunities." Creating a work environment with equity at the core, therefore, "requires preliminary work to identify imbalances, loopholes, or unequal starting places."
What

does

belonging

in the workplace mean?
The term belonging refers to the feeling of security and support, including when there is a sense of acceptance, inclusion and identity for a member of a certain group or place. For people to gain a sense of belonging, the workplace needs to be set up to be a diverse and inclusive place.
There's no doubt about it – a sense of belonging at work is critical for employee well-being and organizational functioning. According to Forbes, when we feel like we belong in our organization, we "experience meaning, life satisfaction, physical health and psychological stability."
Why is diversity, equity and inclusion important in the workplace?
When people feel a sense of belonging at work, they are often more resilient, engaged, and willing to challenge themselves and others to be better agents of change for DE&I. Additionally, employees with a high sense of belonging will be more energized by their work and team, leading to better performance in terms of creativity, execution and productivity. When you add in a strong sense of belonging, the organization and your people will achieve better outcomes.
5 ways technology can amplify and enhance your company's diversity, equity and inclusion efforts
With a big portion of your workforce working remotely as a result of the COVID-19 pandemic, having the right communications platform in place can have a significant impact on the success of your DEIB initiative. Here are seven ways that communications technology can help you with your DEIB efforts.
Gaining insights on Employee Experience (EX) with surveys
Before you start using technology to supplement your existing DE&I efforts, it's important for your organization to benchmark aspects of the current employee experience to set clear goals and measure your progress.
To gauge how employees are feeling about your current DE&I efforts, you can conduct a short 5-question survey. In your custom invite message, make sure to emphasize that their responses are anonymous, so employees feel comfortable sharing their honest thoughts, opinions and concerns.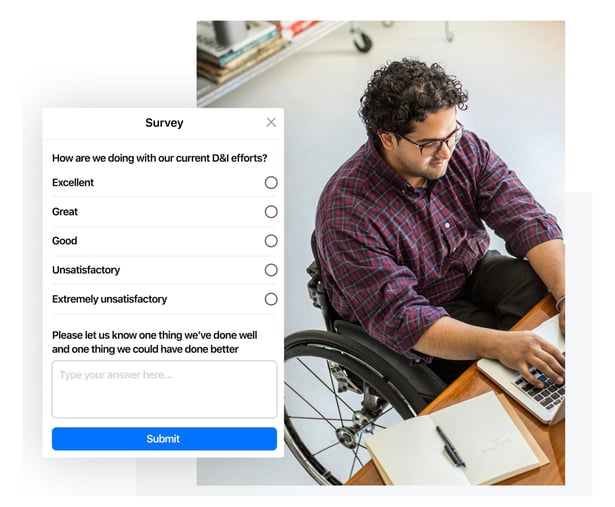 Conducting a survey doesn't have to end with employee sentiment! If you have specific learning goals around DE&I, surveys are also a great way to test knowledge anonymously. Send out a survey to all People Managers in your organization to identify gaps in existing training programs.
Pulse surveys allow you to measure employee sentiment across your organization, and help you gain actionable insights around what areas of DE&I require additional support and investment. With Surveys on Workplace from Facebook (Workplace), you can deliver short 5-question surveys directly via Workplace Chat to anyone in your organization.
Pulse surveys in Workplace help:
Organization leaders measure sentiment across their teams.

Department leaders measure the effectiveness of DE&I programs, goal setting, and employee experience.
Building networks of support with employee resource groups
Employee resource groups or social resource groups in Workplace are a great way to build a network of support for people in your organization who share similar backgrounds and experiences. These groups offer a safe space for important conversations around DE&I and can play a key role in reshaping your products and services with an emphasis on inclusivity. Each social resource group should have the following appointed members:
A steering committee that provides input to leadership, organizes events and moderates discussions.

An executive sponsor who serves as an advocate or ally within the organization and helps members of the group promote internal change.
Here are two examples that can help new employees feel a sense of belonging from day one on the job:
Create a Sense of Belonging in the Employee Onboarding Experience with Workplace
How can you ensure that new employees are aware of the wide variety of social resource groups available to them? Some social resource groups encourage new team members to introduce themselves in a post, sharing a few things about themselves as well as a photo. Members of the group can welcome new joiners in the comments, which helps new employees get comfortable and build a sense of community.
Create an "Allies at [Your Company Name]" Group to Build Inclusion in the Workplace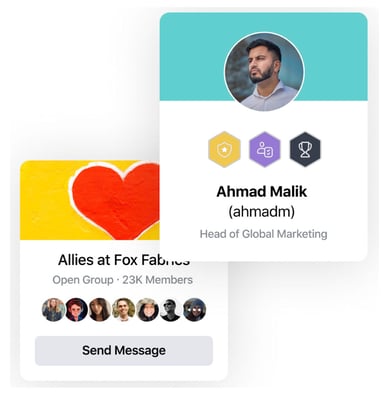 To encourage allyship among employees, create an open group in Workplace to help facilitate the sharing of important DE&I content like infographics, videos and links to articles and guides. Your organization can have a wide variety of DE&I programs in place, but the day-to-day experiences of your employees are shaped by their teams, so creating a dedicated group makes proactive change visible.
Sharing resources and offering learning opportunities
It's important to remove barriers and create an easy way to access DEI&B content on a company-wide scale. Supporting DE&I efforts means creating a central space for important resources like employee handbooks and on-boarding materials to keep everyone on the same page.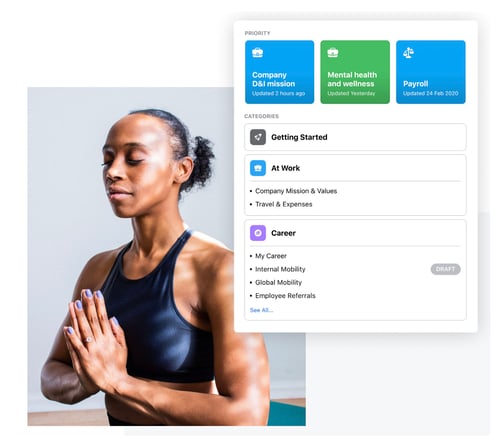 On Workplace, this central hub is called the "Knowledge Library", where you can share inclusion and wellness resources with the entire organization. Regardless of the central hub you designate, your central hub for DE&I should include the following:
Company DE&I strategy and mission

Links to training courses

Guides for employees and people managers

List of DE&I groups

Mental health and wellness resources

Links for further learning (accredited articles, studies, etc.)
Celebrate diversity and increase awareness of DE&I efforts with internal campaigns
Transparency should always be central to how you're communicating with people around DE&I in your organization. To celebrate differences and increase awareness of DE&I, your organization can run DE&I campaigns to create heightened visibility that leads to change.
Here are a few campaign ideas to launch in your organization:
#BeTheAlly campaign to spread the word about DE&I resources
The Be the Ally campaign kit consists of a series of gifs you can use to help define DE&I-related terminology and promote your existing resources. If you're already on Workplace, you can share a GIF in your company-wide discussion group and include links to relevant resources in the body of your post. If you're not on Workplace, you can share these GIFs via your internal communications intranet.
Celebrate cultural moments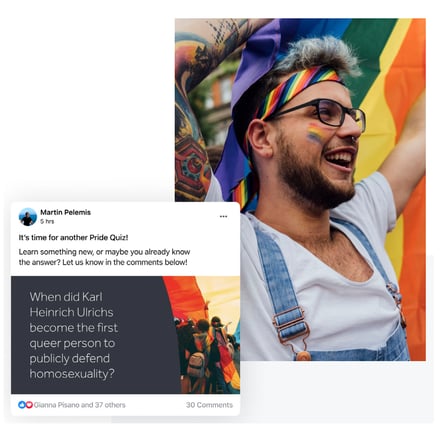 Celebrate cultural moments like Black History Month, Pride Month, Ramadan, etc. by sharing a series of posts that honor the culture and history of these occasions and educate the rest of the organization.
Collecting feedback and measuring success
To ensure the success of your DEI&B initiatives, it's important to monitor and understand how employees perceive your programs, resources and approach to amplifying DEI&B in your workplace. Pulse surveys can be a great way to gauge the mood of your organization in real-time – to take the 'pulse' of employee sentiment toward your DEI&B initiatives. You need regular snapshots of how employees feel so you can deal with issues as they arise, so the short, 5-question survey from step one can be re-distributed to measure change and progress.
Gathering feedback won't create a culture committed to DEI&B on its own - there has to be a follow-up! After administering the follow-up survey, here are some action items that your organization should include on the checklist:
Tell people what you want to achieve in getting feedback

Publish the results of surveys - negative as well as positive

Say how you'll act on the results

If it's not possible to take action, explain why

Give updates on your actions and stick to agreed timeframes
Getting Started: Attend LineZero's Free Webinar "Gender Equity in the Workplace: Share. Support. Empower"
Progress toward gender equality in the workplace remains slow according to the Women in the Workplace study by McKinsey and LeanIn.Org. Although all of us have been impacted by COVID-19, the negative impact of the pandemic has been more severe for women, especially women of colour.

Some of the ways to move forward is to share our stories, support each other, and empower the current and future generations of women. No matter how small it seems and feels, every action we take does matter.

This webinar is one of the ways we share, support, and empower. Join us to hear from three female leaders on gender equality and diversity initiatives at their workplace, their own career journey, and learnings of their own that can be helpful to all of us as we strive to move forward in the midst of the pandemic.