Let's talk about corporate culture for a minute - how does a positive culture in companies make an organization attractive to talent? Think back to what attracted you to the job you're currently in. Why did you choose to work for the company that you're currently working for? Was it the great benefits they provided? The pay? The products or services that the company provided? What made you say "yes" to their offer?
There's no doubt in my mind that corporate culture was a factor in your decision. Especially if you're a millennial, like I am – we tend to put much more emphasis on corporate culture, workplace flexibility, opportunities for growth, and learning new skills when we choose a new organization to work for.
So, is company culture becoming the new battleground in the war for talent? Workplace from believes it is. In fact, they mention that 80% of companies that focus on culture during a digital transformation sustain strong performance.
How to Build Corporate Culture – 4 Quick Tips
Greg Besner, founder and CEO of CultureIQ says that culture is essential to attract and retain the future generations. As he says, "today's top talent has the opportunity to work for any company, in any location, in any industry unlike ever before. Culture is what brings them in and keeps them around". So, how do you build a corporate culture that will bring people in?
Here are four quick tips to think about:
Invest more time into one-on-one meetings. When you invest more time into your employees, they'll be twice as engaged at work.

Put an emphasis on creating a team-oriented environment. Make sure that this team-oriented environment goes beyond the physical workplace and extends into the digital world, with tools and software that encourage collaboration and communication.

Communication, communication, communication. And then communicate some more. By giving and receiving feedback throughout the entire year, as opposed to just during an annual review, you'll build an open environment where your employees feel valued and appreciated.

Use the right tools that boost employee engagement. Tools, like Workplace by Facebook, can go beyond just simple communication and can become an amazing way for your employees to connect with each other and, more important, form a deeper sense of community in the workplace.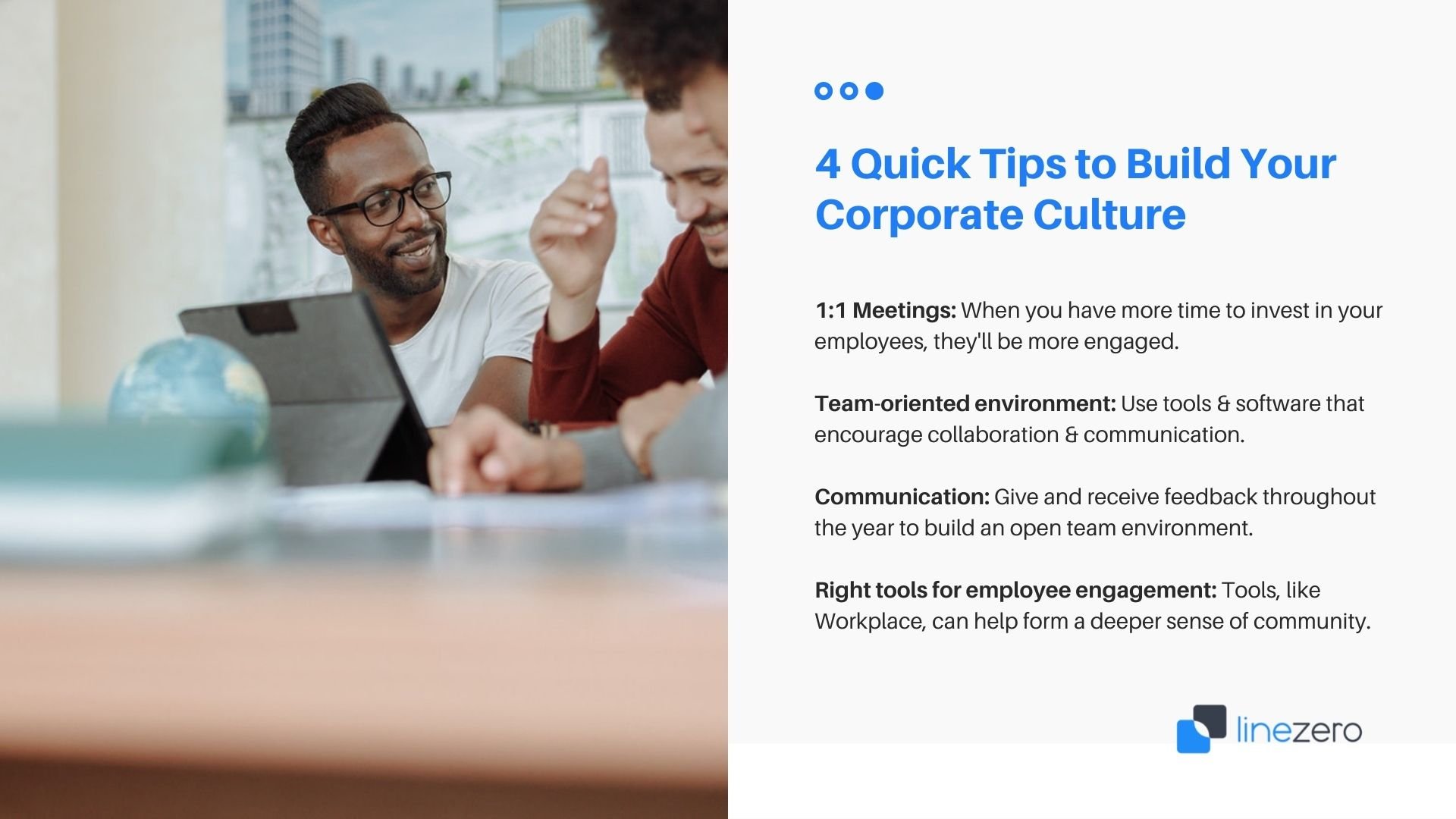 LineZero Embraces Corporate Culture From The Start: My Experience
As an older Millennial (I believe the latest cringe-worthy term for my generation is "geriatric millennial"), I was on the look-out for a company that had a really solid corporate culture. My wish-list was, in my opinion, pretty standard:
Since I'm not a morning person by any stretch of the imagination, I wanted a company that offered a flexible work schedule.
I'd had a manager in the past that was a micro-manager, so I really wasn't interested in working for someone with a similar management style.
Because I was choosing to switch career paths - from business development to marketing - I needed a company where I could learn what I needed to know about marketing, would be challenged to step outside my comfort zone, and would let me gain the knowledge I needed to help me succeed in this new field.
When the opportunity to interview at LineZero came up, my first step to seeing whether or not the company would fit my wish-list was to do some research on the corporate culture. I liked what I saw, but what really told me about their culture was their interview process.
My first in-person interview for my job at LineZero was, I thought, going to be your typical interview. I met with the Marketing Manager, whom I'd spoken to on the phone a few times before, and answered her questions about my work experience, my skills, and my salary expectations. But that's where the interview took a different turn. The Manager began to ask me what kind of culture I look for, what kind of management style I prefer, and what I like to do in my free time. These are questions I'd never really been asked as part of the interview process. It seemed to me as though she actually wanted to know more about me as a person, rather than as a potential employee.
Then she surprised me even more by asking me if I would have time to meet with the Vice President of Sales & Marketing, and part-owner of the company. When I said yes, she went to see if he was available. The VP, dressed in business casual wear, came into the boardroom we were meeting in, sat down, and said, "so, tell me about yourself."
Although I was a little nervous, I tried to show only confidence as I launched into my skills, my achievements, and what I felt I could do for his company. To my surprise, he interrupted me, with "No, tell me who you are. Who is Stephanie? What is she like?"
At the time, these questions threw me completely off-guard. I stammered something in return that I hoped sounded fun, quirky, and creative (because that's who I am), and a few days later, I received the news that they wanted to offer me the position.
I now understand that our VP wasn't interested in my skills – he trusted his manager's judgment that I had the necessary qualifications to be able to do the job I was being hired to do. Instead, he was measuring me on how my personality would fit in with LineZero's corporate culture. He was assessing if I had the right temperament to not only maintain the culture they'd built, but add to it. Because, as it quickly became apparent to me, LineZero expects their employees to bring their own personal flair to the open and collaborative corporate culture that the executives have built from the top down. Everyone that we bring into our work family brings their positivity, their creativity, and their unique talents to our environment.
It was at that moment that I realized I was in love with LineZero. This feeling has only grown with every passing day. Emphasizing family values, the team at LineZero is made up of amazing, talented individuals who genuinely care about what's happening in your life, and not only want the best for you, but want to support you in any way they can.
This solid framework of support has translated into getting to know each other socially, with company-sanctioned and company-hosted events designed to enhance our bond as a team, and, when spouses and kids are invited to some of these events, the importance of bringing both our work family and our personal family together.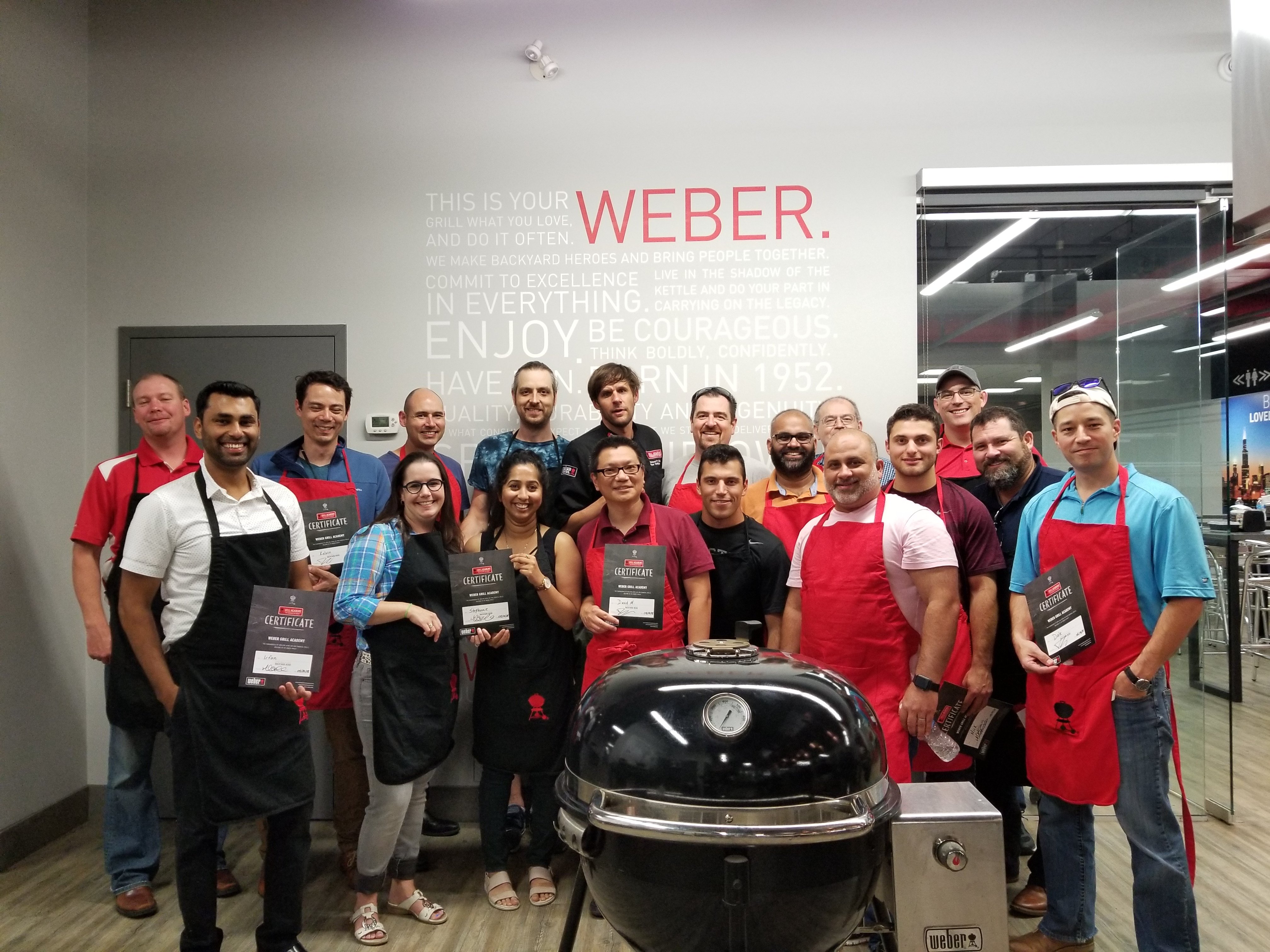 How to create a positive culture by using Workplace by meta:
LineZero implemented Workplace by Meta in our organization a few months before we became their first official Canadian Workplace by Facebook service partner. Having used Facebook for several years of my life, I found the transition to this new tool quite seamless and, unlike some other tools that I've been introduced, adoption of this tool was second nature to a Millennial like me. In my humble opinion, Workplace has only enhanced this family-friendly corporate culture that we work in at LineZero – in fact, it's even made it much easier for me to get to know my colleagues that live and work in different countries than I do.
One of the things I most love about Workplace by Facebook is our "Internal Kudos" group, which allows us to tag our colleagues and give kudos when someone we work with has gone above and beyond. As someone who really thrives on getting recognized, I must admit that seeing my name in the Kudos group is a bit of a thrill, and when the President of the company, or the VP of Sales and Marketing responds to that kudos with a congratulations, it goes a long way for me.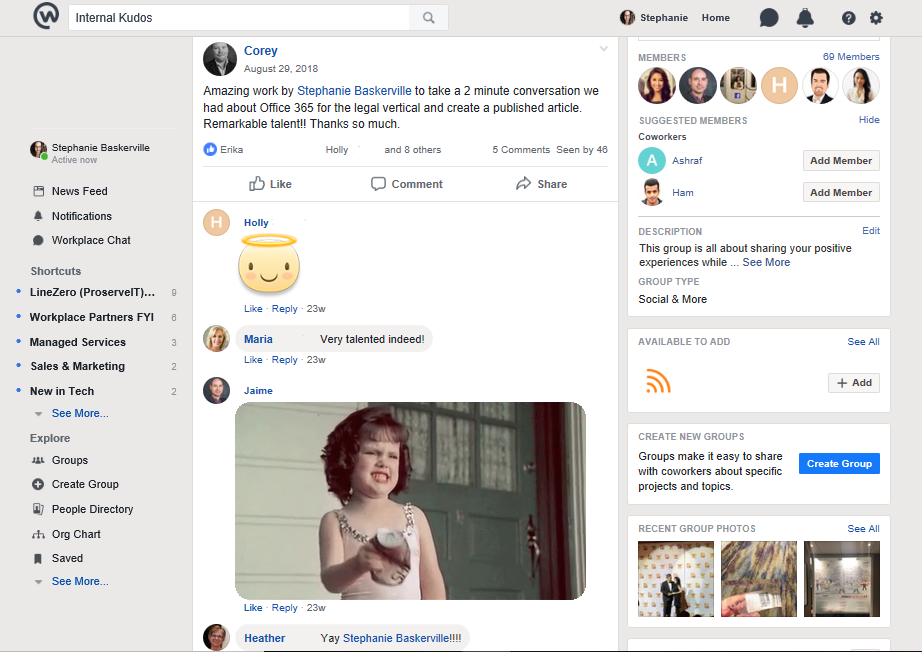 I believe that this overall corporate culture that we've built at LineZero has been one of the reasons why we are an award-winning organization. In fact, our parent company, ProServeIT Corporation, was named one of Canada's Top Small & Medium Employers for 2018, and just received Canada's 50 Best Managed IT Companies Award for the third consecutive year!
How Workplace by Facebook Can Help Build a Positive Corporate Culture; Even for Remote Workers!
As mentioned, when you embrace the right tools and build them into your corporate culture, you can become a magnet for the top talent in your area. Millennials, especially, are drawn to companies who have a strong digital culture – while I, personally, am less tech-savvy than I'd like to be, I've truly enjoyed getting to use interesting tools, like Workplace by Facebook, to do my job at LineZero and collaborate with my colleagues.
Workplace by Facebook can help emphasize your corporate culture, especially if some of your employees work remotely and aren't always in the office on a regular basis. With Workplace Groups like "Family", "Foodies", "Pet Lovers", "Travel Buddies", "Social: Events & Celebrations", "Sports & Fitness Fiends", or "Water Cooler", new employees can introduce themselves and get to know people who have similar interests and passions in life.
Corporate Culture Starts with the Platform You Choose
As you've seen in this blog, positive culture in companies can lead to employee retention and employee satisfaction. Ready to take your organization's corporate culture to new levels? Let's have a chat!
Already Using Workplace?
If you'd like to learn how to take your Workplace platform to new heights so that you can increase corporate culture, we'd love to chat! Give us a shout and we'll help you create a strategy that will put corporate culture at the centre of your Workplace platform!
Not using Workplace yet?
Want to further explore how Workplace could take your organization's corporate culture to the next level? Give us a shout! We'll help you to brainstorm ideas on how to utilize Workplace to achieve your organization's goals and objectives.
From this brainstorming session, we'll help you to see a visual blueprint that will show you how your existing technologies and Workplace from can integrate to help close the gaps between your business goals and objectives and your technology capabilities.