Diversity in the workplace means diversity in experiences and perspectives that can help you build better products and deliver better services for your customers. Creating a culture of belonging where fresh graduates and young professionals of different backgrounds feel included is central to maintaining and nurturing a diverse workplace.
In this blog you will find:
Several young professionals talked to us about what makes them feel included when they join a new organization. Here are some of their thoughts.
"I really enjoyed having a one-on-one scheduled over the first two weeks with the people I will work with, it made me feel more welcome and allowed me to ask questions more easily."
"The warm welcome post on our company page was great to read, especially when people commented about the things we have in common and fun facts about each other."
"Smooth onboarding experience without being overburdened with information and HR materials."
"Being informed about the company's commitment to diversity and inclusion and having easy access to all Diversity and Inclusion materials."
"As a young professional at my company, I felt a sense of belonging by having a safe space to engage with other young professionals."
We heard many stories of young people with vibrant, smart, and fun personalities, which helped us develop the Workplace from Meta Guide to Creating an Inclusive Culture for young professionals and fresh graduates.
Workplace from Meta guide to creating an inclusive culture for fresh graduates and young professionals.
1- Good onboarding will get your fresh graduates and young professionals off to a great start🛥️
A) Welcome new hires in onboarding groups
Welcoming your new joiners in a new employee onboarding Workplace group helps them get up to speed quickly. You can share the right training and resources and introduce people to the social nature of Workplace so they can engage and build connections right away.Use pinned posts to ensure the most important resources, such as your Knowledge Library onboarding content, are always easy for new hires to find.
Your onboarding group is also a great place to direct people to your organization or "Org" Chart. The Org Chart lets you quickly look up individual profiles and team information so you can get to know their location, contact details, manager, team structure and even their daily schedule.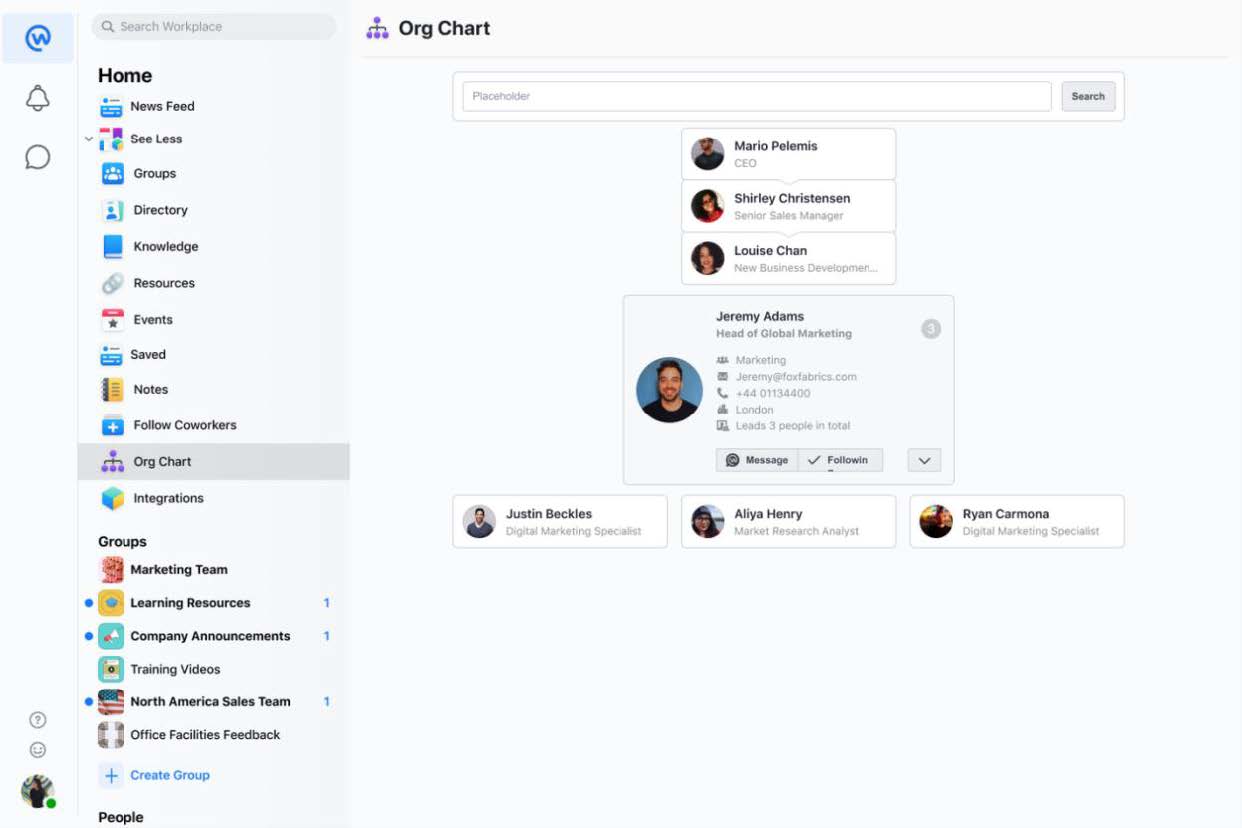 b) Welcome new hires in a social group👐
If you don't already have one, create an open social group for your organization, such as "[COMPANY NAME] Social". Use the group to share posts, welcoming new hires to the organization. Each post can include a short blurb written by the new hire and a picture or an intro video. Encourage everyone to say hello and introduce themselves in the comments.
One of our new hire's posted an intro video demonstrating how to make a Turkish coffee while introducing themselves.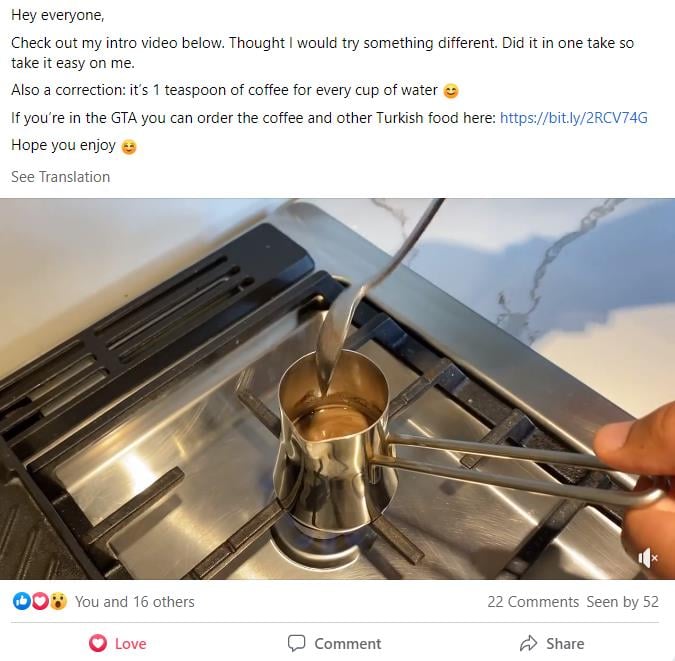 2- Use a scheduling bot to automatically schedule 1:1 chats to connect the new hire with all the team members 📅
We have customers who use the LineZero Workplace Bot that automatically schedules voice and video chats among members of a group. It has also been re-purposed to schedule coffee chats around the organization randomly, so that people can expand their social network at work.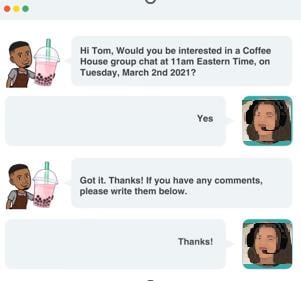 3- Engage experienced professionals in social groups to share their success stories and to inspire their young peers🚀
As a student accustomed to completing tasks, transitioning to a contributing member of a company can be challenging. Using employee stories as a motivating tool for encouraging young employees, you'll find it one of the most effective ways to start them on their journey to success. This will enable them to start contributing.
4- Post a CEO Welcome Video on your main onboarding Category in the Knowledge Library📽️
It is wonderful to hear directly from executives about the company's commitment to equity, diversity, and inclusion in the workplace, and to begin your career with a pleasant welcome message.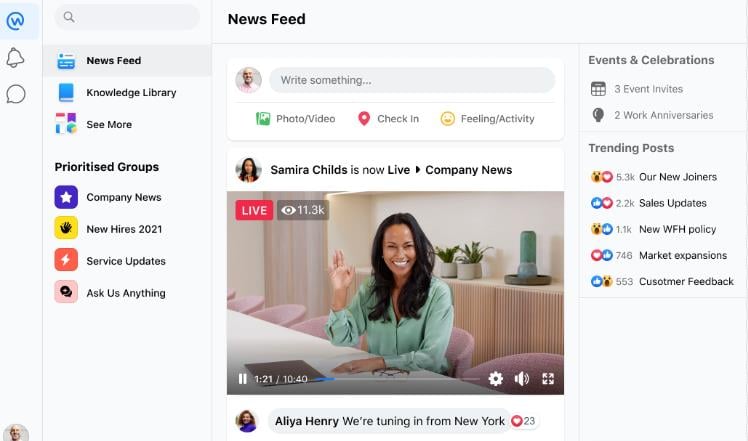 5- Use the Workplace Knowledge Library to share inclusion resources with new hires and the whole organizations🖥️
Knowledge Library is a central space for important resources like employee handbooks and onboarding materials. Create a new category in your Knowledge Library for inclusion and wellness resources, and share it with the whole organization.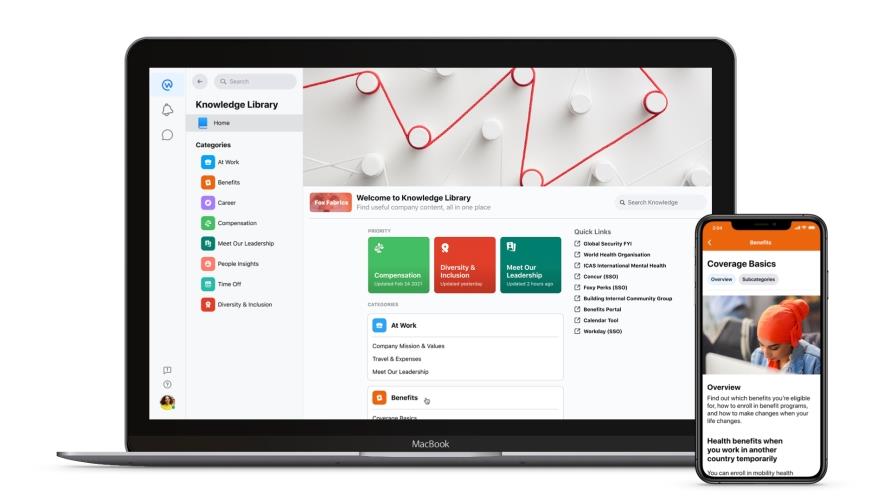 We hope you've found this guide helpful and will be inspired to make your workplace more inclusive for young professionals. Are you ready to have a great onboarding experience for them? If so, let us know how we can help. In LineZero we are passionate about creating an amazing experience for anyone who joins your organization, and we would love to work with you to make that happen. As a trusted partner from Meta, we can provide you with the resources, support, and expertise you need to set up your internal communications and be part of the future of work!
For more information about Workplace from Meta and how to create a culture of belonging check out this blog: 12 Ways to Create a Culture of Belonging with Workplace From Meta
Not using Workplace by Meta yet?
Want to see how Workplace by Meta could take your internal communications strategy to the next digital level and help you to reach everyone across your organization in a more efficient and effective manner? Give us a shout! Through a live demo of the Workplace platform, we'll help you to brainstorm ideas on how to utilize Workplace to achieve your organization's goals and objectives around internal communications.
Already Using Workplace by Meta?
If you'd like to explore more opportunities to learn how to use Workplace to improve your internal communications strategy and be part of the Corporate Metaverse, we'd love to chat! Give us a call if you want to learn how to use Workplace to enhance employee interaction and engagement.