As technology advances, so does the way we interact with each other. The concept of a 'Metaverse' is becoming increasingly popular as people look to explore new ways of communicating and engaging with one another online. LineZero, a trusted partner of Workplace from Meta, is dedicated to staying up-to-date with the latest advancements and trends in the Metaverse. This June has many exciting news stories related to the Metaverse, covering the impact of the Metaverse on business, education, and science. In this news collection, you'll find the latest updates and insights about the emerging Metaverse trend. So, let's dive into the June news collection!
In this blog you will find:
13 Surprising Changes the Metaverse May Soon Bring to Businesses and Consumers
Inside The 1st Metaverse School: Poke At The Human Heart, Play With Planets
The Metaverse Can Lead to Better Science


13 Surprising Changes the Metaverse May Soon Bring to Businesses and Consumers
This Forbes article discusses 13 surprising changes that the Metaverse could bring to businesses and consumers.

These changes include virtual shopping experiences, enhanced customer engagement, virtual conferences and events, remote collaboration, virtual advertising and marketing, improved training and education, virtual real estate and property ownership, virtual currencies and economies, augmented reality integration, healthcare applications, virtual entertainment and gaming, virtual tourism and exploration, and data privacy and security considerations.
Learn more about how the Metaverse can revolutionize how we interact, work, learn, shop, and entertain ourselves, opening up new opportunities and experiences in a virtual reality space here.


Inside The 1st Metaverse School: Poke at the Human Heart, Play with Planets
Reddam House School in Berkshire, England, has implemented an innovative initiative incorporating virtual reality (VR) headsets into the learning process.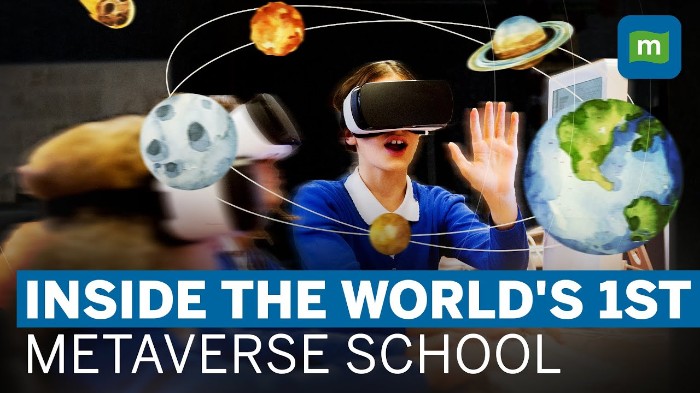 This pioneering approach aims to enhance students' educational experiences in traditional subjects. Using Metaverse technology, students can participate in immersive activities that involve interacting with woolly mammoths, manipulating planets, and exploring the complexities of the human heart. This forward-thinking educational method gives students unique perspectives and practical encounters with various subjects.
Watch this 3-minute video and find how the Metaverse School differentiates learning for students here.


The Metaverse Can Lead to Better Science
The Metaverse holds the potential to enhance scientific research, create new ways of exploring data, and unlock virtual reality tools for scientists.

This article highlights the possibilities of enhanced collaboration, data sharing, and simulations in a virtual reality space. By utilizing the Metaverse, scientists can overcome physical limitations and work together more effectively, leading to scientific discovery and innovation advancements.
Find out how the Metaverse can make scientists more effective here.
For more information about the Metaverse, here are related blogs that may be of interest:

Workplace: The Starting Point to Your Corporate Metaverse Roadmap

AI & Metaverse: 5 Questions Unveiling New Virtual Possibilities

Metaverse and Industries: Latest News & Potential Impact - May News

Are you ready to be part of the future of work?
The future of work is with LineZero! We are a trusted partner with Workplace from Meta, and we can help you be prepared for the future of work while boosting internal communications and enhancing the employee experience.
Workplace from Meta is the perfect corporate communication solution for businesses that want to be ahead of the curve and prepared for the future of work. Contact us today to learn more!