Since Facebook rebranded itself as Meta, the corporate focus has shifted to the revolutionary power of meetings in the Metaverse. It is not only a breakthrough approach to unprecedented communication and overall employee engagement, but Metaverse meetings are changing the means of communication with remote teams – whether you are behind the desk, at home, or on the go!
In this blog, we will explore the concept of Metaverse meetings and their benefits to businesses. We will dive deeper into how Metaverse meetings can help remote teams collaborate better, increase employee engagement, and build stronger customer relationships. As well, we will discuss how organizations can set up virtual meeting rooms and the tools required to host successful Metaverse meetings. So, if you want to take your corporate communications to the next level, keep reading to learn more about the power of Metaverse meetings.
In this blog, you will find:
❓ What are Metaverse meetings?
🎮 What does corporate Metaverse mean?
✅ Benefits of Metaverse Meetings
📣 How to run a meeting in the Metaverse?
😀 Can anyone in an organization use Metaverse to hold meetings?
What are Metaverse Meetings?
Metaverse meeting rooms allow teams, partners, and employees to collaborate in a workspace beyond boring 2D video conferencing. The idea is that you and your team can use virtual reality (VR) headsets to meet virtually in a meeting room instead of using a regular video conferencing tool like Zoom to talk.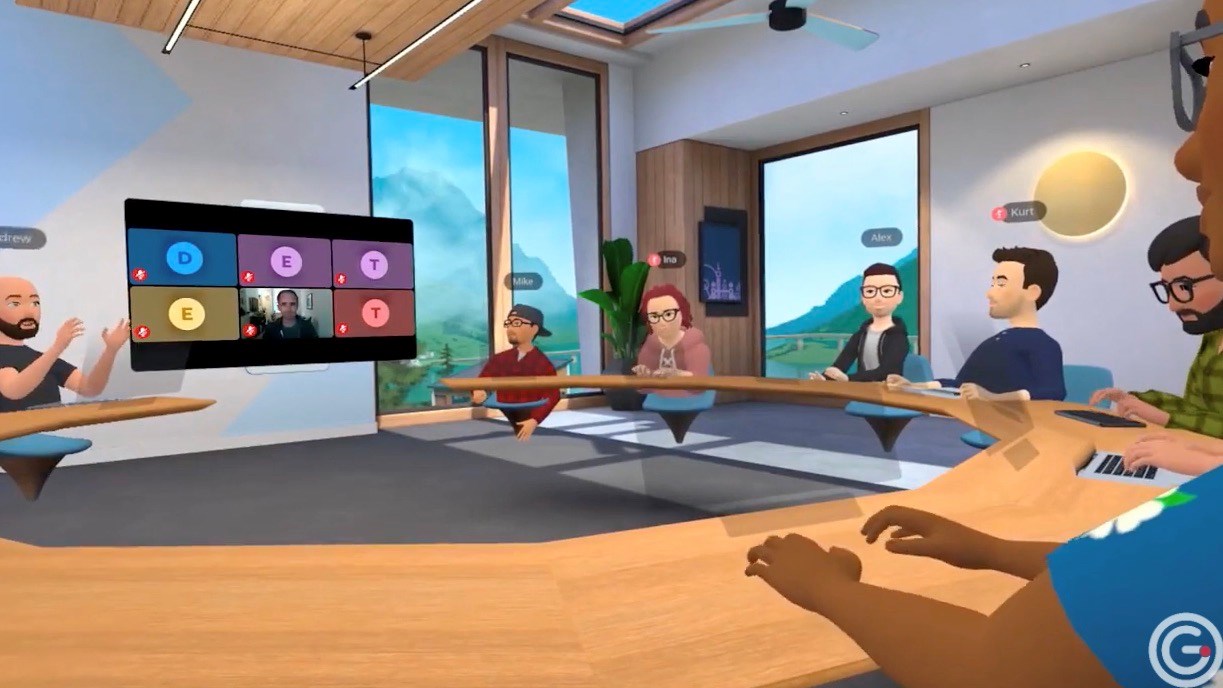 Imagine meeting in the Metaverse: teams join heads together to plan the next big thing. From HR, and sales to operations and customer support, Meta meetings are redefining the way we do things. Comparing the power of 2D and 3D virtual reality business meetings, let's understand how the future of the Metaverse is changing the corporate world for good – and forever.
What Does Corporate Metaverse Mean?
According to a recent study commissioned by a networking and software firm Ciena, 78% of business professionals would rather be a part of an immersive Metaverse experience than in a 2D conferencing platform to communicate with their remote teams.
This is due to the lack of presence and belonging that employees often feel in a flat video conferencing experience. Despite the evolution of business meeting platforms, employees and remote teams still complain about 'zoom fatigue' and wavering concentration. Virtual meetings in the Metaverse create a 3D digital workplace for you to move in real time.
Being present is very important to building relationships and accelerating trust – be it within your team or with a customer. Using the Metaverse for business meetings allows you to create a 3D digital workspace adding that missing dimension to your mix of corporate strategies.
We are now living in a remote world, and there is no going back: Metaverse meeting platforms and 3D digital workrooms are allowing teams to collaborate and encourage unplanned discussions as if they were meeting physically. Although it is not literally replacing the experience of physical meetings, digital workrooms are taking corporate communication to a whole new level.
Using the Metaverse for business meetings facilitates a real connection between employees while letting things happen organically, replicating the ease of the real world.


Benefits of Metaverse Meetings
The Metaverse is inevitable, be it in the corporate world, financial institutions, or education, the advantages of the Metaverse include an intentionally designed environment to mimic communication in real-time. Due to its groundbreaking potential to transform corporate workspaces, organizations worldwide are debating whether VR and the corporate Metaverse are viable solutions for better remote communication.
Can business professionals really present with an avatar while wearing a headset that can cut out the outside world and physically transport you to a digital workspace?
The answer to this question is YES, and here is why:
1. It is Highly Immersive
Metaverse online meetings introduce organizations and enterprises to an immersive experience of meeting, communicating, and implementing ideas. The VR meeting rooms can cut out the outside world entirely, compelling you to focus objectively on what's happening within your digital workroom.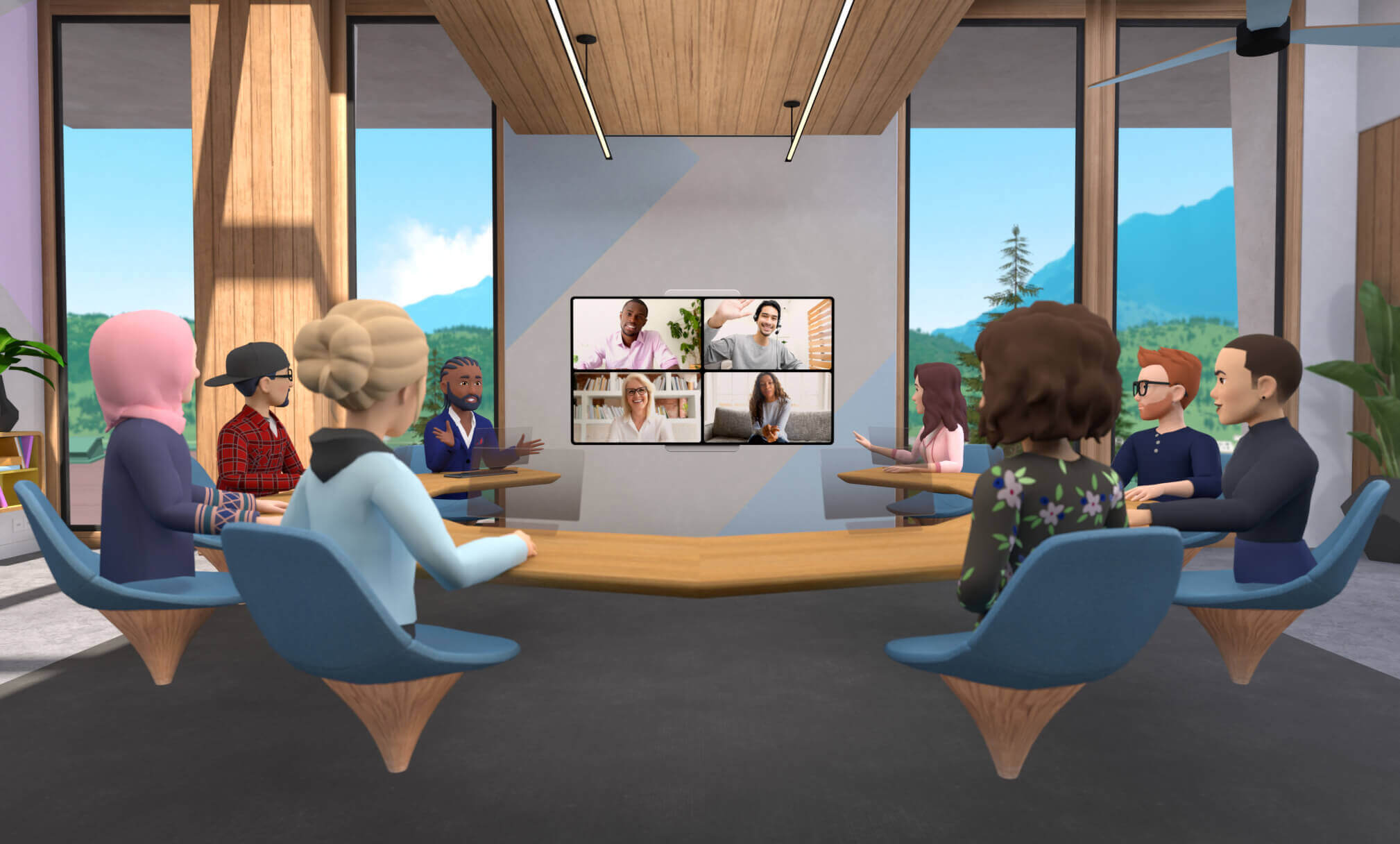 Although there are various options available for virtual meetings in the Metaverse, with horizon rooms you can create a more dynamic atmosphere in which team members may communicate, brainstorm, and exchange ideas more engagingly and naturally. Horizon rooms provide a panoramic perspective of a virtual world, allowing participants to engage in more immersive discussions and analyses of projects. At the same time, the workspace provides a digital representation of a real office, allowing teams to collaborate virtually. These features improve the immersive experience of Metaverse meetings and allow participants to be more engaged and productive.
2. More Communication and Collaboration –Unlike A 2D Environment
As we said, a 2D communication platform is all right for a quick back and forth. However, a component is always missing – the third dimension – which adds a sense of collaboration, presence, and belonging.
Over the years, salespersons have struggled to be physically present in front of the people they are doing business with. Why? This is because physical presence conveys social cues and signals that a 2D mode of communication cannot. These cues help in building trust and optimizing real-time outcomes. A meeting in the Metaverse ensures better communication and stronger connections than in a 2D environment.
3. Life-Like Space
Being in the Metaverse allows you to utilize a life-like space and have a global presence. Unlike physical events, events held in the Metaverse can reach a much larger audience. Not only this, but it can be an amazing tool in helping your business – as well as your attendees – overcome the limitations of geographical barriers. With the help of advanced VR technologies, you can create a life-like space to uniquely and effectively convey your message to attendees. This creates a wonderful opportunity for your team members and clients to participate in an immersive meeting experience, which can result in better engagement, participation, and productivity.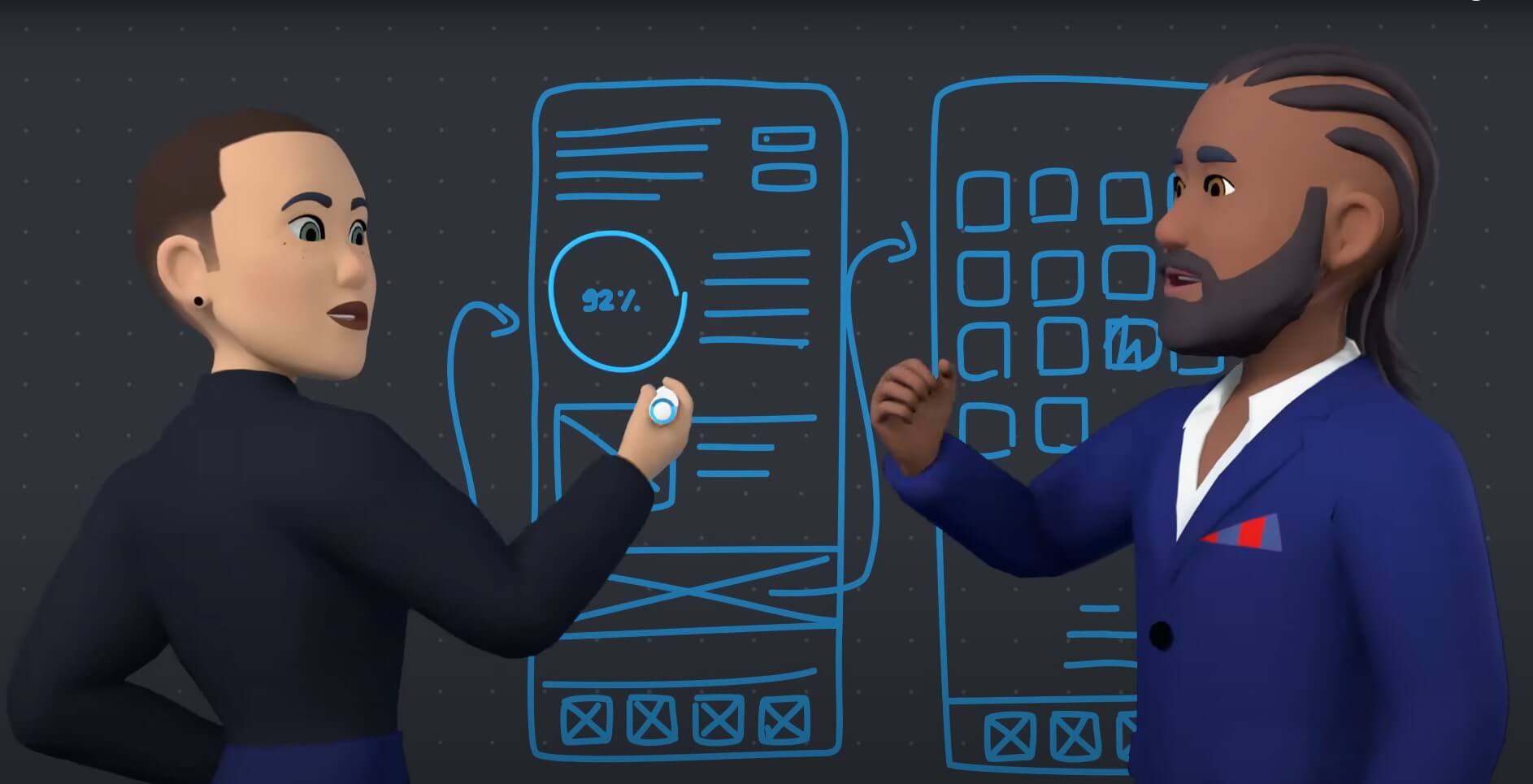 4. Easy set-up
For some people, meeting in the Metaverse is still a concept of the far future. It might sound scary and you may feel like you need a lot of experience to run a meeting in the Metaverse. However, setting up a Metaverse office is easier than navigating the 2D communication setups.

Depending on the network or technology being used, there are different ways to set up a meeting in the Metaverse. Here are some general steps you can take:


How to run a meeting in the Metaverse:
Here's what you need to do:
1. Choose the platform for the Metaverse: First, choose a tool that works well for you. Horizon Workrooms, VRChat, and Mozilla Hubs are some of the most common choices.

2. Set up the virtual environment: Depending on the platform you choose, you may need to build or change the virtual environment for your meeting. Some platforms have settings that are already set up, while others let you select your own. You can set up the virtual environment using either a VR device or your normal device, depending on your preference and the capabilities of the platform you're using.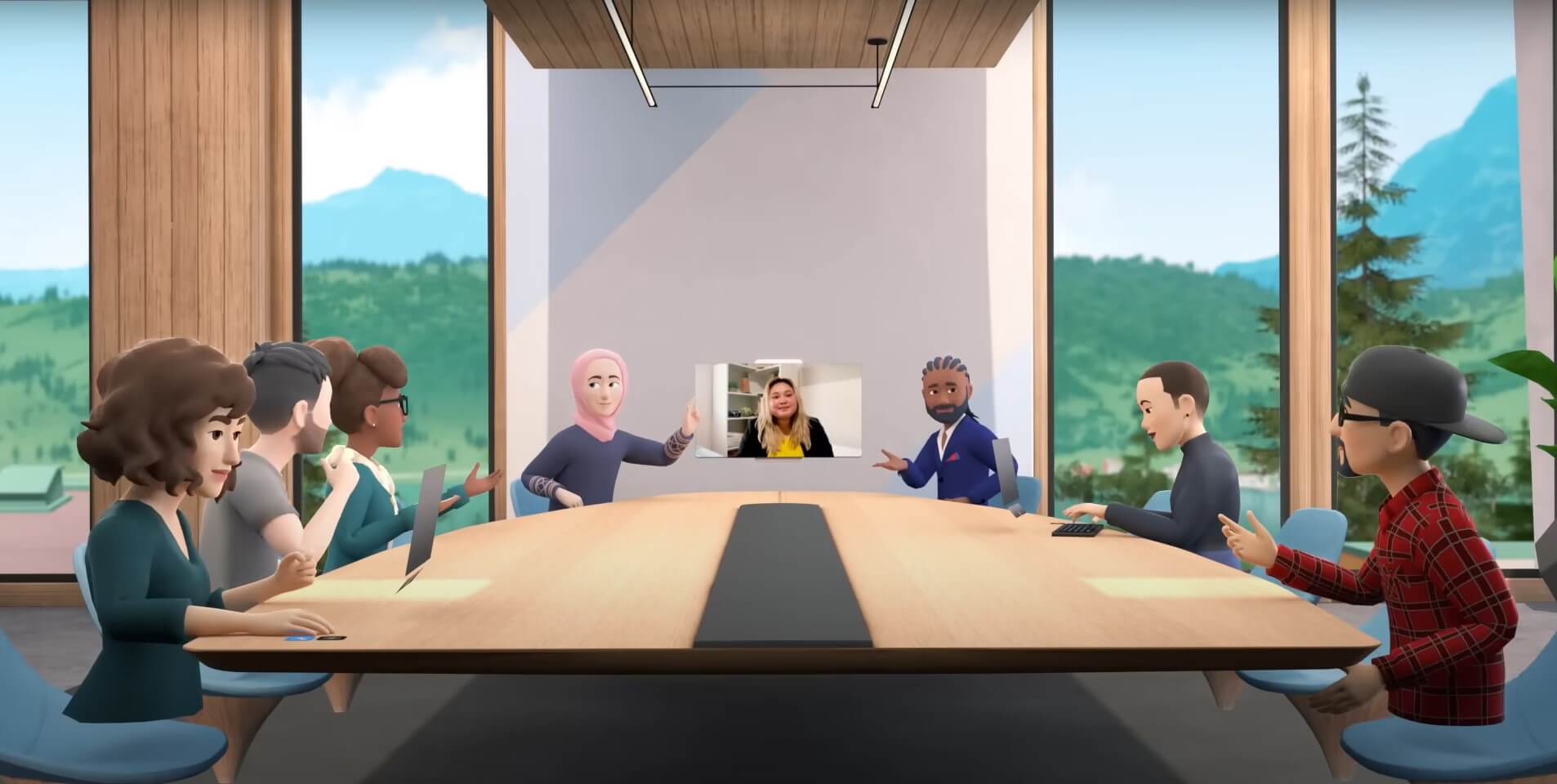 3. Invite participants: Once you've set up the virtual meeting space, tell your team members or other meeting attendees to join. You might have to send them a link or tell them how to use the platform and virtual setting.

4. Conduct the meeting: Hold the meeting virtually. Make sure to use any features or tools the site offers to improve the meeting.
If you're using Horizon Workrooms, you can follow Meta's instructions to set up a meeting step-by-step. Check out their guide here.


Can anyone in an organization use THE Metaverse to hold meetings?
Yes, anyone can use the web app on their computer to join a Horizon Workroom meeting. But to get the full VR experience, it is recommended to download the Workrooms app and purchase a Meta Quest headset from the Quest shop. Teams and leaders can utilize the Metaverse to improve communication and foster spontaneous conversations. Team leaders in operations, HR, and creativity can use the immersive and revolutionary experience of Metaverse.


How easy IS IT for organizations to shift to Metaverse meetings?
The Metaverse is reshaping and transforming the future of corporate meetings. Countless organizations have made it possible for their remote teams to collaborate better by harnessing the power of the Metaverse.
For instance, Amazon is introducing customers to a Metaverse shopping experience to see and inspect products and furniture before buying and ordering them virtually via their mobiles. Gucci is a high-end fashion brand that has invested in a Metaverse shopping experience as well as a land in the Sandbox to expand its Gucci vault. Along with fashion brands like Nike, entertainment businesses like Disney also provided virtual tours during the pandemic, hinting that they might delve deeper into the world of the Metaverse.


Conclusion
For years, technologists have been whispering about the Metaverse. Now is the time for the Metaverse to finally emerge. The Metaverse can change the dynamics of corporate culture and how things are done in the business world.
As we move further into the future, meetings in the Metaverse are becoming more accessible and closer than ever before, offering new opportunities for organizations to revolutionize their communication and collaboration strategies. So why not take the first step towards this exciting new frontier and see how your business can benefit from the power of the Metaverse?
---
Are you ready to step into the immersive METAVERSE WORLD AND TAKE YOUR VIRTUAL COMMUNICATION TO THE NEXT LEVEL?
Workplace from Meta, in partnership with LineZero, can help you achieve that.
Discover the ways in which top companies are leveraging The Metaverse and VR devices to enhance their internal corporate culture and communication. Contact us now to learn more about how you can stay connected and productive in this rapidly-evolving virtual world.