Currently looking at Microsoft Teams and Workplace from Meta and wondering which one is better for your organization? Why not use both and achieve better business outcomes? In this blog, we'll compare Workplace from Meta and Microsoft Teams in detail and help you to explore the benefits of using both great tools – together!
What is Workplace from Meta good at?
There are 6 key pillars to consider when talking about what Workplace from Meta (Workplace) is good at.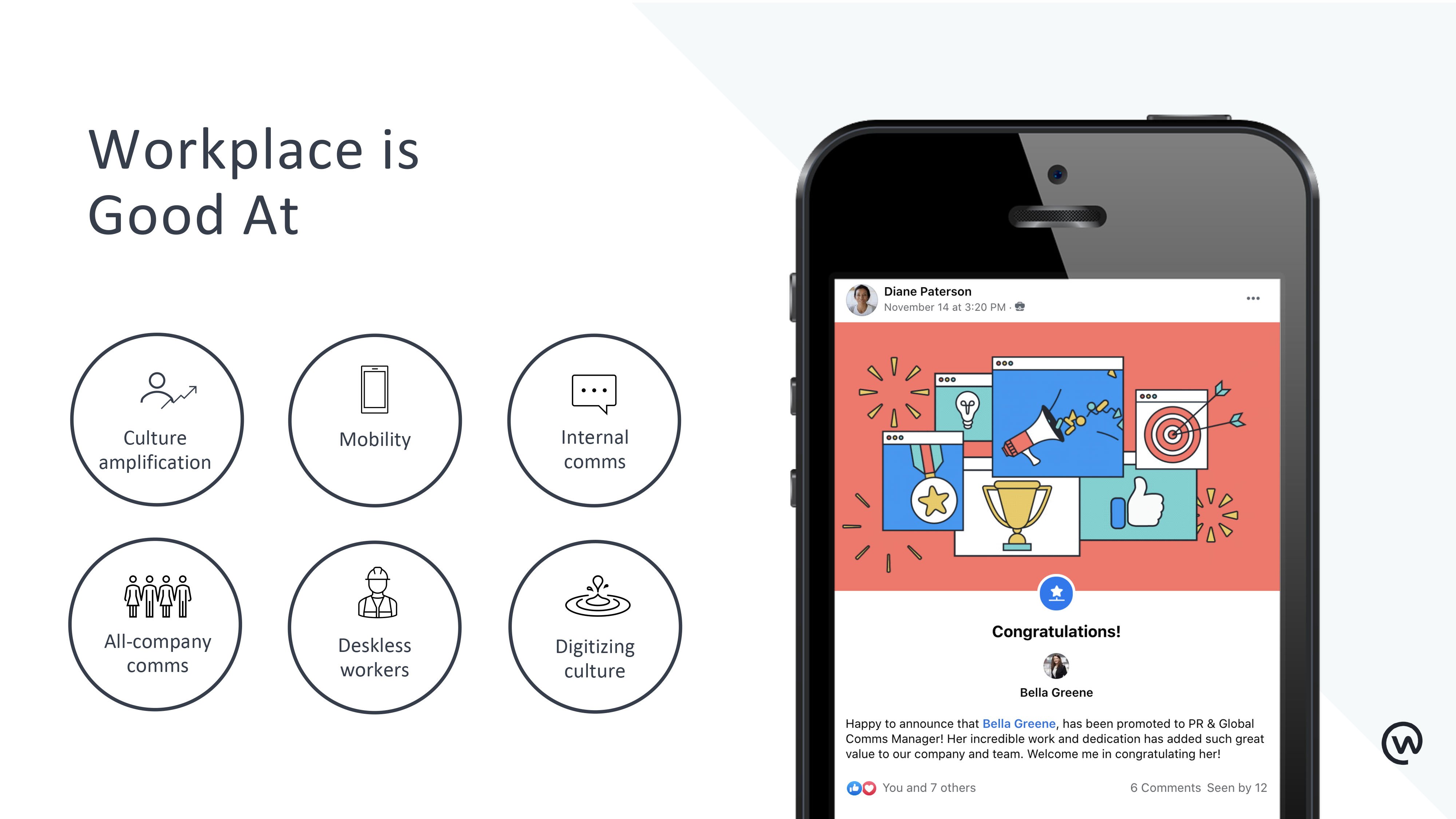 Culture Amplification – Now more than ever, organizations are looking at how people are communicating with each other and how they feel when they're part of an organization. Leaders today are looking for tools to amplify that feeling of belonging to ensure that their corporate culture is aligning well with the tools they have.
Mobility – Workplace is good at meeting people where they are, whether that's in the office, at home, or on-the-go. From a comms perspective, Workplace on the mobile application truly shines, as people tend to check their News Feed on coffee breaks or between meetings on their mobile phone, so they never skip a beat.
Internal Comms

- Because Workplace is a familiar platform (it performs like Facebook does), adoption rates on Workplace soar! Your people can adopt the new technology faster and better, with little to no training required so you can get to the things that matter when it comes to internal comms.



All-Company Comms

– With the feature of streamlined notifications, the key to effective engagement is the right communications reaching the right people. Workplace does a good job at making sure that everyone has access to all-company comms instantaneously.



Deskless Workers

– Communication and collaboration tools have remained largely inaccessible to frontline employees because often, these tools are tied to a desktop or laptop. Workplace makes it easier than ever to connect deskless workers to the rest of the organization, regardless of whether they are hourly, contingent, or temporary. As a comms leader, you're able to push out messaging to those people who need it most and wouldn't otherwise have access to the information.



Digitizing Culture

– Things that we would have been able to celebrate in the office, such as promotions, birthdays and client wins are difficult today, what with most of us working remote. Workplace does a good job of digitizing culture and making it easy for people to feel that they're part of the company and team (even though we're dispersed and we're a virtual community), and their achievements are being recognized.
Who is Workplace from Meta for?
Workplace does a great job of connecting you with your communities. Here are 4 main personas within your organization that can benefit from utilizing Workplace in your organization.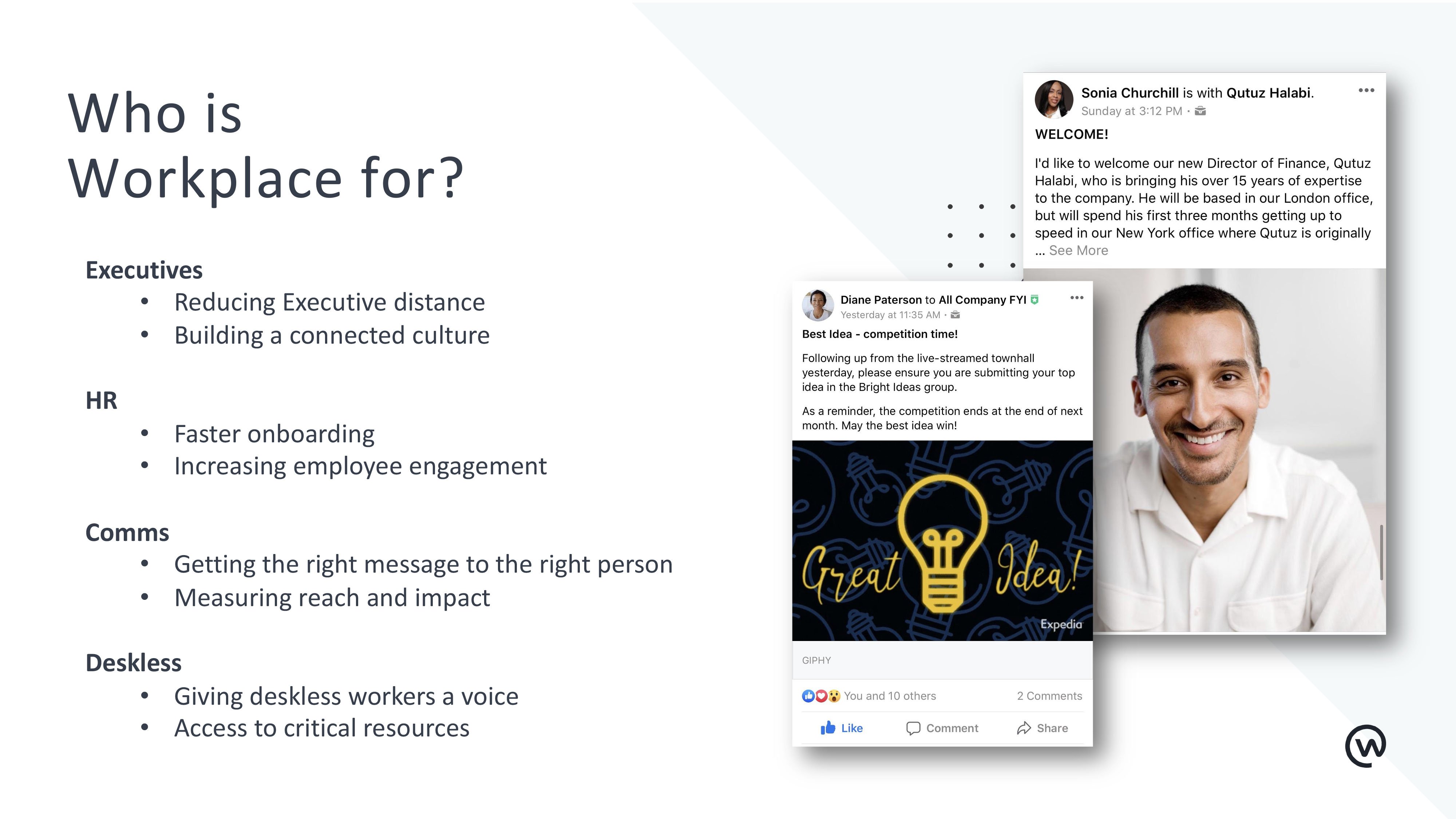 Executives – Executive transparency and leadership is crucial to how leaders are making decisions and how they're being perceived within the organization. Workplace allows you to reduce executive distance and continue to build a connected culture by leveraging and bringing it to Workplace.
HR

–Workplace can be leveraged to make the onboarding experience more efficient. People that are new to the organization can meet each other, receive onboarding and training materials comprehensively, and post in HR groups so that new joiners feel a sense of community and belonging immediately.



Communications

– Reducing redundant communication starts with making sure that your team has the right tools to deliver effective corporate comms. With Workplace, you can tailor your communication and gauge how people are interacting with each other, including what time of day makes most sense to measure the reach and impact, the best way to reach people, and how people want to be reached.



Deskless Workers

– When you're trying to get feedback from frontline workers, you'd typically have to go through a manual process, such as a survey. With Workplace, your people have the tools to give immediate feedback to leaders or the broader team to make decisions quicker and better. Workplace gives deskless workers a voice.
What is Microsoft Teams good at?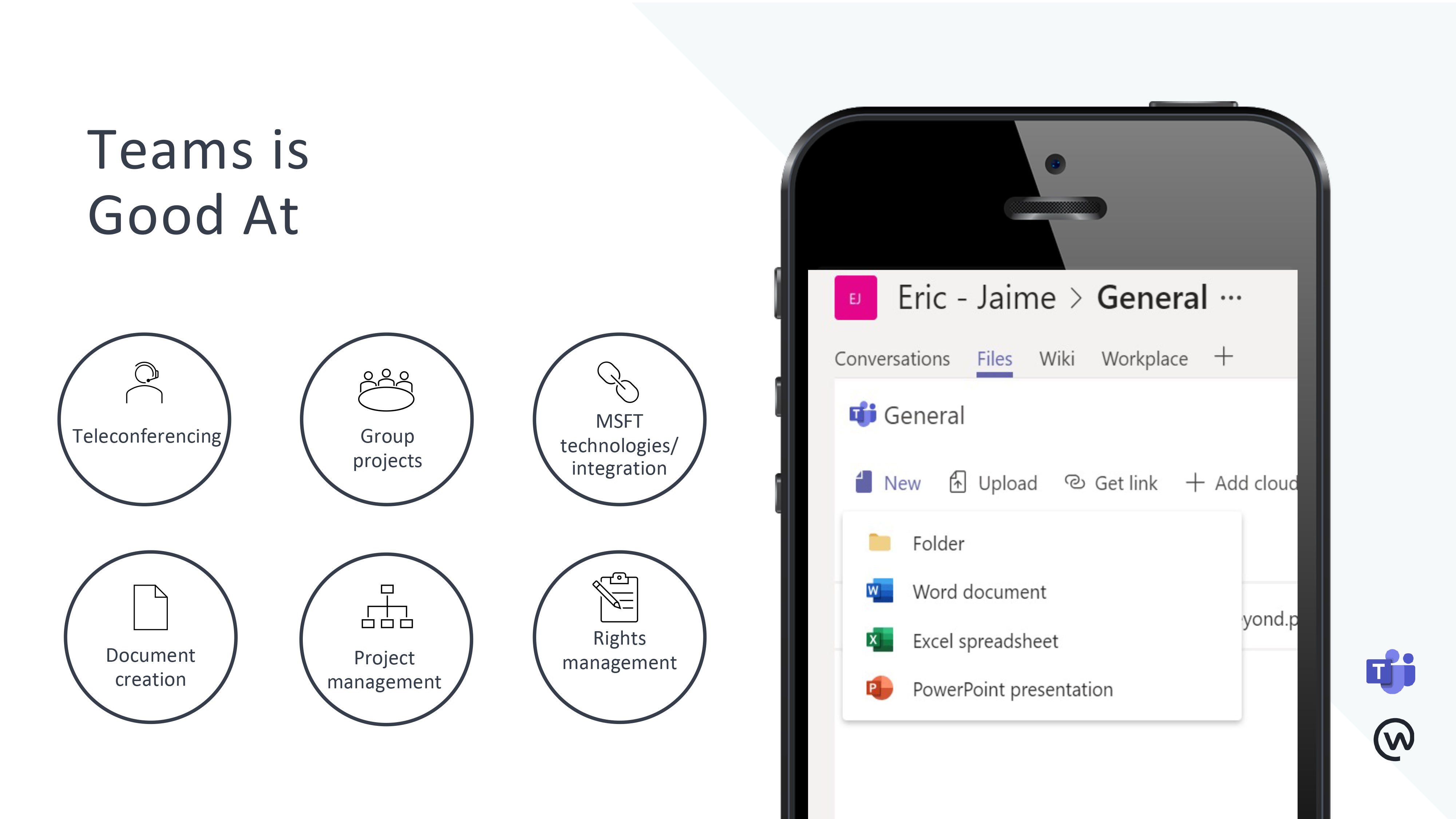 Teams is a tool that helps organizations get work done and is one of the core tools in the toolbox when we think about corporate productivity. Whether it's making telephone calls, booking meetings, working on documents, or making sure we're integrated with the rest of our Microsoft O365 technology stack, that's where we see Teams take off.
Who is Microsoft Teams for?
Microsoft Teams is a collaboration app that helps your team stay organized and have conversations—all in one place. Here's a quick snapshot of how different personas within your organization can utilize Microsoft Teams: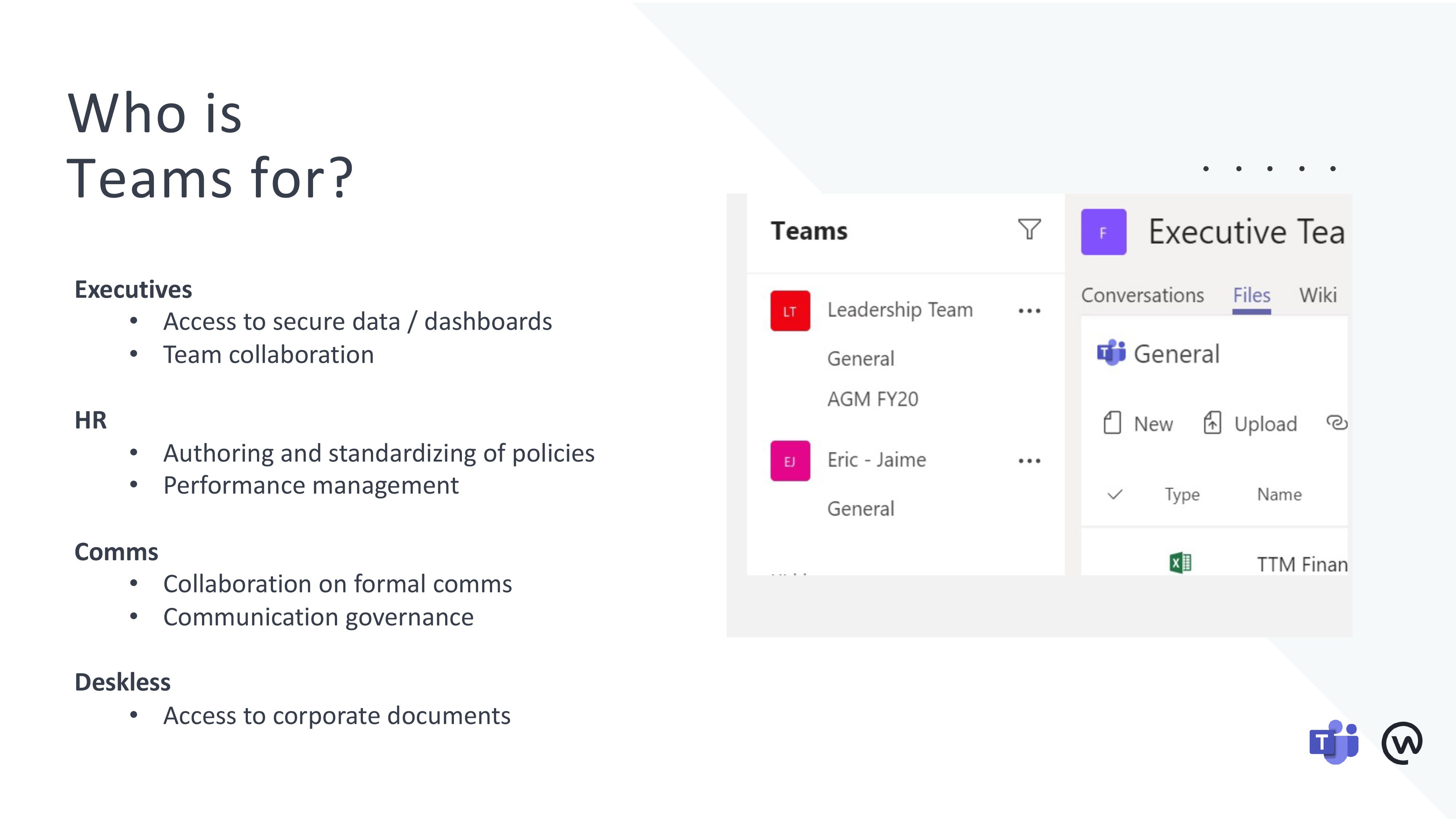 Executives: With Microsoft Teams, Executives can access secure data and dashboards, and promote team collaboration – all from a single app that can be accessible via any device.
HR:

HR Professionals can utilize Microsoft Teams to keep track of and update policies and procedures, provide information and documentation to either a select group of recipients or to the entire organization, and keep up to date on performance management for employees and staff.



Communications:

The Communications professionals in your organization will appreciate how Teams allows them to collaborate on formal communications and provides communication governance in myriad ways.

Deskless:

For organizations that have deskless workers, Microsoft Teams's mobile-friendly, device-agnostic application provides ease of access to corporate documents.
workplace & teams head to head comparison: features
Both Workplace from Meta and Microsoft Teams support group collaboration, chat, video calls, and file sharing, with a series of integrations available. While the execution and accessibility of the platforms are different, the platform features are quite similar.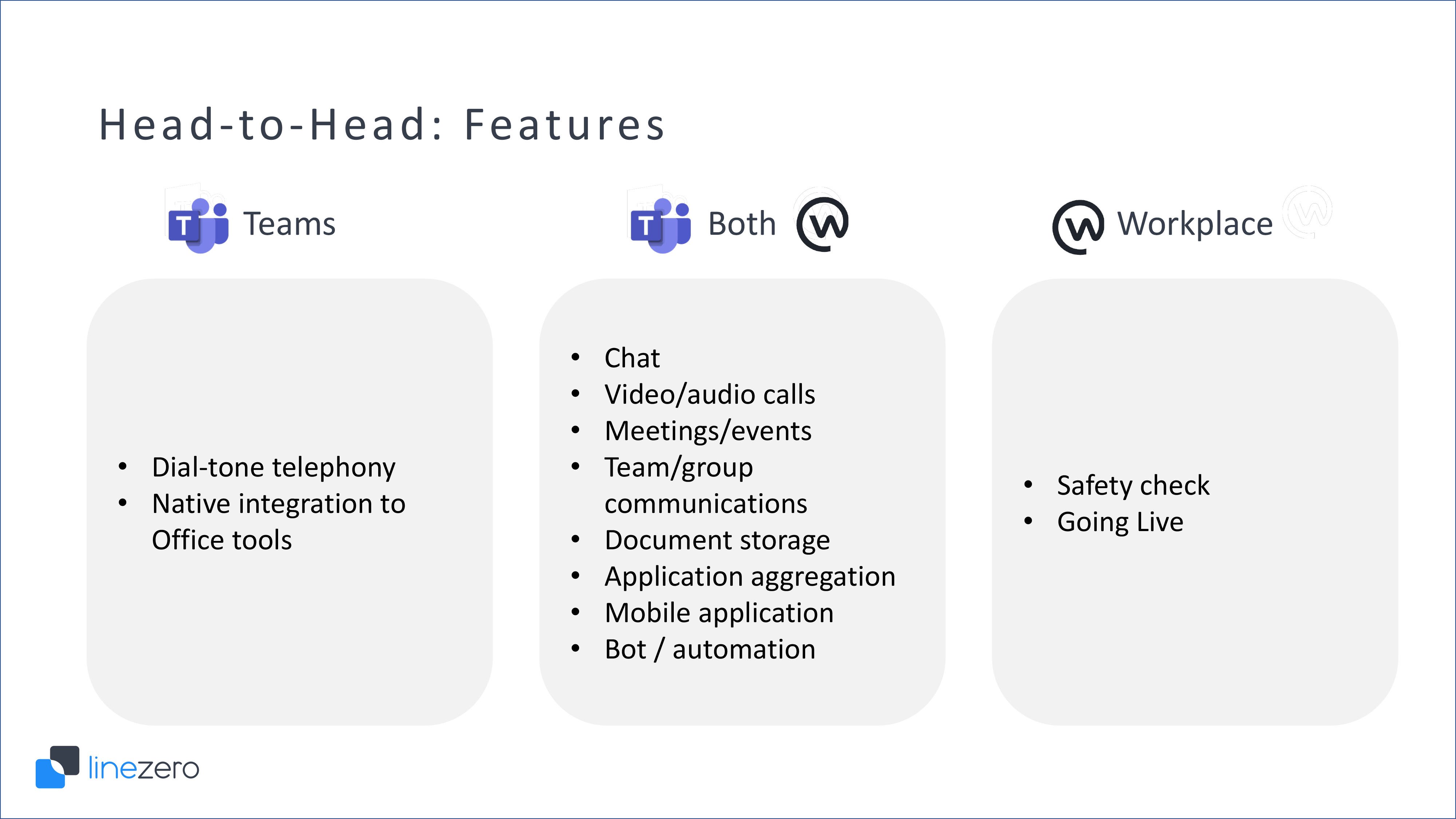 With that said, Workplace from Meta differentiates from Microsoft Teams in the head-to-head comparison of features when it comes to frontline workers. Workplace is a mobile-first platform, and their core competency is collaboration – so, there's a huge focus on bringing deskless workers into the collaboration experience. By integrating Teams with Workplace, your organization can begin to utilize Workplace's "Frontline Add-On" to provide customizations specific to frontline workers.

Workplace & Teams Head-to-Head Comparison: Outcomes
In determining how Workplace from Meta can complement your current Office 365 technology stack, especially Microsoft Teams, we recommend that our customers consider a few important factors:
What is the outcome your organization is looking to drive?
What are the goals that you are trying to achieve by integrating Workplace from Meta with Microsoft Teams?
What are the business problems your organization is trying to solve?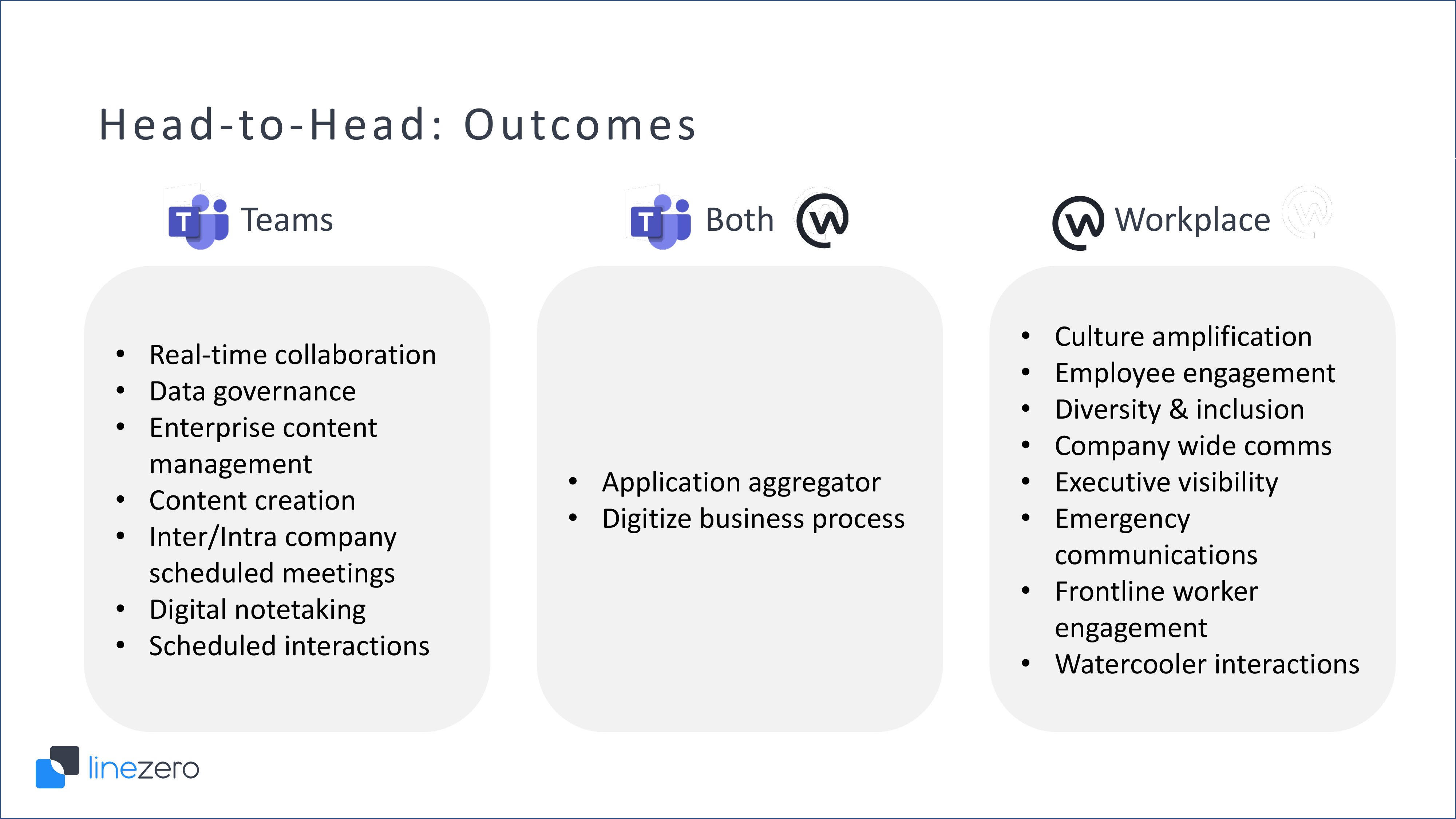 So, who wins?
Workplace and Teams have distinct roles in your organization's communications. It's not a situation of choosing one over the other - many organizations who are using Microsoft Teams have found Workplace to be a good compliment.
Workplace from Meta and Microsoft Teams have distinct roles in your organization-wide communications. Microsoft's business core competency is productivity, whereas Workplace's business core competency is creating connections. When you combine both tools together, you can take your business outcomes even higher and achieve even better results. To see Workplace from Meta and Microsoft Teams in action from an internal communications perspective, watch this video:
Consider this analogy: If you're a gardener, you don't just need a shovel – you require other tools in your toolbox. The whole idea is that Workplace and Teams can accomplish more together than apart because they are tools fit for purpose.
Using Workplace and Teams already?
If your team would like more clarity around how both technologies can be used together and better for a higher adoption and ROI, we will be happy to chat. We can help you create the strategy to implement and adopt both Workplace and Teams in your organization.
Not using Workplace yet?
Ever found that grabbing a pen and jotting some ideas down, or asking a few people to brainstorm ideas lead to better, more helpful conversation? We do! Let's book a brainstorming session and do just that.
From this brainstorming session, we'll help you to see a visual blueprint that will show you how your existing technologies and Workplace from Meta can integrate to help close the gaps between your business goals and objectives and your technology capabilities.