Workplace from Meta is a best-of-breed, mobile-first, high adoption platform, which has transformed the way thousands of organizations communicate and collaborate.
Workplace has proved time and time again how it can bring corporate culture to life in a short amount of time. With a plethora of features from chat, live stream, private and multi-company groups, direct messaging, polls, safety checks, and customer integrations, the customization is endless.
Now, they're adding one more feature that makes storing and accessing essential company resources much easier - introducing the Knowledge Library!
Workplace's New Feature: The Knowledge Library!
The Knowledge Library is a new feature from Workplace that provides a simple way to create, store and access essential company resources, especially static content like Process Documents, Benefits, Employment Policies, Sales Handbooks, and more. It's like a simple intranet or a digital workplace.
---
A Demo is Worth a Thousand Words
Every organization is unique, so your demo should be uniquely matched to your specific business needs. Contact us to tailor your Workplace demo.
---
It's fully integrated with the rest of Workplace, so people can search for or share vital information without having to switch apps. It contains simple, familiar tools for admins to create content, attach files, share links, and customize what people see on desktop and mobile.

tHE KNOWLEDGE LIBRARY: a SMARTER WAY TO STORE AND SHARE INFORMATION
The average employee wastes over nine hours per week searching for critical company information such as process templates, benefits information or internal policies.
Out-of-the-box solution: The Knowledge Library makes your people more productive by bringing it all together in a single place. Use simple tools to create content, attach files, share links, and customize what people see - on desktop or mobile. Whatever your employees are looking for, Workplace is where they'll find it.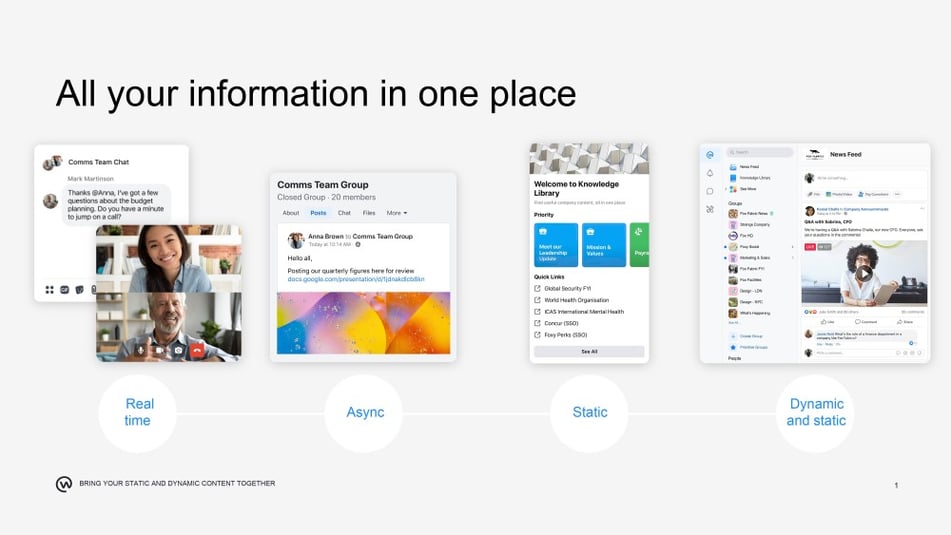 HOW DOES THE KNOWLEDGE LIBRARY WORK?
Knowledge Library is an out-of-the-box solution that is part of your Workplace instance, and you won't need tech support to set up or maintain. There's a simple composer for content creation, fully integrated search to find what you're looking for, and straightforward permissions to control who sees what.
Knowledge Library is found in the Explore Menu right under News Feed. It sits right alongside your Chat threads, Group posts, and Live videos to create a single center for collective knowledge across your business. Best of all, you can use one search bar to find all your companies' content and information.
Learn more about how Workplace from Meta's Knowledge Library can help your organization today! Fill out the form below to access the Knowledge Library eBook.
Simple and easy to create content
All moderators with Knowledge library permissions can create and edit content from an easy to use editor. Workplace Admins can give anyone Knowledge Library admin permission. Once the content is created, the draft mode allows for easy sharing, proof and then publication of all employees within the group or category.

Want to see a demo of how Knowledge Library could work for your organization? Schedule a call with us!
How to get started using Knowledge Library
The knowledge Library is automatically installed on every Workplace instance, so there is nothing to install or configure. You simply need to begin building your content. As you create a piece of content, you can tag and assign it to a group, department or permission level individuals.
Looking for some hands-on guidance? Here's an idea:
Start by adding the below categories to your Knowledge Library, and then customize the home page afterwards with the top priority categories.
Add a "Getting Started on Workplace" section:
Top "must follow" groups to help the employees prioritize the groups you want them to join.
A quick "official groups" tour.
Where to find information in workplace and where to ask questions.
Manage notifications
Workplace Etiquette
Third party available integrations and bots
Glossary and Taxonomy ex: Official groups: Official groups help you find company-approved information more quickly by spotting the official-group icon that appears alongside the group name
COVID-19 important information
Mission and Values
People resources
Travel and Expense
Working from home – where to start? Which tool to use and when.
8 TIPS TO MAXIMIZE YOUR KNOWLEDGE LIBRARY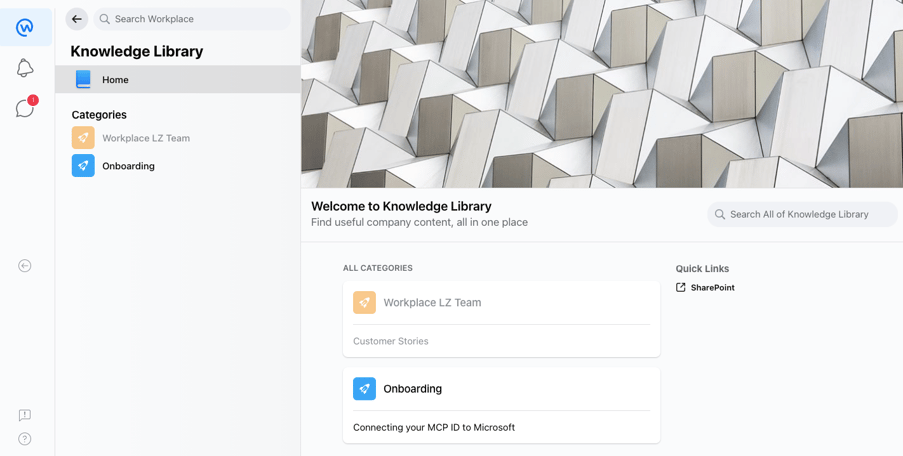 Keep it simple
Keep it between 3-5 categories for each audience. Ex: A user from the Marketing department can view five categories when browsing the Knowledge library.
Use simple graphics that can let the end-user easily identify the content.
Try not to link to documents hosted on sites that require the users to be connected to the corporate network using a VPN or any other app. In this case, uploading the files directly will enable your employees to browse the documents from any device anywhere.
Start small, collect feedback and build later.
If the document requires co-authoring or versioning, host those types of documents on your online document repository and link to it in Workplace. Ex: use SharePoint as your backend and Workplace as your front end.
Do not let the user click so many times to find the content.
Choose keywords to simplify the search.
---
A Demo is Worth a Thousand Words
Every organization is unique, so your demo should be uniquely matched to your specific business needs. Contact us to tailor your Workplace demo.
---
Knowledge Library is Dynamic home for static content
If you would like a demonstration of how Workplace Knowledge Library could work for your organization, or you need support with design, connecting to your backend systems, LineZero has more than 15 years' experience in building and supporting intranet solutions. We would be delighted to help you.
LineZero is a team of security-obsessed communication and technology experts. Workplace from Meta has partnered with us to bring exceptional strategy and service to clients who are looking to build irresistible companies through collaboration and communication, all while having a positive effect on the bottom line.
Want to learn more about Workplace from Meta?
Want to learn more about Workplace? Or do you already have Workplace and would like to maximize it with other Microsoft tools? Let's connect.