Workplace from Meta is a business communication platform that brings employees together to create connection and build company culture. Many organizations have integrated this application ever since the rise of the pandemic. With hybrid work becoming increasingly popular, Workplace allows your employees to improve organization communication, collaboration, and employee management under one application.
So, other than creating company culture and boosting employee experience, what other benefits does Workplace from Meta offer? Read more to find out!
In this blog you will find:
5 Major Benefits of Workplace from Meta for Better Organizational
Communication and Collaboration
Increased Efficiency in Hybrid and Remote Worker Collaboration
Increased Innovation
Increased Productivity of Frontline Workers
Reduced Opex
Time Savings Due to Efficient Communications
Enjoy the Benefits of Workplace


5 Major Benefits of Workplace from Meta for Better Organizational Communication and Collaboration
Workplace from Meta asked Forrester Consulting to conduct a Total Economic Impact (TEI) study provide readers with a better understanding of the benefits, cost, and risks associated with the investment. This study has shown that Workplace users report a significant increase in communication and teamwork amongst their employees. For many users, Workplace replaced emails and use of the company intranet which isn't the most optimal approach or available to all employees. With Workplace, users were able to find and share information efficiently using Groups, Chat, the Knowledge Library, and integration with other tools. As a result, organizations noticed an increase in productivity, communication, and digital transformation using Workplace from Meta. Being able to communicate and collaborate better can also contribute to better employee experience.
What are the main benefits of using Workplace from Meta?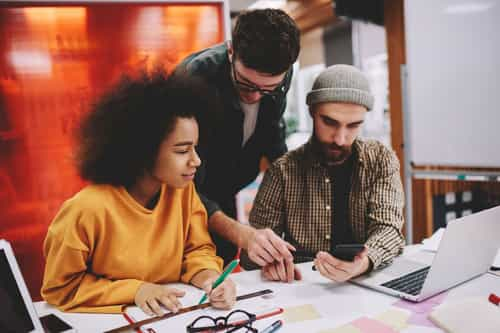 No. 1: Increased Efficiency in Hybrid and Remote Worker Collaboration 💻
The first major benefit is the improved efficiency for knowledge-based workers. A significant amount of time can be saved with Workplace from Meta because knowledge workers can:
Find information faster and easier by searching groups, crowdsourcing questions, using the mobile app, using Chat and accessing the Knowledge Library.

Increase the accuracy of information shared to reduce mistakes and the time to resolve them.

Receive timely updates (and prioritize through posts marked as important) and respond more easily and quickly to messages, compared to using email in many cases.

Choose to work remotely or from home, reducing the need to commute.
No. 2: Increased Innovation ✨
With the rapid and thorough distribution of news and information, Workplace from Meta can provide safety measures that potentially reduced accidents and related costs, quicker fixes for industrial mechanics, bot integrations to improve processes such as password reset, and automated responses to standard HR questions. There are several ways in which these can drive innovations:
Many organizations set up specific ideas or innovation groups to capture more ideas from employees.

More open, two-way communications facilitate and promote more rapid sharing of ideas, particularly through organizational hierarchies

By capturing more ideas, better ones can be adopted. The group poll function can also be used to prioritize and decide on the best ideas

Ideas and innovations can result in incremental product value through new features and capabilities, but they can also improve processes and efficiency
No. 3: Increased Productivity of Frontline Workers 📈
The productivity impact for frontline employees is double that of knowledge-based workers because they previously relied on email to access information and could not access intranet-based resources. Through the web or mobile app, they can:
Find information much more quickly and easily through searching in groups, messaging peers, and accessing the Knowledge Library.

Provide feedback to peers 25% more efficiently and to management 21% more efficiently to management. Bots can be built and integrated to make such tasks very easy and quick to complete.

Access HR-related information 20% more efficiently.

Quickly fill in timesheets online.

Catch up with internal communications quickly and easily.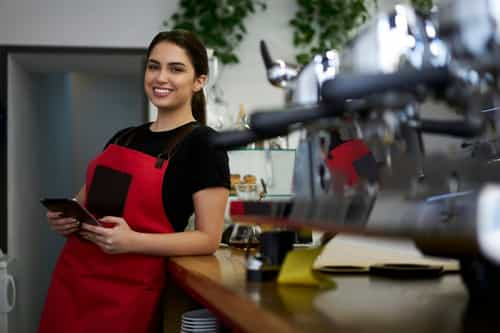 No. 4: Reduced Opex 💸
Many organizations were able to discontinue the use of some alternative tools and save operating expenses following the implementation of Workplace from Meta. These included:
Alternative communications and collaboration tools. In many cases, they did not support good mobile experiences and were unavailable to frontline employees.

Reduced use of email and intranet resources.
No. 5: Time Savings Due to Efficient Communications ⏳
All the interviewees, in this study, shared that HR and communications professionals were able to communicate much more efficiently following the implementation of Workplace from Meta. There were several reasons for this:
The analytics feature of Workplace enables professionals to optimize communications, so they have broader reach. This then reduces effort required to reach out through alternative tools and methods. The translation feature reduces additional effort for international organizations.

Integration with other communications and collaboration tools also helps ensure wider reach, reducing the need to update intranet sites or use physical means of communication.

Bots can also be built and integrated to answer commonly asked questions and how-tos, reducing HR helpdesk time.

The use of Workplace Live video to communicate company-wide updates can also be more efficient than alternative methods.

Second instances of Workplace can be implemented to communicate more efficiently with various nonpermanent employees (e.g., temps, contractors, students with offer letters).
Enjoy the Benefits of Workplace from Meta
When utilizing an app like Workplace from Meta, at LineZero, we make sure that everyone benefits from connection, communication, and collaboration. After covering the main benefits of Workplace, it is your turn to improve your communication tool, employee experience, productivity, and digitally transform. Let's get you started today!
Not using Workplace by Meta yet?
Want to see how Workplace by Meta could take your internal communications strategy to the next digital level and help you to reach everyone across your organization in a more efficient and effective manner? Give us a shout! Through a live demo of the Workplace platform, we'll help you to brainstorm ideas on how to utilize Workplace to achieve your organization's goals and objectives around internal communications.
Already Using Workplace by Meta?
If you'd like to explore more opportunities to learn how to use Workplace to improve your internal communications strategy and be part of the Corporate Metaverse, we'd love to chat! Give us a call if you want to learn how to use Workplace to enhance employee interaction and engagement.