Experiencing a moment or event digitally has a different impact than what someone would feel in the physical world. Gamers and many others who have delved into the world of virtual reality (VR) can attest to this difference.
For gamers, the Metaverse is quickly becoming familiar territory with each passing week. According to a study on the Metaverse, individuals in the Metaverse spend "1.5 more hours per week playing video games compared with those who are unfamiliar with the metaverse". Over the course of a few months, that represents an incredible number of gaming hours spent in the Metaverse!
Even with the expansion of gaming into the VR space, others are venturing into this new-found world in search of a better experience. Something more than what their normal reality has to offer.
In this blog post, we will discuss 3 future Metaverse activities that customers may be interested in and how businesses can leverage the Metaverse to give their customers a unique, immersive experience.
In a hurry? Jump straight to your section of interest by clicking on a link (see below).
3 future Metaverse customer activities that businesses should prepare for
Shopping in the Metaverse
Health services in the Metaverse
Meeting with family or friends in the Metaverse
Conclusion
Future U.S. consumer interest in the metaverse
McKinsey & Company conducted a survey of its clients to find out what type of digital experiences they are curious about in the future (see the image below for the results). Their analysis revealed that approximately one in four consumers will be metaverse "superusers" who leverage virtual worlds for a variety of purposes.
Below we will explore 3 areas where businesses can leverage the Metaverse to give their customers a unique, immersive experience: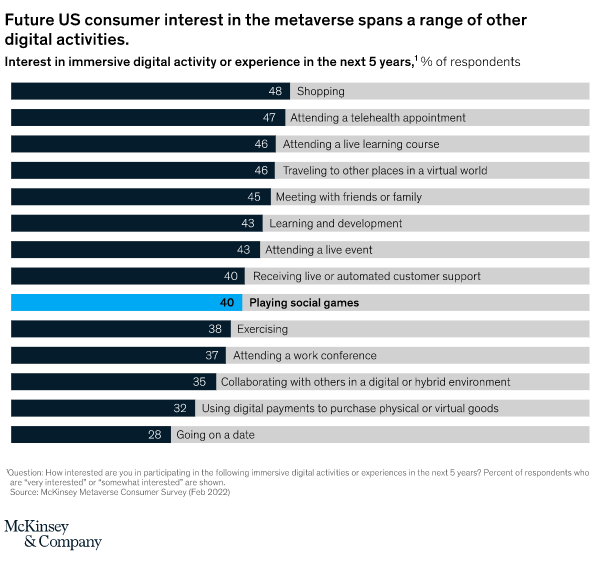 Three areas where businesses can leverage the Metaverse for a digitally immersive experience
1. Shopping in the Metaverse
🛍️
Interestingly enough, shopping ranked 1st on the list above which indicates that people can see the vast potential for the metaverse when it comes to having a digitally immersive shopping experience.
The shopping experience in the Metaverse is unlike anything you've ever experienced before. Imagine being able to try on clothes without having to leave the comfort of your home, or being able to test drive a car before you buy it. Thanks to advances in digital technology, shopping in the Metaverse is a completely immersive and interactive experience. Your customer can try on clothes, test drive cars, and even experience products first-hand before they buy them.
Imagine your customers being able to see the interior of a shopping center in clear quality just by putting on their VR headset. They can hear the sound of people walking around and chatting with each other.
Your customers do not need a physical wallet because you've programmed a unique hand gesture (card swipe) that allows them to make a purchase virtually once they go to the counter at a store in the Metaverse. Guess what? No need for shopping bags because what your customers just purchased digitally will be shipped to them within a few business days (possibly from a local warehouse in their region). When your customers take off their VR headset, they are right back home. Think of all the gas and time they just saved!
A number of big brands are investing in this aspect of the Metaverse. According to an article by BBC News, "a growing number of companies are buying up space in the metaverse so that they can set up shop there. These firms include the likes of Adidas, Burberry, Gucci, Tommy Hilfiger, Nike, Samsung, Louis Vuitton, and even banks HSBC and JP Morgan".
The technology is also catching up to this change in digital commerce. ReadySet is one of several companies that has created "immersive 3D VR software designed for product manufacturers, retailers and researchers to autonomously design, test and implement retail solutions". Below is a screenshot showing one of the benefits of integrating VR technology into the retail experience.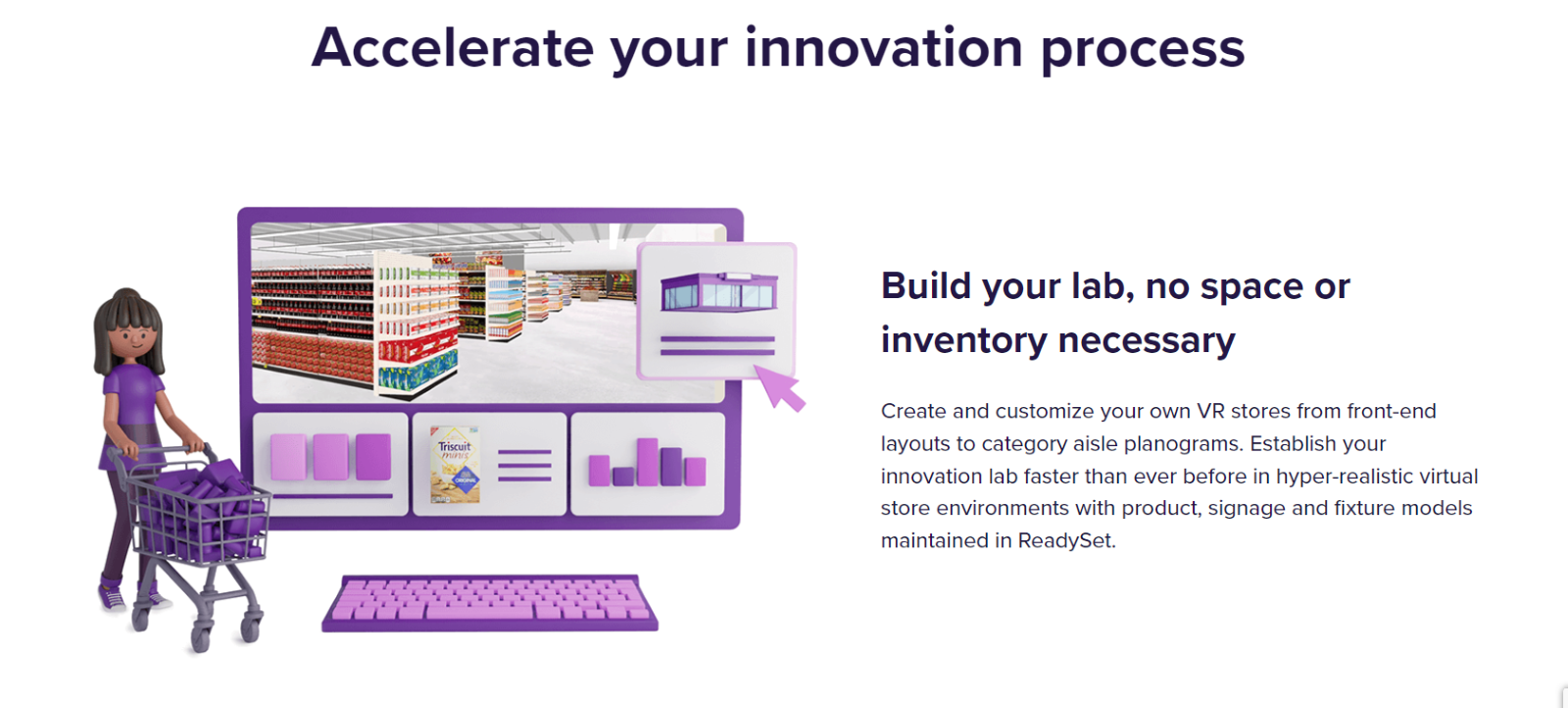 Benefits for companies regarding commerce in the Metaverse:
Reduce reliance on physical stores

Customers can shop from anywhere in the world and experience your products (without wearing out or damaging any of your demo products)

Retailers can set up shop in any number of virtual locations.
Retailers can design their own digital space (not limited by the real-world costs associated with remodeling a store.
The world of digital shopping will continue to evolve with the discovery of new technology and your customers will follow that trend. Positioning your business where they will be (in the Metaverse) can set you up for future success.
2. Health services in the Metaverse
🏥
There are a number of different ways that businesses in the healthcare industry can harness the unique experience delivered by the Metaverse. This can be shown from two perspectives: a health worker and a patient.
For a health worker, the Metaverse could become a space for learning and education (especially for those who are visual learners). In the instance of a digital course placed within the Metaverse, a user could snip out sections of an audio lecture (with a programmed hand gesture) to highlight that content as text and save it in a Word file (via a Microsoft integration with the Metaverse) as future study notes. A digital lecture could be designed to have segments where the user is sent to a simulation (still within the Metaverse) related to the topic at hand. An example of this could be a nurse learning how to identify the main veins for administering injections by seeing the highlighted veins on a realistic diagram of a human arm.
For a patient, the Metaverse can represent a unique experience for their regular appointments. In a secure space on the Metaverse, a doctor could meet with a patient and use visual data to help highlight their health status. There could even be a link or discount to certain exercise games on the Metaverse if they can help a patient to stay active (regardless of age). In addition, a patient could have their prescription medication sent to their address via an order sent by the doctor shortly after the appointment. If the Quest Pro device can be augmented to scan a person's biometric data, this would help doctors to better diagnose patients remotely (in real-time).
The potential market size for healthcare in the Metaverse is on the rise. A recent report by Precedence Research identified the market size in 2021 at a valuation of USD 6.85 Billion and that is projected to reach USD 72.1 Billion by 2030 (see chart below).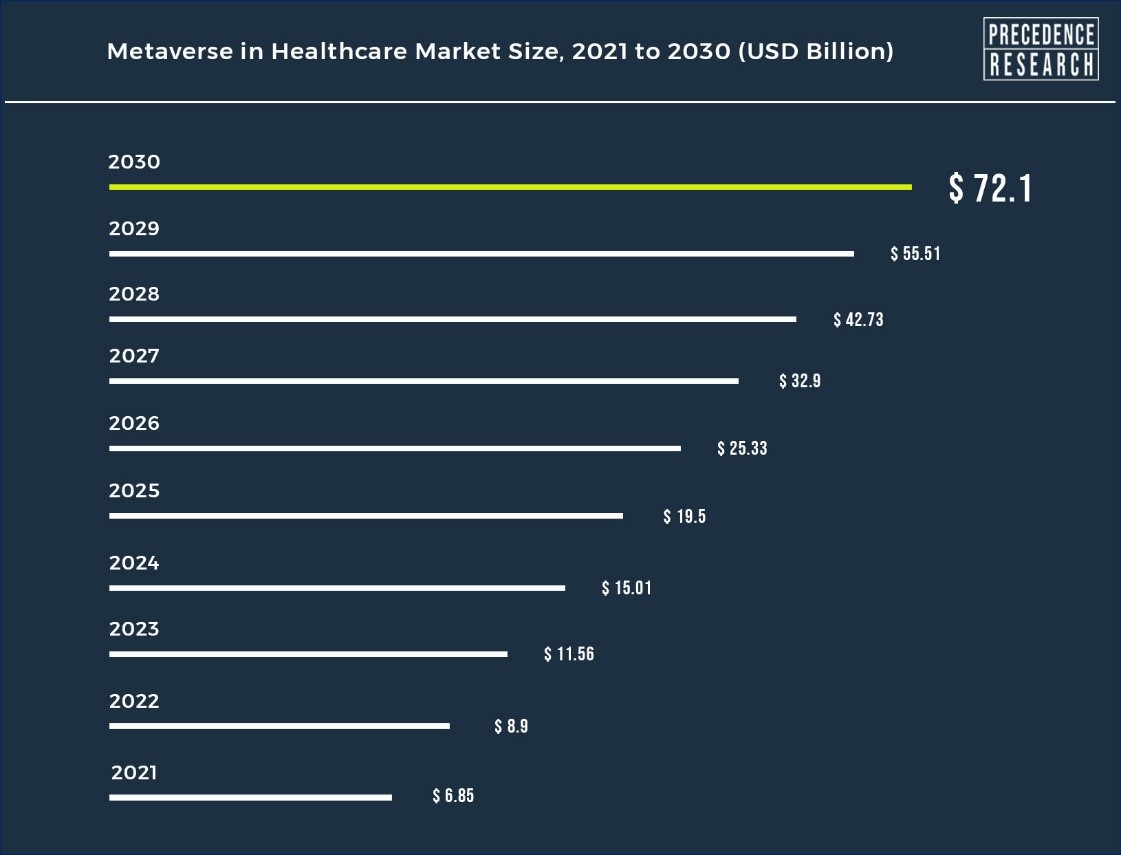 3. Meeting with family or friends in the Metaverse 💻
Connecting with family and loved ones is a big deal for many people across the globe (especially for people whose loved ones live far away). Many people use their phones or online video conferencing platforms (i.e. Zoom or Google Meet) to chat with relatives and friends. What if that experience was a lot more realistic than seeing someone on a video screen?
Within the Metaverse, friends could meet up with their avatars and hang out in a room that they have designed to showcase their interests or the interests of the group (e.g., a Dungeons & Dragons themed room for friends who meet in the Metaverse to chat or play D&D). The room could even become a place to store videos or audio recordings which can be watched together in the digital space.
The last part would be a big deal for those who miss out on big life events in their family due to work or location. The content could be stored in the "family room" within the Metaverse and only those who have access can log in to view the content (e.g., video of a grandchild's first steps for a grandma who lives miles away). Companies could collaborate with Meta to design a unique experience for families and possibly give discounts for people who use or purchase their products in the Metaverse.
Referral marketing could also be used in this context as well. Some games are more fun together. Game companies could create a referral program which gives a slight discount or extended free trial to a friend who wants to experience the game in the Metaverse.
This Metaverse experience can even go as far as dating. Online dating companies could give their customers a discount on VR devices and run monthly "Meetup in the Metaverse" events where singles can connect with one another digitally.
Conclusion
As indicated in the chart above, people see a lot of potential in terms of the new experiences to be created within the Metaverse. We have only scratched the surface with the possibilities discussed in this blog. The idea of interacting with an immersive digital world has already been marketed to the global audience via movies, tv shows, video games, books and so many other avenues. After interacting with such content over a long period of time, people are eager to see these ideas become reality.
It is important to place your business where your customers are, not where they used to be.
When the internet first arrived, many companies did not see the value in properly positioning their business online. Some of those companies are no longer in existence due to making such a decision.
The Metaverse is coming and it will change how people around the world digitally interact with companies for commerce or other ventures. The question is will your company be ready to benefit from this revolutionary change or will you be left behind by your competitors in this new digital space?
Building the Bridge to the Metaverse with Linezero
At LineZero, we can help you build that bridge to the Metaverse using Workplace from Meta. As a business collaboration tool, your company can integrate avatars into your meetings, allowing employees to express their authentic self through Virtual Reality. Connect with us today and we'll start your journey to the Metaverse!
Not using Workplace yet?
Want to see how Workplace could take your internal communications strategy to the next digital level and help you to reach everyone across your organization in a more efficient and effective manner? Give us a shout! Through a live demo of the Workplace platform, we'll help you to brainstorm ideas on how to utilize Workplace to achieve your organization's goals and objectives around internal communications.
Already Using Workplace?
If you'd like to explore more opportunities to learn how to use Workplace to improve your internal communications strategy and be part of the corporate Metaverse, we'd love to chat! Give us a call if you want to learn how to use Workplace to enhance employee interaction and engagement.