In today's fast-paced digital era, maintaining a productive and engaging workspace has become more critical than ever before. Enhancing employee productivity and engagement, fostering better team collaboration, and boosting overall workplace efficiency are no longer 'nice-to-have' goals - they're business imperatives. One way to achieve this is through effective use of Workplace from Meta's integrations and digital workplace tools which can pave the way for more structured, seamless, and collaborative work environments.
In this blog, you will find:
🌐 Creating an Engaging Environment Through A Collaboration Platform
🚀 Navigating Workplace Third Party Integrations
⚡ The Power of Custom Integrations
👥 Workplace Integrations for All Customers
Creating an Engaging Environment through a Collaboration Platform
The crux of any successful business lies in its people - the employees. Recognizing their efforts and providing a platform for sharing ideas, fostering communication, and facilitating collaboration is vital for creating a thriving work culture. This, in turn, plays a crucial role in enhancing employee engagement, employee productivity, and, ultimately, business outcomes.
Amongst the plethora of tools available in the market, Meta's workplace solutions stand out as a comprehensive suite of tools designed to foster engagement, enhance productivity, and minimize employee turnover. They provide diverse interfaces to help businesses implement employee engagement and recognition solutions, establishing an engaging and encouraging work environment.
Navigating Workplace Third PArty Integrations
Workplace from Meta offers a rich marketplace of integrations, an arsenal of tools that can be easily integrated with your existing Workplace suite in a matter of clicks. These third-party integrations are complete, feature-rich tools providing Workplace interfaces in the form of chatbots, mention bots (bots that act when mentioned using the '@' tag), and group bots.
This marketplace is a hub for enhancing workplace efficiency, offering integrations that can help improve employee engagement and workforce engagement.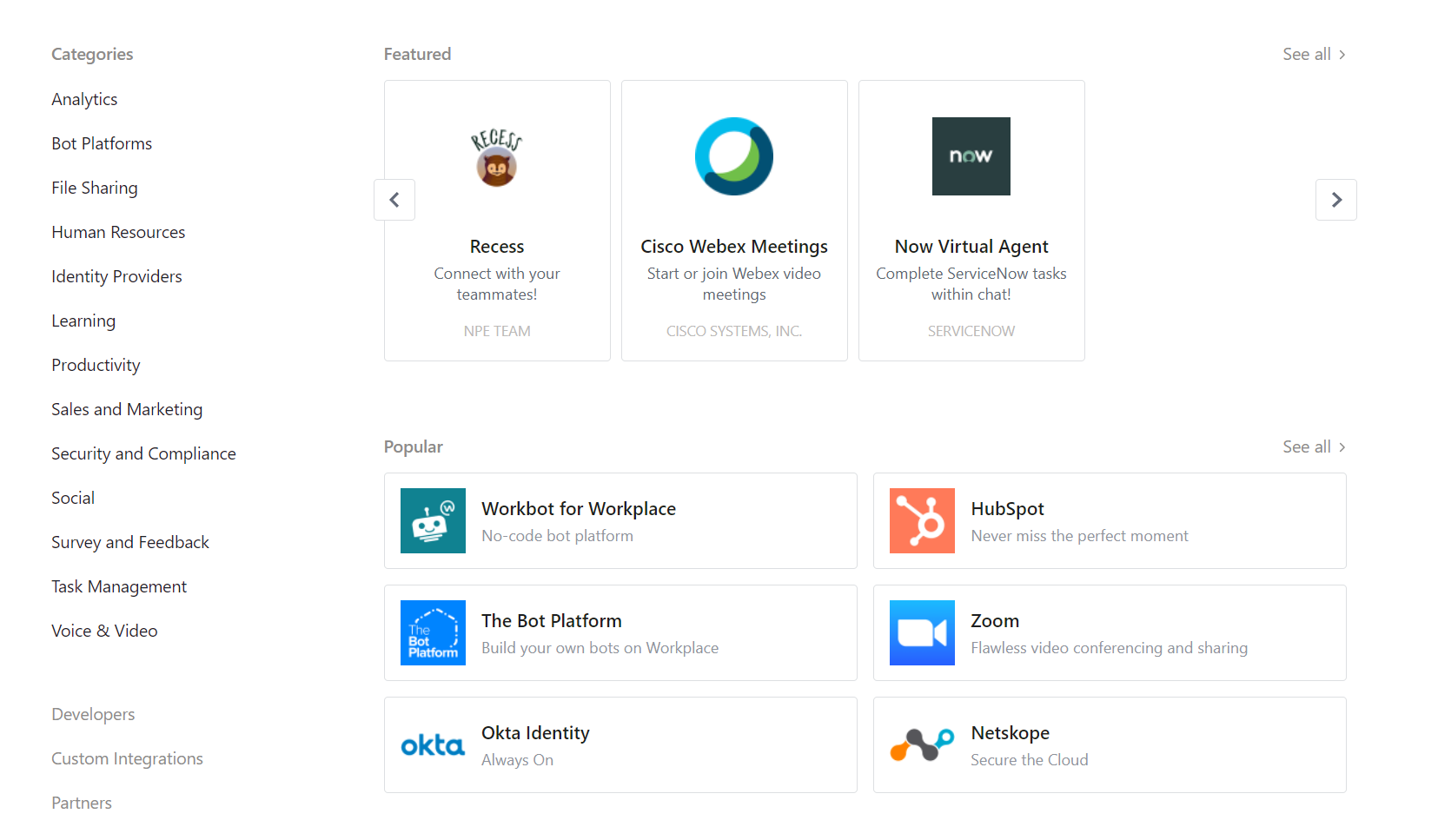 A prime example is 'Recognize', an employee recognition and rewards platform offering a Workplace Chatbot and Authenticated Previews. These tools, along with others available in the marketplace, facilitate enhanced workplace connectivity, playing a vital role in the digital transformation journey of many companies.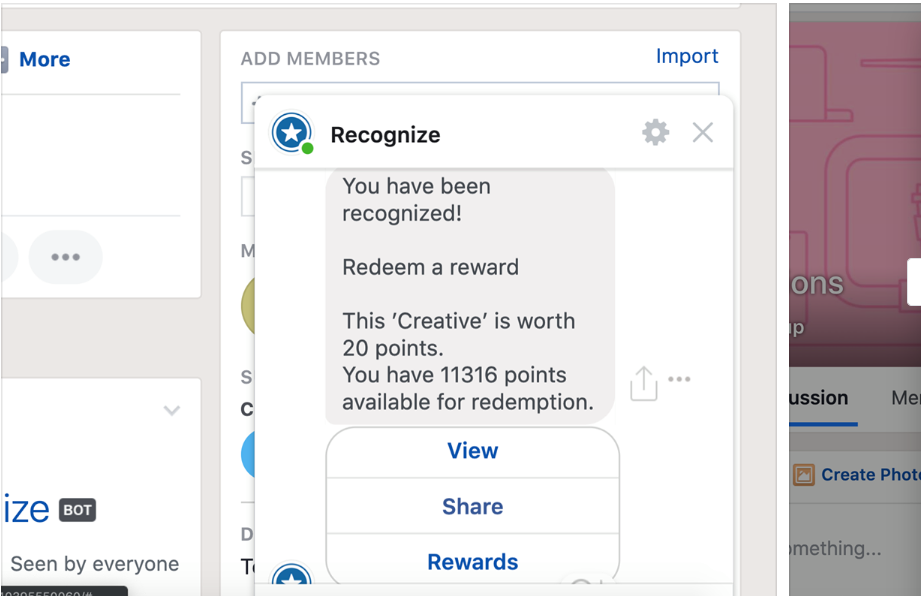 The Power of Custom Integrations
In addition to third-party integrations, Workplace from Meta provides the opportunity to develop custom integrations. These give businesses the flexibility to create their own Workplace extensions using the Graph API, allowing for seamless technology integration.
Although developing custom integrations may require some investment in terms of time and development effort, they offer unparalleled control over the Workplace interface. Whether it's in the form of a chatbot or an automated script running on a server connected to Workplace using the API, custom integrations can provide a significant boost to employee experience and productivity.
At LineZero, we've harnessed the power of custom integrations to devise innovative engagement solutions tailored for our unique in-house needs. A shining example of this is our Coffee House bot, a solution ingeniously designed to orchestrate casual catch-up sessions between colleagues, taking into careful consideration their individual availability.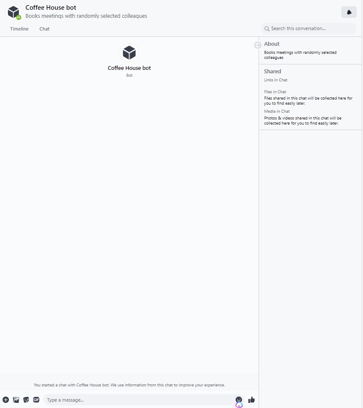 Workplace Integrations for All Customers
Workplace by Meta strives to enable facilitated work and collaboration through seamless integrations with various cloud applications. Both Premium and Standard customers can now connect Workplace to their go-to work tools.
Premium customers have access to a broad range of integrations through the Integration Directory, including Jira Cloud, Microsoft SharePoint, ServiceNow, Adobe Sign, and SurveyMonkey.

Standard customers, on the other hand, have access to a more limited set of integrations such as content tools like Box, Microsoft OneDrive, Dropbox, and RSS feed integrations.



With Workplace, sharing information across various tools becomes effortless, thereby promoting enhanced workplace connectivity. Additionally, the introduction of bots enables rapid sharing of notifications, ensuring that information travels faster, making team collaboration more effective. For instance, the SurveyMonkey integration posts a daily summary of survey results to your project group, keeping everyone up-to-date without any additional effort.
Workplace also strives to simplify work processes, saving valuable time. Tools like the ADP bot, Adobe Sign, Kronos, and Smartsheet help streamline workflows. Despite the extensive capabilities of Workplace's integrations, security remains a paramount concern. Workplace ensures utmost security, with system administrators having full control over the integrations and their data access permissions.
Last Thoughts:
Workplace from Meta is the perfect platform to automate your employee engagement and recognition. With a growing number of integrations, it's easy to find the tools you need to make your workplace thrive. If you don't see an integration that meets your needs, our team can work with you to create a custom integration that does just what you need. Contact us today to unlock the full potential of Workplace from Meta!

Ready to revolutionize your workplace experience with custom integrations tailored to your unique needs?
At LineZero, we specialize in leveraging the power of Workplace from Meta to create a more efficient, connected, and engaged working environment. Our team of seasoned professionals is excited to collaborate with you, crafting an integration that perfectly aligns with your goals.
Don't wait to explore the untapped potential of your workplace – contact LineZero today and together, let's unlock the limitless possibilities of Workplace from Meta!