To create a better work culture, upscale productivity, and reduce employee turnover, it has become imperative for companies to have effective tools to create an engaging environment for their employees. This includes recognizing employees and providing them with a platform to share their ideas.
Workplace from Meta provides different interfaces for a business to implement employee engagement and recognition solutions.
With this system in place, businesses can create an engaging work environment that would motivate employees to accomplish their tasks and achieve their goals.
This would lead to an increase in productivity and a reduction in employee turnover.


Third-party Integrations
Workplace from Meta provides a marketplace of different tools which you can integrate with your existing Workplace instance in just a few steps. These third-party integrations are full-featured tools that provide Workplace interfaces in the form of chatbots, mention bots (bots that act when mentioned using the '@' tag), and group bots.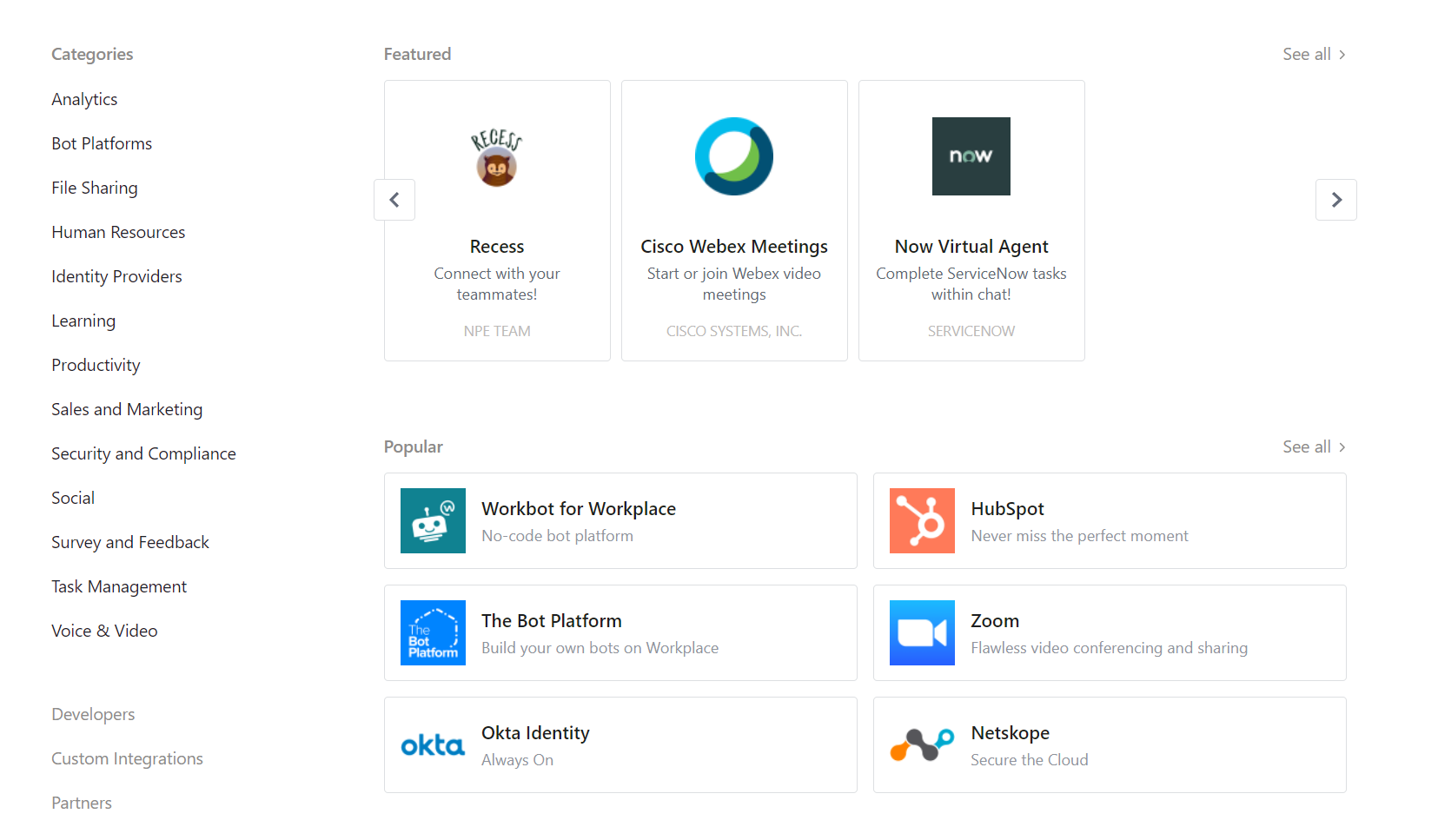 One such integration that can help in better employee engagement is Recognize. Recognize is an employee recognition and rewards platform that provides a Workplace Chatbot and Authenticated Previews. A good demo can be found here on Recognize's main page.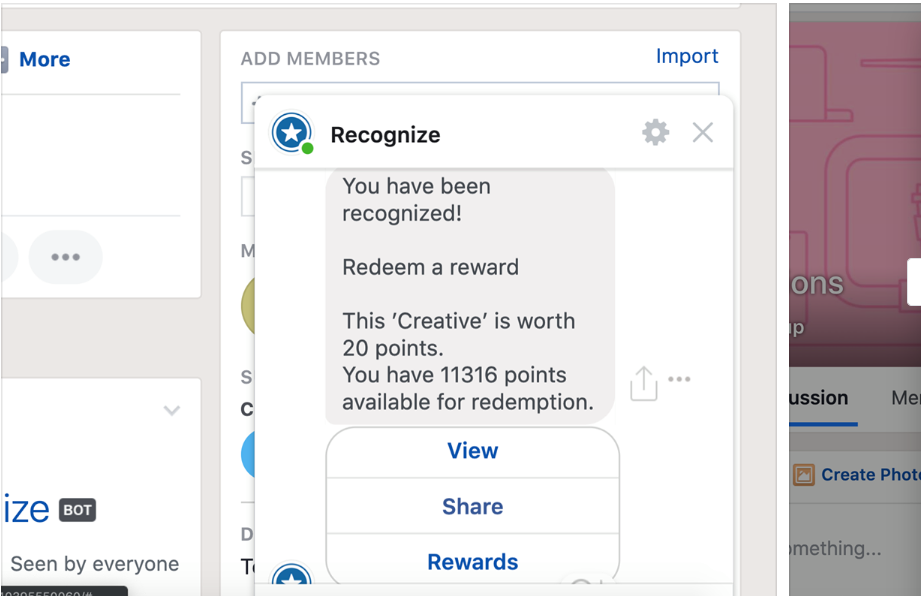 Custom Integrations
Workplace Custom integrations give you the flexibility to develop your own Workplace extensions using Graph API. Graph API can help you integrate your own recognition or engagement tools with Workplace. Although this may require development effort, the API gives you full control over your Workplace interface, be it in the form of a chatbot or an automated script running on a server connected to Workplace using the API without an interface. We have used custom integrations to develop in-house engagement solutions like the Coffee House bot that automates setting up catch-up sessions between colleagues depending on their availability.

Last Thoughts:
Workplace from Meta is the perfect platform to automate your employee engagement and recognition. With a growing number of integrations, it's easy to find the tools you need to make your workplace thrive. If you don't see an integration that meets your needs, our team can work with you to create a custom integration that does just what you need. Contact us today to unlock the full potential of Workplace from Meta!


Not using Workplace by Meta yet?
Want to see how Workplace by Meta could take your internal communications strategy to the next digital level and help you to reach everyone across your organization in a more efficient and effective manner? Give us a shout! Through a live demo of the Workplace platform, we'll help you to brainstorm ideas on how to utilize Workplace to achieve your organization's goals and objectives around internal communications.
Already Using Workplace by Meta?
If you'd like to explore more opportunities to learn how to use Workplace to improve your internal communications strategy and be part of the Corporate Metaverse, we'd love to chat! Give us a call if you want to learn how to use Workplace to enhance employee interaction and engagement.