As a Workplace from Facebook user, what exactly is Microsoft Power BI and how does it apply to your organization? How can Power BI help transform your Workplace data into something tangible, visual, and actionable?
In our last blog, we showed how Power BI and Workplace from Facebook's better together story helps communications professionals to turn the data they collect on the impact of their communications into easy-to-read, easy-to-understand, graphically pleasing reports. By working together, Power BI and Workplace from Facebook can help those in communications make the most of their reporting.
As a follow up to that blog, we wanted to further expand on the powerful capabilities of Power BI by highlighting 5 important things that you need to know about this data & analytics platform. Read on to learn more!
What is Power BI?
Before we jump into the 5 things you need to know about Power BI, let's take a quick moment and talk about what exactly Power BI is, and how it could apply to you.
Microsoft Power BI is a Cloud-based suite of business analytics tools that help your organization take your data to the next level. Power BI turns your data into interactive visualizations, giving you valuable insights into your business intelligence, and helping you to make better data-based business decisions. Power BI's unique platform can help anyone with a Power BI license to visualize and analyze data with greater speed, efficiency, and understanding.
Power BI's rich and diverse set of native data connectors include Workplace from Facebook. This means that, as a communications professional, you can integrate your Workplace data into Power BI to:
Transform your Workplace data into stunning visuals.
Visually explore and analyze your Workplace data.
Collaborate and share your customized dashboards with your teams.
Predict needs and trends based off real-time data.
Create and manage internal communications campaigns based off real-time data.
See your real-time dashboards and reports.
5 Things Comms Professionals Need to Know About Power BI!
So, now that you're more familiar with Power BI and how it can help take your Workplace analytics to the next level, let's talk about 5 things you need to know about Power BI!
#1 – Power BI Makes Your Analytics Process Easier and More Flexible
One of the key benefits of Power BI is that it doesn't take a technical background to be able to get started with it. In fact, simple tutorials on setting up Power BI are widely available, and the intuitive platform can be used by almost all users - no programming required! To illustrate how easy this is to get started creating a report, here are six simple steps that will help you create your first report:
Create a new workspace.
On the left navigation pane, click on Get Data.
Select Files, then navigate to the location where you saved your data.
Select Import.
After you've imported your data, select View Dataset. This will open the report editor, so you'll see a blank canvas and the report editing tools show up.
Decide what data you want to show in your report. In the Fields pane, simply select what fields you want to work with. Then, add the gauges using Visualizations, and you're on your way!
#2 – Power BI Saves You Time and Effort
In our last blog, we talked about the story of Louisa, a fictitious Communications Manager who was tasked with tracking engagement across Workplace from Facebook. In this story, we mentioned that Louisa used to compile the data into an Excel report, which was lengthy, time-consuming, and had to be re-done each month to provide the executive team with the previous month's data.
Anyone who has had to prepare extensive monthly reporting knows the painful process of pulling data and piecing reports together. But, with Power BI's real-time reporting, data can be pulled directly from the source (like Workplace from Facebook). Once the report has been set up, Power BI pulls the latest data from the source, so your reports will always be shown in real-time.
#3 – Power BI Makes Sharing Simple
Of course, a business intelligence reporting solution wouldn't be complete if you couldn't share the data with relevant and interested parties. Need to show your CEO how their latest Live Videos are performing? Want your managers to see how effective they are in engaging their staff? Create separate, fully customizable Power BI reports for each person, and share the link with the people in question so they can see the real-time results!
#4 – Power BI Is Highly Flexible & Goes Where You Go
Power BI's reports are available via desktop, online, or mobile device. Highly flexible, you can take Power BI with you when you're on the road, in a meeting, working from home, or elsewhere. With Power BI, you have a number of options – you can download the desktop app to be able to build your reports, then show those reports via the web, or on mobile, should the need arise!
#5 – Power BI is Adaptable to Your Role
Power BI's versatile capabilities allow for it to be used to support multiple roles within your organization. As a communications professional, you need to look at different data and different reports than those employees in sales. Power BI can accommodate –you can customize your reporting to those in your department and build out and develop reports that would show specific data relevant to you. Dig into your Workplace from Facebook data, look for trends and insights, or even explore other business intelligence – let us show you how!
Ready to Integrate Power BI with Workplace to Enhance Employee Experience? This Free LinkedIn Event is For You!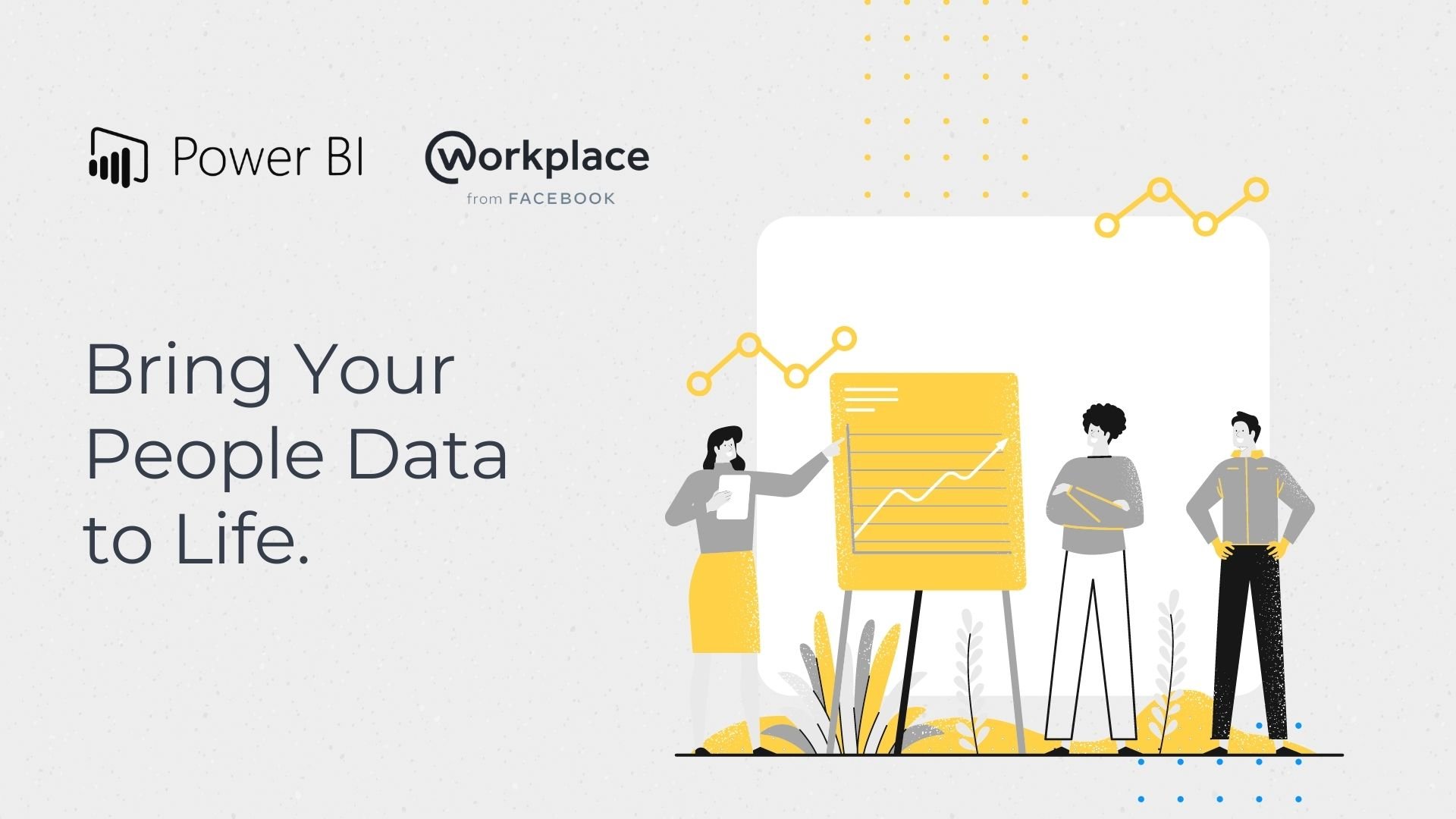 Join us on June 3, 2021 at 2pm EST for an interactive webinar on how integrating Power BI with Workplace can Enhance Employee Experience.
Data and analytics are just as important for the employee engagement and corporate culture side of your business.
How do you measure engagement?
How do you track things like employee retention, adherence to policies, or how effective your training regimen is?
How can you ensure your employees are satisfied with their jobs?
In this webinar, we're going to help you understand how Workplace from Facebook and Power BI combine to create a powerful data and analytics tracking tool that can help you answer these questions and more! Sign Up!
Kick Off Your Power BI and Workplace Implementation Today!
Ready to explore Workplace from Facebook and Microsoft 365's integration capabilities? Want to see how you can use both these powerful platforms to create your own better together story? LineZero is here to help!

Our Workplace Roadmap Engagement produces a visual blueprint of your organization's technology roadmap so that you know how to gather the right team of champions, define the right goals, and execute a methodical deployment plan that addresses your organization's existing technologies, processes, and people needs. Let's connect today – email us or book a call now!