Who wouldn't want to wear spooky costumes, play mystery games, collect candy, and watch spine-chilling horror movies on Halloween? Hosting a virtual Halloween party or even hosting some virtual games that employees can play or decorating the break room and offering treats will go a long way towards building better workplace relationships and engaging with everyone at work. Below, we will give you 7 fun innovative ways to celebrate Halloween in your workplace. Boost company culture with the Halloween Spirit! Read more to find out!
In this blog you will find:
7 Halloween ideas for employee engagement in a hybrid office
6: Host a Halloween Watch Party
Celebrate halloween with Workplace from Meta
7 Halloween ideas for employee engagement in a hybrid office
Spooky season is here, and companies are ready to celebrate Halloween remotely and in the office. Halloween is a great opportunity to connect with your co-workers, build interpersonal relationships, and push yourself out of your comfort zone. There are no barriers to celebrating Halloween, especially when it comes to Workplace from Meta. Bring together your team and start planning some spooky festivities. Here are 7 ways your team can celebrate Halloween in a hybrid environment!
#1: Virtual Halloween Costume Contest 👻
An innovative way to connect workers from around the world is by hosting a virtual costume contest! Encourage your team to get creative with their Halloween costumes and use Workplace from Meta to post your creative costume. To add a fun incentive, create categories and let people vote on a winner for the spookiest costume!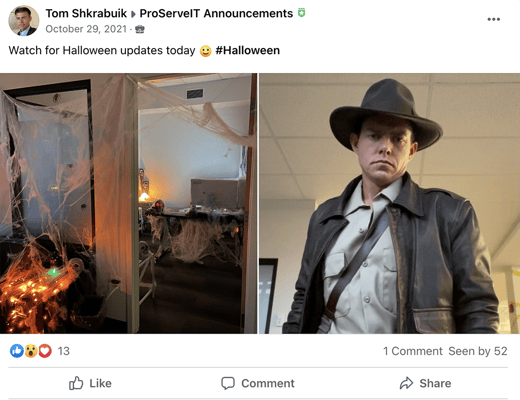 #2: Pumpkin Carving Contest 🎃
Hold a pumpkin carving contest to choose a winner! Create a post on Workplace introducing the contest and have team members post their photos in the comment section. A great way of voting is to like the best pumpkin that matches the spooky holiday. It is a fun and innovative way to get the family and kids involved as well as connecting with your team members!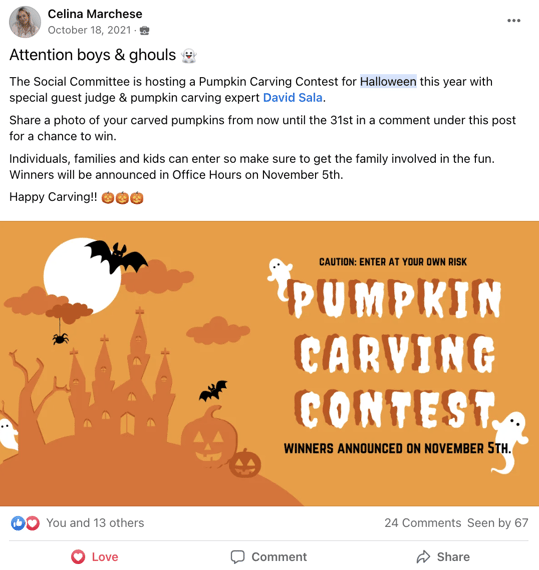 #3: Spooky Decorating Contest! 🪦
To engage employees working from home and in the office, encourage employees to decorate their offices with Halloween decorations. Create a post on Workplace and have other team members post their photos and vote on who has the best spooky office!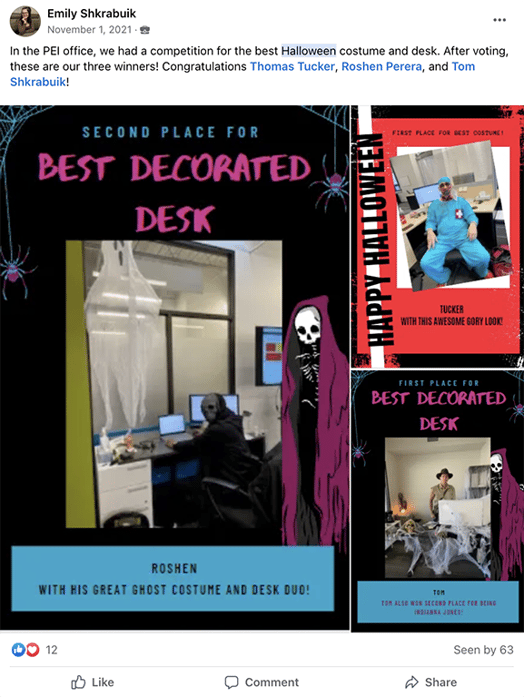 #4: Halloween Bingo! 🍬
In your next weekly meeting, host a fun Halloween bingo with Halloween candy as prizes for the winners! By emailing the Bingo cards out, you can gather multiple team members who are in the office and remotely to participate in this fun event!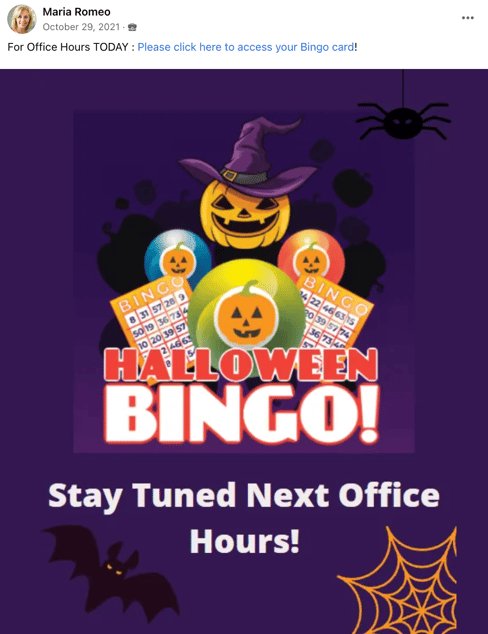 #5: Virtual Escape Room 👾
Escape rooms are a classic team building activity, and they are even better when planned around the spooky Halloween season. The Escape Game is one of the most popular virtual options for escape rooms. With Microsoft Teams, you can hold escape room events that serves as a great team building activity. What a creative way to get to build your teamwork with your coworkers!
#6: Host a virtual Halloween Watch Party 🤡
Have a spooky Halloween by watching scary movies online with your co-workers. Stream your favourite Halloween movies using any streaming service remotely and organize a Halloween watch party! Send your team members some popcorn and refreshments and encourage your team members to get comfy for a good scare.
#7: Spooky Playlist 🎵
Building a playlist with your team is a fun way to collaborate with remote employees and those in the office. Start a Spotify playlist and post a collaborative link on Workplace and ask everyone to contribute Halloween songs like Monster Mash to encourage festivities. Get in a spooky mood by listening to the playlist or play songs during your meetings!


Celebrate HALLOWEEN WITH WORKPLACE FROM META
Workplace from Meta serves as an all-in-one business communication tool that allows your company to celebrate Halloween online! Similar to a Facebook platform, your organization can create posts, share Halloween costumes, or even collaborate with other team members in one place. Ready to celebrate Halloween with Workplace? Contact us today to learn more about Workplace from Meta and how you can improve company culture and employee experience!
Not using Workplace yet?
Want to see how Workplace could take your internal communications strategy to the next digital level and help you to reach everyone across your organization in a more efficient and effective manner? Give us a shout! Through a live demo of the Workplace platform, we'll help you to brainstorm ideas on how to utilize Workplace to achieve your organization's goals and objectives around internal communications.
Already Using Workplace?
If you'd like to explore more opportunities to learn how to use Workplace to improve your internal communications strategy and be part of the corporate Metaverse, we'd love to chat! Give us a call if you want to learn how to use Workplace to enhance employee interaction and engagement.