Almost every industry requires employees to use technology in their work. Certain employers likely place higher importance on the digital employee experience than others. Your IT and HR departments, for example, would be impossible to operate without digital technology.
In this blog you will find:
What is Digital Employee Experience?
Digital employee experience is a metric that measures how successfully employees interact with digital technology at work, allowing them to be more engaged, competent, and productive.
Why Invest in Digital Employee Experience?
Both your employees and your organization benefit from improving the digital employee experience. When employees' digital interactions make their jobs simpler, they are happier and more productive. This aids the company's efforts to achieve its objectives.
1. Elevated Employee Experience 💻
Digital employee experience has an impact on the overall employee experience and can help with employee engagement, as previously indicated. Employees with access to useful digital tools are more likely to stay on the job. Consequently, your retention rate will improve.
Keep in mind that all employees must be able to engage in digital exchanges. Employees who spend their days on the road or on a factory assembly line, for example, will be alienated by tools that can only be used in the office on a desktop computer. A strong example of a successful digital employee experience interface is Workplace by Meta. Workplace can connect all members of large companies, ensuring they are in the loop and have the best digital experience. Workplace is native to not only desktop computers but also smartphones, making it extremely accessible to all lines of work.
2. Increased Productivity 📈
Many factors influence your employees' efficiency, but one of the most important is having the right tools to do their jobs. Easy-to-use technology increases the productivity of your employees' days, allowing them to complete more tasks. Take the Canadian-based company Tim Hortons for example. They utilized the Workplace from Meta system to establish an online platform for communicating across Canada. Employees can now see and communicate in real-time with other locations and spread insightful information as needed.
Ultimately, happy employees are productive employees, and this productivity will help make your business more profitable. In fact, according to a Fortune study, companies with happy employees do better financially.
Three Common Challenges of Boosting Digital Employee Experience & Ways to Counter-Act These Challenges.
Many organizations struggle with engaging a remote workforce or encounter significant resistance to change. Here are some ways to overcome the three most common challenges.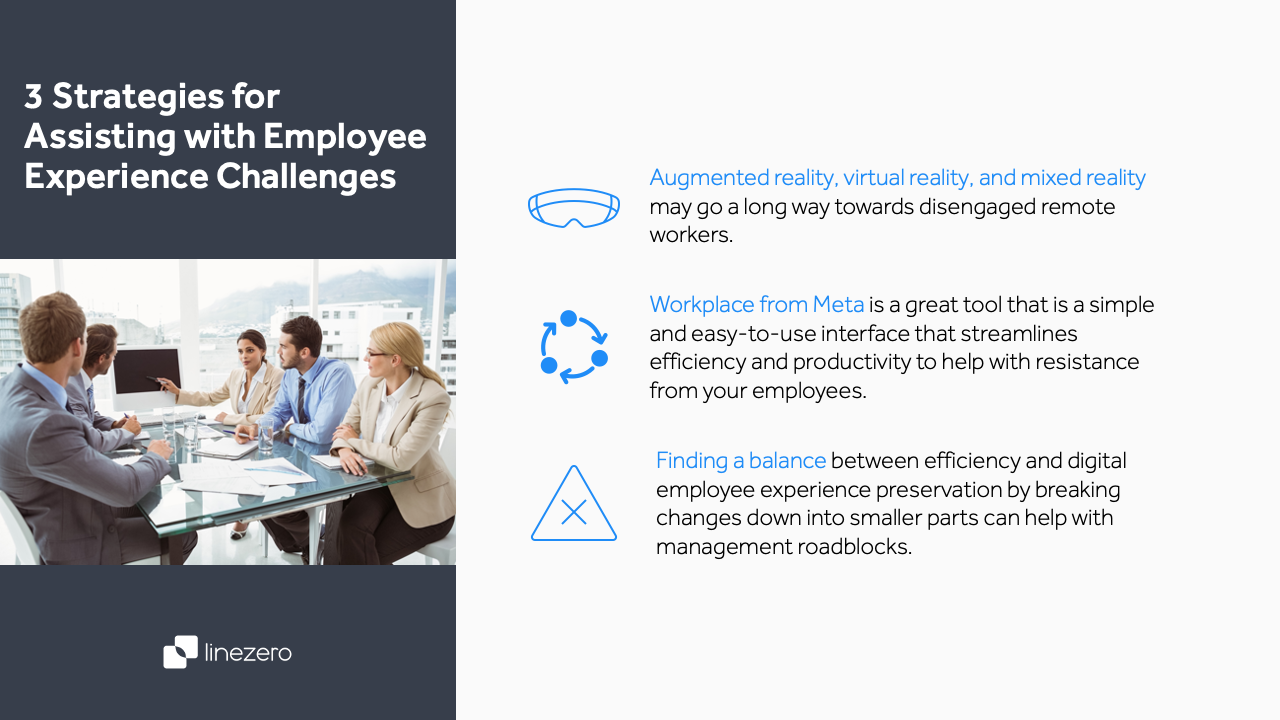 1.

Disengaged Remote Workforce

🎮
As strict government lockdowns took hold in 2020, remote and flexible working swiftly became the norm for many businesses. There have been several publications on how detached and disengaged remote workers feel from their jobs.
While continual communication can seem like the obvious solution to the issue, a different strategy may be required. To guarantee that employees don't feel lost or alienated while working remotely, augmented reality, virtual reality, and mixed reality may go a long way in promoting inclusivity toward hybrid workforces. Though not all organizations may not be ready to leverage these technologies, there is always time to start. Hosting virtual social events and highlighting different roles within the organization is a great way to promote engagement in a hybrid work community.
2. Resistance to Change 🧰
One of the biggest obstacles to bridging legacy IT to a contemporary digital workplace may be resistance from the employees. It can be difficult to keep up with the abundance of digital tools that are available to help consumers finish their work quickly. Numerous software programs attempt to enhance the digital employee experience but instead, they simply increase the difficulty, inefficiency, and confusion of the end-user. Complexity must decrease for productivity and efficiency to rise. And that's where businesses need to cut through the clutter and implement experience-focused, all-encompassing solutions. A great example of an experience-oriented platform is Workplace from Meta. It has a simple and easy-to-use interface that streamlines efficiency and productivity.
This however is where C-Suites become crucial since the success of your digital workplace transformation depends on how willing your organization's leaders are to participate. They must take the lead in pushing these reforms through the whole organization. Such projects cannot succeed without the backing and cooperation of the whole C-suite.
3. Change Management Roadblocks ⚖️
There will be several adjustments and transformations because of the use of digital technology. Employees will need to be taught, and workflows and corporate processes will also need to be altered. This organizational change will need careful preparation and flexibility. Trying to pack digital innovation into a tight time frame can lead to frustration and resistance. You may find a balance between efficiency and digital employee experience preservation by breaking changes down into smaller parts.
Instead of trying all the new tools at once, start with one. Take on one project at a time, with lots of aid and wiggle space. As you see your employee's usage of the tools in the field, you may learn and adjust your approach.
How Can LineZero Help Your Organization?
For many people, work is no longer a place; it is an experience. At LineZero, we operate in an ever-changing work environment. Through digitizing work, we are able to share the best-distributed work experiences while stimulating connection, communication, and collaboration. We want your team to operate together, whether they are servicing clients, on the road, collaborating in an office, or dealing with children while working from home.
We use Meta's Workplace, as it strengthens collaboration and supports a productive and connected organization. Its easy-to-use interface makes learning a breeze, and allows organizations to stay connected, regardless of the distance between their employees.
Not using Workplace by Meta yet?
Want to see how Workplace by Meta could take your internal communications strategy to the next digital level and help you to reach everyone across your organization in a more efficient and effective manner? Give us a shout! Through a live demo of the Workplace platform, we'll help you to brainstorm ideas on how to utilize Workplace to achieve your organization's goals and objectives around internal communications.
Already Using Workplace by Meta?
If you'd like to explore more opportunities to learn how to use Workplace to improve your internal communications strategy and be part of the Corporate Metaverse, we'd love to chat! Give us a call if you want to learn how to use Workplace to enhance employee interaction and engagement.