A Microsoft SharePoint intranet solution enables your team members to work together, work better, and, if necessary, work remotely. When combined with the powerful communications capabilities of Workplace from Meta, you get a beautiful "better together" story!
Your employees – from frontline workers to CEOs – need to be able to access to the files and documents pertinent to their jobs when they need them, and on the device that is most convenient for them. Working together, Workplace and SharePoint makes this possible.
In this blog, we'll talk about four great ways this is possible! Read on to learn more.
What's the Difference Between an Internet and an Intranet?
Before we get into the specifics of SharePoint and Workplace, let's address a question we get asked quite often: what's the difference between an Internet and an Intranet? It's a good question! In short, the key difference between these two similar words is that an Internet is an open, public network available to everyone, and an Intranet is a closed network, meant for a select group of people.
What is a SharePoint Intranet?
Simply put, SharePoint is a highly customizable Cloud-based Intranet platform that provides your organization with the ability to manage your content, track your processes, collaborate with colleagues, manage your business activities, and publish important company-wide information so that everyone can access it from any device.
With SharePoint, your entire organization can work better together, encouraging collaboration among teams, regardless of where they are in the world. SharePoint is included in all Microsoft 365 and Office 365 licenses for both business and enterprise SKUs. To learn more about SharePoint's features and benefits (in plain English!), check out this blog from our sister company, ProServeIT!
How to Increase User Adoption through SharePoint Intranet and Workplace: 4 Helpful Tips
Increasing user adoption makes perfect business sense – after all, you've spent time researching a possible solution and spent money to purchase it! One of the ways to ensure better user adoption is to explain "what's in it for them" – why should they be interested in the solutions that you've implemented?
Below, we've outlined four tips to help your "better together" story get the ROI that you're looking for!
User Adoption Tip #1 – Use SharePoint INTRANET Tagging Documents Feature to Eliminate Time Spent on Searching
There is nothing worse than having to spend time searching for the document you need, when you need it. One of the reasons for resistance in adopting SharePoint is that many organizations don't utilize the tagging feature that comes with SharePoint.
Tagging documents allows your organization the opportunity to assign keywords (or tags) to your content. This means that you can speed up the time it takes for your employees to find the documents and content they need the most simply by including some keywords that would make it easier for them to search for the documents.
Although SharePoint doesn't have a set length for tags, a good best practice is to use single words or short phrases. i.e. If "Fiscal Year 2021 Budget" is the tag you want to use, consider shortening it to "FY21 budget" instead.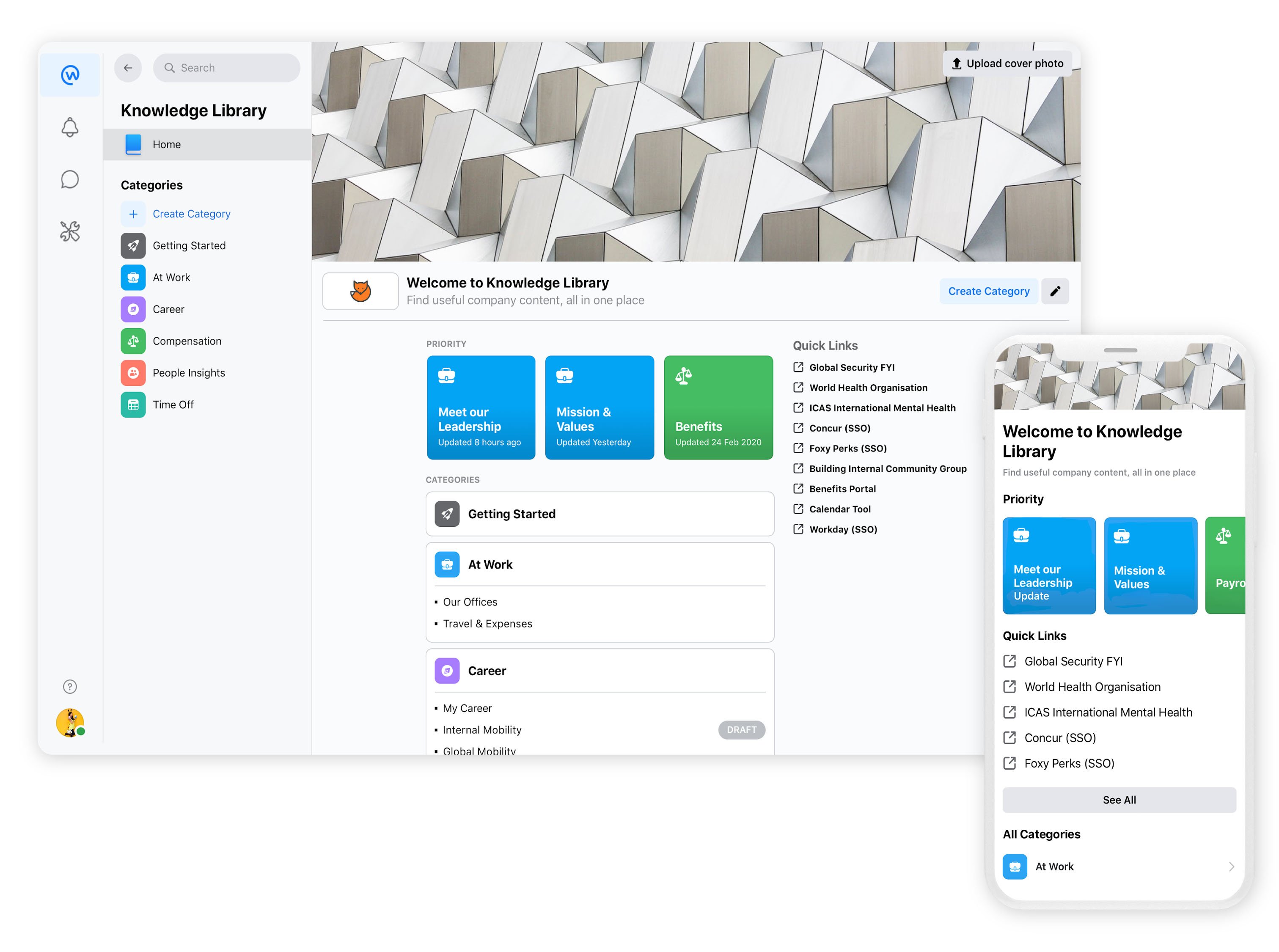 Not only can you use Tagging to make content easier to search for, but you can also pin content to a Workplace post, or inside Knowledge Library!
User Adoption Tip #2 – Use SharePoint INTRANET Audience Targeting to Narrow Down Content that's Relevant to Them
With SharePoint's Audience Targeting, you have the opportunity to target who in your organization would be able to see what content. For example, you can use Audience Targeting if you want your sales team to have access to certain documents, and your finance team to have access to other content. This simplifies your employees' experiences using SharePoint, because rather than having to sort through all of the content in your SharePoint intranet, they will only see the content that is relevant to them.
SharePoint and Workplace: Better Together at Targeting the Audiences You Want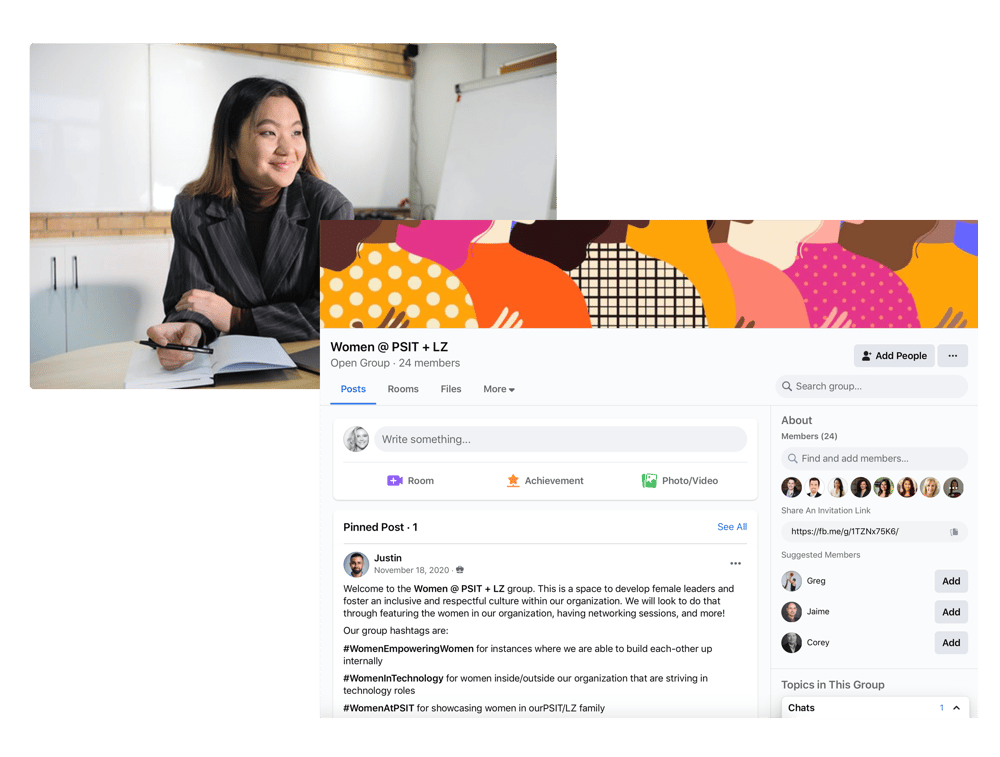 Audience targeting is also made easier when you bring Workplace Groups into the mix. In addition to targeting the audience within SharePoint, you can also pin or post content to a Workplace post in specific Groups, which would allow the members of that group to see those posts and access the content that is relevant to them.
User Adoption Tip #3 – SharePoint INTRANET Views Create An Easy Way for Employees to Find Content
Views is another way for you to organize your files in your SharePoint environment. Instead of making your employees browse through a large document library each time, SharePoint Views lets your employees create and save a filtered view that leverages tagging.
For example, let's say your sales team continually works on Requests for Proposals (RFPs). Leveraging the tagging feature we spoke about earlier in the blog, they could tag those RFPs in such a way that, when they create an "RFPs" view, each of the documents they work on are pulled into that specific View. Multiple Views can be created, as it's simply a matter of filtering through the tags that have already been created.
SharePoint and Workplace: Better Together at Managing Content that's Needed
After they have created their view(s) in SharePoint, employees can anchor that content within Workplace. For your people, it will seem as though they are not leaving Workplace to access their SharePoint content! Employees will be able to access that content right from Workplace through the integration capabilities between the two systems.
User Adoption Tip #4 – Show off the Benefits of Integrating SharePoint Intranet and Workplace!
You may be sensing a theme here but increasing user adoption is all about how to make it easier for your employees to access the content they need, when they need it! In each of the tips above, we've talked a little bit about how you can integrate SharePoint and Workplace for a better together story – making the most out of the platforms you're using.
But the reality is, when you integrate your disparate systems into a single source of truth, and you're able to make the seamless transition between where your employees are spending their time (i.e., Workplace) and where their content is stored (i.e., SharePoint), you're making it so much easier for those employees to answer the age-old question; "What's in it for me?".
Ready to learn how? Chat with our experts on how the integration capabilities of Workplace and Microsoft 365, which includes SharePoint, can create your own "better together" story!
SharePoint Intranet and Workplace Together = Increasing User Adoption Like a Boss!
These tips that we've provided are, no pun intended, just the tip of the iceberg when it comes to how great these two systems – SharePoint Intranet and Workplace from Meta – work together. We know for a fact that the organizations that are employing SharePoint and Workplace together are exponentially more efficient.