In today's hybrid work environment, having a comfortable and convenient working space is more important than ever. Meta Portal becomes a useful productivity tool for your home office, boosting your productivity and employee experience. With the Portal, your company can connect and collaborate easily with employees who are working remotely. The device acts as an innovative and creative way to work remotely with the many features it offers.
Explore the main features of Meta Portal and how it will pave the way for your future of work by reading more below!
In this blog you will find:
Connect and collaborate with Meta Portal
The Metaverse with Meta Portal - Future of Work
What is the Meta Portal?
Think of the Meta Portal as your second monitor that allows you to bring video calling experiences to MacOS and PCs. Thus, Meta Portal makes it easier to feel connected with your co-workers even when you are miles apart. The device is compatible with many work applications like Zoom, Microsoft Teams, Workplace from Meta, and more. Your Portal includes features that are normally used in online meetings like, video call screen sharing, breakout rooms, calendar integration, and recording meetings. With a built-in assistant, your Portal uses Alexa to create to-do lists, check your calendar, see if your package is at the front door and more.
When Meta Portal is not used for meetings, the device can become an entertainment screen that is easily portable and accessible. You can recharge in-between calls and meetings with music streaming or display your loved ones as a photo frame when your Meta Portal is not in use. As well, you can binge movies and shows with friends and family during your off-time.
With Meta Portal, your trusted calling apps and built-in tools empower you and your employees to work together in more productive ways.
Connect and Collaborate with Meta Portal
While the Portal offers many features, the main benefit of the device is enhancing remote employee experience. This is done with the innovative Smart Camera and Smart Sound. The Smart Camera automatically adjusts to stay with the action, even if you're moving around the kitchen in the middle of a meeting. It automatically pans and zooms to keep up with the action allowing you to move and talk freely and always stay in frame. As well, with Smart Sound, you can speak freely while the device minimizes background noise. This innovative feature allows employees, located in different areas around the world, to authentically connect and collaborate within meetings and other settings. It can be used in a fun and creative ways!
To boost your productivity, you can work more efficiently with a dedicated calling screen. On calls, free up your laptop to take notes and quickly share documents with coworkers. With the Portal Calendar app, you can spend less time managing your work by organizing your meetings in one place and join easily with the supported video conferencing app. As well, Portal supports 'Duet Display', an application that extends the screen of a PC or MacOS to allow users to drag open windows like they would with a second monitor. Meanwhile, the new 'Meta Portal Companion' app for MacOS puts Portal call controls in a MacOS widget, providing shortcuts for screen sharing, muting and volume adjustment, as well as sending meeting, video, and website links to a paired Portal.
These many features allow Meta Portal to enhance employee experiences in a new and innovative way to connect and collaborate with just a screen. But as technology continues to evolve and grow in the market, Meta Portal will continue to transform to explore the future of work.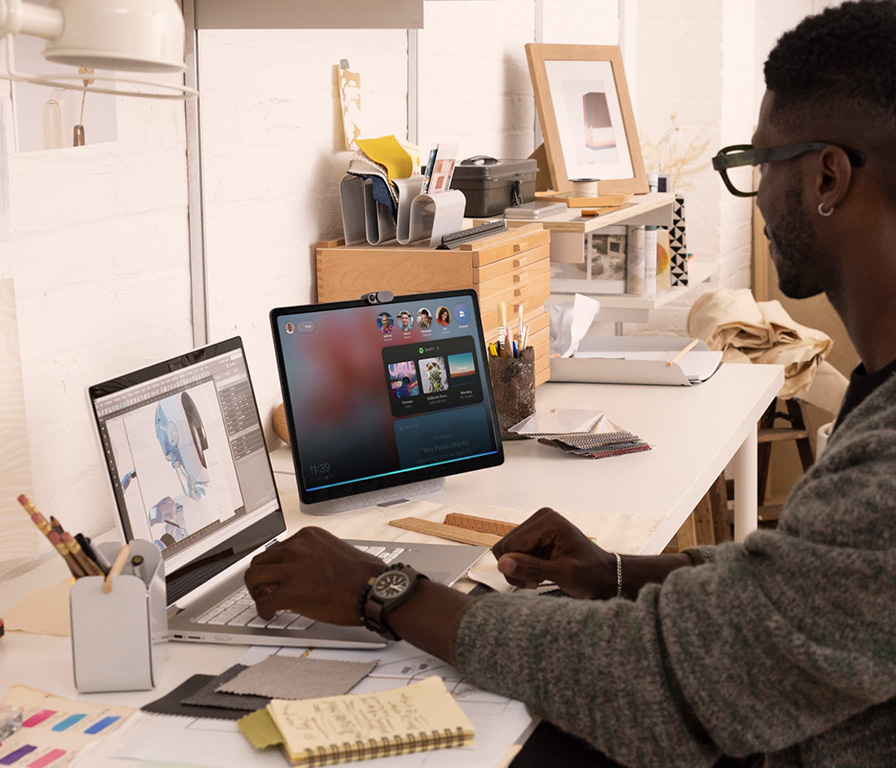 Resource
The Metaverse with Meta Portal - Future of Work
With a feature like Smart Camera, Meta Portal is one step closer to the future of work – The Metaverse. In the future, the Metaverse will be a digital environment where people connect, work, socialize, and create. It is an immersive digital experience that uses VR (virtual reality) and AR (augmented reality) technology to step into the virtual world. The Meta Portal serves as another gateway to enter the Metaverse even as it continues to transform digitally. And we can help you discover the Metaverse with Workplace from Meta!
Compatible with Meta Portal, Workplace from Meta helps bring your organization into the Metaverse while enhancing employee experience and corporate culture. As a Meta Partner, we can help you unlock the future of work by making proactive investments in the early stages of the Metaverse to position you and your organization ahead of other industry leaders. We'll help you create immersive onboarding experiences that close the distance between your people and your business, much like Meta Portal does. Are you ready to part of the Metaverse?
The future of work can be scary, and we can all work together to make the transition to the Metaverse easier. If you have any thoughts about the future, let us know below!
Already Using Workplace?
If you'd like to learn how to take your Workplace platform to new heights and increase employee experience in the workplace to produce better results, we'd love to chat! Give us a shout and we'll help you create a strategy to put employee engagement first.
Not using Workplace yet?
Want to see how Workplace could take employee experience to the next level? Give us a shout! We'll help you to brainstorm ideas on how to utilize Workplace to achieve your organization's goals and objectives.
From this brainstorming session, we'll help you to see a visual blueprint that will show you how your existing technologies and Workplace from Facebook can integrate to help close the gaps between your business goals and objectives and your technology capabilities.