In today's fast-paced digital age, effective collaboration and communication are essential for businesses to thrive. Workplace from Meta offers a powerful solution for organizations seeking to enhance teamwork, streamline communication, and foster a productive work environment.
This blog aims to guide new users in navigating and using Workplace efficiently, ensuring a smooth onboarding process and maximizing the platform's capabilities.
In this blog, you will find:
🗝️ Understanding the Key Features of Workplace
🚀 Getting Started with Workplace: A Step-by-Step Guide
🎯 Six Best Practices for New Users
📚 Conclusion and Additional Resources
---
Understanding THE

key features OF WORKPLACE

Before diving into the specifics, let's gain a comprehensive understanding of Workplace and its key features.
News Feed:
The News Feed acts as the central hub for updates, announcements, and discussions within your organization. It resembles a social media feed, allowing users to post, comment, and react to content shared by colleagues. Make sure to customize your News Feed preferences by following relevant people, groups, and topics to ensure you receive the most relevant updates. Take the time to explore different types of content shared on the News Feed, such as articles, images, videos, and polls, to get a sense of the variety of information available.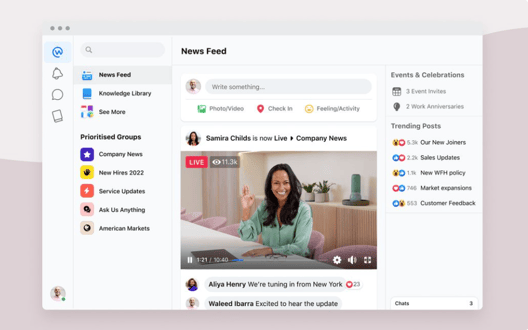 Groups:
Groups provide a dedicated space for teams, departments, or projects to collaborate and share information. They enable focused discussions, file sharing, and document collaboration among members. When joining groups, take the time to explore existing content, introduce yourself, and contribute to discussions. You can also create your own groups for specific projects or interests and invite relevant colleagues to join. Ensure that you join groups aligned with your role and interests to stay informed and engaged.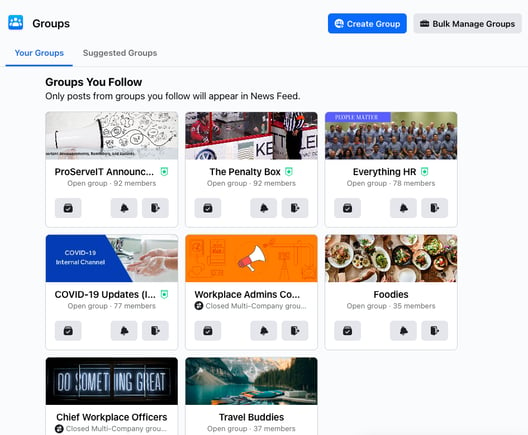 Chat:
Workplace's Chat feature offers real-time messaging for quick and direct communication. It allows users to have one-on-one conversations or create group chats for team-wide discussions. Utilize chat for informal conversations, quick questions, or sharing updates that may not require a formal announcement on the News Feed. You can also utilize chat to coordinate tasks, share files, and collaborate in real time. Explore the different features of chat, such as gifs, emojis, and message reactions, to make your conversations more engaging and expressive.
Video Calling/Meetings:
Video Calling enables virtual face-to-face interactions and meetings, regardless of geographical location. With high-quality video and audio, teams can connect seamlessly and collaborate effectively. When scheduling and attending video meetings, ensure you have a stable internet connection, use a suitable backdrop, and engage with participants actively. Make use of features such as screen sharing and collaborative whiteboards to enhance collaboration during meetings. Familiarize yourself with the different options for scheduling and joining video meetings, such as through chat or calendar integrations.
Knowledge Library:
The Knowledge Library serves as a centralized repository of resources, documents, and important information. It ensures easy access to company-wide knowledge, making it a valuable asset for new employees. Explore the Knowledge Library to find valuable resources, such as company policies, guidelines, templates, and training materials. If you come across helpful content that is missing, consider contributing by uploading relevant documents or sharing links to external resources. Take advantage of the search functionality to quickly find the information you need and utilize folders or tags to organize content effectively.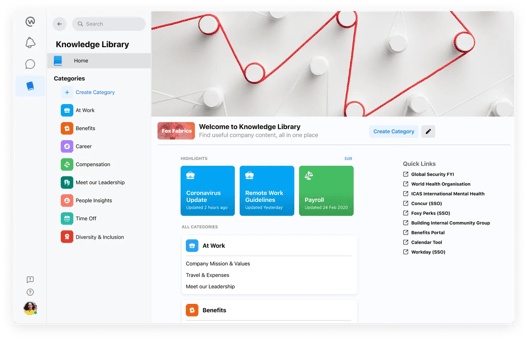 Getting Started with Workplace: A Step-by-Step Guide
To help new users hit the ground running, here is a step-by-step guide to getting started with Workplace.
1.
Create Your Account:
Begin by signing up for Workplace using your organization's email address. Follow the registration process and set up your profile with relevant details. Add a professional profile picture and fill out your bio to provide colleagues with context about yourself. Customize your notification settings to ensure you receive important updates without being overwhelmed.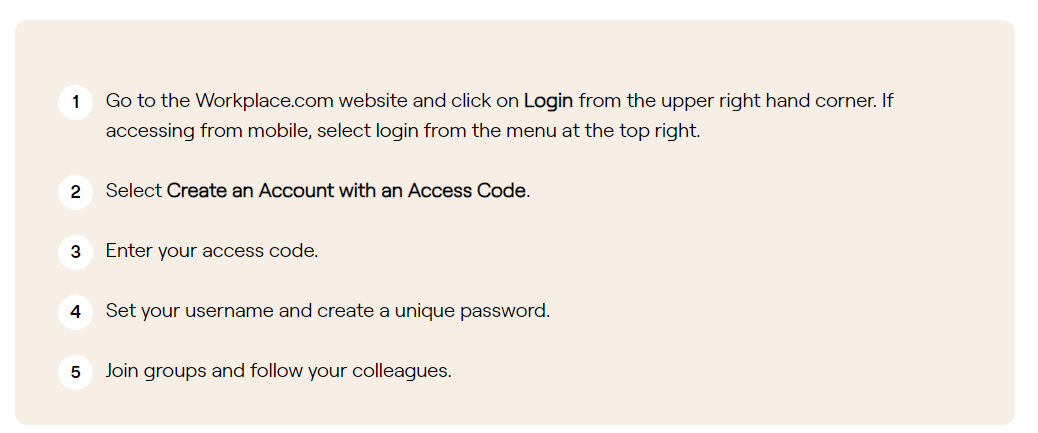 2. Explore Your News Feed:
Familiarize yourself with the News Feed by scrolling through the latest updates. Engage with posts, comment on discussions, and start connecting with your colleagues. Pay attention to the types of content shared and the tone of conversations to get a sense of the organizational culture and norms.

3. Join Relevant Groups:
Identify and join groups that align with your role, interests, or projects. Groups are instrumental in facilitating collaboration and ensuring information sharing within specific teams. Take the time to explore existing group content, introduce yourself, and engage in discussions. If you can't find a group that covers your specific area of interest, consider creating one and inviting relevant colleagues to join.
4.

Utilize Chat for Direct Communication

:

Leverage Workplace Chat to have direct conversations with colleagues. Initiate chats, share files, and seek quick clarifications, promoting efficient communication. Use chat as a supplement to email or in-person conversations, particularly for time-sensitive or informal discussions. Ensure you respond promptly to messages and use appropriate language and tone.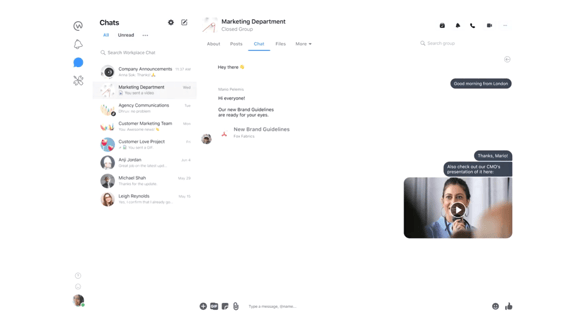 5. Schedule and Attend Video Meetings:
Take advantage of Workplace's Video Calling feature to schedule and participate in virtual meetings. Ensure your setup is conducive to video conferencing, with proper lighting and a distraction-free environment. Familiarize yourself with the meeting features, such as screen sharing and recording, to make the most out of your collaborative sessions. Before a scheduled meeting, send out an agenda or relevant materials to participants to ensure everyone is prepared.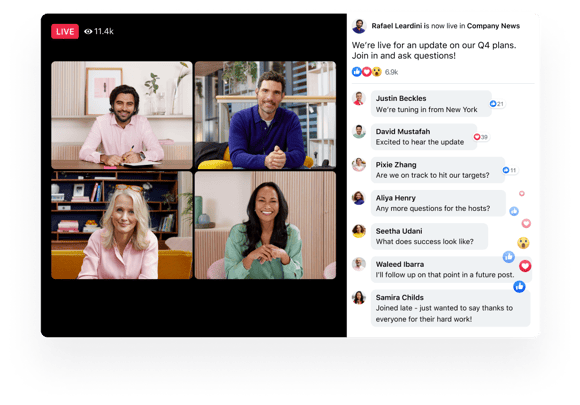 6.
Explore the Knowledge Library:
Access the Knowledge Library to find valuable resources, company policies, and important documents. Familiarize yourself with the available content to enhance your understanding of your organization. Use the search functionality to quickly find relevant information, and consider bookmarking frequently referenced documents for easy access. If you discover outdated or inaccurate information, notify the relevant stakeholders to ensure the knowledge repository remains reliable.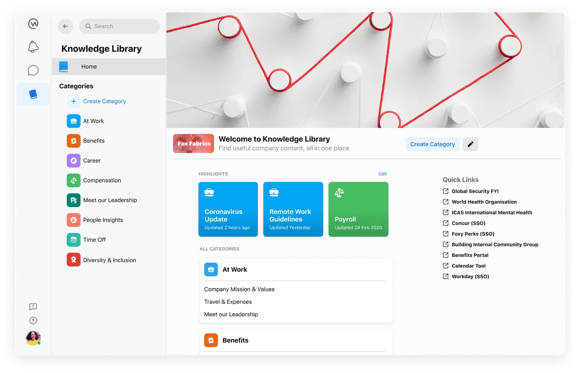 Six Best Practices for New Users
To optimize your experience with Workplace, here are six best practices for new users.
Engage Regularly and Meaningfully:
Actively participate in discussions, share updates, and provide feedback. Regular engagement fosters a sense of belonging and helps build connections with colleagues. Be respectful and professional in your interactions, and promote a positive and inclusive work culture. Avoid excessive self-promotion or unrelated content and focus on adding value to discussions.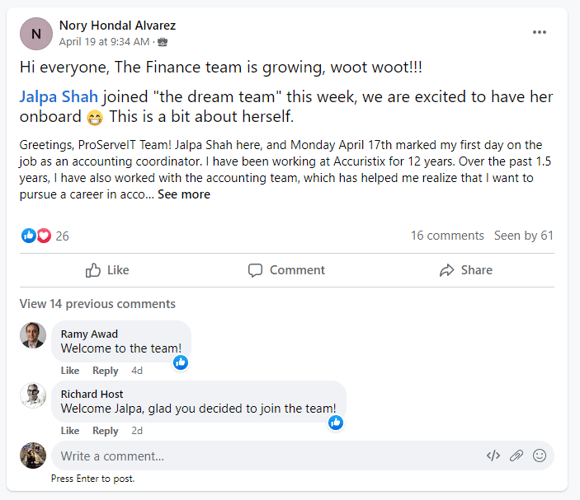 Create and Use Groups Effectively:
Establish and contribute to relevant groups to collaborate efficiently within your teams. Ensure the group's purpose is clear, and encourage participation from all members. Utilize group features such as polls, files, and events to facilitate discussions and information sharing. Set clear expectations for group members regarding posting guidelines, response times, and overall group etiquette.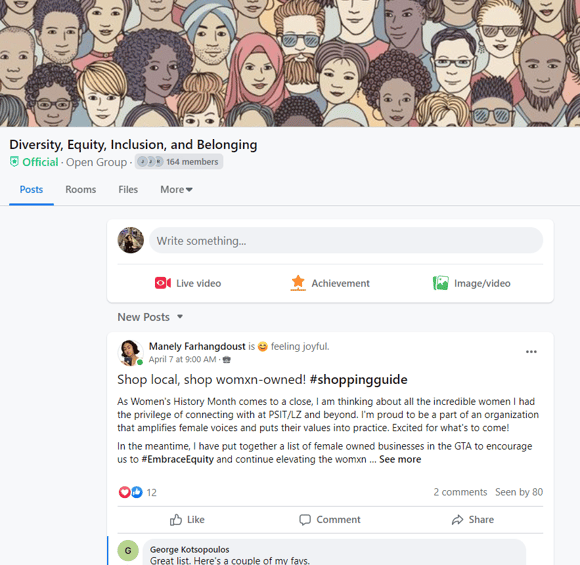 Make Use of Video Calling for Effective Meetings:
When conducting virtual meetings, ensure a stable internet connection, use a suitable backdrop, and engage with participants. Encourage active participation by allowing everyone to voice their opinions and ideas. Maintain professional etiquette, such as muting your microphone when not speaking and avoiding distractions. Share meeting agendas and follow up with meeting summaries or action items to ensure everyone is aligned.
Update and Share on Your News Feed Regularly:
Keep your colleagues informed by sharing updates, important milestones, or useful resources on your News Feed. This promotes transparency and knowledge sharing within the organization. Consider using rich media such as images or videos to make your posts more engaging. Remember to respect confidentiality and privacy concerns when sharing information on the News Feed.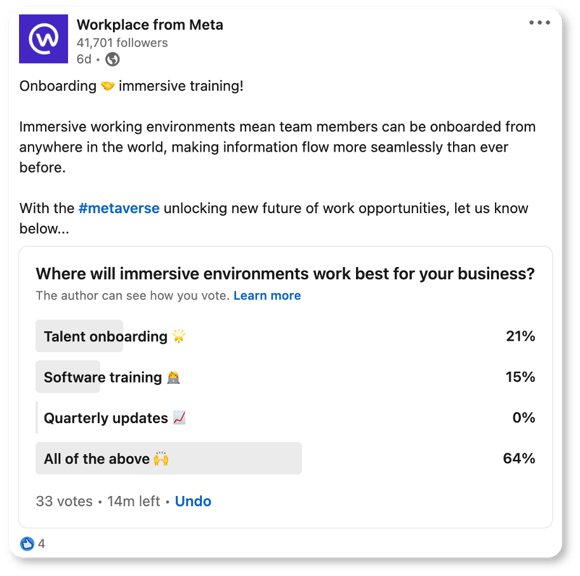 Leverage the Knowledge Library for Company-wide Resources:
Explore the Knowledge Library for documents, guidelines, and resources relevant to your work. Contribute by sharing valuable content that might benefit your colleagues. If you discover outdated or inaccurate information, notify the relevant stakeholders to ensure the knowledge repository remains reliable. Consider collaborating with subject matter experts to create and curate content for the Knowledge Library.
Stay Updated and Explore Additional Features:
Workplace constantly evolves, introducing new features and improvements. Stay informed about updates through official announcements, training resources, and community forums. Take the initiative to explore additional functionalities that could enhance your productivity and collaboration. Keep an eye out for new integrations or apps that can integrate with Workplace to further streamline your workflows.
Conclusion and Additional Resources
As a new user, adopting Workplace from Meta can significantly improve your collaboration and communication capabilities. By understanding its features, following the step-by-step guide, and implementing best practices, you can personalize your Workplace experience and contribute effectively to your organization's success. For further guidance, consult the Workplace Help Center and Workplace Academy.
LineZero, a leading Workplace consultancy, can provide expert assistance in navigating Workplace's intricacies and tailoring the platform to your organization's needs. Our consultants can offer personalized training sessions, strategic advice, and ongoing support to help you unlock the full potential of Workplace.
Looking for ways to enhance team collaboration and communication?
Contact Us Today to Elevate Your Workplace Experience!
Don't hesitate to reach out to LineZero to revolutionize your team's collaboration and maximize the benefits of Workplace! Remember, effective utilization of Workplace can transform the way you work, bringing your team closer together and fostering a culture of collaboration and innovation.