Many employees believe that a compliment, rather than compensation, makes all the difference when it comes to feeling valued at work. Employees who believe they are valued by their employers are more engaged, productive, and loyal to their organizations. Giving employees the recognition they deserve is the key to making them feel valued.
There are multiple ways to recognize employees. If done correctly, recognition can be one of the most powerful drivers for building a positive company culture. It has an impact on relationships, happiness, and values - everything that you want your organization to be known for.
In this blog, we discuss why it's necessary to recognize your employees, the 4 recognition maturity levels, and ways that can help bring your employee recognition to the next level!
Why it's Necessary to Recognize Your Employees
There's no doubt that every person desires to be recognized for their efforts. People like to see the outcomes of their work and feel they've done a job well. With a new normal transforming the way we work in the modern workplace, organizations are starting to realize how important it is to recognize employees, or better yet, how necessary it is. Yet, some leaders generally wait until the annual performance review day to provide feedback and recognition.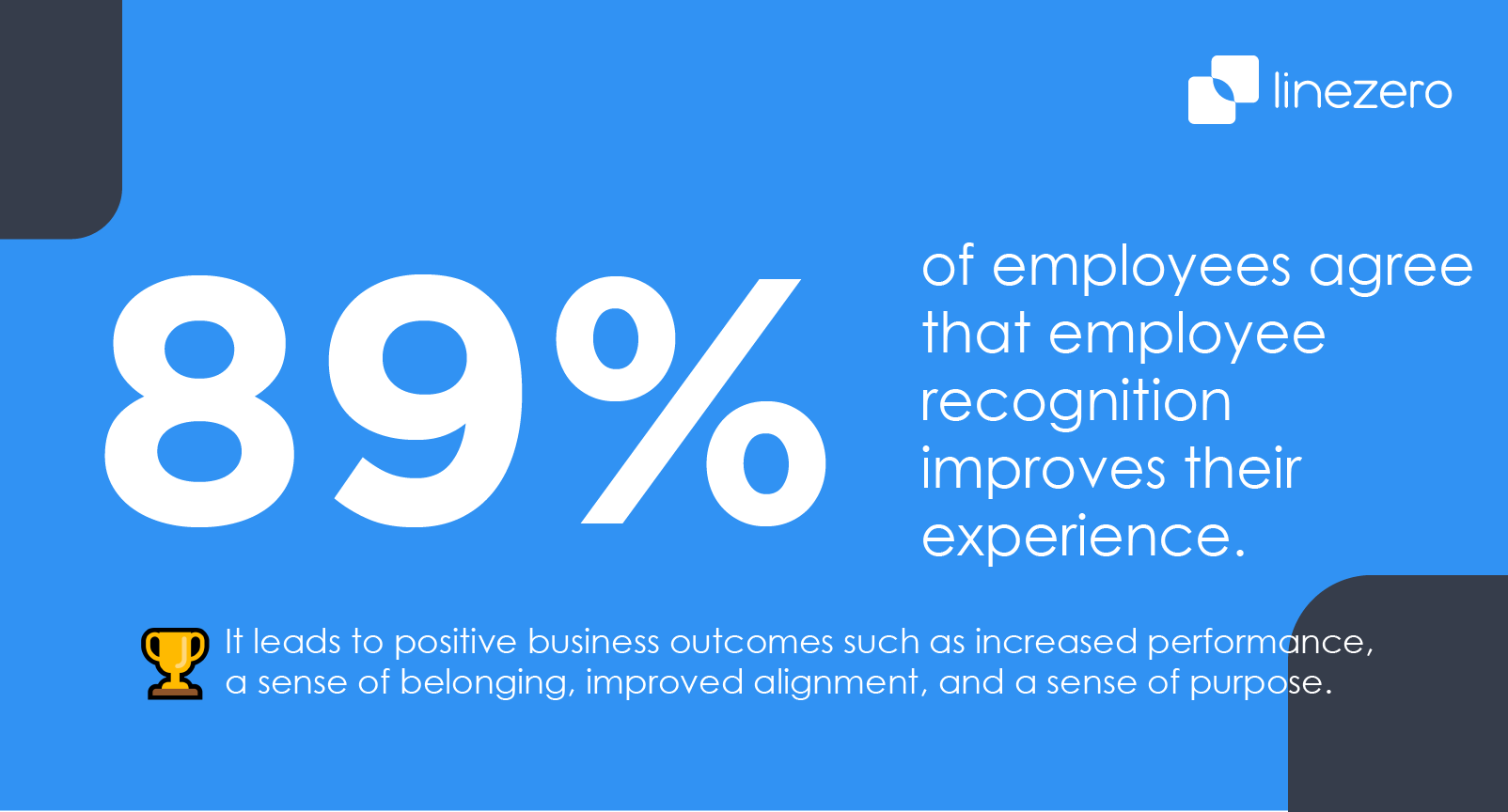 According to research, 89 percent of employees agree that employee recognition improves their experience. It leads to positive business outcomes such as increased performance, a sense of belonging, improved alignment, and a sense of purpose. Leaders are encouraged to recognize their employees on a regular basis, rather than just on one day of the year. However, this can only happen if employee recognition becomes ingrained in a company's culture.
The question is, as always, how do you do it? How do you bring out the best in others, show that you care, and make work more meaningful? Not just for those who have worked there for years. How do you make employee recognition a part of your everyday company culture?
4 Recognition Maturity Levels
It's not just about giving recognition; it's about how it's given. What works for one employee may not work for another. It's important to show your employees that you truly care by tailoring the way you recognize them to the way they like to be recognized. It's a small gesture, but one that makes a difference in employee experience.
As we all know there are different forms of employee recognition. Here are 4 recognition maturity levels with useful ways that you can start incorporating into your employee recognition strategy. Whatever level you are at, if there is recognition in your organization, you have the necessary foundation of building blocks to advance to the next level.
⭐Level 1: Recognition is casual and takes place through word of mouth. This level of recognition may be heard in a meeting or shouted out during office hours. You can start incorporating this type of recognition into your culture by using the "go live" feature on Workplace.
⭐Level 2: Have a designated space for recognition in your system of engagement. This level of recognition begins to feel intentional. On Workplace, you can create an open group dedicated to company-wide employee recognition. We're starting to move toward a recognition-based culture here.
⭐Level 3: Let's talk about gamification. Where behavioural and cultural shifts are noticeable, recognition is now considerably more proactive than reactive. Contests, challenges, and leaderboards all fall under this category.
⭐Level 4: Implementing a recognition platform to streamline. At this level, recognition is consistent across your organization, and gamification is a part of the business strategy. Start by installing an employee recognition platform such as Recognize, which can live within Workplace, to make employee recognition an instant delivery.
Remember that recognition is a precious gift. It allows us to acknowledge all the hard work, share learnings, and build relationships. Be genuine and timely. As a result, a culture of recognition and care will emerge.
Ready to Take Your Employee Recognition to the Next Level?
In this blog, we've explored the why employee recognition is necessary, the 4 recognition maturity levels and ways that can enhance your employee recognition. So, if you're ready to boost your employee recognition, give us a shout and let's chat!
Already Using Workplace?
If you'd like to explore more opportunities to learn how to use Workplace to improve your internal communications strategy, we'd love to chat! Give us a shout and we'll help you understand how to use Workplace to provide greater employee interaction and engagement.
Not using Workplace yet?
Want to see how Workplace could take your internal communications strategy to the next level and help you to reach everyone across your organization in a more efficient and effective manner? Give us a shout! Through a live demo of the Workplace platform, we'll help you to brainstorm ideas on how to utilize Workplace to achieve your organization's goals and objectives around internal communications.