How can you create an exceptional cross-functional team? What boundless opportunities lie ahead if you successfully implement cross-team collaboration? In this blog, we'll explore these questions to find out if cross-team collaboration will give your organization more clout. Read on to learn more!
Why is cross-team collaboration important?
Cross-team collaboration occurs when colleagues who don't normally work together bring their various areas of expertise to a collaborative project. For example, the product development team collaborates with the sales and marketing departments to release a new product. Bringing together the experience of the people who developed the product and know all its inner workings, the sales team who knows your market, and the marketing team whose job it is to speak the language that's most attractive to your customers and prospects, and it's easy to understand how cross-team collaboration can be more beneficial for your organization!
What are

some of

the benefits of cross-team collaboration?
Cross-team collaboration has many benefits. Below, we've outlined our thoughts on three key benefits:
1. Rapid progress
Your organization is growing, and that means your divisions are, too. As your organization grows, these divisions become, well, divided. Teams become more and more specialized. Silos form and collaboration and team-building fail.
Unfortunately, when several functions work in silos in your organization, progress can come to a screeching halt. Isolated teams reduce effective two-way communication, and decrease operational efficiency.
To slingshot your organization's progress so that you can shoot for the moon, you need to break down these silos and provide an atmosphere that supports and promotes cross-team collaboration.
That's where Workplace fromMeta (Workplace) comes in. Workplace is more than simply a chat application; it's a set of tools that can integrate with your existing work tools to give you and your team easy, familiar ways to communicate information with the appropriate people at the right time. With Workplace, you can keep everyone in the loop and on pace to meet your objectives, and colleagues who may not have worked with each other in the past can brainstorm, collaborate, and come up with new ways of achieving the organization's goals and objectives.
2. Heightened employee engagement
Employees who are more engaged at work drive the performance of the business. Engaged employees are able to see the big picture view of the company and really understand their purpose – how they fit in with its overall strategy, objectives, and goals.
When you allow cross-team collaboration, you allow your employees to better understand their place in the organization, and how their work impacts your organization's goals and objectives. This, in turn, increases employee engagement.
Effective communication is also critical when it comes to remote working, which, by all accounts, seems to be here to stay – at least for some industries. If teams are no longer working side by side in an office environment, there must be a quick and easy manner for them to ask each other questions.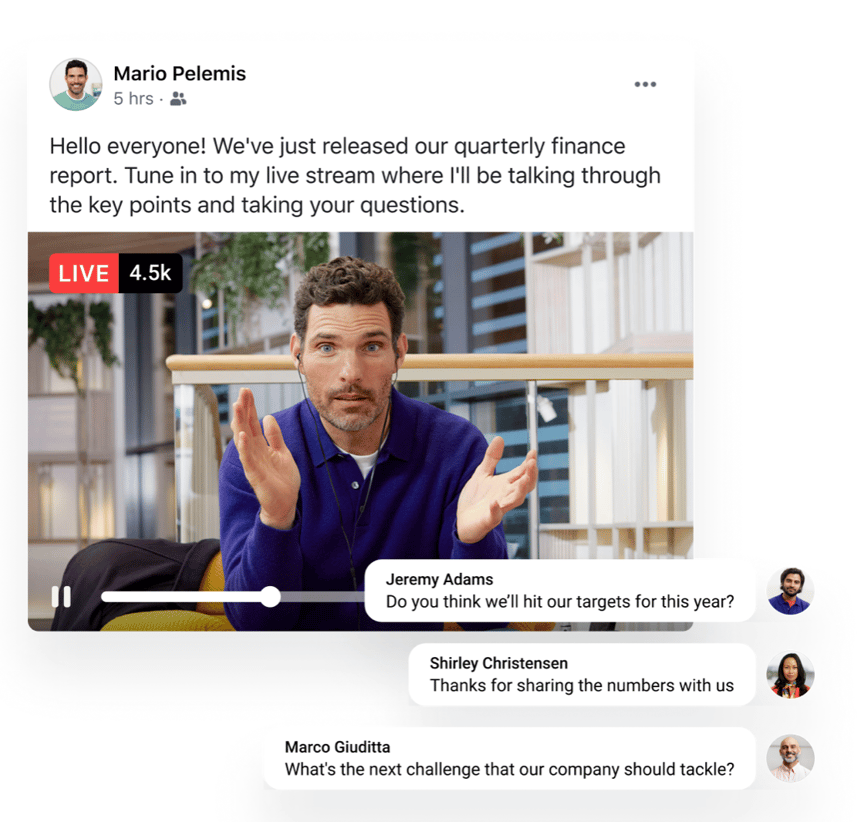 Workplace provides a way to achieve all this. With features like News Feed, Chat, Org Chart, and more, Workplace, built on the familiar Facebook platform, makes it easy for your teams to collaborate – and it can be done from any device, too! Your organization can also use Workplace Rooms to host video conversations with up to 50 people, or use instant messaging to bring your team together.
3. Discover new ways of thinking
Collaborative teams explore fresh views by bringing people together to discuss a variety of ideas, experiences, and topics. If given the opportunity to do so in a psychologically safe space (i.e. a space where people feel safer to explore and take chances), they can not only work together better, but they can discover new ways of thinking. Brainstorming is an art that helps to break down the barriers to innovation. With brainstorming, and with discovering new ways of thinking, employees can share their expertise, and develop solutions that are applicable across the organization, saving you time and money.
A collaborative platform that works to facilitate this safe space is necessary. Workplace Groups are spaces where colleagues or clients may discuss projects, pass along important information, and securely share documents – all while lending complete transparency and visibility to ongoing projects. Members of the Group can upload, share, and keep an infinite number of files, as well as collaborate on projects in real time.
Integrations with solutions like SharePoint can also help your staff collaborate more efficiently with the tools they use every day. Working in a group also provides an instantly available and secure record, ensuring that you have a complete project timeline.
Ready to take your cross-team collaboration to the next level?
In this blog, we've explored not only what cross-team collaboration is, but why it's important for your organization, and how you can get started using Workplace from Meta as your cross-team collaboration solution. So, if you're ready to embrace your new collaborative workplace solution, give us a shout and let's chat!
Already Using Workplace?
We'd love to show you how Workplace can become your new digital workplace solution. Give us a shout and we'll help you create a strategy that will show you how to turn Workplace into your new digital workplace solution!
Not using Workplace Yet?
Want to further explore how a digital workplace solution, like Workplace from Meta, could help you take your success to the next level? Give us a shout! We'll help you to brainstorm ideas on how to utilize Workplace to achieve your organization's unique goals and objectives. From this brainstorming session, we'll help you to see a visual blueprint that will show you how your existing technologies and Workplace from Meta can integrate to help close the gaps between your business goals and objectives and your technology capabilities.