Diversity, equity, and inclusion (DEI) is a commonly used term used to promote representation of different groups of individuals, including people of different ages, races, ethnicities, abilities, and disabilities, genders, religions, cultures, and sexual orientations. Many organizations understand the importance of creating a diverse and inclusive workplace culture. To ensure the effort to do so does contribute to creating an environment where people from diverse backgrounds are welcome and can thrive, it is important to understand what each of the terms means and the different layers of diversity in the workplace.
In this blog you will find:
📖Breaking Down the Meaning of Diversity, Equity, and Inclusion
🌍 Diversity
⚖️ Equity
🤝 Inclusion
😎 The 4 Layers of Diversity in the Workplace
🤝Bringing Company Values to Life
Breaking Down the Meaning of Diversity, Equity, and Inclusion
What does it mean to have diversity, equity, and inclusion within a workplace? The answer is not always as simple as it seems. It is important for your business to understand what it means to be diverse, equal, and inclusive to create and maintain a successful workplace. If your company wants to truly be a place where innovation and ingenuity thrives, then diversity, equity and inclusion serves as your foundation. Therefore, employers must actively work to create meaningful change despite the history of injustice that has marginalized groups within the workplace. To do so, let us break down what diversity, equity, and inclusion respectively represent.
Diversity
The term "diverse" is often used to refer to people that are different from the rest of the "dominant group". Even with the best intention, referring to people this way feels as if those individuals are "outside of the majority" or simply just different. It is a common misconception when it comes to diversity as it can be misleading because it assumes we are all the same. This can be damaging, especially for a company who claims to be diverse as it alienates people rather than includes them. This problem can be seen amongst many talent acquisition specialists or HR professionals.
Diversity is expressed in many different forms, not just race, ethnicity, gender, and gender identity. In a workplace, where difference is present in a setting, diversity can include age, socioeconomic class, education, political views, religious beliefs, or citizenship. The term diversity acts an embodiment of acceptance. By understanding and valuing the difference that makes up people, diversity serves as an important part in company culture.
Take the following Staff Diversity Numbers, 2019 from NPR, for example. This annual report serves as a simple breakdown of the "percentage of people represented from a given group" within the organization.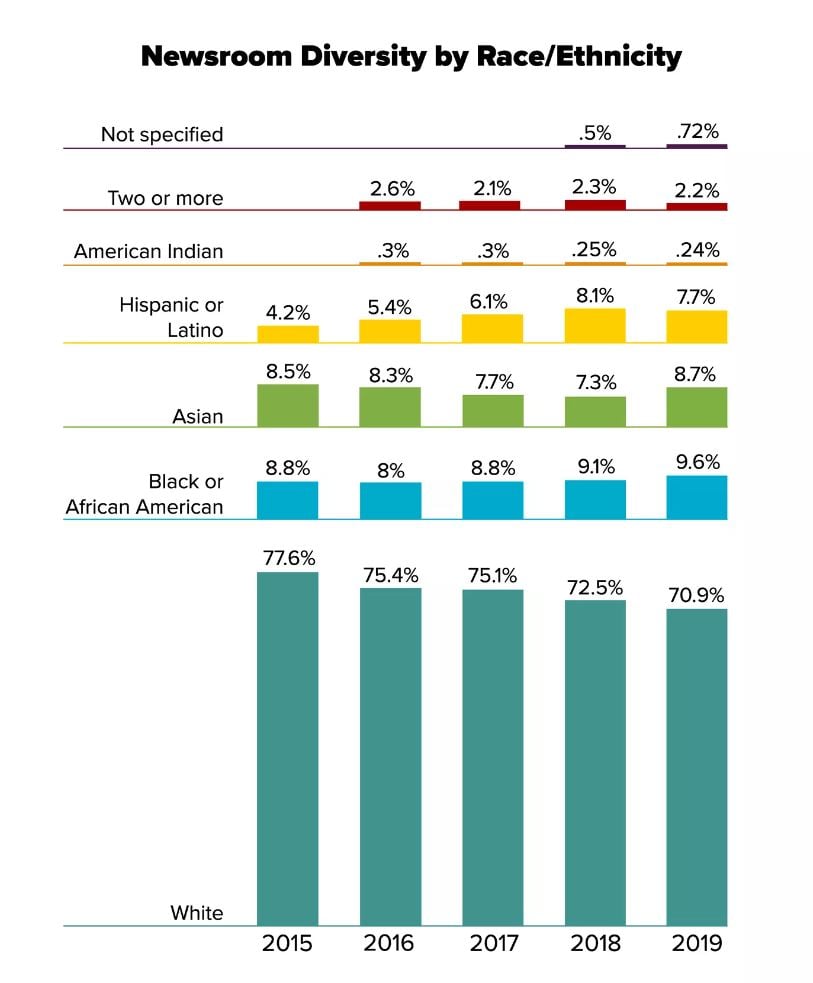 Source: NPR's Staff Diversity Numbers 2019. NPR
With this data, we are able to observe how organizations are slowly trending towards a more diverse staff. The study mentions that the national average of people identifying as white is over 70% and the numbers aren't where they need to be. There are a few oriented actions that are needed in which the article recommends to increase diversity. For example, your organization can make the hiring panel more representative, or look at retention efforts such as a mentorship program.
It is important to note that the data shown in the graph doesn't mean a workplace is diverse. If power still resides in the in the dominant group, then how can we make a workplace more diverse and inclusive? This brings us to equity.
Equity
While diversity refers to the many ways that people may differ from one another, equity is about creating equal access, opportunities, and advancement for all those different people. It's about creating a fair team when it comes to playing sports on the field. Therefore, equity is treating people in fairness or justice.
There are many issues that surround equity that extend beyond equal treatment. For example, women are historically underrepresented within higher levels in workplaces. Furthermore, women within minority groups are often further mistreated in a workplace setting than a white woman. It is a problem that still persists today which is why we ask, "how can your company create equity amongst different diverse groups"?
Success in equity builds fairness and equal treatment into the foundation of every organization.
Inclusion
As we have covered what diversity and equity means, naturally, inclusion becomes part of the big three. You've built equitable practices throughout your organization, leading more diverse, well-represented teams, but do your employees feel included in your company? Unfortunately, sometimes, people do not feel as if they belong in a particular workplace setting. If there isn't a sense of inclusion within a workplace, the consequences may include high turnover, poor corporate reputation, any kind of harassment or bully, and poor non-verbal communication.
Inclusion should be extended to various team members, employees, and other people to feel a sense of belonging and being valued within a given setting. It is important to understand that even amongst diverse teams, there's not always a feeling of inclusion. For example, women might be well represented at a senior management level, but they may still not feel included due to longstanding gender biases, salary discrepancies, and other factors.
Therefore, how does an organization practice inclusion? Firstly, inclusion starts with empathy. In other words, you are respecting people's differences and considering the environment more broadly, from their point of view. Balance the experience for less represented groups and tackle any barriers that might be working against a more inclusive environment.
Therefore, the heart of an inclusive workplace is respect and trust. In other words, your employees can be their authentic self without the fear of judgement. If practiced consistently, an inclusive workplace fosters an environment where people feel valued, respected, recognized, and heard. These positive attributes create a positive working culture that contributes to business success.
The 4 Layers of Diversity in the Workplace
Diversity plays a significant role when it comes to equity, inclusion, and belonging. It is important to deeply understand the layers of diversity that every organization should be aware of. There are four different layers of diversity that help build the foundation for company culture.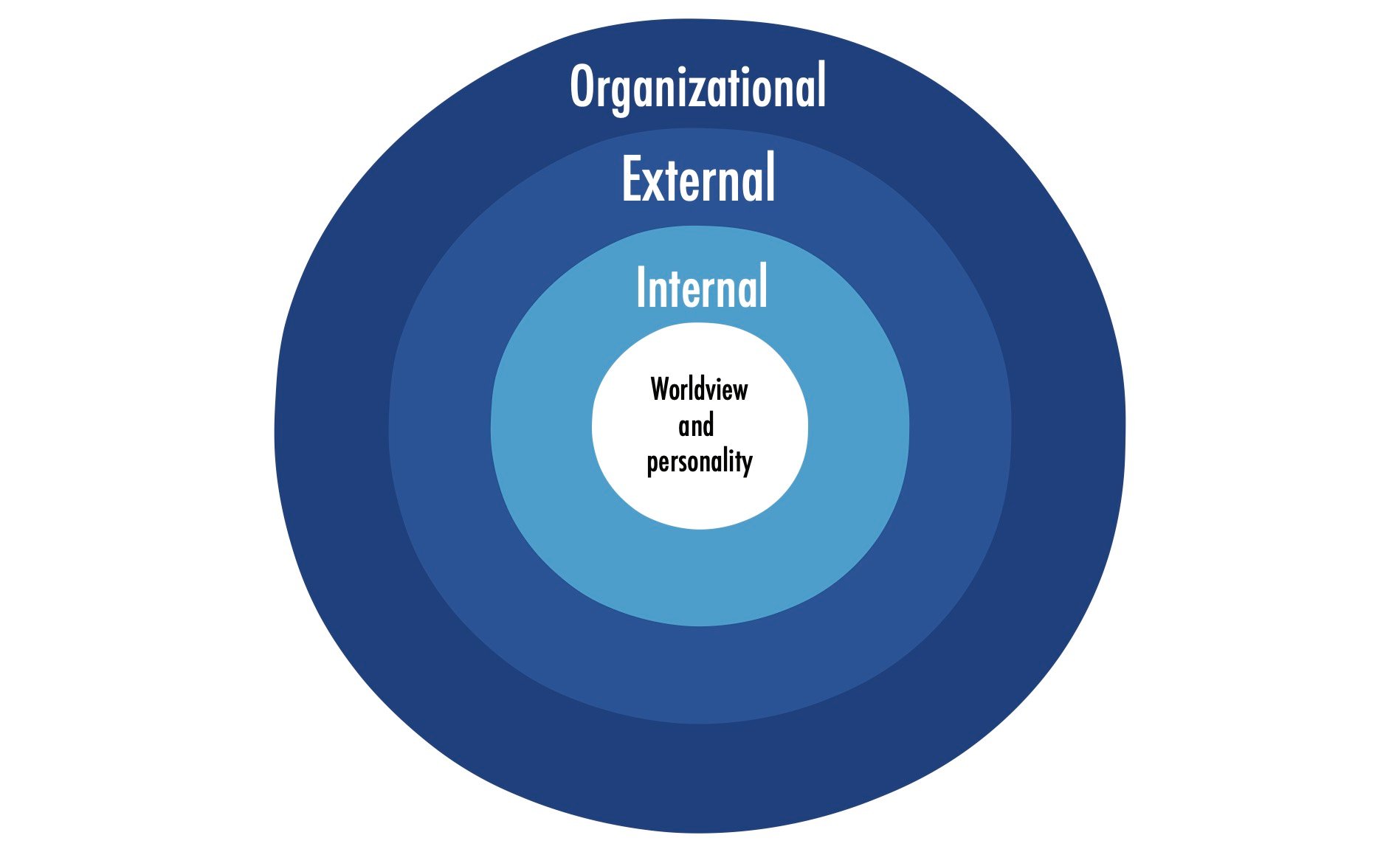 No 1. Organizational Workplace Diversity
Organizational workplace diversity covers everything from job titles, function level, division/department, seniority, work location, and management status. It is all about what working in a company brings forth.
No 2. External Workplace Diversity
External workplace diversity is something that you have control over as your progress throughout your life. In other words, it is the personal habits, recreational habits, appearance, religion, educational background, work experience, parental and marital status that make you who you are.
No 3. Internal Workplace Diversity
Internal workplace diversity refers to elements of an individual. For example, your age, gender, sexual orientation, physical ability, ethnicity, and race are the elements that make you an individual.
No 4. Worldview and Personality Diversity
Worldview and Personality Diversity refers to how we develop our lives, shaped by our experiences and other factors. It is how we view the world and our opinions on how the world should be. For example, a person's specific political belief is shaped by their experiences in the world.
Understanding this model will naturally bring together equity, inclusion and, belonging, therefore, boosting employee engagement and productivity. However, beyond the business-related benefits, understanding the model will help create a workplace that is comfortable for diverse groups which can be meaningful and incredibly valuable. Many people may feel they aren't given the opportunities in life that they deserve because of bias and perceived differences. Your organization can be the change.
Bringing Company Values to Life
Here, at LineZero, we give people a chance to speak and voice their opinions. People matter to us therefore, we treat everyone with compassion, understanding and a genuine desire to learn and grow. As we continually to evolve, we are ever-changing with diversity, equity, inclusion and belonging in mind. We are able to share the best-distributed work experiences while stimulating connection, communication, and collaboration.
Workplace by Meta allows your employees to share and speak their values in order to supports diversity, equity, inclusion, and belonging. Its easy-to-use interface makes learning it a walk in the park, allowing your employees to stay connected, wherever they are around the world.
Not using Workplace by Meta yet?
Want to see how Workplace by Meta could take your internal communications strategy to the next digital level and help you to reach everyone across your organization in a more efficient and effective manner? Give us a shout! Through a live demo of the Workplace platform, we'll help you to brainstorm ideas on how to utilize Workplace to achieve your organization's goals and objectives around internal communications.
Already Using Workplace by Meta?
If you'd like to explore more opportunities to learn how to use Workplace to improve your internal communications strategy and be part of the Corporate Metaverse, we'd love to chat! Give us a call if you want to learn how to use Workplace to enhance employee interaction and engagement.