Good corporate communication can bring employees together, wherever they are across the globe. It is through effective communication that customers learn about a company's products or services, and it is what makes brands unique compared to their competitors. It's how management and employees coordinate their activities to ensure that the entire organization is marching toward the same strategic goals. Therefore, corporate communication is very important. In this blog, we will look at what good corporate communication is and how your organization can build a solid framework to boost employee engagement and productivity.
In this blog you will find:
💬 What is a good corporate communication?
📌 Why is good corporate communication important?
📣 Examples of corporate communication
💡 Tips and best practices to improve internal corporate communication
What is Good Corporate Communication? 💬
Good corporate communication influences the way a company is perceived by creating a brand identity and maintaining a presence with the general public. It is the way your organization sounds. The key here is your corporate tone of voice. This is particularly important when you share your corporate social responsibility policy or remind people what your organization stands for. It also includes how you respond to incoming communications.
For global organizations with different locations around the world, corporate communication is a way to unite people. The audiences for corporate communications can include:
Current and future employees

Customers and potential customers

Key stakeholders (e.g., Investors)

Board members and shareholders

The media and the general public
We can divide corporate communication into two categories: internal and external. External communication focuses on the company's branding and messaging to the outside audience. This does not only include press coverage but also social media that pushes out the company's message. Internal communication focuses on messages and information sharing within the company. This includes communication from executives to employees and is often the responsibility of HR management.
These two types of communication effectively work together to build a strong brand identity.


Why is Good Corporate Communication Important?
📌
Excellent corporate communication can be the line that connects every employee in your business. According to a survey by Hanover Communications and Censuswide, 99% of c-suite executives say that internal communication was important. Corporate communication can affect and influence critical elements of your brand reputation. So, if your business communication is working well, this can help increase brand awareness and customer loyalty. Corporate communication extends to your customer service language and approach. Companies become successful through the efforts of the people who work there. Your external and internal communication impact your employees. A consistent framework of communication for both can not only influence your financial performance but also your employee engagement and productivity.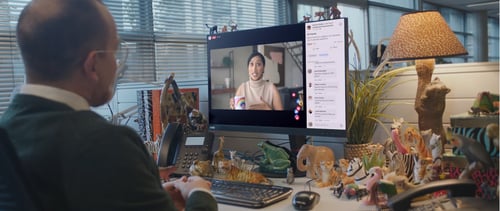 Examples of Corporate Communications
📣
Your communication team (which may include members from HR, Communications, Marketing, Media Relations or informal groups) is responsible for overseeing a wide range of external and internal communication. Let us look at the different activities and see what role they play in the organization.
Customer Communication and Marketing
Your corporate communication strategy impacts your marketing strategy, which requires cooperation and collaboration between the two functions. Members of these teams help generate various marketing materials from emails to newsletters to website copy.
Media Relations
This is the way in which the company communicates with the general public. Organizations will often utilize press releases, announcements of product launches, and interviews to cover big events.
Crisis Communication
Effective business communication is critical in times of crisis as it helps with brand perception and protection. In the Censuswide survey, 43% of decision makers said, "one of the most important things businesses need to do to get through difficulties posed by COVID-19 is ensuring that communications with employees is as clear as possible." In the event of a crisis, it is the responsibility of the communications team to create a strategy to address the issue, so onlookers won't see your response as a one-off but as part of a consistent framework. This brings us to our next point.
Internal Corporate Communication
Internal communication is much more than simply relaying company news to employees. It takes teamwork to bring everyone together to engage employees and boost productivity. Today, employees want their companies to communicate openly with them. Communications needs to be transparent and a two-way street. Not only should it keep people connected, but it should also give them a voice.
Internal communications and how they can meet the needs of your workforce:
1. Connecting frontline and deskless workers
Communicating with all employees is important. This includes frontline workers and those without desks. Many organizations are improving their internal communication with frontline staff in response to COVID-19. The key to bringing everyone together is a shared platform where frontline workers have access to the same tools that people in offices do. This way, frontline workers will feel included in the company's objectives and help build corporate culture.
2. Building Engagement
Internal communication helps people feel connected to your organization and to your business goals and values. Good internal communication can help increase employee engagement and loyalty to the company. In return, this can help build effective teamwork and trust.
3. Conveying Culture
High performing teams and organizations can use internal communication to build, convey and maintain company culture. This is particularly important in the age of hybrid working, where culture isn't something that people can feel at permanent or physical locations. It's something that teams also need to create and maintain virtually.
4. Communicating Change
In times of change, like during the pandemic, employees will have lots of questions. Emergencies and crises will spark anxieties about what the future will bring. It is important to be transparent when it comes to communication. So, address questions before they arise, clarify situations, and reassure to avoid any complications.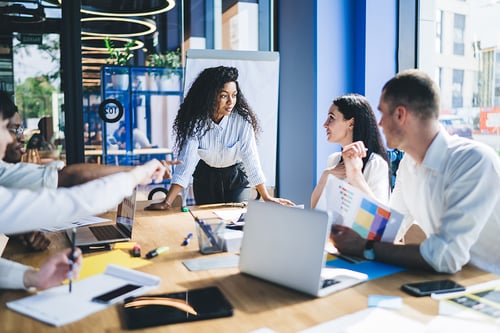 Tips and Best Peractices to Improve Internal Corporate Communication
💡
There are many different ways you can improve internal communication. These practices include:
keeping two-way lines of communication open

making leaders visible and relatable

making sure all voices across the organization are heard, including deskless workers

being committed to breaking down hierarchies

sharing information freely and readily

encouraging open dialogue

leading by example

being open to taking risks and making mistakes
To take it a step further, here are three specific ways to improve corporate communication within your organization:
1. Introduce guidelines
All your business communication – internal and external – needs to be consistent with your company culture. When you have multiple content creators on the team, often across locations, languages, and time zones, it can be difficult to get consistency. Having a set of communication guidelines, best-practice formats and real brand examples can help.
2. Break down the barriers
It isn't easy to build and share transparent narrative across multiple departments. Understanding your organizational structure and insisting on regular cross-team collaboration is vital. This is where the right tools and platforms can be valuable. Look for solutions that help people communicate openly across teams or departments, enabling teams to collaborate on documents in real-time.
3. Brush up on interpersonal skills
For people working in corporate communication, personal communication skills are critical. If you identify any gaps in this area, you might want to consider some individual or team-wide training.


Start Building a Solid Corporate Communication Framework Today!
At LineZero, we prioritize the needs of our employees by building engagement, company culture, and giving every employee an equal opportunity to speak their voice. By using Workplace from Meta, we help build a solid internal communication framework that directly affects your engagement and brand identity. By bringing people closer together, Workplace offers features like Groups, Knowledge Library, and Important Posts to ensure the right information flows to every corner of your business, upgrading your internal communication. Contact us today to learn more about building effective corporate communication.
---
Not using Workplace yet?
Want to see how Workplace could take your internal communications strategy to the next digital level and help you to reach everyone across your organization in a more efficient and effective manner? Give us a shout! Through a live demo of the Workplace platform, we'll help you to brainstorm ideas on how to utilize Workplace to achieve your organization's goals and objectives around internal communications.
Already Using Workplace?
If you'd like to explore more opportunities to learn how to use Workplace to improve your internal communications strategy and be part of the corporate Metaverse, we'd love to chat! Give us a call if you want to learn how to use Workplace to enhance employee interaction and engagement.