Workplace's commitment to providing best-in-class experiences, regardless of the device you're using, has propelled some exciting new updates that your organization can start taking advantage of in 2021!
In this blog, we'll look at some of the most recent updates to Workplace from Facebook for Mobile platforms (iOS and Android) and as a software for PC/Mac, showing you the new features that are designed to make you more productive than ever before. Read below to discover the latest 2021 updates from January to March.
March 2021 Updates

Want to get more out of Live video in Workplace? This month, Workplace has enhanced their video features to make them more powerful and easier to use. Plus, admins and creators can stay ahead of the curve with the What's New feature in Workplace. Check it out below!
See clear and consistent analytics on Workplace Live for admins and creators.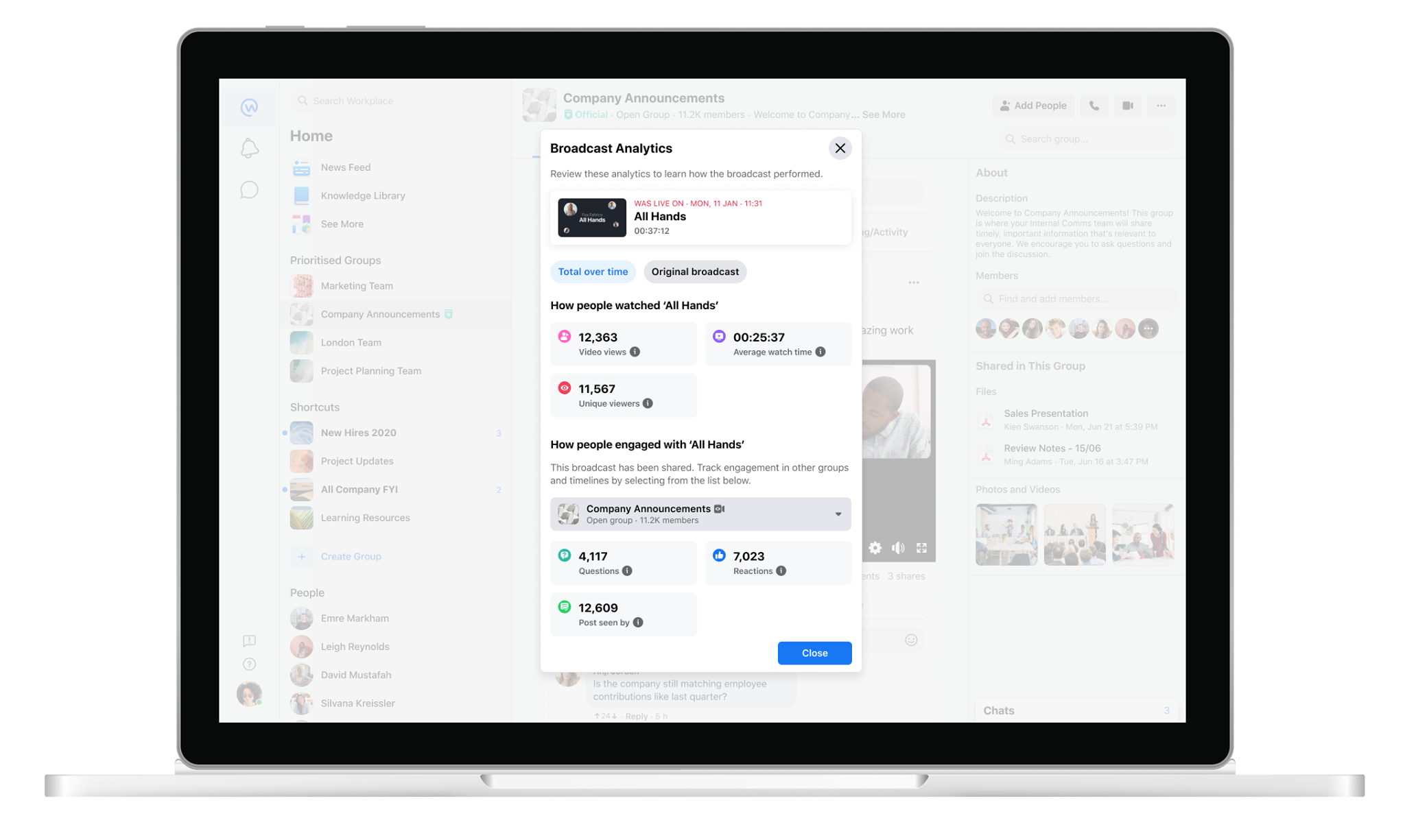 Want to better understand how people are consuming Live video on Workplace? Look no further than video insights to maximize the reach and engagement of your video content! System Admins and video creators can now access video insights to get a more accurate view of who is watching your video at any given time.

To help you take advantage of these new features, access the Live Video Resource Hub, a central space where you can find a variety of Live video learning materials, including:
Live, interactive training sessions

Interactive demos that simulate the Live Producer experience

Inspirational customer stories and step-by-step guides to help you implement similar strategies in your own Workplace

Learning videos that you can download and share with your community



Get notified about new entries in Workplace with What's New.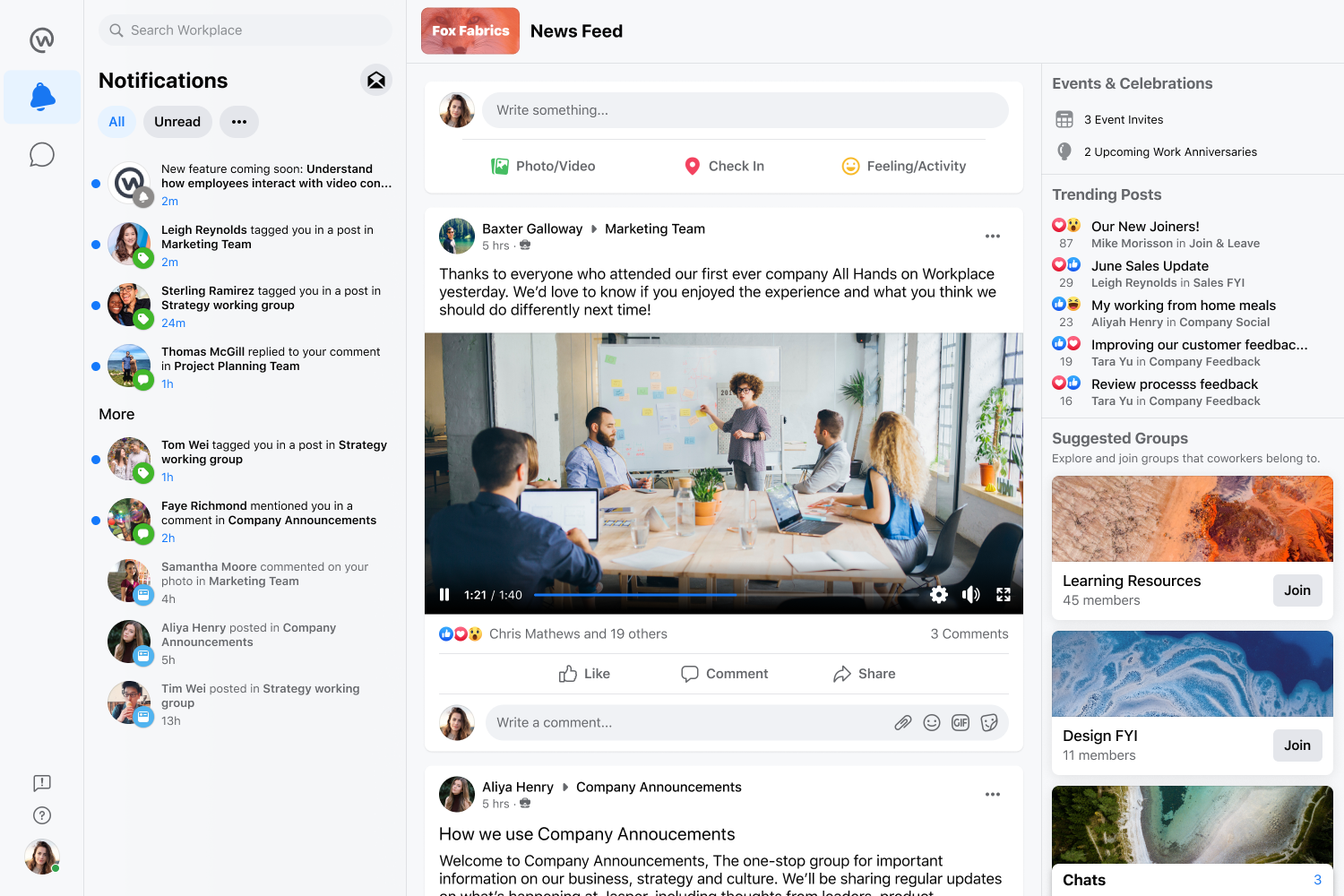 Wouldn't it be convenient to get notified about new updates in Workplace so your internal comms game never skips a beat? Well, consider What's New Notifications in Workplace as the key to keeping your internal comms innovative and fresh!

With the What's New feature in Workplace, administrators will get in-Workplace notifications when new features are added. If admins want to share new features with their community, they can use the share function in What's New to spread the word.
A Demo is Worth a Thousand Words
Every organization is unique, so your demo should be uniquely matched to your specific business needs. Contact us to tailor your Workplace demo.
February 2021 Updates


Updates from Workplace from Facebook in February are all about Workplace Rules and Dark Mode on Workplace mobile! Check it out below.
Keep your Workplace safe and respectful with Workplace Rules.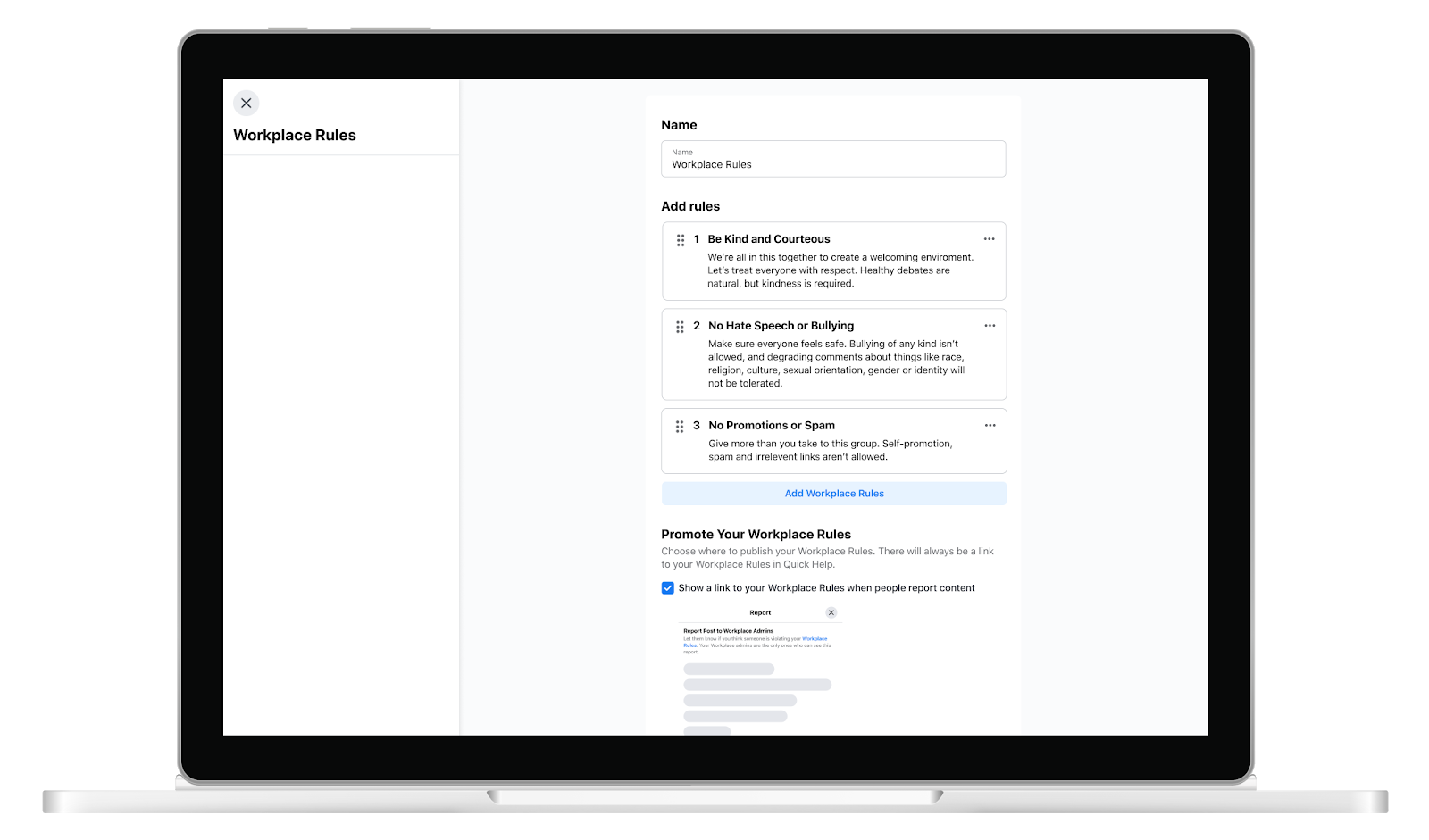 To help organizations stay productive, inclusive and safe, Workplace from Facebook has introduced Workplace Rules to help organizations clearly communicate the guidelines for people to follow while communicating, collaborating and engaging on Workplace.
It's no surprise that guidelines need to be seen in order for them to be effective. So, rather than writing rules and guidelines in various places on Workplace, admins now have the ability to effectively communicate a code of conduct for Workplace in one place. Coworkers will be able to access your Workplace Rules via the "Quick Help" icon, helping to set the right tone for all communications on Workplace.


View and engage on Workplace in low-light situations with Dark Mode.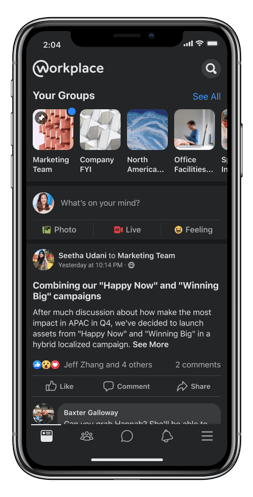 With the COVID-19 pandemic, a typical 9-5pm workday may not be possible with other competing responsibilities. No matter the time of day, Workplace has you covered!
Now available on the Workplace mobile app, dark mode is an accessibility feature that makes Workplace easier to view and engage with in low light situations. Reduce eye strain and glare by changing your background from white to black at the click of a button.
January 2021 Updates


Level up your next virtual event with new and improved updates to Workplace Live.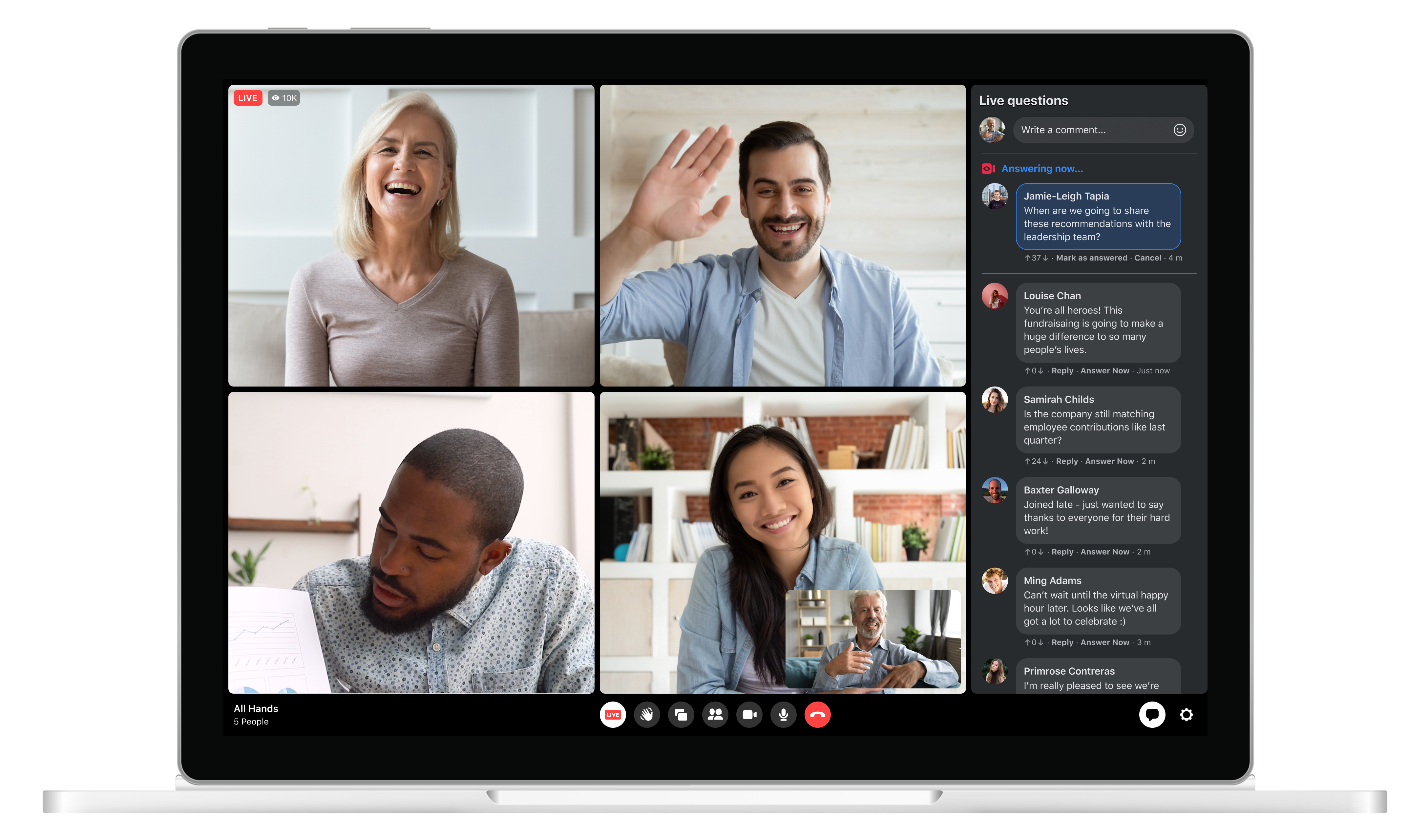 If your organization is looking to give virtual events a try, Workplace has a "long game" approach with new and improved updates to the Workplace Live experience. To help organizations host truly engaging virtual events, Workplace has added some of the most requested features, including the ability to go live with multiple hosts – both internal Workplace users and external guests. Plus, the new live video side panel gives organizations the ability to respond to audience questions, comments and reactions in real-time, just like you would at a typical in-person event!
Looking to maximize the ROI of your next virtual event? Make data-driven decisions! Check out a brief summary of engagement metrics when the live stream of your current event ends, like average watch time and engagement by group, to make your next event even better.
Learn more about Live video in Workplace here.
Stay safe, stay connected. Introducing the Safety Center on Workplace.
If you're familiar with Safety Check on Workplace, you're going to love Safety Center! With flexibility in mind, Workplace has added new features and re-designed the experience to effectively manage communications before, during and after a safety incident.
Safety Center on Workplace will still offer powerful targeted messages through email, top of News Feed, and Workplace Chat, but it now has:
New message styles:

New message styles take into account the type of safety situation your organization may be experiencing by helping you tailor your communications. Covering a broad range of scenarios, new message styles help you communicate clearly and appropriately with Safety Alerts, Travel Advisories or Important Bulletins.




Multiple messages per incident:

Need to send a follow-up message after the initial safety check or alert? Safety Center tracks all messages associated with the incident and houses them in one place for easy access, so you can customize your communication cadence as appropriate for the situation.




Response Insights:

Safety Center helps your organization understand your incident response success in a single dashboard. Discover key metrics such as read and response rate to understand who has seen and engaged with the alert.

Workplace from Facebook is your go-to hub for teamwork and collaboration


Love these updates and want to see more? Workplace from Facebook features seamlessly connect your team to your goals and each other. Check out a suite of features that integrate with your existing work tools here.

There is a major shift to moving to Workplace from Facebook for Mobile. Those companies who are hesitant to take advantage of the multiple capabilities in Workplace from Facebook may find themselves experiencing less productivity, and greater worker frustration. If you haven't already considered going mobile, talk to us today and see why it's the right move for your organization.