Are you looking for the best collaboration tool for your organization? If you're considering Workplace from Meta or Slack, you're in the right place. An effective and dependable communication platform is essential for cooperation and efficiency in today's fast-paced corporate climate.
In this blog post, we'll give a detailed comparison of Workplace and Slack, including a side-by-side chart, a description of each platform, and some pros and cons to think about when making your decision. Whether you're just getting started with collaboration tools or looking to switch to a new platform, this blog post will help you make an informed choice. Let's get started!
Jump to a section of your interest:
Workplace vs. Slack a quick comparison
Pros and Cons of Workplace from Meta
Which one is the right tool for you?


Workplace vs. Slack: A Quick Comparison

Workplace vs. slack - option 1: WORKPLACE
Designed for organizations looking for a productivity and collaboration platform, Workplace from Meta is built off the same familiar Facebook platform but is completely separate from its commercial sibling. Enabling seamless top-down communication and knowledge sharing, Workplace from Meta helps organizations to transform their communications, culture, and workflows, no matter their size or the industry they fall under.
With its versatile capabilities and easy-to-use features, Workplace can enhance team collaboration by driving employee engagement and providing a platform where your organization can have important, transparent discussions. Your employees can access Workplace from any device they're comfortable using, regardless of location. Keep track of key business conversations, easily share files, documents, or project information, and keep all your corporate data secure with customized privacy and security controls.
Simply put, Workplace from Meta has been lauded as a stellar way to engage your employees and build a solid sense of community within your organization. It's the perfect tool to capture employee sentiments, share upcoming announcements, give kudos to your employees who go above and beyond, and provide a platform to help them get to know each other better.
Workplace from Meta main features:
Workplace from Meta's most popular features includes real-time communication tools, audio and video conferencing, and instant messaging. The workplace allows you to create and manage groups, interact with colleagues, and communicate with teams around your company. Workplace also includes comprehensive analytics and insights to help you track engagement, assess success, and enhance your communication strategy.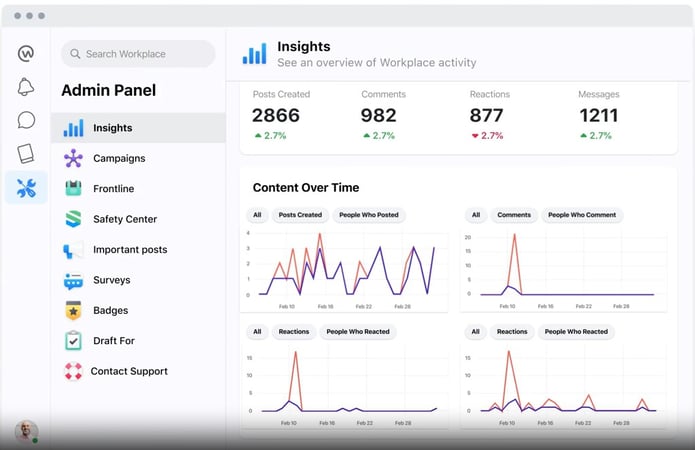 *Workplace Insights give you a deeper understanding of how your employees are using Workplace.
Workplace from Meta also integrates with other productivity and collaboration applications, which is a crucial benefit. Workplace effortlessly connects with Microsoft Teams, Google Drive, and other popular productivity tools, allowing your employees to interact more effectively and efficiently.

Workplace also provides a variety of premium solutions to accommodate enterprises of all sizes and demands, including choices for additional security and compliance capabilities. Workplace from Meta can help you enhance productivity, improve collaboration, and establish a better sense of community inside your organization.
Below, we've highlighted some of the key Pros and Cons of using Workplace from Meta:
Pros:
Familiar Facebook platform
Workplace is built off the same familiar Facebook platform, resulting in high adoption rates and minimal training requirements.
Integration capabilities
Workplace has a variety of integration capabilities, so you can connect to the tools you already use (i.e. Office 365). Or, you have the option to build your own custom integrations through a Workplace Service Partner.
Multilingual support
Multiple languages are supported, including English, German, Japanese, French, Chinese, Spanish, and Russian.
Advanced analytics and insights
Workplace has a built-in analytics tool that shows how your team collaborates and engages on the platform. Track post views, responses, comments, and shares to learn what your team likes


Cons:
internet dependency
Workplace is cloud-based and requires an internet connection to access content, which may be problematic for employees traveling; they may not be able to access it at all times.
notification overload
If employees subscribe to multiple groups, notifications for new content can become overwhelming. The notifications for new content can make it more difficult to follow what's happening.
Learning curve
Employees who are not familiar with Facebook may require additional training and may be hesitant or slower to adopt this platform.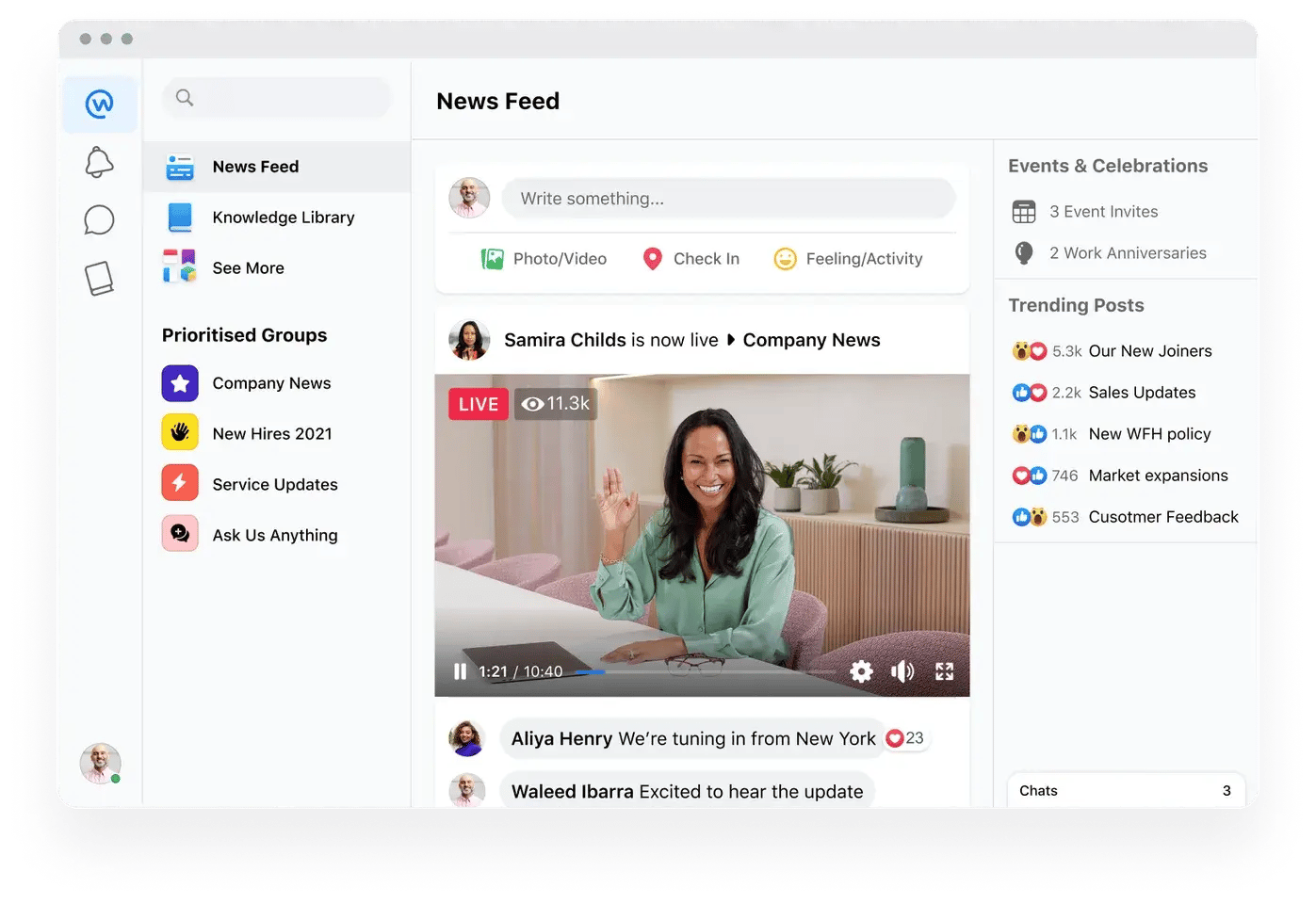 Workplace vs. slack - option 2: SLACK
Compatible with a variety of operating systems, Slack helps users simplify communication, stay in touch with one another, and streamline workflows. Teams in your organization can communicate in groups or through semi-private or private chats, share folders or files simply (drag and drop them into the correct channel), and refer back to previous conversations with the searchable archive that Slack builds.
Integrating with several enterprise productivity tools on the market, Slack's open API also allows your team to build their own apps if they're so inclined. Slack is also highly customizable, allowing users to customize the appearance (theme) of their platform or change their notification or channel settings if desired.
Slack main features:
One of Slack's most popular features is its ability to link with a range of third-party apps and services, including Google Drive, Trello, and Asana. This allows teams to easily access and exchange information from other tools they commonly use without having to jump between platforms.
Furthermore, Slack provides a large choice of app integrations that can be downloaded and installed straight from its app directory, making it simple for users to add additional functions to their Slack workspace. Another outstanding feature of Slack is its extensive search engine, which allows users to readily retrieve certain messages or files inside the network, even if they were sent months or years ago.
Below, we've highlighted some of the key Pros and Cons of using Slack:
Pros:
slack is web-based
Users can access it from anywhere using their mobile devices, tablets, or desktops – all you need is an internet connection.
App Download center
Slack provides an app download center, making it easy to search for and download the apps you need to integrate with the platform.
Controlled content
Content on Slack is controlled by your organization's admin, who can choose to make the data public or private.


Cons:


note native
Slack does not come with native applications, so all apps will need to be linked to third-party providers.
Downloads needed
Because there are no native applications, there is no built-in calendar or task management capabilities within
No administrative rights
The free version of Slack does not come with any administrative rights or controls.
limited features
The free version of Slack does not include Shared Channels and Guest Accounts to work with organizations and individuals outside of your team, such as clients, vendors, and partners, or participate in active screen sharing during a call.

Workplace vs. Slack- WHICH ONE IS RIGHT FOR YOU?
In determining which collaboration hub – Workplace vs. Slack – is right for your organization, we recommend that our customers consider a few important factors:
What other tools are being used within your organization, and will this new collaboration hub – Workplace or Slack – integrate well with your current infrastructure?

What goals are you trying to achieve by implementing a new collaboration hub? Does one of these tools fit better with what your organization specifically needs?

What is your current budget for a collaboration hub?
To make an informed decision, we recommend seeing a demo of the tool before implementing it. Both Slack and Workplace offer demos to interested customers.
---
Considering Workplace for Your Collaboration Hub?
As a partner of Workplace from Meta, LineZero can help you determine if it's the right fit for your organization. Let us help you explore your options and answer your questions about integration, budget, and more.