Workplace from Meta is an incredible communication tool that brings your entire company together, regardless of where your employees are located. The platform offers seamless connectivity through its user-friendly features like Groups, Chat, and Live video broadcasting. In today's fast-paced and competitive business landscape, staying connected within your organization is crucial. That is why Workplace from Meta provides you with the tools and features you need to enhance your employee experience, inspiring you to unleash your full potential. 
Through the constant evolution of technology and the introduction of new Workplace from Meta features, you can expect a significant boost in productivity, collaboration, and overall organizational efficiency.
Below are some new features that will help you unlock the full power of Workplace.
In this blog, you will find:
🚀 Meta Features Launched in 2023:
📚 Knowledge Library Improvements
Meta Features Launched in 2023: 
Knowledge Library Improvements
Right from your Knowledge Library, share Workplace knowledge with everyone. The Knowledge Library makes your key information accessible and discoverable on any device. Create, store, and share your files all in one place - just like a company intranet.
Duplicating Knowledge Library Categories 
We have enhanced the process of duplicating and relocating Knowledge Library categories by streamlining it into a single step. Now, when duplicating a Knowledge Library category, category editors have the flexibility to select the desired destination for the duplicated content. You can duplicate any category or subcategory and store it as a subcategory within an existing category or subcategory or create an entirely new category for it.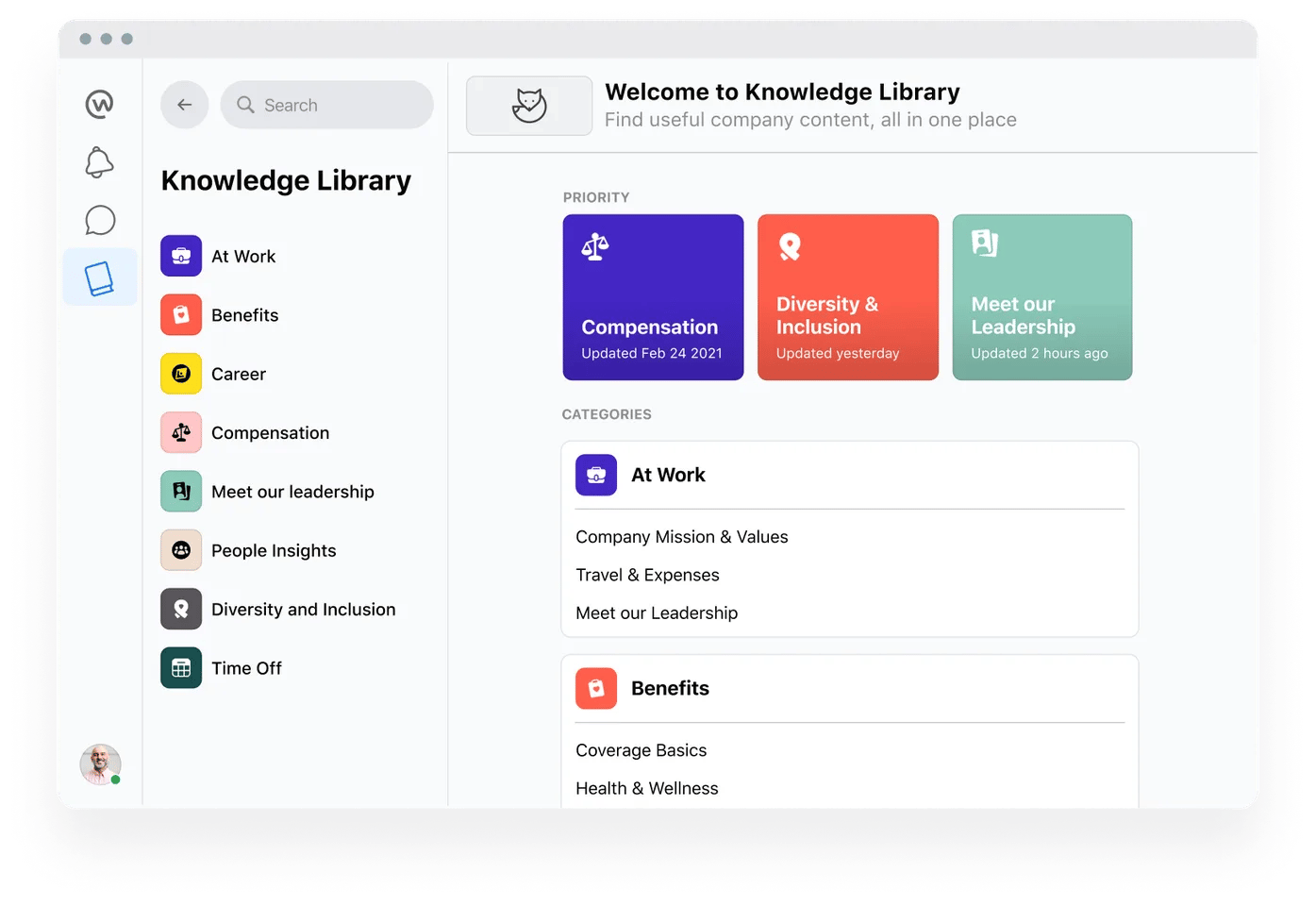 Curating Category Ideas for your Knowledge Library
On the desktop web version of Workplace, Knowledge Library admins now have access to a list of frequently created knowledge categories for inspiration when you are building out your Knowledge Library. This feature assists you in generating content ideas for your organization by selecting Category ideas from the Create menu in the Knowledge Library.
People Sets in Knowledge Library
People sets on Workplace let you organize people into custom segments at your organization. With this new feature, system admins can now choose to use People Sets when choosing the audience for a Knowledge Library category. This can be done on the desktop web version of Workplace only.
New Post Features
Finding new strategies and ways to gain engagement through posts on Workplace is crucial. With new features, it makes it easier to create posts that are more appealing, stand out within your feed, and communicate with your company.
Mark as a key update on mobile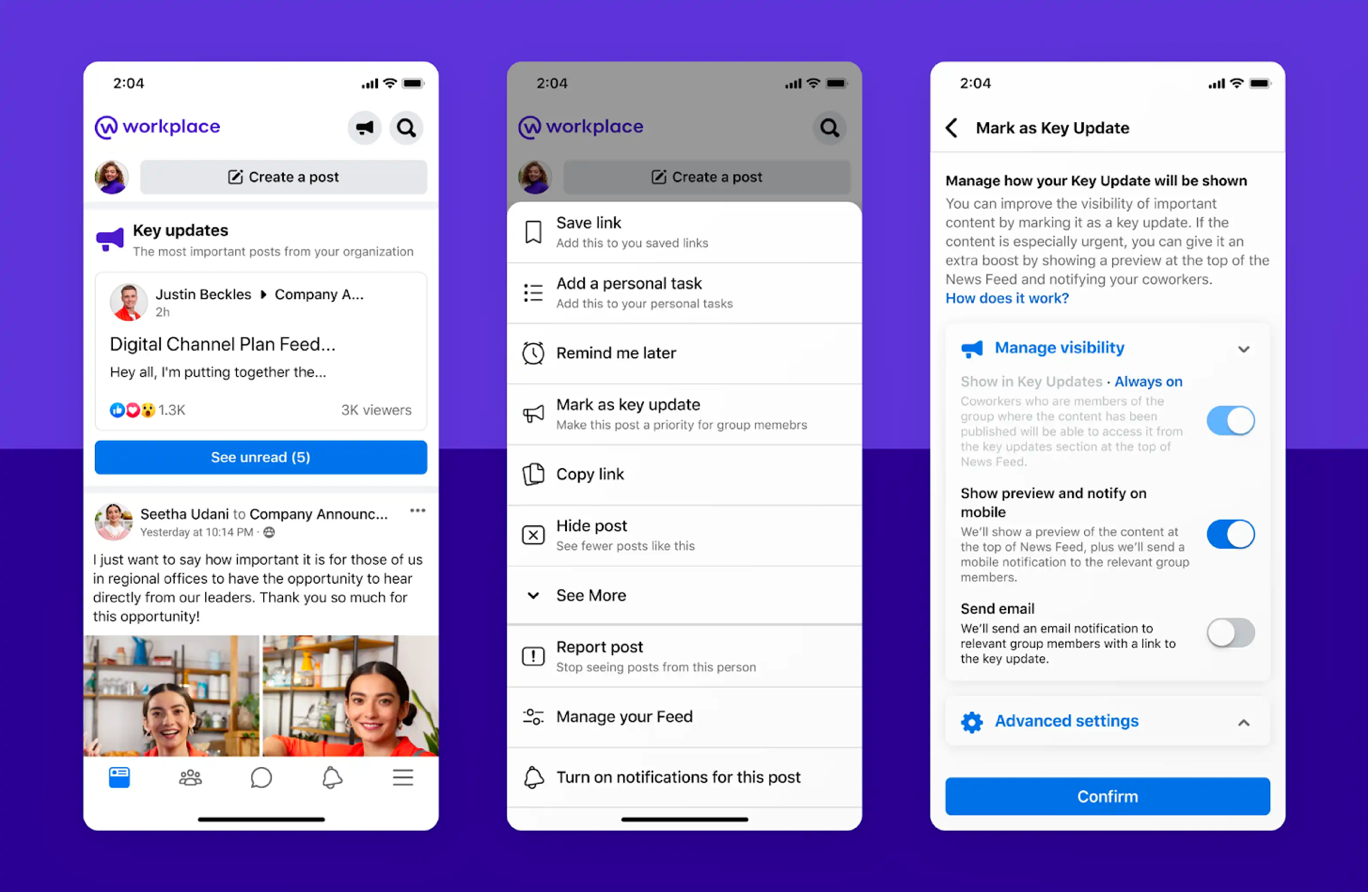 Elevate the significance of vital company information through Workplace Key Updates. People with the right admin permissions can now do it using mobile apps too. Key updates help your coworkers find the most important information quickly and easily. Below is how it works:
On

desktop

, select the key updates section on the main Workplace menu.

On

mobile

, look for the key updates' icon

in the main header.
Improvements to polls 
Polls have been made even better with new options to help you get the information you need. You can now do the following (on desktop only):
Set a poll end time to automatically close the poll.

Add images to give additional context on poll choices.
Export results into an Excel spreadsheet

Reduce voting bias by shuffling options and hiding who votes on each option until voting ends.
Anyone can vote on any type of poll on mobile or desktop.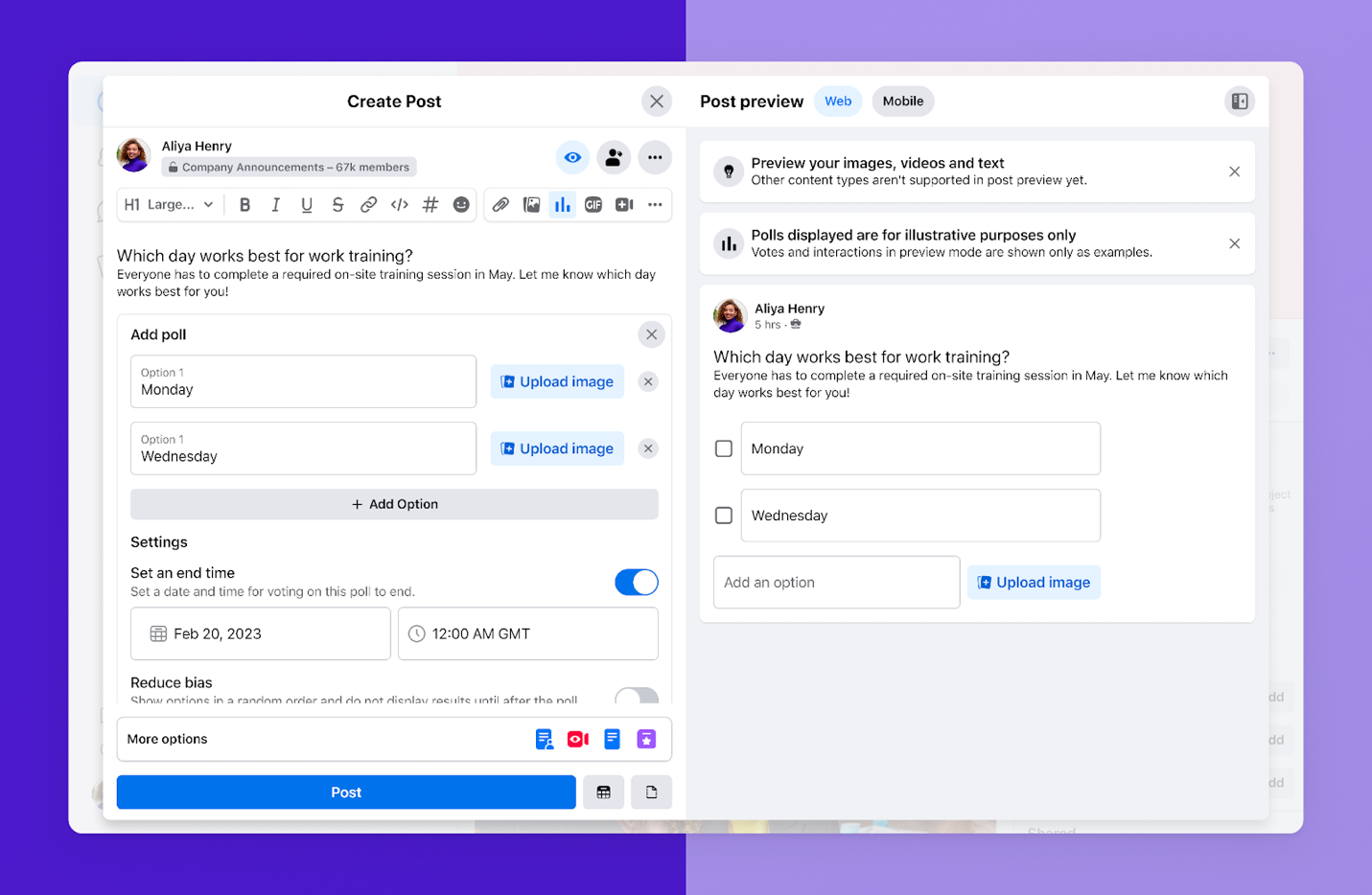 Make Workplace your own with custom emojis!
You can now create and publish posts with custom emojis! Workplace admins can create these emojis on a new admin page. You can add custom emojis on the web and see them across the web, Android, and iOS.
Below is an Emoji Campaign that will help you get started:
Custom Emoji Campaign
Create a Workplace post and create awareness around the ability to create and implement custom emojis within your Workplace. 
❓ Ask the question: Do you have any custom suggestions like logos, mascots, or expressions that will add some flair to your Workplace posts? ​ ​ 
Use the Polls feature to gain engagement, collect ideas, and vote on your favorite new emojis to be added and used in your Workplace environment!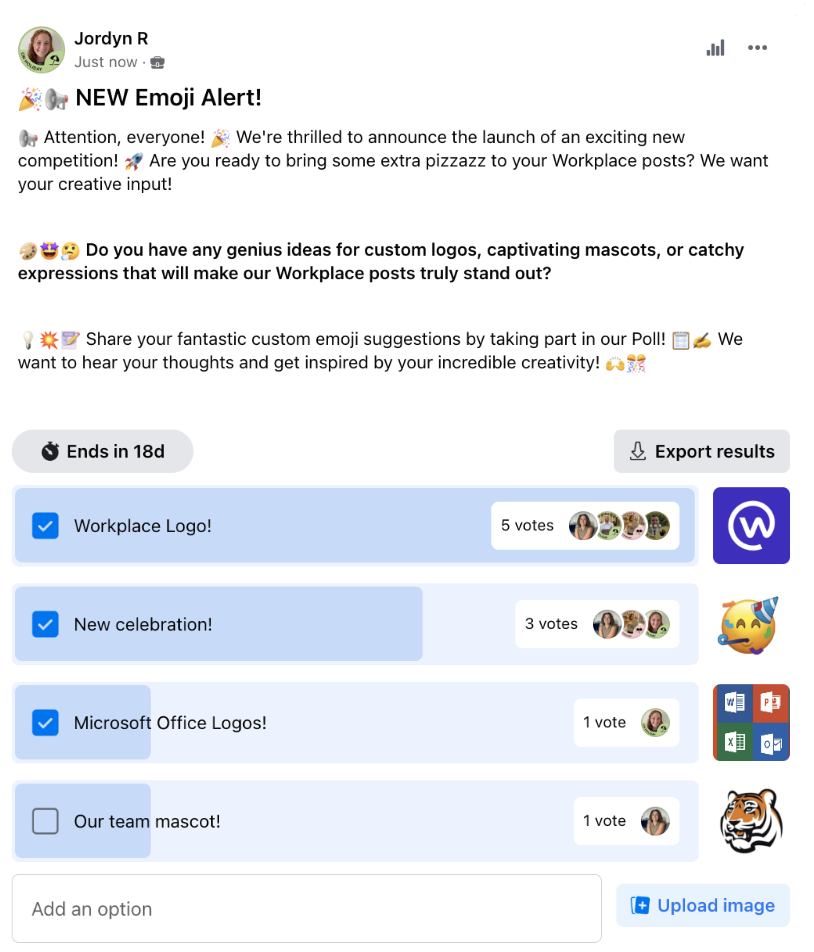 Background video player 
Enhance your listening experience on the move by introducing a mobile background video player that allows you to minimize the app and seamlessly listen to the audio while multitasking. Whether you are browsing the internet, checking emails, messaging, or enjoying a leisurely walk, you can now continue to enjoy uninterrupted audio playback.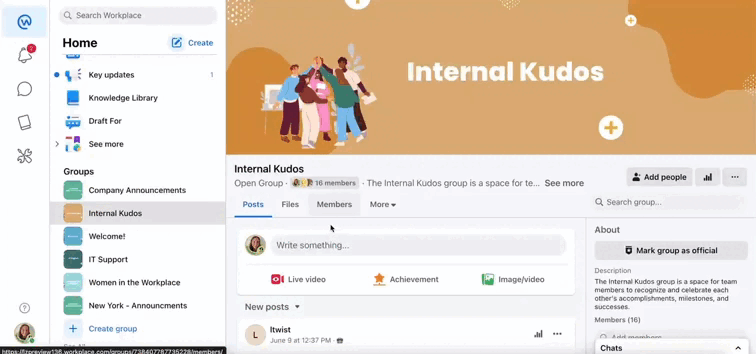 You can now add a banner image to the top of your post. Adding a captivating banner image at the top makes content more eye-catching and your posts will stand out like never before.
Create Workplace posts with inline video
The addition of inline videos within the text of Workplace posts offers a significant improvement to internal communications within your organization. This feature enhances engagement and understanding by providing a dynamic and visual medium for sharing information directly within the text. With cross-platform compatibility, employees can easily access and interact with inline video content, fostering collaboration and creating a more connected work environment.
Attach files to event pages
Company event posts are a valuable tool for improving internal communication. They create awareness, generate interest, and promote employee engagement. With the new feature of uploading files to event pages, such as presentations and documents, event organizers can provide attendees with additional context and resources, enhancing their preparation and enabling more meaningful participation during the event.
Create custom frames for profile pictures [Admins only]
Profile frames have been introduced, allowing users to enhance their profile pictures with customized frames. Admins now have the power to create and manage branded custom frames through the admin panel, enabling organizations to maintain a consistent visual identity across their employees' profiles.
Moreover, general users have the option to set the duration for which the selected profile frames are displayed on their profiles. Users can specify a time frame, allowing them to personalize their accounts with campaign support, vacation prompts, or company branding for a designated period.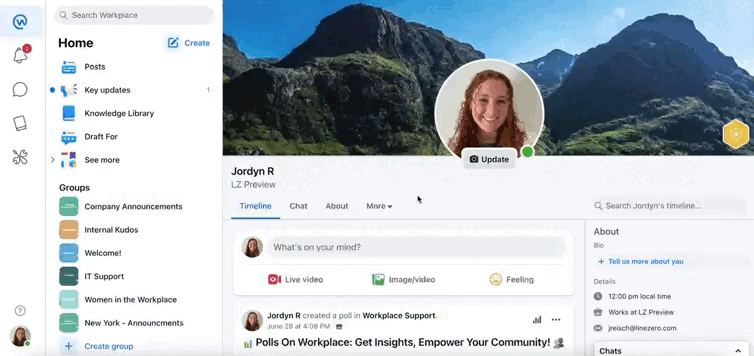 Updated draft for Components & Experience
Publish for
Post creators can now publish content on behalf of others without the requirement of review or approval from the original author. Once published, the post will be attributed to the designated author's profile, and they will be notified of the post made on their behalf. Granting this extra privilege in the Admin Panel's Draft For section will be handled by a system administrator. Additionally, Draft For is now accessible on Android devices for seamless mobile usage.
Edit for
Now when drafting for, as an admin you can control each person's permissions and control editing abilities and access. You can also edit the post after it's posted-on behalf of someone else. Draft For editing is now accessible on Android devices for seamless mobile usage.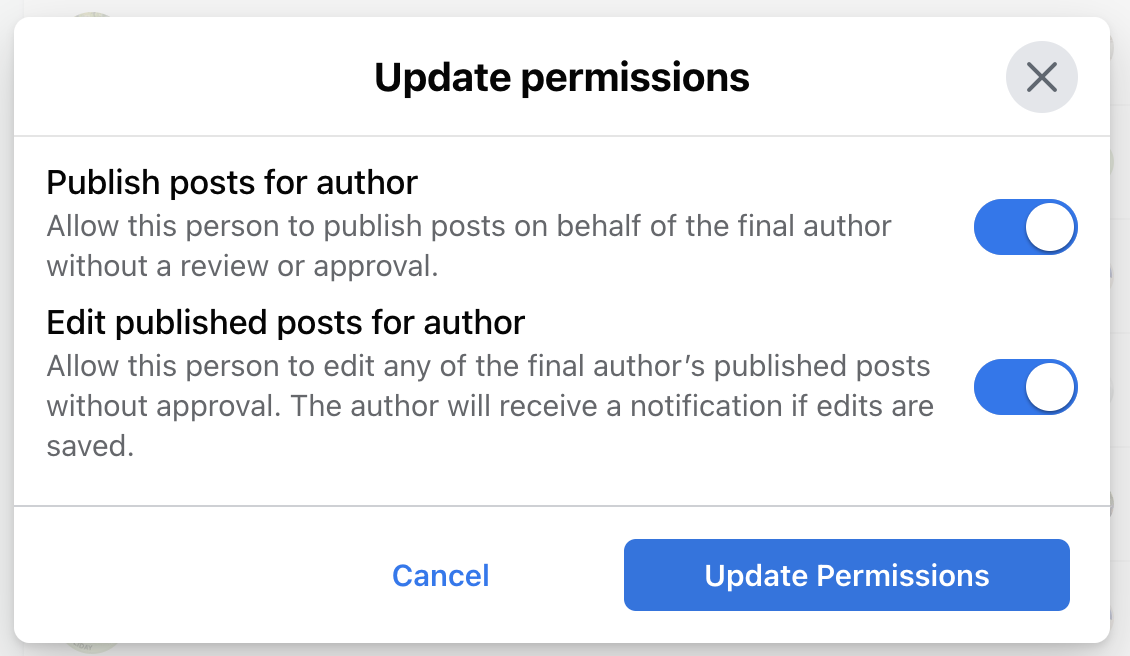 Live video
Enhance participation in your virtual events, facilitate engaging Q&A sessions, and ensure convenient access to content with automated captions, translations, and chapter markers on Live Video. Broadcasting live on Workplace strengthens the bonds within your organization by promoting transparent communication and fostering captivating interactions. Utilizing live video enables you to expand your company's reach, foster inclusive experiences, and conduct interactive Q&A sessions that enhance transparency and virtual collaboration.
Drop off graphs
We are delighted to announce an upgraded Live Video drop-off graph experience that will be immensely valuable for highlighting Advanced Data Analytics and Visualization. These improved insights offer exceptional accuracy and coverage, estimated at an impressive 99%. Furthermore, you can conveniently access drop-off graphs within a mere 5-10 minutes following the conclusion of your live broadcast.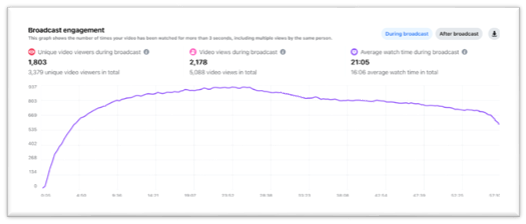 Build your confidence by practicing going Live!
You can now practice going live, create an event, and set up a practice session using a webcam, streaming software, and rooms. Test your setup and conduct a rehearsal to ensure a smooth and successful live-streaming experience. Available on the web.
Groups
Workplace groups are a powerful way for people and teams to connect, collaborate, and share knowledge virtually. Use Workplace Groups to communicate with specific teams, regions, or your whole company. And because you can create lots of different types of posts when you are posting into a Group, they are a super flexible feature for all kinds of company communications. With workplace groups you can bring people together and improve the flow of virtual collaboration and communication.
Improve how you name groups
Help people find your group by avoiding having multiple groups with similar names using these name-matching features. Now with this feature, when you begin to name a new group, it will surface a list of groups with similar keywords. This will be valuable to ensure you are making more meaningful groups and join pre-existing ones that may be of interest to you. Available on the web.

Moderate content in closed or secret groups without needing to be a member
Content moderators and Admins now can moderate closed and secret groups without needing to be a member. This significant improvement streamlines the process of acting on specific instances of inappropriate content without the need to review every single piece of content within closed or secret groups. Available on the web.
Chat
Workplace Chat is the instant messaging tool for your business to allow for efficient communication quickly within your team. It is a fun, intuitive and fast way to connect with your colleagues, no matter where you are. With chat, you can boost productivity, have more engaging and meaningful conversations, and amplify your collaboration within your teams.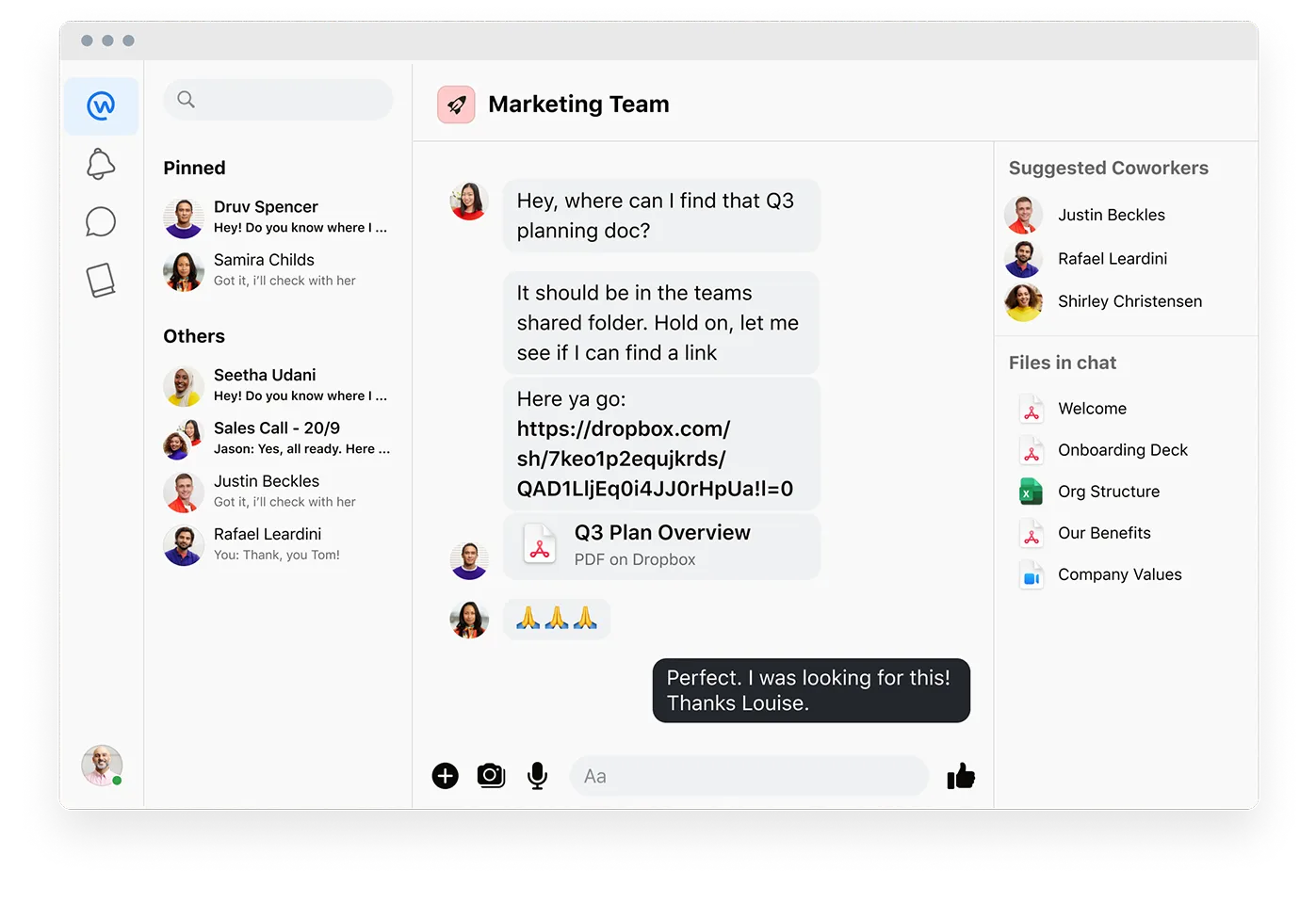 Unsend messages when you need to
Within the Workplace Chat, we have removed the 10-minute time limit on unsending messages. Available on the web, Android, and iOS.
Filter Workplace Chat by participants
It is now easier to find what you are looking for on Workplace Chat. Introducing a new filter where you can filter search results by people or groups to find important content fast. Available on the web.
Android users on Workplace Chat can use the row-forwarding button.
You can now forward a bundle of images on Workplace Chat when using an Android device.
Conclusion
To optimize virtual collaboration and communication on Workplace, it is crucial to stay informed about the latest workplace features. This enables you to leverage the necessary tools and functionalities, enhancing overall employee experience and unlocking your team's full potential. By working with LineZero and embracing new Workplace features, you can anticipate a remarkable increase in productivity, collaboration, and organizational efficiency. This tailored approach offers a customized experience specifically designed for your company's needs and values.
Ready to Unlock the Full Potential of Workplace by Meta?
We help enterprises enhance their employee experience and boost productivity by leveraging the latest Workplace features introduced by Meta.
If you want to optimize virtual collaboration, improve communication within your team, and stay ahead of the curve with Workplace's new capabilities, let's talk.