Internal communication is what holds organizations together – now more than ever before. With businesses and technology constantly evolving, so must the way we communicate internally within organizations. To maintain a strong, engaged team in 2023, organizations should recognize the need to become more agile and effective with their internal communication strategies.
Today, communication is expected to take place with a click of a button from multiple devices and various locations. Organizations must focus their efforts on keeping their communications up to date, relevant, and engaging for all their employees to meet the demands of this dynamic environment. With the new year approaching, we've highlighted five top internal communication trends for 2023 that your organization should keep top of mind.
In a hurry? Jump straight to the trend of your interest by clicking on a link (see below):
🖐️ 5 Top Internal Communication Trends to Consider for 2023
Trend #1 Employee Experience Remains a Top Priority
Trend #2 Focus on the Right Digital Communication Tool
Trend #3 Mobile-First Communication
Trend #4 Ensure Transparency Across the Entire Organization
Trend #5 Data-Driven Communication
💬The Future of Work Includes Effective Internal Communication


Top Internal Communications Trends to Consider for 2023
In 2023, all businesses, large and small, should be aware of the ever-changing landscape and areas of focus for internal communications. Below are five of the most important trends to consider.


🌟 Trend #1 Employee Experience Remains a Top Priority
Leaders are realizing that their employees must be cared for rather than simply managed. A greater emphasis on employees and their experiences is one of the trends that will remain a top priority. To motivate and strengthen your company culture, keep your employees informed and listen to their feedback. The goal is to provide a positive experience for them, which can be achieved through improved internal communication!
Providing a feedback platform, being transparent, and expanding engagement opportunities – such as town halls, Q&A sessions, or remote working socials – are just a few of the ways you can keep your employees feeling valued and heard.
👩🏻‍💻 Trend #2 Focus on the Right Digital Communication Tool
Email is no longer the go-to communication tool. In 2023, focus on finding the most effective digital communication tool for your organization's needs and making sure that all your employees have access to it. The key is to find tools that allow for quick and simple communication, as well as collaboration.
By taking advantage of technology and investing in the right digital communication tool, it will help streamline and improve your internal communication processes. As you decide on the best digital communication tool for your organization, keep your business requirements in mind. A remote team, for example, may require a tool with improved video conferencing capabilities, whereas an office-based team may benefit from a platform with open collaboration features.
Workplace from Meta is one such tool that can increase productivity and collaboration across your entire organization. As a digital business communication tool, Workplace allows employees to connect with each other, share announcements, post documents and files, create polls, and search for information in an easy-to-use interface.
Related blogs:
3 ways to improve your corporate communication skills
Seamless two-way communication is easier than ever!
Internal Communications Role in Digital Transformation Initiatives
📲 Trend #3 Mobile-first Communication
Organizations that have yet to embrace mobile communication should do so in 2023! One of the biggest internal communication trends shows that many businesses are shifting to mobile-first communication with dedicated, communication apps. This allows organizations to communicate quickly and effectively with teams that are often spread across different locations.
Take a moment and think about having communication with all your employees on the go. From your office and hybrid workers to the frontline, Workplace from Meta can help you easily reach your entire company with messages, voice and video calls straight from the mobile app. With the ability to sync conversations and messages in real-time, Workplace can boost productivity, life engagement, build collaboration, reduce misunderstandings, and so much more. Having a dedicated mobile app means that all your employees can connect and communicate, no matter where they are.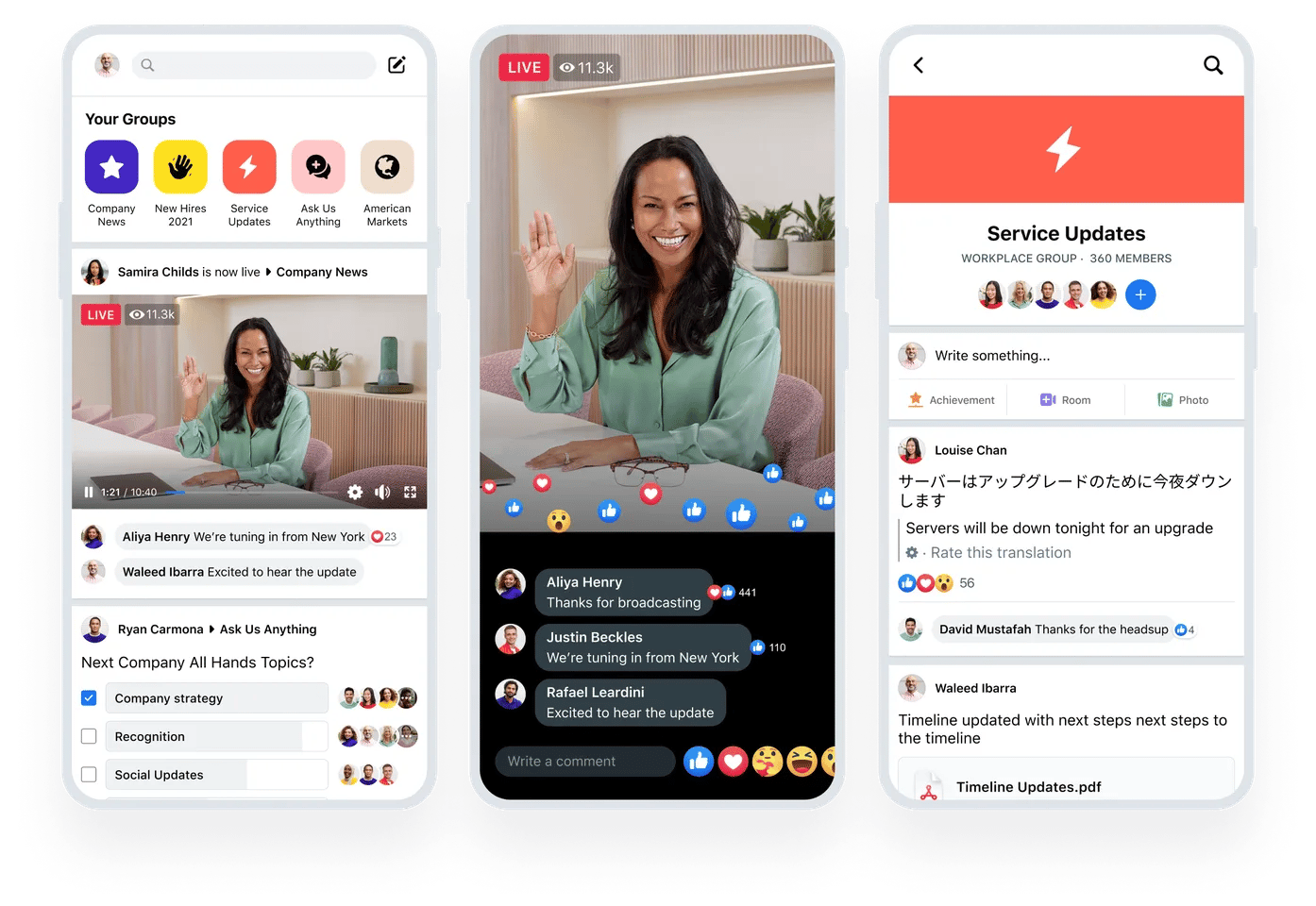 🗣️ Trend #4 Ensure Transparency Across the Organization
Transparency is key to any successful internal communication strategy and will continue to be a top internal communication trend in 2023. Leaders needs to ensure that they have open channels of communication, so employees can stay informed on what's happening in the organization. Providing transparency can help build trust between employees and management and helps to create a culture of openness, collaboration, and understanding.
To ensure transparency within your organization, provide your employees with an internal communication platform where they can ask questions, share ideas, and get the latest updates. Workplace from Meta makes it easy to keep your organization up to date with announcements, polls, and messages. Your employees will appreciate being in the know and having a platform where they can freely express their thoughts.
📊 Trend #5 Data-Driven Communication
Data-driven communication is a growing trend that will become a priority for any business in the upcoming year. Businesses are beginning to recognize the importance of using data to measure, understand and optimize their internal communications. It's critical to be able to measure your internal communications and make data-driven decisions that will improve employee satisfaction, engagement, productivity, and retention.
Investing in a digital communication tool, such as Workplace from Meta, can help you measure your internal communication data and make informed decisions. You'll be able to measure employee engagement, track adoption, and analyze posts with its powerful Workplace Insights feature, giving you a better understanding of how your employees are using Workplace. This can help you improve your company culture, strengthen connections between teams, and understand employee engagement levels in real time.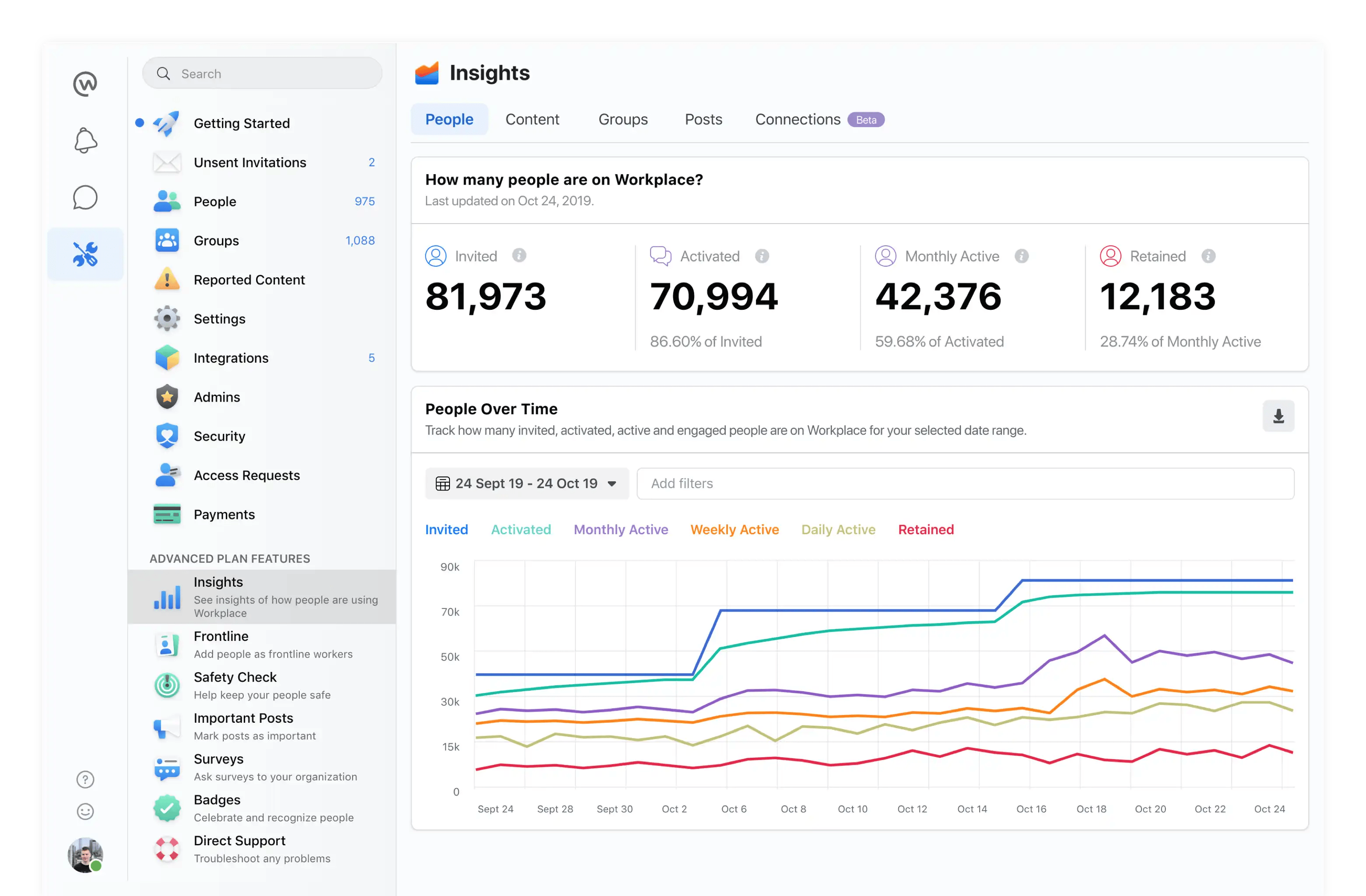 The Future of Work Includes Effective Internal Communication
2023 is shaping up to be a year of innovation in internal communication. Businesses are shifting towards mobile-first, data-driven communication, and investing in tools that prioritize transparency and collaboration. By embracing these top five internal communication trends, organizations will be able to create an effective strategy that meets their business needs. Workplace from Meta can help your business keep up with these trends and ensure your teams are connected, informed, engaged, and productive. With Workplace, the future of internal communication is bright!
Take the first step towards a more effective internal communications strategy in 2023 and explore how Workplace from Meta can make a difference in your organization.
---
Not using Workplace by Meta yet?
Want to see how Workplace by Meta could take your internal communications strategy to the next digital level and help you to reach everyone across your organization in a more efficient and effective manner? Give us a shout! Through a live demo of the Workplace platform, we'll help you to brainstorm ideas on how to utilize Workplace to achieve your organization's goals and objectives around internal communications.
Already Using Workplace by Meta?
If you'd like to explore more opportunities to learn how to use Workplace to improve your internal communications strategy and be part of the Corporate Metaverse, we'd love to chat! Give us a call if you want to learn how to use Workplace to enhance employee interaction and engagement.