C U S T O M E R S U C C E S S S T O R I E S
Tim Hortons Foundation Camps
91%

of the Tim's Camp team is

actively using Workplace

every week!
Tim Horton's Foundation Camps support kids from disadvantaged circumstances between the ages of 12 and 16 at a time in their lives when they are determining who they will become as adults. Using camp as the vehicle to create lasting change in the lives of young people, Tim Horton's Foundation Camps help young people develop skills, build character and share memories that will last a lifetime.
Tim's Camp has 7 locations across North America, creating vast distances between employees. How do you connect displaced employees and numerous offices? How do you ensure that your frontline workers are connected, especially when they don't have access to a computer and company email address? How do you keep your seasonal workers engaged in the off-season so they will come back year after year?
Tim Horton's Foundation Camps adopted Workplace from Meta, which helped them to save money, and time, and increased their overall connectivity, communication, and collaboration as an organization.
of employees are actively using Workplace every week, which includes volunteer and off-season workers.
Increase in two-way communication, enabling employees to speak directly with Leadership.
of revenue comes from outside sources. Workplace allowed stories to flow downstream easier & faster than ever before.
3 Tips

From Tim's Camps to Make Your

Workplace Launch a Success
1.
Launch Workplace

alongside a

big event

One of the ways that you can get everyone on board is to plan your Workplace launch alongside a significant company event, such as an annual fundraiser, your company's AGM, or a corporate conference. Being able to share content, pictures, and videos from the event encourages people to start using Workplace, which familiarizes them with the platform, experiencing first-hand the simplicity of Workplace.


2.
Integrations

to help

onboard new employees

Workplace is capable of connecting with popular enterprise tools that can help your team get their work done faster. Integrations with popular products, like Office 365 and SharePoint, make it possible to help you bring together the tools that you use every day into one central place.


3. Pin a
post feature
Tim Horton's Foundation Camps rely on the pinned English and French posts at the top of their "Trailhead" Workplace Group to allow new employees to quickly navigate to the requisite documents, Groups, and other related content.
Bringing Communities together
with Workplace from MEta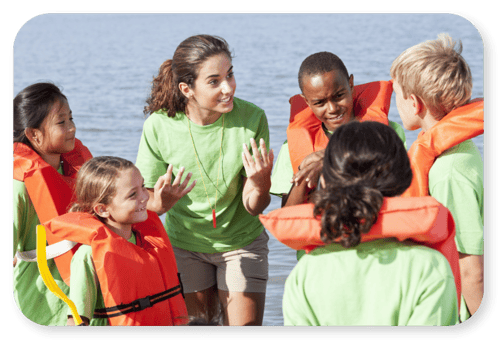 Enhancing Employee Communication

via

Live Chat

and

Groups

Workplace's launch happened on Camp Day, which is the single largest annual fundraiser for Tim Horton's Foundation Camps. In previous years, a member of the Communications team would have had to receive all photos, videos, testimonials, and stories from the various restaurants that participated in Camp Day and would have had to compile those mediums into useable content that would be shared internally.

By launching Workplace to coincide with Camp Day, all stories, testimonials, and videos were able to be instantly shared over Workplace's platform. Workplace allowed everyone at Tim Horton's Foundation Camps to be able to see what was happening across Canada and interact with the various restaurant-wide initiatives that were taking place.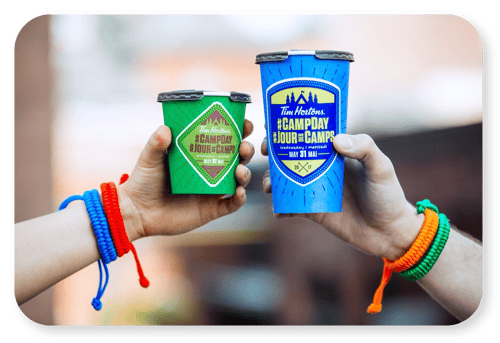 Mobile-First

a Must
With the number of seasonal frontline workers that Tim Horton's Foundation Camps hires every year, it was important for the organization to have an option that allowed everyone to use their mobile phones to stay in touch. Not only that, but most of their employees don't have a corporate email address, so the solution needed to be email-less.
Workplace is not only is an easy-to-use, mobile-first platform, but it also has email-less solution capabilities, so it fit the bill for Tim Horton's Foundation Camps perfectly. Since launch, Tim Horton's Foundation Camps has had 94% claimed Workplace accounts, and 91% of their workforce are on Workplace as weekly active users.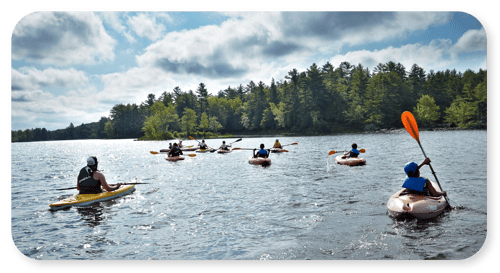 Pinned Posts

Helps with Navigation

Tim Horton's Foundation Camps rely on their pinned English and French posts at the top of their "Trailhead" Workplace group, which lets new employees quickly navigate to the requisite documents, Groups, and other related content.
Would you like to learn more about Workplace?