Are you looking for ways to improve teamwork in your organization? Are teamwork and collaboration in the workplace prevalent themes that keep coming up in discussions? How happy is your staff with their ability to work as a team?
According to a study done by Ernst & Young, a work environment that doesn't encourage teamwork is one of the top 5 reasons people quit their jobs. Improving teamwork, therefore, is a common challenge faced by many managers.
In this blog, we'll look at five common challenges and solutions that will help you improve teamwork in your organization. Read along to learn more.
Challenge #1:
There isn't a tool that can boost teamwork.


Solution #1:
Improve teamwork in your organization with a set of efficient tools.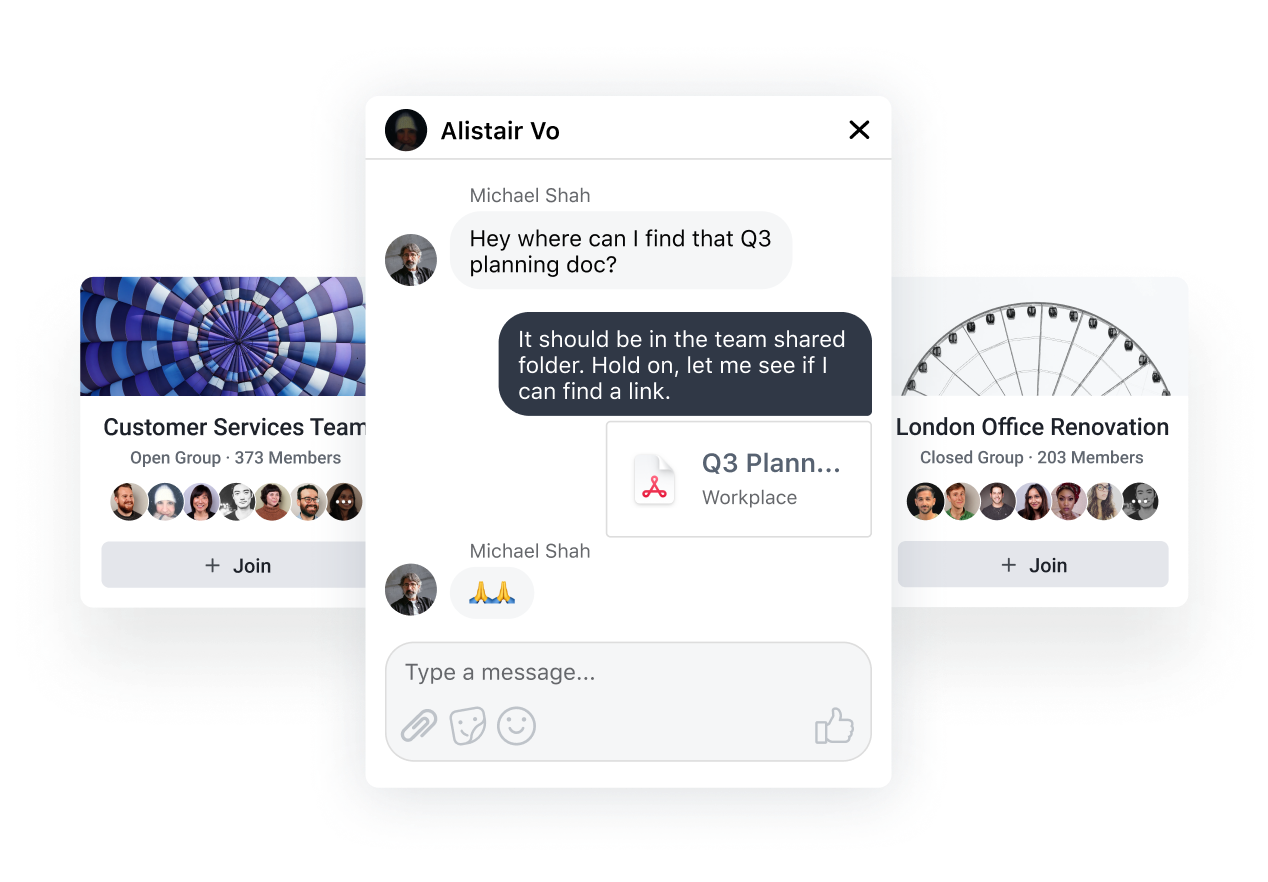 Do you have efficient tools in place to improve teamwork in your organization? When you have a team working together on a project, where are they storing the documents they're working on or the information they're gathering? How do they communicate with each other, or, more importantly, how easy is it for them to communicate?
Not having the necessary tools to communicate with each other, or the tools to store and share documents and information greatly hinders productivity and collaboration. To improve teamwork, therefore, why not provide a set of efficient collaboration tools instead?
Workplace from Facebook, a communications platform, can help the team in effectively and instantly communicating with each other, no matter where they work from. Getting everyone in the same room can be tricky – especially during these trying times! – but that's why Workplace Chat provides the team a shared space to store documents and work together simultaneously. Think Facebook messenger, but for business. Workplace Chat is the communications portal for your entire organization where teams can share ideas and get work done in a familiar space. With Workplace Chat, you can send voice clips and messages instantaneously, and even share your current location with colleagues if you're on the road. Plus, with unlimited file sharing, you'll never run out of space to make quick decisions and collaborate on documents as a team.
Challenge #2: Teamwork can be difficult because of meeting inefficiencies.



Solution #2:
Implement a reliable communications tool to improve teamwork in your organization.
Poor call connection. Meetings being delayed or interrupted because of technical issues. People never sure if or when they're supposed to speak. Let's face it - there's nothing worse than struggling to participate in virtual meetings!
The reality is, these inefficiencies don't just discourage team members from working together – they're also a barrier for your on-the-go workforce, too. Nobody wants to be in a meeting where they don't feel heard, or where the technology is so bad that the meeting may as well not have taken place.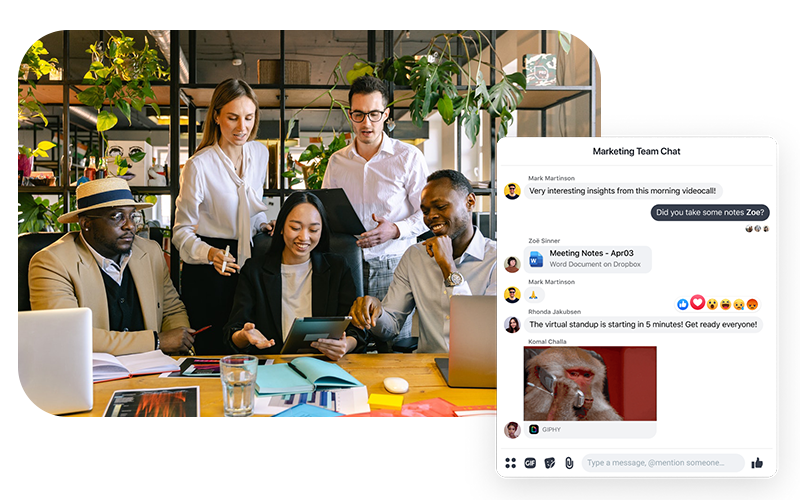 By using instant messaging, voice calling, and video capabilities through a single reliable technology, such as Workplace from Facebook, you can help your teams communicate more effectively. Group video chat is available through Workplace Chat on your desktop and mobile apps, but you can also use it with Chrome on the web. Make HD video calls at the touch of a button from Workplace Chat and connect up to 50 people wherever they are in the world. To make a group video call, create a chat group and click the video button to start a video chat with your team. One platform, less technology complications.
LineZero's CEO, Eric Sugar, uses the Workplace from Facebook and Teams integration to deliver content to the entire organization via Live Video. Your organization can easily stream the Town Hall event live in Workplace, or through the virtual manager in Teams. For more information, check out this blog.
Challenge #3:
Working in silos is not conducive to teamwork.



Solution #3:
Consider an enterprise social tool to improve teamwork in your organization.
"I don't know what's happening because nobody ever talks to me!"

Surely, you've heard this major complaint before. It seems like even the best of organizations must deal with keeping an open and transparent environment that keeps everyone on the same page and in the know.
Now, it's not a bad thing for your team to be head-down in their work – after all, you want them to be productive. But if your team is working in silos and are continually left in the dark about what's happening in other departments, they can be blind to what's happening around them. And duplication of work is one of the major dangers of working in silos – have you ever had an employee spend time working on a spreadsheet that already exists?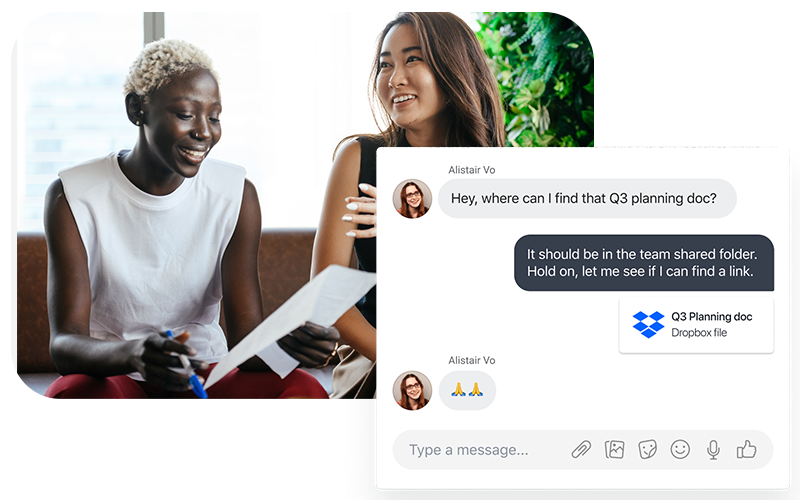 Workplace by Facebook allows teams to stay up to date on what their teams are working on and discuss various project ideas with their co-workers, thus increasing teamwork in the workplace. Here are a few ways that you can use Workplace to help break down silos within your organization:
Share important information via News Feed and get real-time feedback via likes, comments, and reactions. Tag colleagues to work together on shared documents and projects.

Run polls in groups to get a quick pulse on company issues.

Connect new hires to the team using Groups.


Challenge #4:
Lack of version control makes document collaboration and teamwork difficult.


Solution #4:
Take document collaboration and teamwork to Workplace.
Your sales team has been working hard on a presentation for a potential client. It's taken a lot of back and forth between them, but they've finally got the presentation just perfect – sure to knock the client's socks off! The document saved to a USB, the team goes to the client's office, ready to wow them into signing that contract. But, when they go to present, the sales team quickly realizes that they've saved the wrong version to the USB…
By using a tool like Workplace, your teams can co-author documents in real-time, all from a single version of the file. One of the ways Workplace streamlines workflows and increases productivity is by enabling streamlined file and information management through Workplace Groups. Whenever you post something into a group – from meeting notes to presentations – each member gets a notification, so they can access key information as soon as it's available. Plus, team members can view the revision history of a single file. Teamwork in the workplace just got that much easier.
SharePoint and Workplace is better together at helping employees find the content they need, when they need it. Not only can you use Tagging to make content easier to search for, but you can also pin content to a Workplace post, or inside Knowledge Library! For more information, check out this blog.
Challenge #5:
An inconsistent set of apps hinders teamwork.




Solution #5:
Implement a full productivity suite of interconnected tools to improve teamwork in your organization.
Workplace from Facebook is not a "one size fits all" document management software. For businesses looking to tailor their document management, Workplace integrates with many of the top file sharing and document management tools that people use every day.
If your organization uses Workplace Premium, your admin can enable Cloud storage integrations such as Google Drive, OneDrive and SharePoint Online. If you use Workplace Standard, you can link a Workplace group with a folder that's stored in Dropbox, Google Drive, Microsoft OneDrive and Microsoft SharePoint Online. Workplace helps you connect to the apps and services you already use to store information, develop your people, and get things done.


Need some Help with Teamwork in Your Organization?
If you're still asking questions about how you can improve teamwork in your organization, it's time to talk to us! From design, to pilot, to implementation, our team of experts at LineZero can help you understand how bots can be used in your organization and how to get started. Give us a shout today!