Workplace from Meta is an all-in-one business communication platform that brings together employees from around the world to create connection, collaboration, and to build company culture. With many benefits, Workplace boosts employee experience and better employee lifecycle management in a hybrid and remote workspace through the many tools it has to offer.
How does Workplace from Meta help boost employee experience and create company culture to reach your organization's future of work goals? Read more to find out!
In this blog, you will find:
6 Key Benefits of Workplace for a Better Employee Lifecycle Management & Employee Experience
Reduced Recruitment Costs Through Improved Talent Acquisition
Increased Efficiency in Employee Onboarding
Increased Efficiency in Learning and Development
Greater Organizational Flexibility
Better Employee Experience is the Future of Work!
6 Key Benefits of Workplace for a Better Employee Lifecycle Management & Employee Experience
In a study, Workplace from Meta asked Forrester Consulting to conduct a Total Economic Impact (TEI) study to demonstrate a better understanding of the benefits, cost, and risks associated with an investment in the Workplace platform. This study found that Workplace users report a significant improvement in employee experience. As well, Workplace enables richer cultural exchanges, shared company values, authentic conversations between employees and leaders, recognition for the work employees and their teams are doing, helped build meaningful relationships and supported diversity and inclusion initiatives.
Below are 4 major benefits for employee lifecycle management and employee experience and two business benefits.
💵 #1. Reduced Recruitment Costs Through Improved Talent Acquistion
The importance of better employee experience is highlighted as a benefit. Improved employee experience can filter through to better talent acquisition in many ways:
Engaged employees are more like to recommend their organization as a place to work to friends and acquaintances.
Engaged employees are more likely to be motivated and promoted internally.
For high-growth organizations, attracting talent quickly can be difficult. Therefore, some organizations give new recruits a job offer with the opportunity to connect through a second instance of Workplace to encourage engagement from the beginning and to encourage offer acceptance.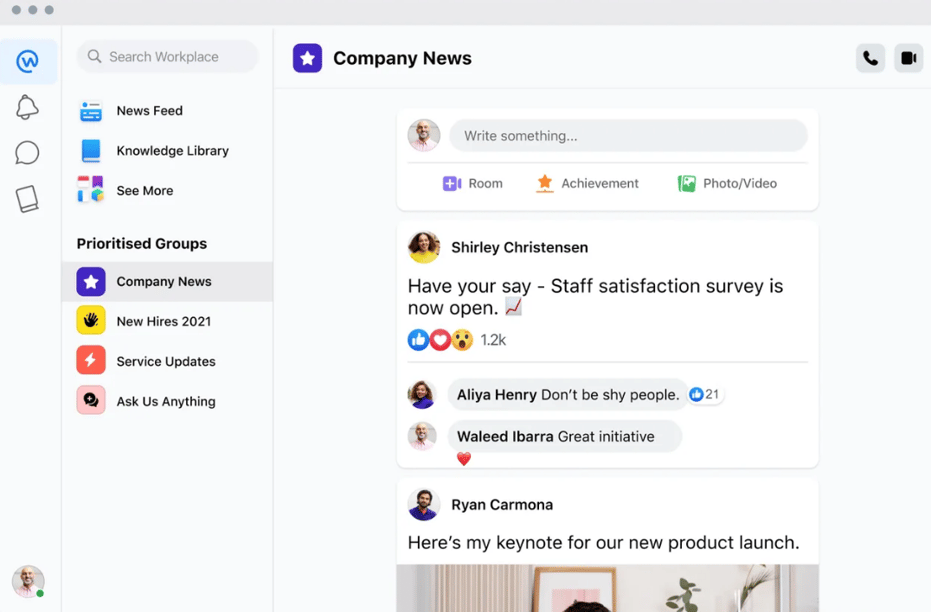 📈 #2. Increased Efficiency in Employee Onboarding
During the COVID-19 pandemic, many organizations started using Workplace as the primary tool for remote onboarding. More recently, organizations are moving to a more hybrid workspace, they still are continuing to see efficiency benefits from remote onboarding using Workplace. Employee onboarding can be made more efficient because:
New employees can quickly find and engage with onboarding resources through live sessions, videos, and accessing training documents.
They can quickly connect with team members and colleagues.
They can search for projects and team groups to quickly get started or up to speed on project histories and find other information.
🧠 #3. Increased Efficiency in Learning and Development
In a similar way to a more-efficient onboarding communication, organizations have highlighted that learning and development became more efficient following the implementation of Workplace. Learning and development resources can be more easily found and accessed through Groups and Knowledge Library. As well, live video was used in some cases for training purposes. Furthermore, related groups can be used to ask questions, find information, and share ideas.
🏆#4. Higher Employee Retention
It is important to boost employee experience as it directly impacts loyalty and retention. There were many ways Workplace contributed to higher retention:
Workplace Groups can be used to share and discuss company culture, including diversity and inclusion, charity events and sponsorships, and social activities.
The broad reach of Workplace and high engagement helped push higher adoption of perks, such as meal vouchers and end-of-year gifts.
Workplace was also used to recognize employee and team successes and for giving badges to celebrate five or ten-year tenures.
🧘🏽#5. Greater Organizational Flexibility
There were multiple scenarios where an organization implemented Workplace from Meta and realized later additional uses and business opportunities including:
Faster and lower cost merger or acquisition. Workplace from Meta enables faster integration of employees from a merged or acquired organization. By adopting a single communication platform across all employees, siloes can be broken and connections can be made faster.
Faster and better information sharing for unexpected events. During the pandemic, Workplace from Meta enabled employees to be regularly updated about developments and changes, typically using the Workplace Live video capability. It is possible that in the future, other unexpected events may occur, and Workplace can be used again to share urgent information. The Safety Check feature in the tool can also be leveraged to identify employees needing assistance in certain situations.
💻 #6. Added Benefits
Two additional benefits were found following implementation of Workplace from Meta:
Increased revenue and improved customer experience. In some cases, customer-service executives were able to improve the customer experience through Workplace from Meta. This directly impacts metrics such as customer loyalty and satisfaction in communication and connection.
Reduced use of shadow IT. Organizations with Workplace reported a reduction in unauthorized tools, such as messaging applications. This can reduce security risks and potentially any additional IT time required to address certain issues, as well as any cost related to such tools.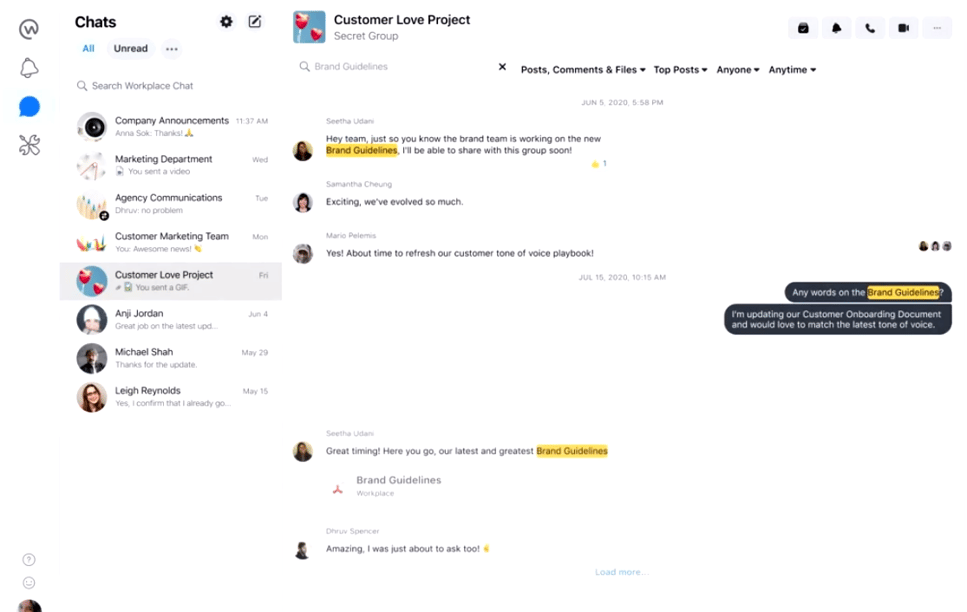 Better Employee Experience is the Future of Work!
Workplace from Meta serves as an important part of many organizations' future of work plans. It is an important tool for internal communications and cultural exchange, supporting a flexible, hybrid workspace and being able to integrate with other, complementary collaboration tools. By using Workplace, your organization can create a better collaboration space for your employees and meet the needs of your future of work. Are you ready to get started? Contact us today to step into your ideal environment!
Not using Workplace from Meta yet?
Want to see how Workplace could take your Corporate Metaverse strategy to the next digital level and have virtual meetings? Give us a shout! Through a live demo of the Workplace platform, we'll help you to brainstorm ideas on how to utilize Workplace to achieve your organization's goals and objectives around internal communications.
Already Using Workplace from Meta?
If you'd like to explore more opportunities to learn how to use Workplace from Meta helps to improve your internal communications strategy and be part of the corporate Metaverse, we'd love to chat! Give us a call if you want to learn how to use Workplace to enhance employee interaction and engagement.