Employee morale is like Bigfoot; elusive, somewhat undefined, and not always visible. But employee morale impacts a large percentage of your workforce, whether you want to acknowledge its existence or not. If you want your organization to be running at peak performance, chasing productivity like Bigfoot enthusiasts chase after their mythological creature, you need to understand what employee morale is, and what factors could be affecting employee morale in your organization.
That's where this blog comes into play. Read on to learn more about employee morale and what it means to you.
What is Employee Morale?
Defined as the satisfaction, attitude, and overall outlook of employees during their association with an organization (i.e., yours), employee morale overlaps with other areas of your business, such as your workplace culture, employee engagement, and employee experience.
Why is Employee Morale Important for Your Business?
Employee morale is directly correlated to your organization's overall productivity, competitiveness in the market, and, in turn, your profitability.
Employees who have a higher level of employee morale tend to be more productive, more satisfied with their jobs, and more engaged at work. This can give you a significant advantage because happy and fulfilled people at work tend to stay in place (low employee turnover), tend to go to bat for your brand (employee-led brand recognition), and tend to boost customer satisfaction ratings.
The 5 Factors that Affect Employee Morale:
So, what factors affect employee morale? Because employee morale is something that people feel – both individually and collectively – here are five factors to keep in mind:
1. Leadership
Leadership is one of the key factors that affect employee morale. An employee with an inspiring leader who leads with transparency and authenticity and encourages them to do their best work, provides constructive feedback that allows the employee to grow and succeed, and models the type of positive behaviours that they want to see from that employee, is far more likely to feel empowered and valued.
On the other hand, an employee with a leader who shows a lack of trust in that employee, micro-managing tendencies, or failing to provide adequate feedback can lead to the employee feeling disengaged, devalued, and unmotivated.
2. Communication
Maintaining employee morale relies heavily on your organization's communication style. Efficient and effective two-way communication – not only from C-level to employees! – is key in boosting employee morale. In fact, according to Forbes, employees who feel like their voice is being heard are almost 5 times more likely to feel empowered to perform their best work – the article goes so far as to say that employees expect communications to be a two-way street!
3. Reward & Recognition
Do your employees feel that they are being recognized for the work they're doing? How often do you recognize employees who go above and beyond? Employee recognition makes employees feel more connected to their work, more engaged, and more productive. By acknowledging and celebrating their achievements, your employees will feel more valued, and, in turn, more eager to repeat the behaviour.
When it comes to rewards, they don't necessarily have to be elaborate or expensive. Small gestures can also go a long way. In fact, a study by Reward Gateway says that 75% of employees said their motivation and morale would improve if their managers just thanked them more often.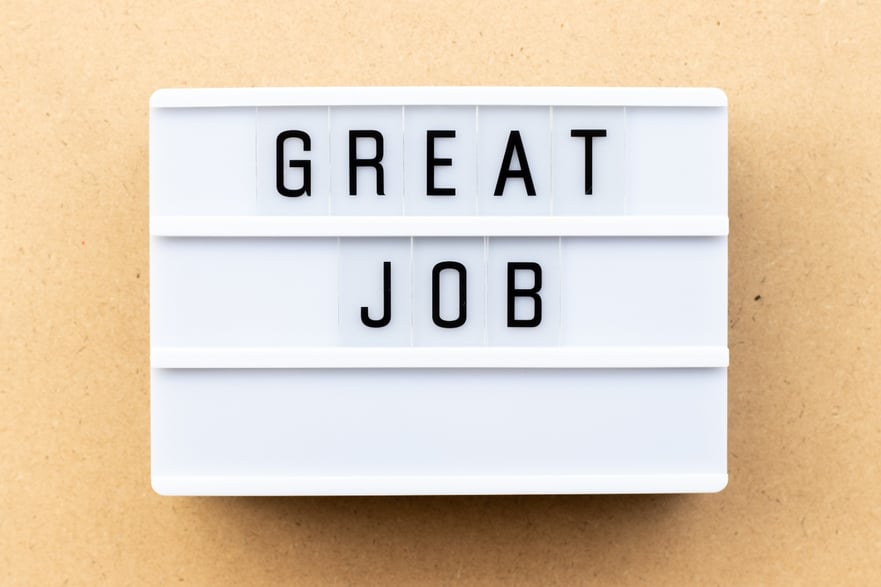 4. Work-Life Integration
Encouraging a healthy balance between work and home life is another crucial part to boosting employee morale. Employees who feel like their work is negatively impacting the personal life quickly become despondent, dissatisfied, and disengaged with their work.
Despite this, many organizations fail to recognize just how important it is that employees have proper work-life integration. The COVID-19 pandemic put many employees' work and home lives on a direct collision course when they were asked to work from home – as this Global news article says, work-from-home directives have blurred the distinction between on- and off-hours, and employee burnout (defined as "chronic workplace stress that has not been successfully managed") is a very real thing.
On the other hand, when you're able to acknowledge that your employees are people, with lives that are outside of your organization, and you actively seek to help them find a good balance between their work and home life, you show that you not only understand the difference between the two, but that you understand the boundaries between them, as well. When employees know that you have their best interests at heart, it increases employee morale, making them more invested in your company, and, in turn, increasing their productivity and effectiveness.
5. The Nature of Work in Relation to Your Organization
The work that your employees do every single day is the soul of your organization. No matter your industry, no matter your size, this work is the lifeblood of who you are as a company, and, regardless of the employee's role, is how your organization collects revenue.
The work that the employee performs has a direct correlation to their level of employee morale. Employees want to feel challenged by the work that they do, without additional stress being put on them. Unfortunately, the nature of the beast is such that sometimes employees need to perform work that they don't find fulfilling – dull or repetitive tasks, for instance. An organization that understands how the nature of work impacts employee morale will be able to turn even these monotonous tasks into more satisfying and rewarding work for employees.
5 Simple Tips to Boost Employee Morale:
Now that we've gone over some of the more important factors of employee morale, it's time to look at how organizations, like yours, can boost it! Here are 5 simple tips to keep in mind when you want to see higher employee morale in your organization:
1. Monitor Your Employee Morale
Do you ask your employees how they feel about their jobs? Do you have a safe (and, when necessary, anonymous) way for employees to provide their feedback to not only their managers, but the leadership team as well? Monitoring employee morale can be as simple as conducting an annual employee survey to gauge employee engagement, employee job satisfaction, and more.
Workplace from Meta (Workplace) can provide a platform to collect this valuable data. Employee Experience Surveys, for example, can help you show your employees that you want to hear from them. Strategically monitoring employee morale can help you to improve employee morale and engagement, which, in turn, helps you to build your corporate culture.
2. Improve Internal Communication
There's no question that the pandemic has changed many things about how organizations, like yours, communicate internally. Internal communication has been highlighted as an essential way to keep employees engaged, and, as we know from above, is an essential component of employee morale.
An internal communications platform, like Workplace from Meta (Workplace) can help you open the lines of two-way communication within your organization. Workplace allows you to focus on real-time, instant communication on a platform that is familiar to all employees. With Workplace, you can create posts, polls, live video, and more in mere minutes, and receive feedback from employees at the click of a "like".
3. Celebrate Your Employees' Accomplishments
Has your marketing team just completed a 3-month, in-depth overhaul of your website? Did your sales team just reach $5 million in sales in one year? Did your newest customer service representative receive positive feedback on a customer survey? Did one of your employees complete a continuing education certificate?
Whether the win is big or small, recognizing both individual employees' accomplishments and team wins is a key component of boosting employee morale. By celebrating these wins, not only are you giving that employee a sign of approval for the hard work they've done, but you're also recognizing their contribution to the organization overall. This can lead to a renewed sense of purpose for that employee, and, in turn, can make them more enthusiastic to take on similar challenges or projects.
You can use an internal communications platform, like Workplace, to recognize employees' achievements & accomplishments. Workplace Groups, for example, can be used to promote employee recognition by providing a place where managers and leadership can post about an employee's achievements, highlight the great work an employee did, or call out a team or department for their contribution to the organization. Tagging allows an employee to know when they've been recognized, so they can go on and see the post. That employee's colleagues can also go on Workplace and "like" and/or "comment" on the post, providing their own encouragement and positive messaging to help boost that employee's self-esteem.
4. Prioritize Employee Mental Health & Wellness
Prioritizing employee mental health & wellness is another tip to boost employee morale. When employees are aware that the organization they work for values their wellbeing, employee retention rates skyrocket, and your organization ranks highly for prospective employees, as well.
Providing employees with tools that aid in work-life integration, like Workplace, is just one way to show that you prioritize employee mental health & wellness. But it's not the only way to do so. Implementing things like meeting-free days, encouraging teams to take their lunch breaks together, or setting a standard for finishing work at a reasonable hour are all ways to promote employee mental health and wellness within your organization.
One of the ways that LineZero helped customers throughout the pandemic was by developing a Coffee Bot – a bot that would arrange random half-hour meetings between members of the organization. Anyone in the organization – from C-Level down to frontline worker – who was enrolled in Coffee Bot would be sent weekly promptings, asking if they were available during a specific time. If they answered "yes", Coffee Bot would match them with others who were free and send a calendar invitation for the date and time to meet.
5. Make Time for Building a More Connected Team
A 2018 Gallup article says that having a best friend at work can lead to better performance, and that if 6 out of 10 employees strongly agree that they have a best friend at work, it leads to 36% fewer safety incidents, 7% more engaged customers, and 12% higher profit for the organization. Friendships are also important for your employees – this article says that about 36% of employees say they look forward to going to work when they work with a friend, and 31% of employees feel stronger and more valued.
As an organization, therefore, it's important to set aside time to build a more connected team. Things like encouraging virtual or in-person social events, and providing a platform, (like Workplace from Meta) where employees can share hobbies, personal experiences and stories, and more are all ways that an organization can demonstrate a commitment to building a more connected team.
LineZero, for example, has created several employee-led and employee-managed Workplace Groups on various topics like Foodies; Sports & Fitness Fiends; Pet Lovers; Family; Women; Diversity, Equity, Inclusion, & Belonging; Travel Buddies; and more. These groups help employees to connect over various hobbies and interests and helps employees – especially those in other geographic locations – to meet and develop friendships with likeminded individuals.
Boost Employee Morale with Workplace!
Ready to see how Workplace by Meta can boost employee morale? Book a call with us to try the free interactive Workplace demo, where you can discover how to connect everyone in your company with familiar tools like Groups, Rooms, Chat, News Feed, and Knowledge Library. Our team of experts have the know-how to build an innovative and collaborative Workplace from Meta platform for your organization that will set you up for internal communications success and help you to boost employee morale within your organization. Try out our interactive demo and see how Workplace can enhance your business – today!