LineZero and Meta co-hosted a half-day event with some of our key customers to introduce Meta's latest technologies. We gathered at Meta's Toronto office. The highlight of the event was three demos: Quest Pro, Ray-Ban, and Horizon Workroom. The attendees participated in the demos as a group of five.
In this blog, you will find:
😎 Demo 1: Meta Quest Pro - The Future of Virtual Reality
🕶️ Demo 2: Ray-Ban Stories - Smart Glasses for a Connected World
🚀 Demo 3: Meta Horizon Workroom - A New Era of Virtual Collaboration
✨ Envisioning the Future of Work with Meta Technologies


Demo 1: Meta Quest Pro - The Future of Virtual Reality
The first demo was by Meta Quest Pro. It is the latest, most advanced VR (virtual reality) headset from Meta. It is ergonomically better designed which means people can feel more comfortable and wear it longer compared to other previously released devices. The attendees who participated in the demo interacted with each other while being immersed in virtual reality, enjoying the scenery, doing some creative artwork, and more.
One of the use cases that was shared by Meta during the presentation was employee wellness. There is an ecosystem of Meta partners who build various well-integrated applications. Some of the applications are built for health and wellness. Feedback from users was positive when it came to meditation in virtual reality. I haven't tried it yet, but I thought I've got to try it.
Demo 2: Ray-Ban Stories - Smart Glasses for a Connected World
The second demo was by Ray-Ban Stories Smart glasses. The glasses are designed by Ray-Ban, and the technology inserted into the glasses is from Meta, so we get to enjoy the classic design while enjoying cutting-edge technology. We get to experience the best of both worlds at the same time. And by "cutting-edge technology," I do mean some real futuristic stuff. The glasses come in various styles (sunglasses, traditional lenses, and prescribed lenses) and have a camera, mic, and speaker built into them. We can take pictures and videos with the glasses. We can have phone calls and listen to music just by wearing glasses. These smart glasses are not any heavier than traditional glasses. The vision is that bulkier headsets like Quest Pro will eventually get smaller and lighter as technology advances.

Resource: Ray-Ban Stories: How We Built Our First Smart Glasses, Meta


Demo 3:
Meta Horizon Workroom - A New Era of Virtual Collaboration
The third demo was by Meta Horizon Workroom. It is a virtual meeting space where the attendees can meet and collaborate. The demo facilitator was in a completely different city. Five people in the actual meeting room joined the Horizon Workroom. They sat with enough space between them, yet they felt close to each other. They felt as if the facilitator was physically in the room with them, and they used whiteboards to collaborate. They could jot down their ideas and notes on the virtual whiteboards and on sticky notes.
Currently, sixteen people can join a Horizon Workroom at one time. As more people join, the table in virtual reality grows. People without headsets can also join. Without headsets, the maximum number of participants is 50. Given the highly interactive collaboration that a Horizon Workroom allows, there are a number of education use cases. Organizations love to use it for Learning and Development.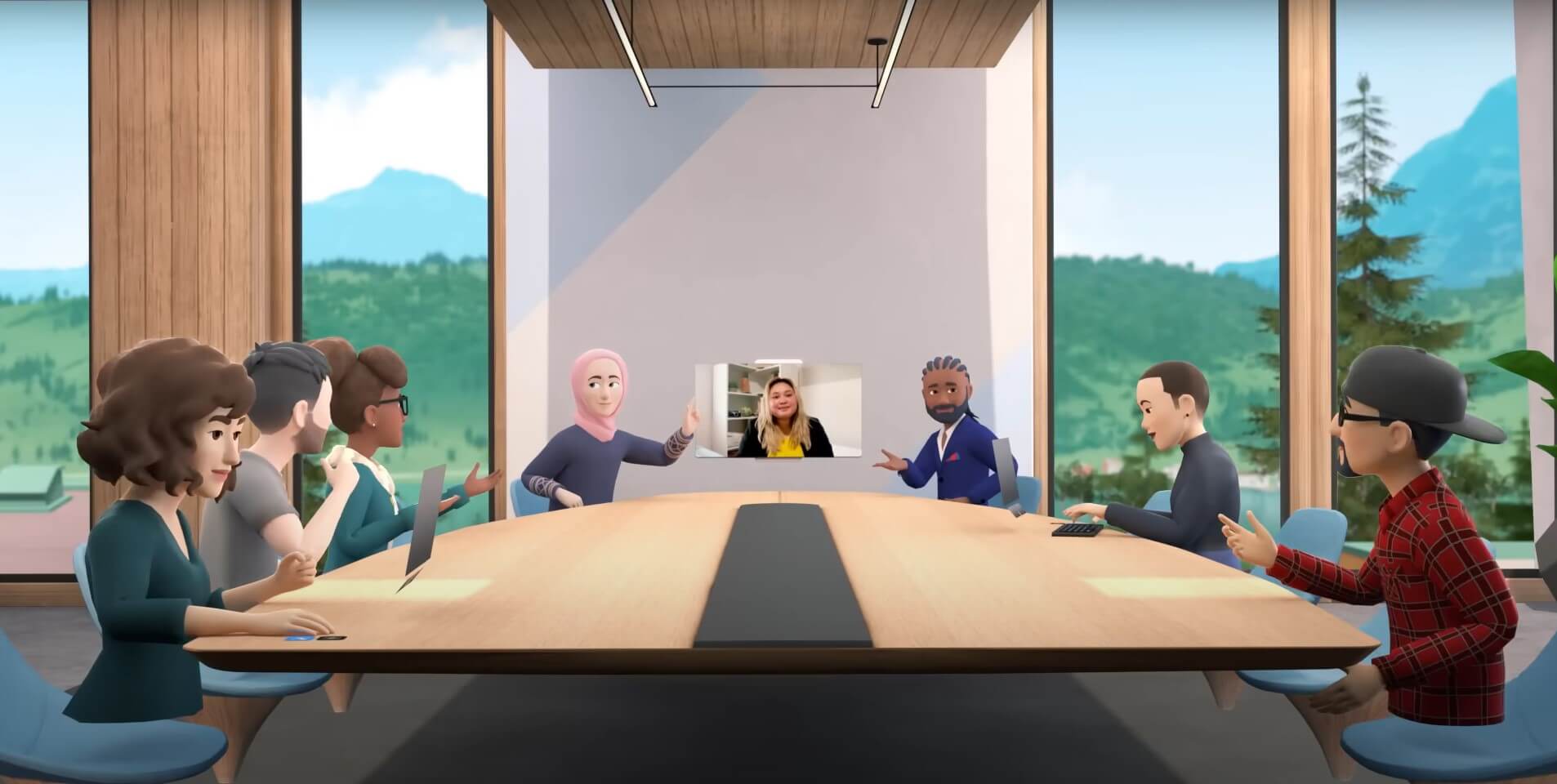 Envisioning the Future of Work with Meta Technologies
Technology is advancing daily, and it is truly exciting to think about the endless possibilities VR technologies will bring to our workplaces. Meta is at the forefront, and we are proud to brainstorm with our customers to help them envision their future in virtual reality and how emerging technologies can become the vehicle for them to achieve their business goals.
Leaders from several innovative enterprises were in the room today. The consensus was that most employees are not going back to the office. They will want to work from anywhere. All of us being human means that we still crave human connection. We want flexibility without sacrificing the connectedness we feel when we are physically together. Virtual meetings done in 2D (i.e., Teams meetings, Zoom meetings, etc.) have limitations. Being immersed in virtual reality overcomes these limitations.
Limitless possibilities. Flexibility. Connectedness. Mind-blowing experience. These are just a few of the many reasons why we are so excited to be part of this ride to the corporate Metaverse.
Want to join us? Seeing is believing. Let's get you set up to touch it, feel it, and experience it. Connect with us. We will be happy to start the journey with you.